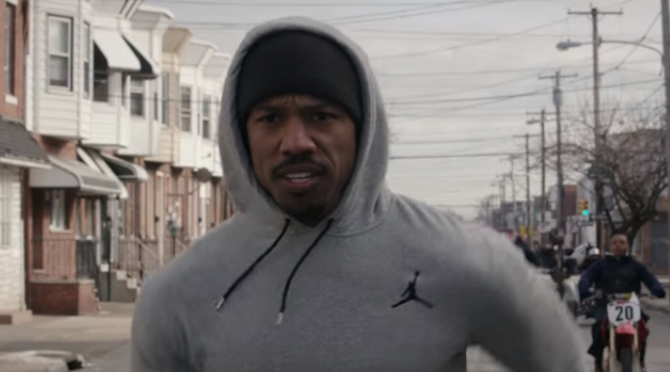 by Brendan Dunne
For regular moviegoers, Creed is a decently entertaining sports drama that picks up the mantle of the Rocky franchise and delivers the hardscrabble pugilist narrative to a new generation. For those with an eye for sportswear, it feels a bit like a promo vehicle stuffed with Nike logos at every turn. How many of them are in the film?
I counted 164 between the Swooshes, Jumpmen and occasional "NIKE" hits that appear on-screen. I don't assume this number is 100 percent correct – seeing it in the theater didn't afford me the luxury of pausing to look closer at individual frames – but it gives you an idea of how frequently they appear. The number includes only the first time a logo appears in a cut, so if the titular Adonis "Donnie" Johnson Creed (played by Michael B. Jordan) is seen with a Swoosh on his chest only to have the Swoosh leave the frame and then reappear in the same cut, that's one appearance. If the camera cuts and comes back to Johnson again wearing the same logo, that's another appearance.
The 164 number is just the logos — there are also the instantly recognizable Nike Tech Fleece sweats that Johnson spends nearly the whole move in, along with his retro Air Jordans that don't necessarily have their logos in full view but are still identifiable as Nike product.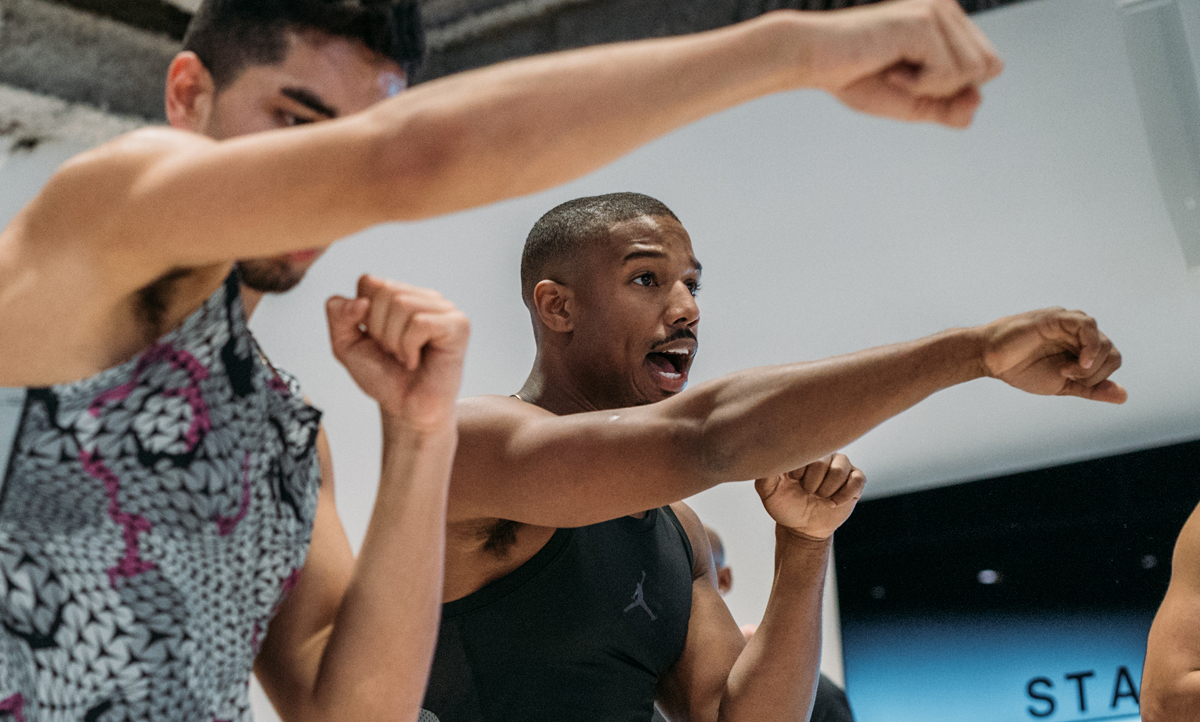 But, not every athlete in the movie wears Nike. Opponents Johnson faces in the ring do not wear Nike – the exception being is Danny "Stuntman" Wheeler, played by Jordan Brand endorser and professional boxer Andre Ward, who is, of course, clad in Jordan. The most conspicuous non-Nike wardrobe choice is the Under Armour gear occasionally worn by antagonist "Pretty" Rick Conlan (played by Tony Bellew). That the film's only real bad guy wears the apparel of a Nike rival does not feel coincidental.
Nike's not been shy about its connection to the film. Its Jordan Brand held Creed boxing sessions with star Michael B. Jordan as part of a partnership with the film's distributor, Warner Brothers and Metro-Goldwyn-Mayer Pictures.
Product placement by sportswear companies is nothing new — the Rocky franchise has actually been back and forth between brands in this respect. In 1982's Rocky III, Sylvester Stallone wore Nike, but he returned in 1985 for Rocky IV wearing adidas.