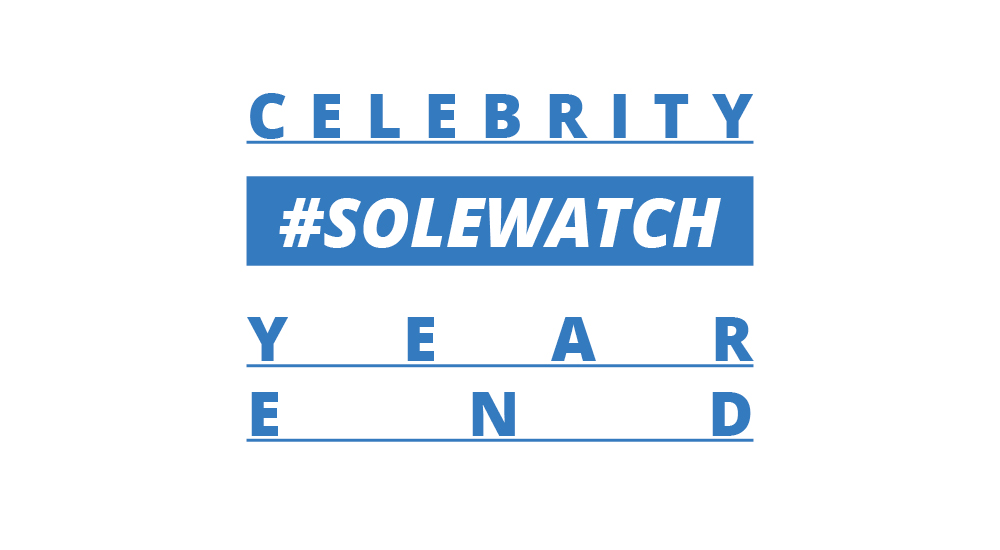 We're nearing the end of what will go down as one of the most exciting years for celebrities in the footwear industry. From Kanye West showing his adidas collection during New York Fashion Week, to Rihanna taking on a role as Creative Director at Puma, the biggest names in the game were able to cross over and leave their marks in a major way.
At the core of it all are the sneakers being worn, which we chronicle weekly in Celebrity #SoleWatch. To recap the past year's features, we've put together a list of the Top 10 celebrity sneakerheads of 2015, based on a criteria of overall #SoleWatch appearances, times voted Sole Celebrity of the the Week by the readers, overall sneaker quality and cultural impact. See the full breakdown below, beginning with a brief analysis of the spotlight's most important categories.
For each spotlight, readers are asked to vote for the Sole Celebrity of the Week — the one person whose sneakers stand out the most. Kanye West earned the nod 8 times this year, followed by Wale with 6. Michael Jordan only made three appearances, but won the vote each time he was included.
---
These three men were the most visible sneakerheads in Celebrity #SoleWatch this year. Out of 52 possible posts, Fabolous was featured in 41, while DJ Khaled and DJ Envy followed closely with 39 each.
---
If Celebrity #SoleWatch is any indication, Yeezys did, in fact, jump over the Jumpman in 2015. Kanye West's adidas Yeezy 350 Boost was the sneaker celebrities wore the most this year, trailed by the iconic Air Jordan 1 and Yeezy 750 Boost.
---
Top 10 Sole Celebrities of the Year
10. Chris Brown
Weekly Appearances: 34
Voted Sole Celebrity of the Week: 0 Times
Chris Brown isn't the first name that comes to mind when you think of celebrity sneakerheads, but he had an impressive year on-foot. Sticking with his skate-influenced style, Brown didn't scoff at the idea of adding variety to his rotation. He rarely has the flashiest pair of shoes in the spotlights, but he always wears something solid, and more often than not, something unexpected. Brown also gets credit for starting a little celebrity sneaker closet battle with a few of his peers.
---
9. Kevin Hart
Weekly Appearances: 20
Voted Sole Celebrity of the Week: 3 Times
Kevin Hart is Hollywood's leading funnyman, but his sneaker game is no joke. Perhaps the most surprising name on this list, Hart broke out the best Nike and Jordan Brand has to offer while on the road this year. He was also the recipient of a pair of custom "Hustle Hart" New Balance 998s and won the Celebrity Game MVP in BHM Nikes.
---
Weekly Appearances: 35
Voted Sole Celebrity of the Week: 1 Time
A mainstay in the celebrity sneakerhead discussion, Trinidad James made a splash this year when he became one of the first people to customize his adidas Yeezy 750 Boosts — and he went with bright yellow. He rounded out his rotation with plenty of vintage heat, but also made it a point to show his support for current product. More importantly, his web series Camp James returned for another season and he continues to run charitable shoe drives for the less fortunate.
---
7. DJ Envy
Weekly Appearances: 39
Voted Sole Celebrity of the Week: 2 Times
DJ Envy has been one of the most consistent celebrity sneakerheads over the past few years. His strength is his ability to get his feet into the next hot release before anybody else — he was responsible for quite a few on-foot first looks this year. Best known as one of the faces of Power 105.1's Breakfast Club radio show, Envy also hosts the Fresh Out of the Box web series with his plug Angel.
---
Weekly Appearances: 14
Voted Sole Celebrity of the Week: 1 Time
There may not be a Nike athlete who gets a sneaker 'fit off better than Allyson Felix right now. When she's not blowing away competition on the track, Felix is usually kicking back in a fresh pair of kicks, and pulls them off in any setting. A faithful endorser, she's always wearing something from Nike or Jordan Brand, but she mixes things up as much as possible. The Olympic gold medalist even has her own Air Jordan 4 PE, which we hope becomes part of her 2016 rotation.
---
5. DJ Khaled
Weekly Appearances: 39
Voted Sole Celebrity of the Week: 1 Time
You may not know what he does, but you definitely know who DJ Khaled is. His choices in sneakers are generally predictable (Jordans and whatever is hyped up at the moment), but he'll keep things interesting from time-to-time with mid-2000s retros. For Khaled, it was more about his ability to create great sneaker moments for reasons other than wearing them. For example, shopping and closet touring with Complex and dropping countless impactful pop culture quotables in the process. With the recent launch of his insanely popular Snapchat account (DJKhaled305), we're going to be blessed with even more success next year.
---
4. Fabolous
Weekly Appearances: 41
Voted Sole Celebrity of the Week: 2
It's been a year to remember for the Brooklyn wordsmith, who dropped official collaborations with Packer Shoes and Villa. His partnership with the latter has been centered on throwback fictional jerseys, which he often wears along with one of the most diverse sneaker collections owned by a celebrity. His shining moment may have been dropping a Back to the Future-inspired video for his song "You Made Me," in which he wears Nike Mags while driving a DeLorean.
---
3. Wale
Weekly Appearances: 36
Voted Sole Celebrity of the Week: 6 Times
If this were strictly being judged shoe-for-shoe, no celebrity does it better than Wale. All the money in the world doesn't replace the knowledge, experience and taste that are part of Folarin's repertoire. Villa and ASICS were wise enough to finally work on a sneaker collaboration with the D.C. rapper, before the retailer brought him aboard again for a Timberland boot. Both shoes fared well and there's no reason to believe that Wale won't have more success with footwear next year.
---
2. Drake
Weekly Appearances: 10
Voted Sole Celebrity of the Week: 2 Times
In addition to setting the Billboard charts on fire, Drake left his mark as a sneaker salesman in 2015. The OVO x Air Jordan 10 was one of the year's most anticipated releases, drawing large crowds at stores across the country on its drop date. Then, during OVO Fest this past summer, the Toronto native debuted "Home" and "Away" OVO colorways of the Air Jordan 8 on stage. Looping the music back in, Drake teamed up with Future and made "Jumpman" a hit record in September, and his friends at the brand even co-signed him in his beef with Meek Mill. We may not be at the point where everyone will wear what Drake's wearing, but anything he does turns into a major story, including his endeavors in sneakers.
---
1. Kanye West
Weekly Appearances: 16
Voted Sole Celebrity of the Week: 8 Times
The top choice here isn't exactly surprising, but it could be argued that Kanye West has never had a better sneaker year. Perhaps the biggest story in the sneakerhead segment of the industry was the official launch of West's partnership with adidas. The rapper/designer released 10 different footwear styles, each selling out instantly at retail and reselling for up to five times the box price. He also helped fuel the popularity of non-Yeezy items like the Ultra Boost, bringing mass awareness to the brand's hottest new technology. Argue market shares all you want, but in our world, adidas was cooler than any other sneaker brand, and largely because of West's endorsement.