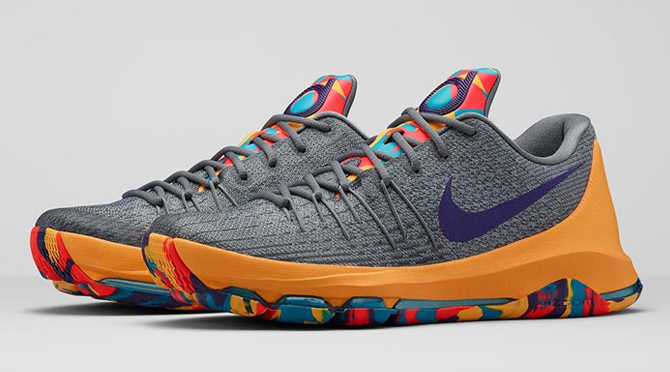 by Rajah Allarey
The Nike KD 8 "P.G. County," the latest colorway of Maryland native Kevin Durant's signature basketball sneaker, has made some folks in his home county of Prince George a bit unhappy.
We all know about the controvery surrounding the Washington Redskins name as well as the the decision to rename the Washington Bullets to the Wizards years ago as a result of gun violence. Now, in a story reported by NBC Washington, the official nickname of the Durant's latest sneaker - "P.G. County," an obvious nod to Prince George County - isn't sitting well with some of its residents. Apparently, the term "PG" is considered taboo in the area and residents including the county's executive spokesperson, Barry Hudson, have taken umbrage with the name and have sent a letter to Nike to explain why it's an issue. Hudson said, "We would certainly prefer that it was 'Prince George's County. Actually sent a letter to Nike kind of giving them some idea of the nature of the term 'Prince George's County' versus 'PG County' just to let them know that it is, to many in the county, a pejorative."
Melvin McCrary, a former coach of Durant's at Seat Pleasant Activity Center, had this to say, "Whether it's 'PG County,' whether it's 'Prince George's County,' I just think we all should just enjoy the moment and just embrace it." While many would agree with his sentiment, you certainly can't make everyone happy which is certainly the case here.
For those of you from the area, is this really an issue or are people blowing it out of proportion? Share your thoughts in the comments below.