by Gerald Flores
When Jordan Brand looked to deck out its first flagship store in Chicago — 32 State Street, it turned to a native son of the city. Enter contemporary artist Hebru Brantley. His artwork is prominently as you walk through the space and is even on some very limited edition products.
His spin on the Jordan M11 released exclusively at the Chicago store over the weekend, and was a collaboration that was sprung through his relationship with the sneaker's titleholder, Carmelo Anthony.
"When the time came to do something a little different with Melo's shoe, my name came up," Brantley said, adding that Anthony is a collector of his work. " It was a lot of ideas thrown at me on what we could do and we moved from there."
Here, the artist breaks down his work on the new Chicago flagship and what he's got coming up next for the Jumpman.
How did you first link up with Jordan Brand?
It was more of an artist aesthetic relationship. I was doing a few things with them through different agencies when they had certain things going on in Chicago. My relationship with Carmelo Anthony definitely helped because he's a collector of my work. So when the time came to do something a little different with Melo's shoe, my name came up. It was a lot of ideas thrown at me on what we could do and we moved from there.
What kind of work did you put in for this project?
So we did a capsule: shoes, hats, tees. The store is pretty much all branded by me. It has a my stamp on it until the next installation comes in. I did a window display which is a statue of one of my characters "Fly Boy" in a 23 jersey and in a basketball position. There's two of those and then there's a large 11 x 7 ft wall installation that I did of Michael Jordan with the aviator goggles on in my style.
What was it like working with them? Did they give you a brief or did they let you go off and do whatever you wanted?
It was a little overwhelming at first because it was Michael Jordan. They just let me go. Having too much rope on your first go around is kind of fun. It was like, "I have an unlimited budget?" [laughs]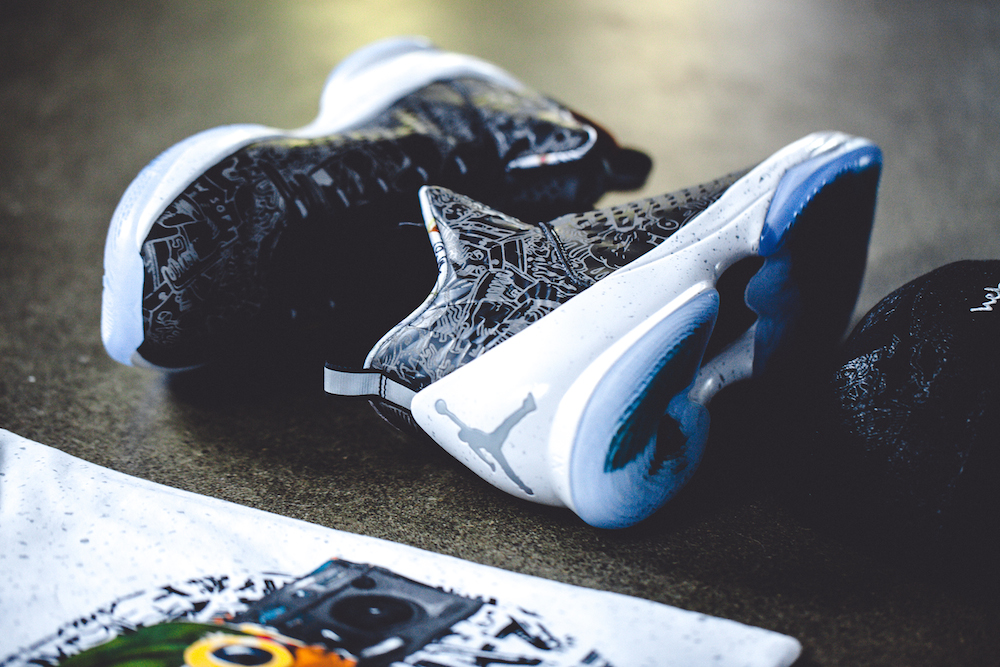 What do you say is this the biggest project you ever worked on?
No. It's definitely one of the most important and endearing. As a kid growing up in Chicago during the Jordan era, I was huge Bulls fan. It's part of the culture. I'm a sneakerhead and being apart of that conversation and the culture now feels good. Chicago is known for a few great things and one of them is Jordan. So to be an artist that not only to gets to design a shoe for the brand, but to be the artist that is represented in the store with the branding within the landscape is really big for me. It's like a "pinch me" moment.
What was your inspiration for the shoe? Did you work with Melo on that?
Initially, it was suppose to be a pack. It was suppose to be a Melo and a Chris Paul or a Melo and a retro. I did a whole bunch of different designs for all three shoes and then they kept changing what they were going to do. It was just a conversation with Melo. I already had an idea as far as story was concerned and which way I wanted to approach it. Melo and Jordan weren't coming in cold in being familiar with my work, so it was just like "Do what you do, let us see it, and let's go."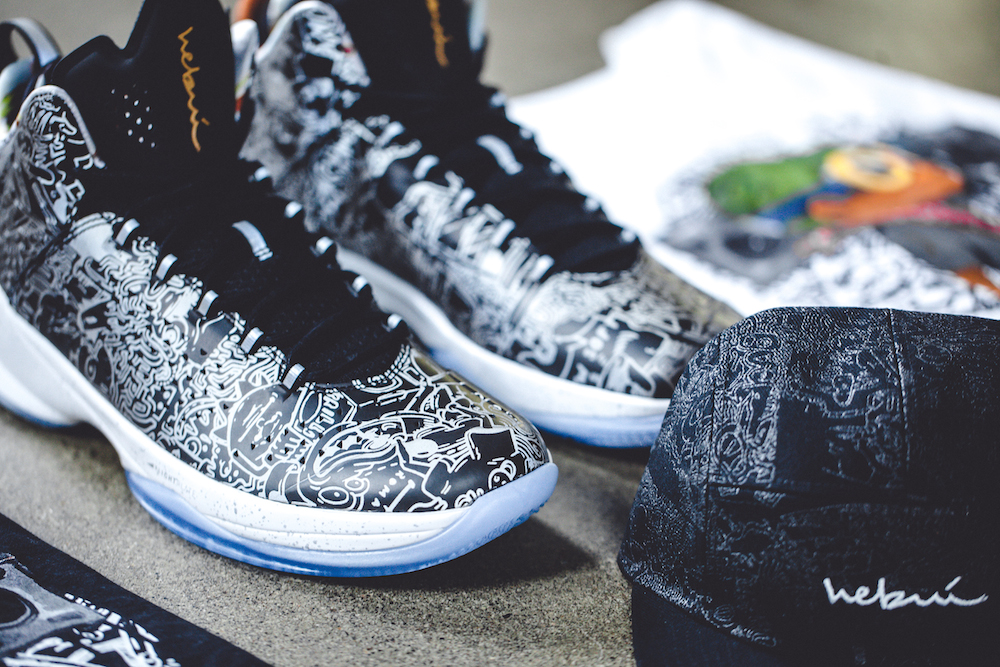 What was your story behind this?
What I wanted it to express was a little bit of myth and legend, but on a very urban contemporary scale. I grew up on the southside of Chicago when talking about sports, and especially premier athletes, you speak about them in a way where they become sort of like a mythos. A move that Michael Jordan did becomes this thing you talk about all day you on the playground, you talk about it all day at the barbershop and everyone is talking about the same story, but adding a little extra spin on it - the grandioseness of it all. My esthetic in my paintings deals with mythology and comic book, cartoon culture. I wanted to approach it that way, telling it like mythology. I wanted it to embody a bit of that playfulness, but still treat the design very serious.
Are there any Easter eggs or hidden details on the M11?
The M11 being a shoe for Melo and him playing in New York, I threw a few things in there that were artistically very New York as far as shout outs to certain people and certain events.
Do you have more plans on working with Jordan down the road?
Absolutely. I am already working on the next round of things. We're trying to attack while the iron is hot. Within that world it takes a little while because there's a lot of moving parts and a lot of people signing off on things. To tease it a little bit, there's a certain Chicago Bull that is now signed Jordan. That's what I'm working on next.