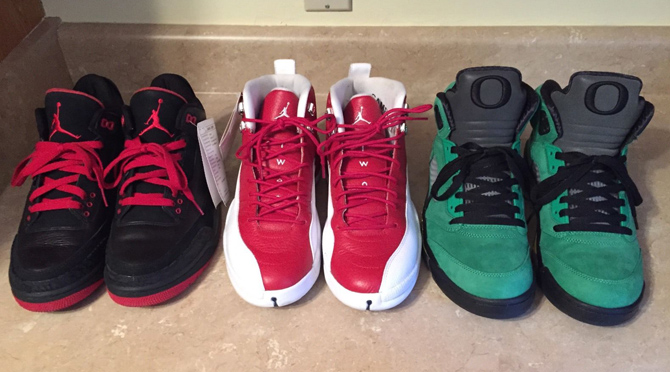 by Rajah Allarey
If you were outbid in the last seconds of the Eminem x Carhartt x Air Jordan IV charity auctions, chances are you still have well over $20,000 burning a hole in your pocket. Well, in an auction that recently went up on eBay, you now have another chance at spending your money and in one felled swoop, end up owning three of the rarest Air Jordans ever made.
The auction is for three pairs of gently used Air Jordans, a friends and family edition of the much ballyhooed Air Jordan V Retro "Oregon," a PE pair of Mike Bibby's Air Jordan XII Retro in a colorway he wore during his time with the Atlanta Hawks, and the crème de la crème, a pair of the Air Jordan III Retro in "Black/Red" that the seller, rolexnotfolex, claims is one of only three pairs in existence with the other two belonging to Nike "bigwigs" who will never sell.
Considering the rarity of all the pairs, you might be able to get more bang for your buck than the aforementioned Eminems. Then again, how many of us are really in the position to drop $20,000 plus on kicks. For the few of you that are, you might want to give this auction
a hard look. For the rest of us, here are some pictures for your enjoyment.