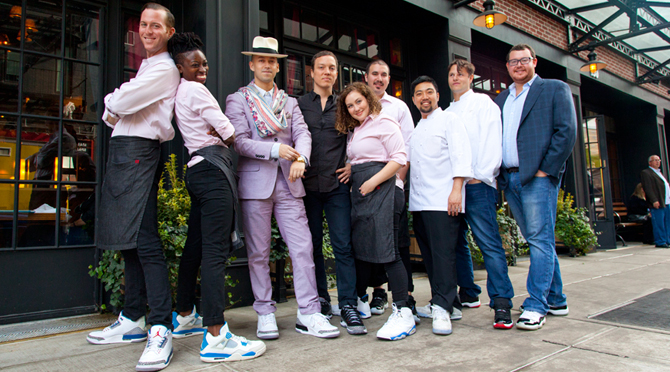 by Brendan Dunne
Anyone with a footwear obsession has no doubt caught themselves out in public accidentally staring at the sneakers of those around them. Anyone with a footwear obsession who finds themselves at fancy NYC restaurant Dirty French doing this will be pleasantly surprised to find that the entire staff there wears Air Jordans.
The team at First We Feast got a look at the sneaker habits of the staff, which stem from the sneaker background of Jeff Zalaznick, who is a partner at the restaurant. Zalaznick contributes sneakers to the cause, all of which are cleaned on a regular basis and checked in and out before every shift. After a staff member has been at Dirty French for a year, they get a pair to keep.
The restaurant has already earned the ultimate sneaker co-sign courtesy of Michael Jordan himself. In the piece, Zalaznick recounts an evening where they were visited by His Airness. At the end of the meal, he approached Jordan to ask him how it went.
"I love the food," Jordan said. "But it's got to be the shoes."
Read more on this sneaker powerhouse of a restaurant here.