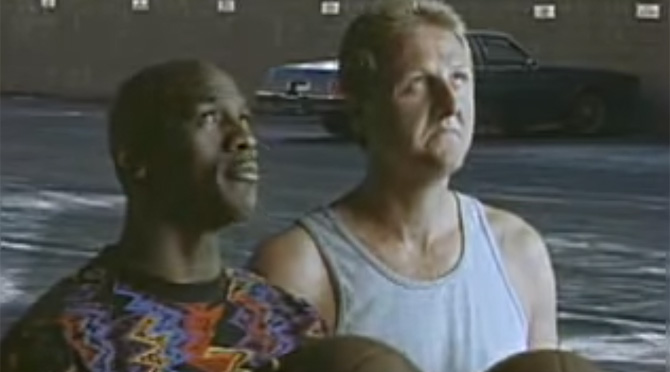 As sneaker design has evolved, storytelling has become one of its most important elements. In the case of Michael Jordan, still the world's biggest sneaker endorser 12 years after playing his last NBA game, the stories typically revolve around the nostalgia of his career. Most recently, Jordan Brand released the "Nothing But Net" Air Jordan 7, an all-new colorway of the championship model styled with details referencing his appearance in a 1993 McDonald's commercial alongside Larry Bird.
In the spot, Jordan goes head-to-head with Bird in a game of H-O-R-S-E, wearing an unmistakably 90s-flavored shirt and short set. While fans have grown to appreciate Jordan's colorful getup over time, the commercial's director, Joe Pytka, initially hated it.
"There's a story about the awful outfit Jordan is wearing," Leo Burnett creative director Jim Ferguson said. "Larry showed up in regular workout clothes. At the time, Michael was designing his own line of clothes. This was one of the outfits.
"According to the contract, Michael could pick his wardrobe. (Director Joe) Pytka, known for his temper, ridiculed Jordan continuously about the outfit. But to no avail. Jordan refused to wear anything else but his creation."
So, if Jordan were the kind of guy willing to compromise his own tastes, today's Air Jordan 7 release would have never happened.
Read more behind-the-scenes stories about "The Showdown" commercial over at Champs Sports' The Drop.