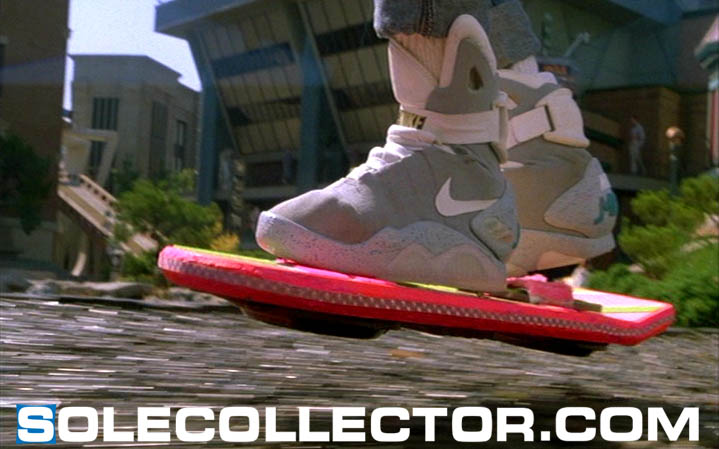 words // Brandon Richard
updated 10/21/2015
With much excitement surrounding Nike's possible introduction of real power-lacing Air MAGs, it's easy to forget that the film that made the shoe famous predates a large portion of the sneaker community. Sure, the Air Mag's unique colorway and futuristic design make it an instant head-turner, but knowing the history of the shoe will help everybody understand why the world is buzzing about today's events.
We start with the Back to the Future film series, which debuted on the silver screen in 1985. The Robert Zemeckis-directed and Steven Spielberg-produced film starred Michael J. Fox as the main protagonist, Marty McFly, and Christopher Lloyd as the high energy and peculiar scientist "Doc" Emmett Brown. Doc creates a time machine that mistakenly zaps Marty into the 1950s, where he inadvertently interferes with the budding relationship of his would-be parents. As a result, Marty must now fix his parents' relationship, or he'll cease to exist in the 1980s. Heavy stuff. That sets up a plot for the time-traveling adventures that are now known as the Back to the Future Trilogy.
The Nike Air Mag wasn't actually introduced into the series until the second film. In 1989's Back to the Future II, Marty and Doc head 30 years into the future where their time-traveling caper continues in a technologically advanced version of Marty's hometown. Aside from the great story, the film's vision of the future has stuck with fans ever since: hoverboards, auto-adjusting clothing and, of course, self-lacing Nike sneakers. After the success of the original flick, Back to the Future II premiered in the United States on November 22, 1989. With a budget of $40 million, the movie grossed more than $330,000,000 worldwide, making it the 12th highest grossing film ever at the time.
Today, the Nike Air Mag is a shoe that still remains ahead of its time. Power-lacing once seemed out of the realm of possibility in a modern sneaker market, but with Nike set to make an announcement surrounding the technology today, it appears that nothing is impossible. It is, after all, October 21, 2015.
Relive Marty McFly's moments in the Nike Air Mag by watching the two video clips below.
Marty Steps Foot Into the Nike Air Mag for the First Time
Full Hoverboard Scene