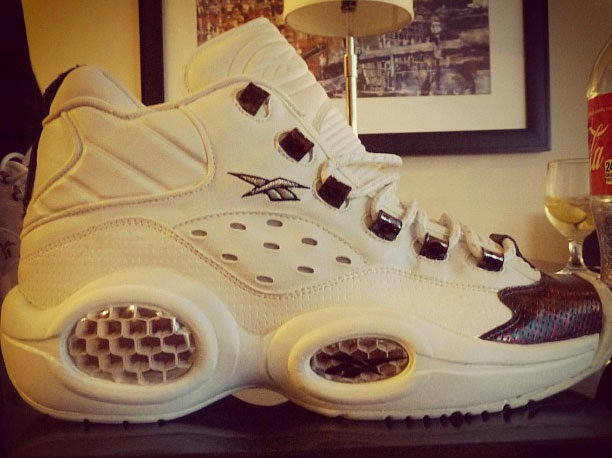 by Brandon Richard
With the Reebok Question on the cusp of its 20th Anniversary, the brand is expected to celebrate with a range of special releases and bringbacks from the original run. Included will be the first ever release of a Question prototype that predates the iconic retail version.
While the silhouette of the shoe is generally the same, there are many differences between the Prototype and released versions of the Question. First, the quarter features large perforations and the Reebok Vector sits above its usual position. Below runs a reptile-textured overlay, a theme that continues on a uniquely printed toe cap and newly placed heel pull-tab. The tongue, which now features a slightly less embossed logo, is constructed with ribbed stretch material in place of the standard mesh. The front Hexalite cushioning window is adorned by another oddly placed Vector.
There's also a different "Question" logo on the heel of the Prototype. The Question was designed while Iverson was still at Georgetown, and the name of the shoe was intended to be ambiguous enough to keep whether Iverson signed with Reebok or not. Fortunately for the brand, everything worked out.
Not everything about the Prototype release is exactly like the original. It appears Reebok opted to keep the traditional rear Hexalite window instead of adding the noticeably larger window on the sample.
A release date for the Reebok Question Prototype hasn't been announced, but expect a 2016 launch as part of the 20th Anniversary celebration.