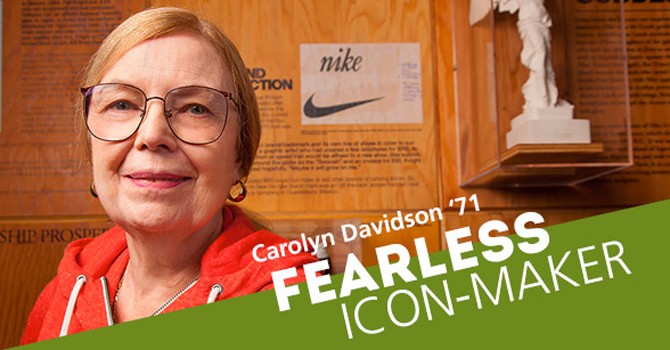 by Brendan Dunne
Did you know that the woman who designed Nike's Swoosh logo only charged the company $35 for her work?
Carolyn Davidson, the mind behind the now-ubiquitous mark, ended up designing it after a chance meeting with Nike co-founder Phil Knight at Portland State University, where Davidson was a student and Knight was teaching an accounting class. In an interview with her alma mater, Davidson says that Knight approached her after overhearing her complain that she couldn't take an oil painting class because the fees were so high.
"A tall man in a suit walked up and said, 'Are you the one who can't afford to take oil painting?'" Davidson recalls.
Knight offered her work designing charts and graphs for a presentation he was giving to Asics execs (this was when Blue Ribbon Sports was still partnered with the Japanese sportswear supplier). She continued to do graphic design work for Knight, who eventually asked if she would design a "shoe stripe" with the only briefing being that it needed to "look like speed."
Davidson remembers that Knight really liked the adidas three stripes logo, but knew she had to create something totally different. The design that she settled on initially disappointed Knight, but the company used it anyway. While her fee for the work seems small in retrospect given how important the Swoosh has been for Nike, Knight met with her years later and gifted her an undisclosed amount of Nike stock as a gesture of goodwill.
Read more on Davidson's story via PSU.