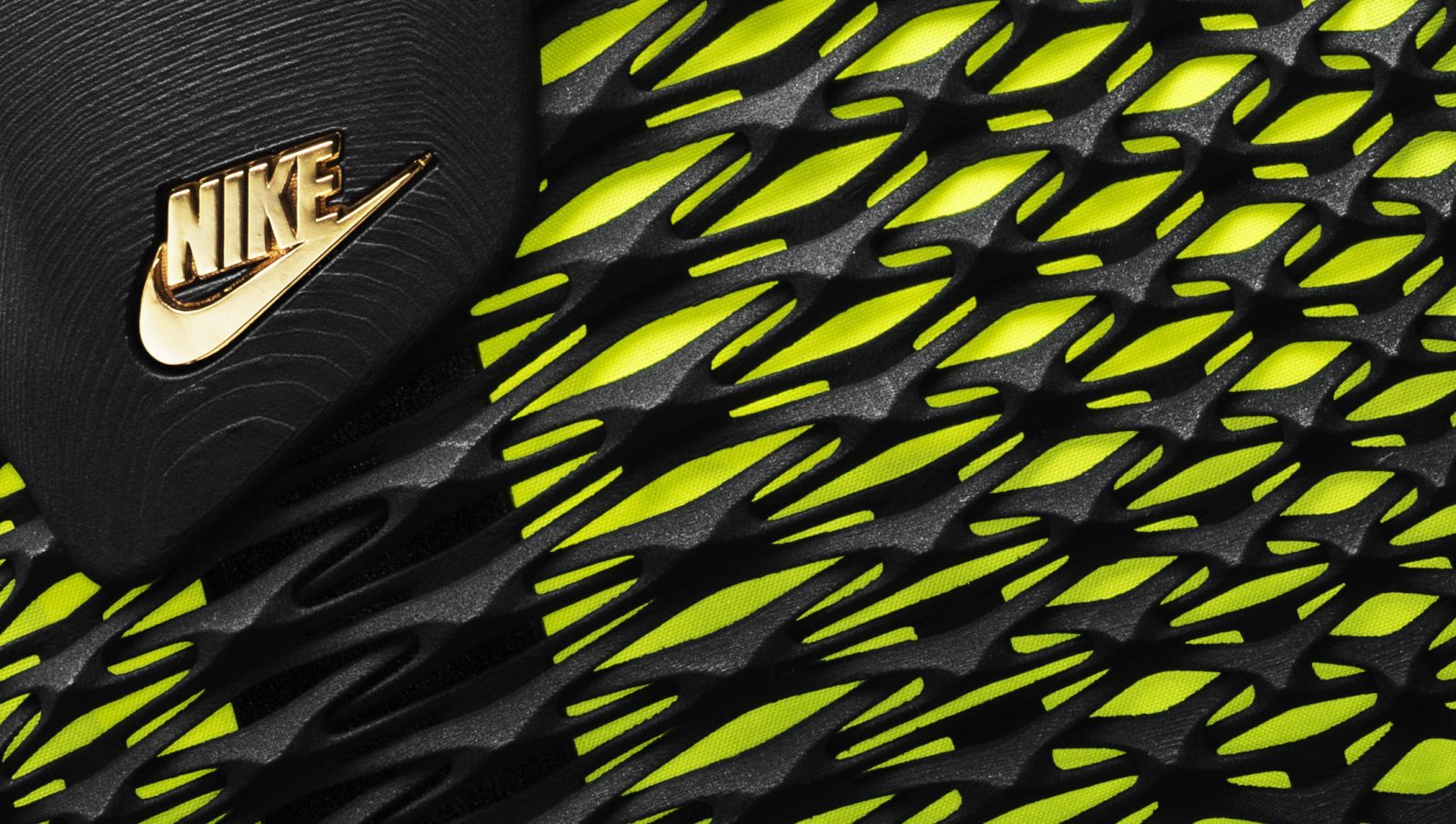 by Brendan Dunne
Last week, Nike held its first investor meeting since 2013, with the stated purpose of reviewing the sportswear titan's achievements in fiscal 2015 and long-term strategy for growth. The execs that took to the stage dished on much more — new innovations in the world of sneaker technology, cross-industry collaborations, and more were discussed at last Wednesday's meeting at the Nike world headquarters in Beaverton, Ore. Delivering the info were Nike higher ups like CEO Mark Parker and COO Eric Sprunk.
The only problem with the meeting was it that it was a day-long commitment, meaning anyone not privileged enough to set aside the necessary chunk of hours to take the whole thing in ran the risk of missing out on the exciting plans discussed. Fortunately though, Nike's made recap videos and transcripts of the day's proceedings available. This stuff is required reading for anyone seeking a deeper understanding of how the leader of the sneaker world operates, so anyone looking for the comprehensive recap can find that here.
Everyone else can scroll below to read the biggest headlines from the 2015 Nike investor day meeting, as discussed by the brand's executive management team.
---
Nike is aiming for $50 billion in annual revenue by 2020.

"Based on the potential we see for Nike Inc. moving forward, we expect to deliver $50 billion in revenue by 2020. The goal for today's meeting is to show you how we plan to deliver against that opportunity, to show you how Nike is built for growth now and for years to come. Nike is built for growth because we serve the consumer completely. Consumer expectations are higher than ever. They want it personal, they want all access and they want it now. And it's why we invest in areas like digital that fuel our authentic connections. And we obsess amazing products that consumers could never imagine and personal experiences they'll never forget." — Mark Parker, Nike President and CEO
---
Nike is opening a massive new innovation center at its world headquarters.

"I'm excited to announce a new hub for innovation at the Nike World Headquarters, the Nike Advanced Product Creation Center.
This is a 125,000 square foot facility that will house some of our most advanced manufacturing and design technologies. Technologies like new knitting machines, 3-D printing and automation across the board. Next to the machines will be the workspaces for engineers and material scientists and designers all working together to develop the next breakthrough like Flyknit. This is the part that excites me the most. You know for much of my time here at Nike the creative process has involved a lot of back and forth, shipping samples and trips to Asia to perfect the product. Now today's process has completely accelerated. With a technology like Flyknit all we have to do is send our design files to the coders, program the machines and send the code to the factory to make the final product. That's it.
And this is the kind of work we'll be doing at the Advanced Product Creation Center. We've increased speed and communication and we're matching the world's best product expertise with the latest technologies. We'll be inventing new ways to give consumers more choice, more personalized product and faster delivery." — Parker
---
Nike is planning to expand Jordan Brand outside basketball and double its sales.

"You know Michael Jordan's legend transcends sport and culture across gender, age and geographies. He is by all definitions, a living icon. Today the Jordan brand supports athletes and delivers amazing performance basketball innovation. But consider that the majority of the Jordan brand business is in the US, it's in one sport, in footwear with one gender. You know, to us that represents a world of opportunity for one of the world's greatest brands. And I think the time has come for the Jordan brand to spread its wings and grow beyond the sport of basketball." — Parker
"This takes us to the Jordan Brand, a brand that stands for greatness. And athletes all over the globe are drawn to that idea of greatness. This emotional connection to the Jordan Brand sets it up to scale globally, a perfect complement to the Nike Brand and its ability to leverage the Nike footprint. As Mark said, Jordan has been building a product and marketplace foundation to unleash its power across multiple categories. Recent moves, like our University of Michigan deal, and building a foundation in Training and Young Athletes, have started a transition Jordan into a multi-category, global sports brand, which gives us confidence of its growth potential. Today we plan to accelerate Jordan's growth and treat it separately from Nike Basketball. We expect this business to double to $4.5 billion by FY20. That's the kind of global scale and brand strength you can expect from the next era of Jordan. In other words, the Jordan Brand has come to play." — Jayme Martin, VP and GM of Global Categories
---
Nike is trying to ignite female sneaker culture.

"Our Women's business today is $5.7 billion. And over the next five years we expect it will grow to over $11 billion! This growth is yet more proof of the sheer power of the Category Offense. Now, a big part of that success comes in serving consumers where they live and shop, throughout their journey in what we call the Integrated Marketplace." — Trevor Edwards, Nike Brand President
"Now in 2013, I also talked to you about the Sky Hi Dunk becoming a $100 million franchise, and igniting a sneaker culture for her. Fueled by this fast-paced connection to the newest and freshest styles, our Women's sportswear sneaker business is booming. Today we have six Women's footwear styles each at over $100 million, which shows how we bring to life iconic silhouettes and styles designed just for her." — Martin
---
Nike is collaborating with Dreamworks to change the way it designs products.

"I am really excited that I get to announce a new partnership that we have formed with DreamWorks and their newly formulated technology company, NOVA. Using the NOVA visualization platform, we are building a 3-Dimensional digital design system that will transform our product creation process. This partnership will deliver new capabilities for our designers. It will create digital print applications in seconds, photo-real 3-Dimensional visualizations and ultrarapid prototyping. Having premium, on-demand 3-Dimensional imagery will further unleash our team's ability to obsess their craft, to fuel their imagination and deliver performance innovation for our athletes. DreamWorks and NOVA are innovators in their industry, just as we are in ours. So just consider it. DreamWorks designs for the animated body in motion while we design for the human body in motion." — Jeanne Jackson, President of Distribution and Merchandising
---
Nike Flyknit is almost a billion dollar franchise.

"At the 2012 Olympics, we brought the world of sport and our consumers a brand new proprietary technology called Flyknit, a new method of making a shoe upper that is impossibly light and incredibly strong. By Spring of 2013, we were able, with this new technology, to make and bring to market 330,000 pair of Flyknit shoes. When we saw you in Fall of '13, we had 6 Flyknit models in the line: Lunar 1, Racer, still one of our most popular shoes, Trainer, Free, Hyperfeel, and Chukka. And we had gone from that initial run, that very first 60,000 pair in Fall of '12 to 1.1 million pairs in one short year.
...This Fall, just three years after introducing this revolutionary concept of knitting yarns together for the upper of a shoe, we have 28 models of Flyknit shoes in our product offer. It took us 10 years to build Free into a billion dollar franchise. For Flyknit, it's just been 4 years... we expect Flyknit to be over a one billion dollar franchise in 2016" — Jackson
---
Nike's next big territory to conquer is China.

"The last time we met, we said we were going to reset Greater China, and we did. Nike is the number one favorite brand in China and our business has grown nearly $600 million in revenue, or a 24% growth, over the past 2 years. Our Greater China reset is a tremendous example of leveraging our investments and learnings from Nike DTC to drive a mutually profitable integrated marketplace. So how did we do it? In one word, focus. We focused our strategy on the right consumers, categories, consumer-led concepts, and cities. It's important to note that we applied this strategy across all the key cities in Greater China and that's why we've been so successful." — Elliott Hill, President of Geographies and Sales
---
Nike shipped 1.1 billion units last year.

"Last year, we shipped roughly 1.1 billion units through our supply chain. Getting product to the right place at the right time now involves approximately 700 contract factories, 58 distribution centers, delivering that product to approximately 20,000 accounts and 110,000 retail doors." — Eric Sprunk, Chief Operating Officer
---
Nike figured out a way to automate the painting of midsoles.

"We're currently deploying a project that automates, through robotics, the process of painting the midsole. I recognize that this isn't rocket science, but the old process literally required applying tape to ensure paint only goes where you want it, much like if you, you would do if you were painting your living room. It's wasteful and it's slow. Our engineers have developed a robotics solution that can apply paint that requires no tape and also enables new aesthetic paint effects that cannot be achieved by hand like the fade effect you see on the midsole behind me. Our modernization projects are beginning to make an impact on labor productivity and profitability." — Sprunk
---
Nike is working on a 3D printed cushioning system.

"Very recently, we've made a series of design and manufacturing discoveries with 3D printing that we believe will allow us to deliver a completely new, personal, performance cushioning system. A system not constrained by today's 3D laser sintering process. The potential with 3D printed cushioning is vast. And we believe it's going to allow us to better optimize and personalize cushioning for every athlete." — Sprunk
---
Nike spends over $1 billion on materials that don't even get used in products.

"We're also investing in innovative new methods of make, such as additive manufacturing processes that will significantly reduce the waste inherent in what is today currently a largely deductive manufacturing process. In other words, rather than starting with whole cloth and cutting down the materials to those that are required for the product, new additive method start from zero and build materials into the product. We believe this is a significant opportunity within our margins. And to give you perspective on how significant, we currently pay for well over $1 billion in materials that do not end up in our products." — Andy Campion, EVP and Chief Financial Officer
---
Nike is meticulously studying how it can make its products seem more premium.

"You have this belief, and you price it at what you believe the consumer will pay. We're getting a little bit more scientific about it. We're spending time doing deep analysis. We recently just did one on shorts, where we literally looked at every short in our competitive space, did price value equity studies with the consumers, had them tell us what do you think this one's worth versus this one, what details on the shorts -- make it worth more. An interesting one on tops is we suddenly discovered in tops that if a top has a thumbhole in it, the consumer perceives it is a premium top. So we're getting a little bit more scientific about what those features and benefits are that the consumer will perceive as worth more money." — Jackson