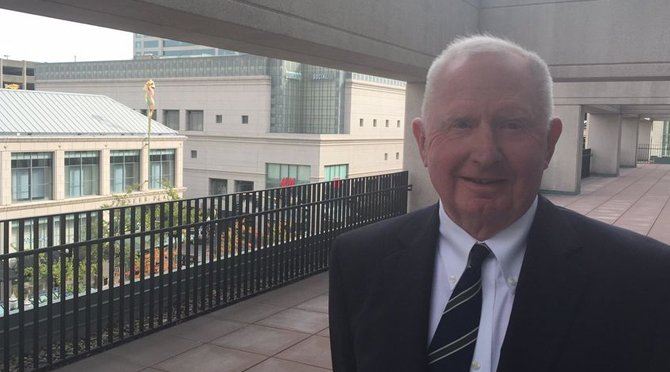 by Brendan Dunne
When Blue Ribbon Sports (the company that would go on to become Nike) was still distributing sneakers for Onitsuka Tiger (the company that would go on to become Asics), a legal battle between the two threatened to end the Nike story before it even got started.
Helping to save the company as the battle waged in the early 1970s was Doug Houser, a lawyer and longtime Nike board member who recently stepped down from his post at the company.
In a fascinating piece at The Oregonian, Houser talks about the case that Nike co-founder Bill Bowerman called a "win or die" matter.
In 1973, BRS filed a federal lawsuit against Onitsuka alleging it had breached the contract they had. Central to the case was the Cortez, a shoe designed by Bowerman that was being sold by both Onitsuka and BRS at the time. A judge eventually allowed both to sell the shoes, but Nike got to keep the Cortez name.
Particularly amusing in Houser's recounting of the events is the story of Onitsuka attempting to short Nike co-founder Phil Knight on a settlement. Houser, who still won't disclose how big the settlement was, remembers Onitsuka trying to give them the massive sum of money in a steamer trunk, the company's lawyer claiming they had to pay by cash due to the difficulty around transferring money out of Japan.
Before he signed the papers to make the settlement official, Houser asked if all the money was there. The Onitsuka team admitted it wasn't, but said they should take it anyway, knowing BRS was short on cash. Knight and Houser refused and promptly left, only to be dragged back in by the lawyers who showed them another trunk full of money, promising that the sum they'd agreed on was all there (The papers still didn't get signed until they transferred the cash to a bank via armored truck to have it all counted).
Get the full story on this crucial moment early in Nike's history via The Oregonian.