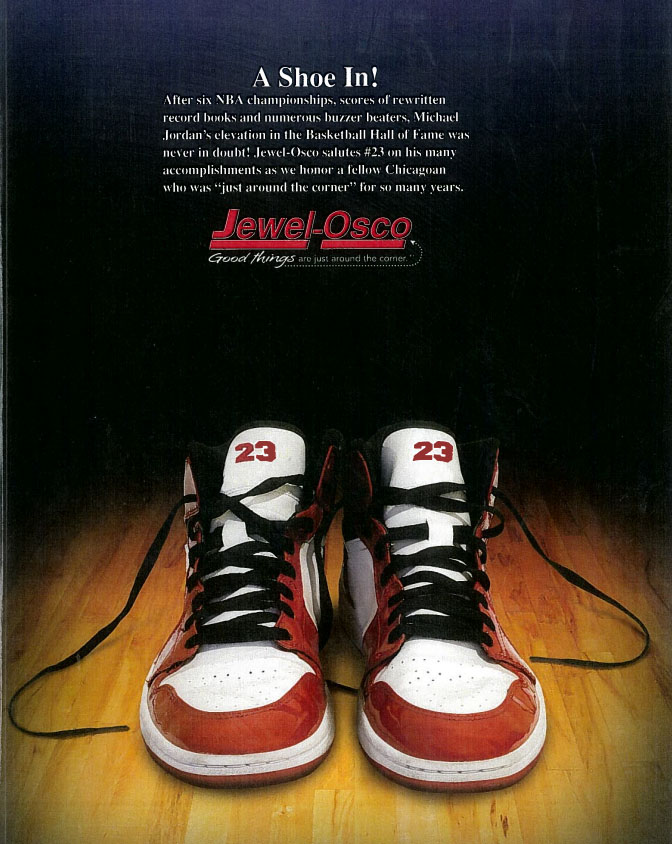 by Brandon Richard
It's been 12 years since we've seen Michael Jordan compete, but he's still racking up some big victories off the court.
A little more than a month after now-defunct Dominick's Finer Foods was ordered to pay Jordan $8.9 million for using his name and promoting a product in an ad without his permission, another grocery store is facing the same fate.
In 2009, Chicago-based Jewel-Osco placed an ad in Sports Illustrated congratulating Jordan on his Hall of Fame induction. In fact, it was the same issue that landed Dominick's in hot water. The ad, pictured above, features a worn pair of patent leather "Bulls" Air Jordan 1s, with official logos brushed out via Photoshop. Both parties have been in a legal battle for quite some time and are scheduled to go to trial in December.
However, after seeing how the Dominick's case, Jewel-Osco may be thinking settlement. Jordan's lawyers confirmed that both sides are discussing a deal this past Wednesday.
"Jordan has an incentive to declare victory and settle now," U.S. District Judge Gary Feinerman told the Chicago Tribune. "Things probably aren't going to get any better for him."
Feinerman also warned Jewel's lawyers that they have little chance of not being found liable for the ad.
Jordan's team remains adamant that the lawsuits are not about the money, but rather protecting the basketball legend's identity. Jordan is still committed to giving the Dominick's lawsuit money to Chicago charities.
H/T Complex