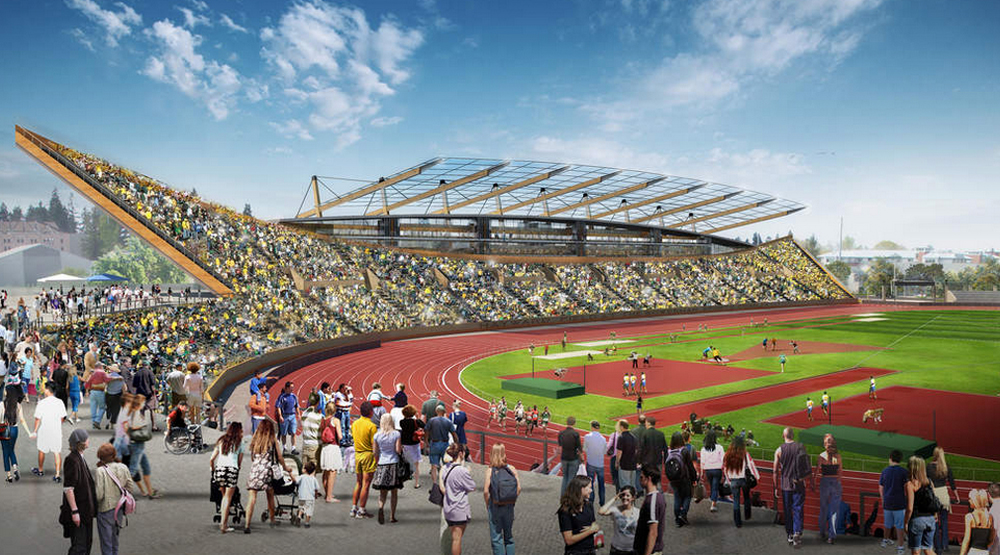 by Brendan Dunne
Tinker Hatfield is poised to leave his mark on his University of Oregon alma mater once more, as he's the proposed designer for an upcoming renovation of the school's historic Hayward Field.
Remember that Hatfield was an architect in his life before sneaker design, plus he did the court for Oregon's Matthew Knight Arena, so he's got plenty of expertise in this realm.
Above is a rendering of the preliminary design for the new Hayward Field.
Hatfield himself spent plenty of time at Hayward as an athlete under Bill Bowerman, the coach who co-founded Nike. Nike's other co-founder, Phil Knight, was also an athlete under Bowerman's tenure, and the company's roots run deep at the hallowed ground along Agate St. in Eugene.
The Register Guard reports that plans for the renovation are expected to move forward this week.
Work on the new Hayward Field is expected to start next summer after the U.S. Olympic Trials and finish before June 2017's NCAA Outdoor Track and Field Championships. The Register Guard has more details on the overhaul planned for this important spot in Oregon sports history.