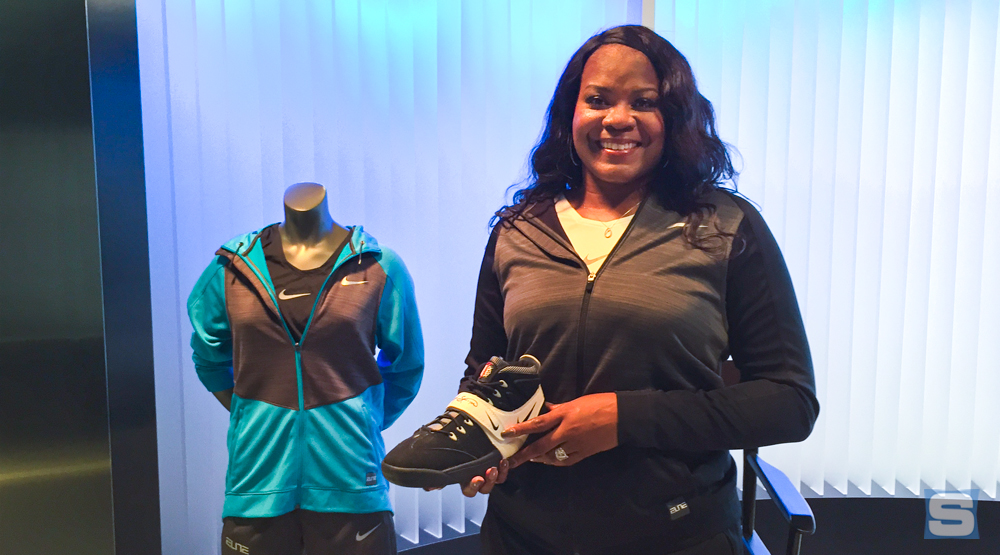 by Gerald Flores
Sheryl Swoopes was a pioneer in both the game of basketball and in the world of sneakers. Not only was she the the first player to ever be signed to the WNBA (and arguably one the league's greatest of all time), but she was also the first female athlete to ever get a signature sneaker.
It started with the Air Swoopes, a sneaker that Sheryl affectionately calls her "baby," which appealed to both female and male hoops fans back in 1996. The silhouette then blossomed into a lineage of five more signature sneakers for Swoopes. Other female basketball players like Cynthia Cooper and Chamique Holdsclaw began getting signature sneakers during that era in the late '90s. And almost 20 years after the Nike Air Swoopes, female basketball players are getting their full Elite Basketball apparel collections, to match their male counterparts, from the brand.
Here, Swoopes explains why more female athletes should get signature sneakers and why it's the perfect time for an Air Swoopes retro.
It's been a while since you were in the WNBA. What's your relationship with the brand now that you're not playing anymore?
Sheryl Swoopes: I'm a Nike baby. I'm a Nike girl. I still have a contract with Nike. I'm coaching now, so my team is a Nike school. To be part of events and things like this keep me involved. The relationship with Nike over the years is one that I hope I will have for the rest of my life.
You were there near the beginning of the women's basketball movement, if not the very beginning. How have you seen Nike support the female athlete?
I think they always got the female athlete and what's important to us, whether it's the shoes or the training gear. But now, it's a whole different level. More and more girls are starting to play basketball and you know we have to look good. Even if we're working out or playing sports, we want to be comfortable, but still look good while we're doing it. More girls can see the gear and apparel and how it feels, what it looks like, how it fits, and you might have more girls more want to play. This is huge.
Having played in men's and women's basketball sneakers, how vast is the difference between how each are built?
When it comes to shoes, I think it really depends on the person. You know, I have some players on my team now that can't really wear a women's shoe because it's too narrow in the front, so we have to get them men's shoes. For me, I had really bad weak ankles, so it was important for me to have great ankle support in the shoe. I think it really depends on the person.
But I would say one thing that Nike has gotten really good at over the years is the colorways. Before when you talked about women's shoes, they had to be yellow or pink or baby blue or some other girly colors. Now you see them doing black and gray, white and black, white and gray; like more bold, stronger, tougher colors that, you know, you could look at that shoes and you wouldn't know it was a woman's shoe.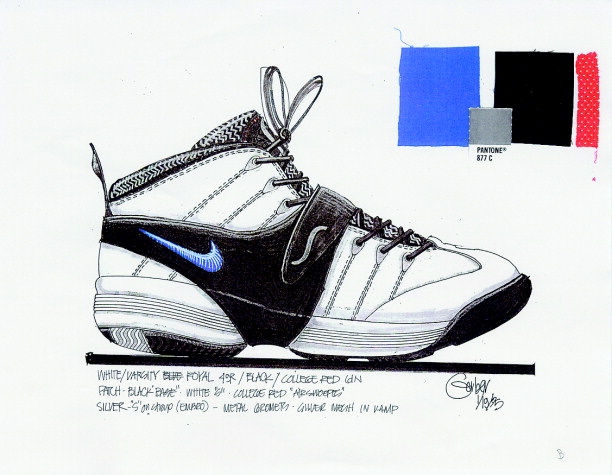 It's a known fact that you were the first female with a signature sneaker. What are your memories of working on the Air Swoopes?
Just talking to Nike and being able to give my input on the design of it and what was important to me in a shoe. It's crazy to see the progression of the first shoe to the rest of the others. With every shoe, there was something different about them. But every step of the way, I gave them my input.
The first shoe especially was important to me because it was an affordable shoe. I wanted young girls to be able go to the store and go to the women's wall and say "I want that shoe," and not have to go to the men's wall.
Guys wanted them too.
Yeah, and guys too. The only thing I wish that they made it in bigger sizes.
Right.
Because I got a lot of guys saying they need it to be bigger, you know? And I thought the price point for the first shoe was very reasonable and that was as important to me as every aspect of the design.
So back in that decade, not only did you have the signature basketball shoe, but other players in the WNBA did as well. Why do you think we don't see any more signature athlete in the women's category?
I don't know. I asked the same question. I really don't know. I think they are enough women out there who have done a lot for the game and continue to do a lot for the game. They are very good at what they do and without a doubt I know there are little girls and young ladies out there that would love to be an Elena Delle Donne or a Skylar Diggins. Maybe it's just a matter of time before someone else has theirs.
If you could hand pick one person in the WNBA who'd be in line for a signature sneaker, who would it be?
You're putting me on the spot! Well I mean you can't pass the MVP, and Elena Delle Donne has done more than just about any other basketball player, you know. She represents a lot of different women and she's good at what she does, so it's really hard to pass on her. I would probably put Skylar in it too.
Skylar, I thought struggled a little bit her rookie year, but the following year she got a lot better. She has ton of fans and tons of followers, no doubt about it. Her shoe would probably sell and do well. But I think there's quite a few you can pick, so I couldn't necessarily go with one person. There are some veterans in the league that I think have put their time in and deserve something like that too.
Going back to the Air Swoopes. A lot of '90s basketball shoes have retroed recently. Is the Air Swoopes due for a retro now?
I was just asking that question. I had a lot of people asking me for it, but I don't know if Nike sees a need for it to come back. I don't know what their reasoning is, but that question I'm going to answer definitively and say "Yes." I think, if for nothing else, I would be very curious to see how the shoe would do. It was a different shoe and a lot of people loved them.