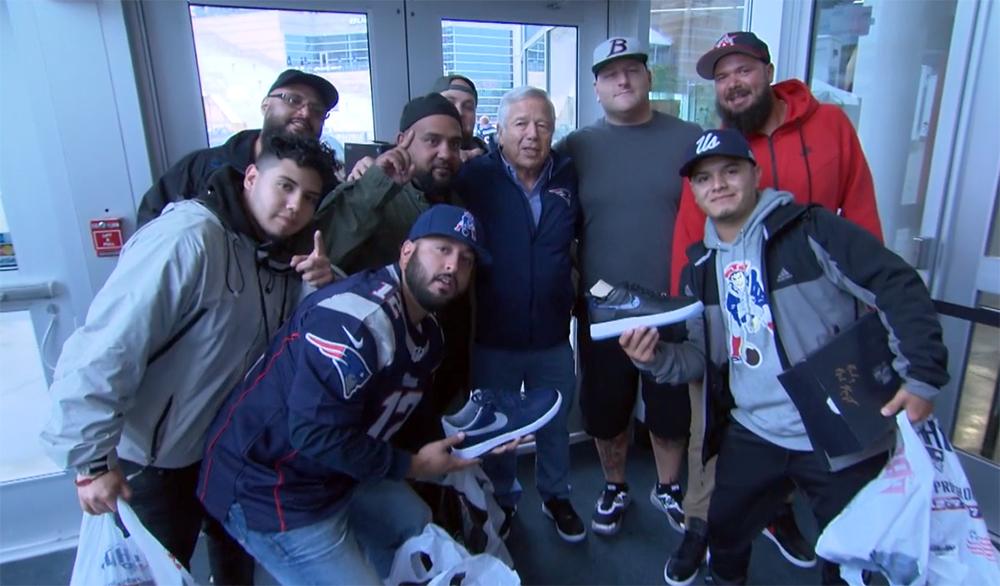 by Brandon Richard
Fresh off a victory in the season opener, New England Patriots owner Robert Kraft is celebrating Super Bowl number 4 and the release of his second sneaker collaboration with Nike.
Say what you want about Kraft, but it's not often that billionaires "slum" it with regular folks at sneaker events. But there he was, taking part in the "Patriots" Lunar Force 1 launch at Nike Boston on Thursday and the Patriots Pro Shop yesterday. Kraft chatted with customers waiting in line, posed for photos and signed pairs of the new shoe. He also announced that Nike is already working on next year's Patriots sneaker, so there's something to look forward to for Pats fans.
Unfortunately, the videos aren't embeddable, but can be watched through the links tweeted below.
Robert Kraft at Nike Lunar Force 1 release at the Patriots Pro Shop WATCH: http://t.co/RmyF4c3h6i pic.twitter.com/EApGFHnLhq

— Patriots.com (@PATRIOTSdotCOM) September 11, 2015
Robert Kraft greets fans and signs autographs at Nike Lunar Force 1 Launch #Patriots WATCH: http://t.co/k7WAxjxILh pic.twitter.com/Mn1g03T5Xf

— Patriots.com (@PATRIOTSdotCOM) September 10, 2015