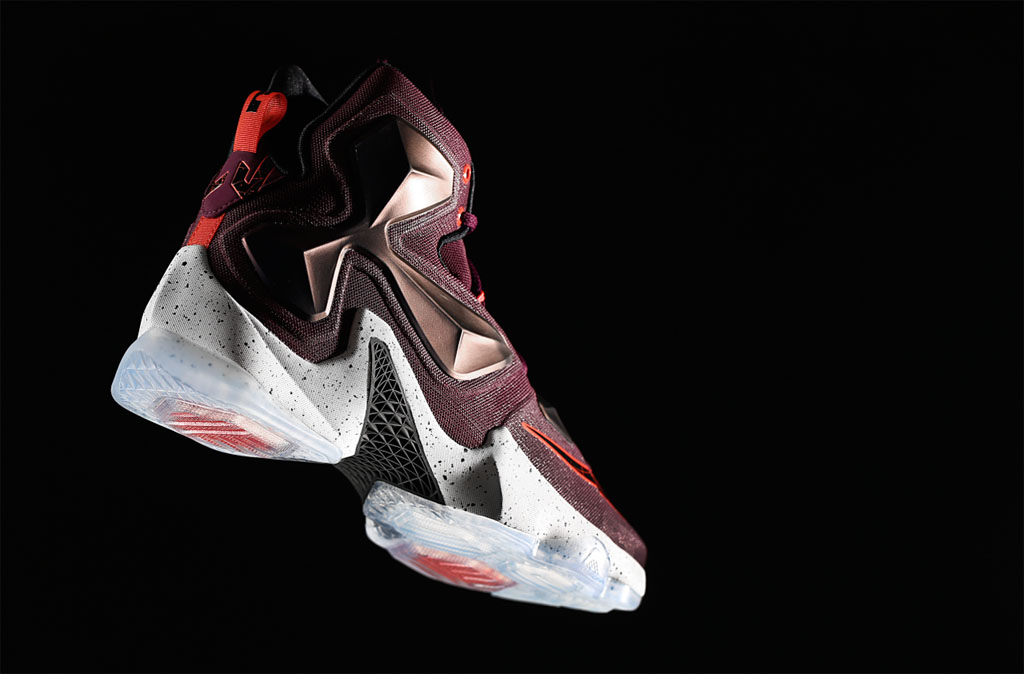 Buy Now: End, Villa, City Gear, Shoe Palace, Finish Line, Foot Locker, Footaction, Eastbay, Champs, Hanon, Nike, Soleheaven
Today, in his hometown of Akron, Ohio, LeBron James is introducing his latest signature shoe — the Nike LeBron 13.
At an event hosted by Kristen Ledlow at the University of Akron, James and Nike designers are providing insight behind the designs of his new sneakers and revealing a few details on what to expect moving forward.
Below are some of the highlights that have been tweeted by local media attending tonight's event.
Watch the replay of Kristen's Periscope with LeBron here:
.@KingJames & @KristenLedlow are LIVE on @Periscopeco. Tune in to hear if he answers your #LEBRON13 question. https://t.co/62bA3Uj4y0

— Nike Basketball (@nikebasketball) September 27, 2015
---
Changing the game. Again. @KingJames discusses how the #LEBRON13 offers explosive performance on a whole other level. pic.twitter.com/0B9woS6BvB

— Nike Basketball (@nikebasketball) September 27, 2015
Cool colorway things. Design inspiration from Akron, Space, Halloween, and a design done by kids from LeBron's foundation

— FearTheSword (@FearTheSword) September 27, 2015
The purple debut colorway is "Written in the stars"

— FearTheSword (@FearTheSword) September 27, 2015
Reference to Akron on the sole pic.twitter.com/LnBmlNKFVs

— FearTheSword (@FearTheSword) September 27, 2015
The #lebron13 was inspired by @KingJames' weight loss last year. The shoes is more lightweight. pic.twitter.com/lzfdCFqWZM

— Cleveland Magazine (@ClevelandMag) September 27, 2015
"As I'm getting older, I want to get lighter. Not only with my body but my shoe as well." — @KingJames #LEBRON13

— Cleveland Magazine (@ClevelandMag) September 27, 2015
Colorway of shoe will be named for Akron. Design elements also honor Ohio's role in space. #lebron13 pic.twitter.com/Mbn7SCrWtb

— Paula Schleis (@paulaschleis) September 27, 2015
Nike will release an extension of the #LeBron13 line that will be designed by kids from his foundation. Should hit shelves in the summer.

— Scott @ WFNY (@WFNYScott) September 27, 2015
LeBron said he's using kids to design a clothing line for him to release next year. #lebron13 pic.twitter.com/IrQceFIo4w

— Paula Schleis (@paulaschleis) September 27, 2015
"We won't settle for anything less than great." -- LeBron on his partnership with Nike. #Lebron13

— Cleveland Magazine (@ClevelandMag) September 27, 2015
A #LeBron13 "Akronite" estará no mercado a partir de 10/OUT. E a colorway "Encore", no dia 24/OUT. pic.twitter.com/0PigW8jKbz

— King James Brasil (@Le_BR_on) September 27, 2015