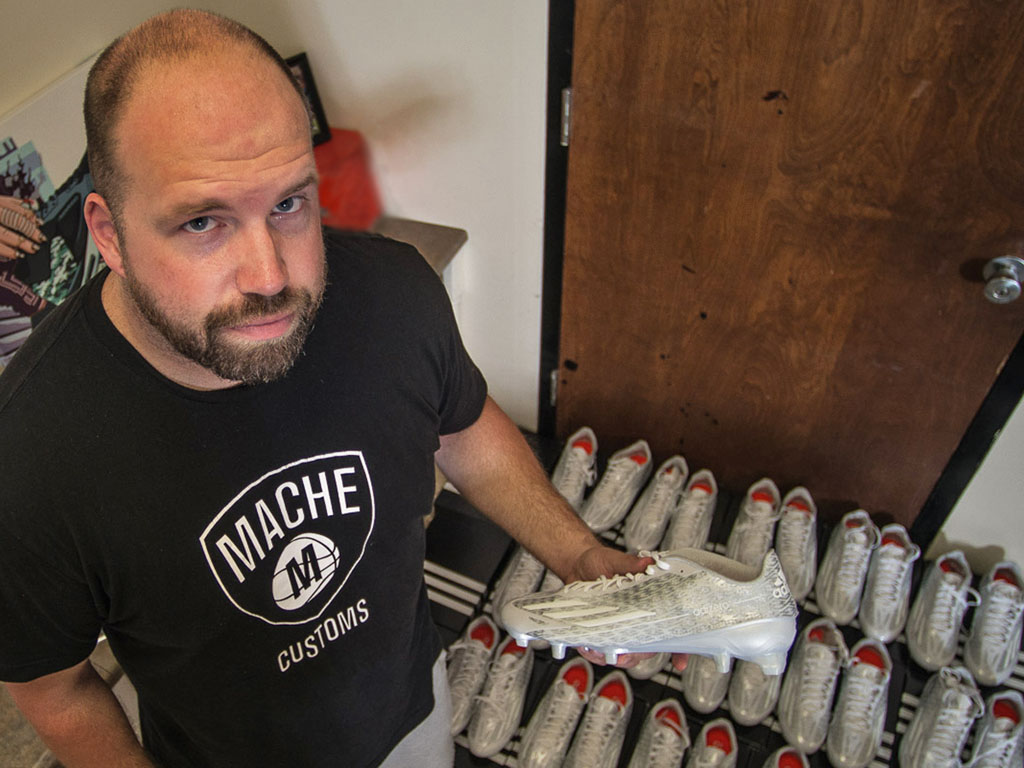 When the University of Nebraska travels to Miami to play the Hurricanes this Saturday, it won't only be a matchup between longtime rivals, but a showcase of two of the best sneaker customizers in the world. In an unprecedented move, adidas plans to lace both sponsored schools in custom hand painted cleats by Marcus Rivero (aka Soles by Sir) and Dan Gamache — or simply Mache.
Mache's name rings out — the New York native has done work for all of the major brands and a lot of big name celebrities. His customs have been spotted on the feet of LeBron James during the NBA Finals, in Geno Auriemma's trophy case and even on display at the Brooklyn Museum's "Rise of Sneaker Culture" exhibit. In this progressive era of customization, Mache has been one of its leaders.
For this project, he was given the task of customizing cleats for the visiting Cornhuskers. Known for their clean on-field appearance, Nebraska opted for a single team concept, as opposed to individual player designs. And before he unveiled the finished cleats to the team in Lincoln earlier today, we had a chance to catch up with Mache for a full rundown of his Nebraska custom concept and what to keep an eye out for later this week.
The cleats pay homage to Nebraska's rich history of postseason success. How was that concept developed? Did you have any input from Nebraska officials or players?
Not from the players. Marcus had the head start on this project, being a Miami guy and being down there, so he had more opportunities to get input from the guys. With mine, there was a lot of back and forth between myself and officials from Nebraska. They're more traditional in terms of their colors and blocking, so we wanted to keep it fluid.
Did you focus on their Orange Bowl legacy because they're returning to play Miami at Sun Life?
Yeah, because of the storied rivalry. It's definitely carrying tradition. The buildup of the two schools being under adidas is also great for storytelling. That was a big part of it, you know, with them coming back, because it's been a long time since they've played there. Initially when I did it, I wasn't really sure how I was going to get that across. At first, I was literally going to write "17 trips to the Orange Bowl," but we wanted to do more of a graphic thing. So my idea, using inspiration from helmet stickers, was to do 17 ears of corn. But they wanted to go away from the ears of corn, so we went with the Ns. And I positioned them like they'd be on a helmet, in a nice little pattern that's endearing to the eye.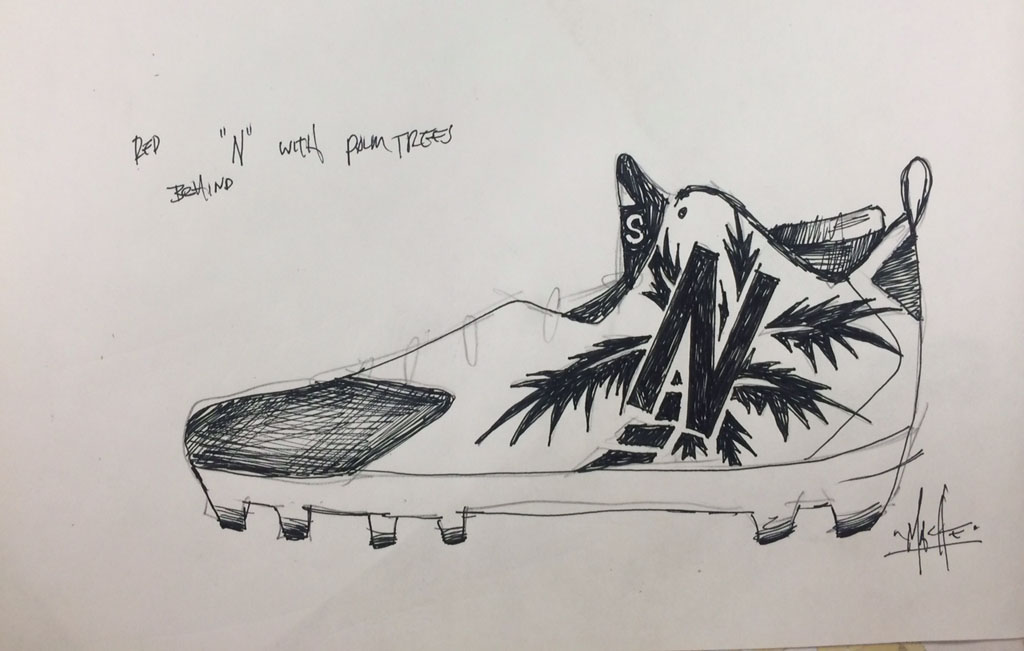 Were any other concepts considered or did the Orange Bowl theme immediately jump out?
That was the main part, and just playing on their return to Miami. Those were the two biggest things. They also have this reputation of being one of the toughest teams in the country, so we wanted to keep it as basic and tough looking as possible without putting skulls and crossbones on it.
Initially, I painted something similar to the old Huskers logo that was like an ear of corn, sent it over and was told it looked like a palm tree. It was kinda crazy looking, it didn't translate that well. But we decided to go with the palm tree, with the "N" a little smaller so it could be seen.
When the project was presented to you, what intrigued you the most about working on it?
I've been lucky to work with adidas on a couple of football projects over the past season or so. Doing stuff for Mississippi State, Miami, Arizona State. I was excited by the volume of the project. And having Marcus working on the Miami part, because I do have respect for him. He's making a lot of waves with his cleats. It proves how far customs have come. From where I started, just being on ISS Forums and Niketalk to having Division I football teams wearing custom cleats, it's crazy. It just shows the growth.
You were part of the Miami announcement in January. You also did a 2 Chainz Pro Model a few years back. How did you first link up with adidas in an official capacity?
I think it was Arizona State last year, when I did the cleats for Jake Plummer. When DJ Skee was doing Skee Live, I brought shoes for 2 Chainz, Chris Brown and Kendrick Lamar. It kinda goes back to forming relationships. Doing good work and keeping a good rapport with people. They come back to you when you keep your word and do what you say you're going to do and do good work.
How familiar were you with Nebraska before this project?
Well, I'm a sports fan, so I know the backstory. Just knowing that Nebraska is such a storied program. Whether or not I'm a fan of the team, I'm a fan of the sport. So no matter what, I'll be representing whoever just as hard as I would my team.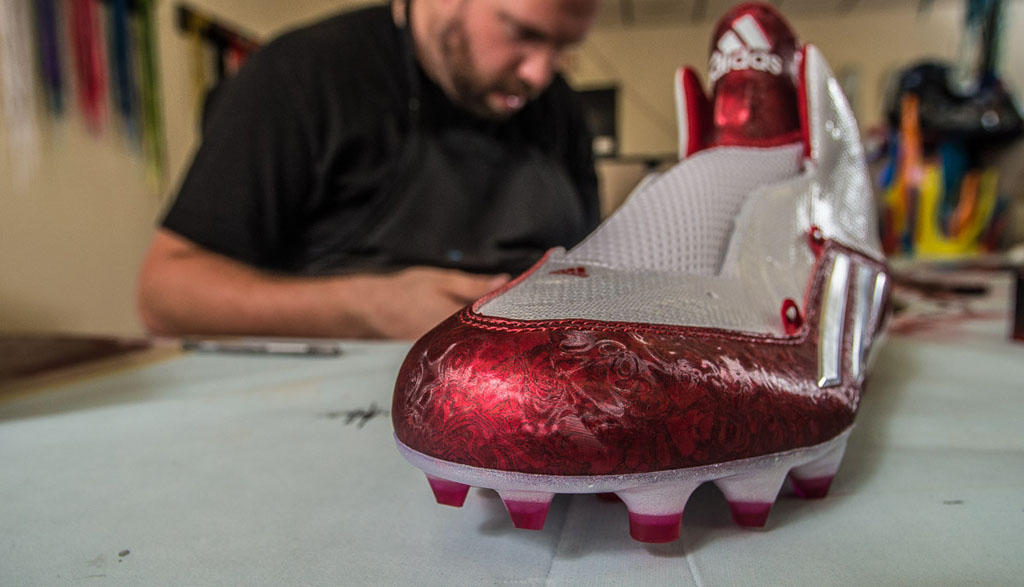 You're known for customizing sneakers for some of the biggest athletes and celebrities. Is this the first time you've customized for a team?
Yeah, this is the first time for an actual team. And in terms of the volume and timeframe, I had to come up with a design that I knew could be replicated in a pretty efficient fashion. The pairs I did for Arizona State and Mississippi State, I was only doing 7 pairs, so I had a lot of time to do more detail. So for the Nebraska pairs, I wouldn't say I toned it down, but I definitely simplified the design. It actually helps with visibility on the field. You don't want to be squinting trying to figure out what's on it. When you see the side of the shoe, you see Nebraska and the player's number, there's not much interpretation needed.
Are there any differences between the processes for customizing cleats and sneakers?
Yeah, anytime you're working with different materials. With the brand using lighter, faster, stronger materials that are synthetic and not leather, it's definitely different in terms of preparation. You try to make it so that they're as wearable as possible and they don't scuff on the first wear. When Mississippi State wore my cleats last year, I was watching the game to see if paint was coming off, and it was fine. It's trial and error, knowing how to deal with different materials. If you're prepping a leather shoe, it's totally different. You're going in with the mindset that this shoe is going to be abraded. I feel like I'm painting a car —  there's so many steps in that process.
What has been the most challenging thing about working on the cleats?
It had to be the volume. It's kinda like a pot of gold at the end of the rainbow. You're looking at the shoes like, "These are a lot of cleats!" And I just found out that I have to do 10 more. I was like, "Oh my god, okay."
[Laughs]
But yeah, that's probably the toughest part. Shoe-by-shoe, it's just a matter of doing the prep right.
And surely you want to see your cleats win the game. Is there an element of playful competitiveness to this?
We're boys, we always kinda bounce ideas off each other. Marcus and I will have conversations. It's competitive, but everybody wants to see each other win. People kinda misconstrue that we're against each other — no, when you're doing what you love, it's fun. It's kinda funny because Marcus will hit me up and we'll kinda have our "Holy Shit!" moments. Like I can't believe we're doing this, it's pretty crazy.
Assuming things continue to head in the right direction, this could be an annual tradition for adidas. Would you consider jumping on board again?
Oh, definitely. I was happy when I got the call. Of course. It goes back to relationships — hopefully they feel the same way about me.