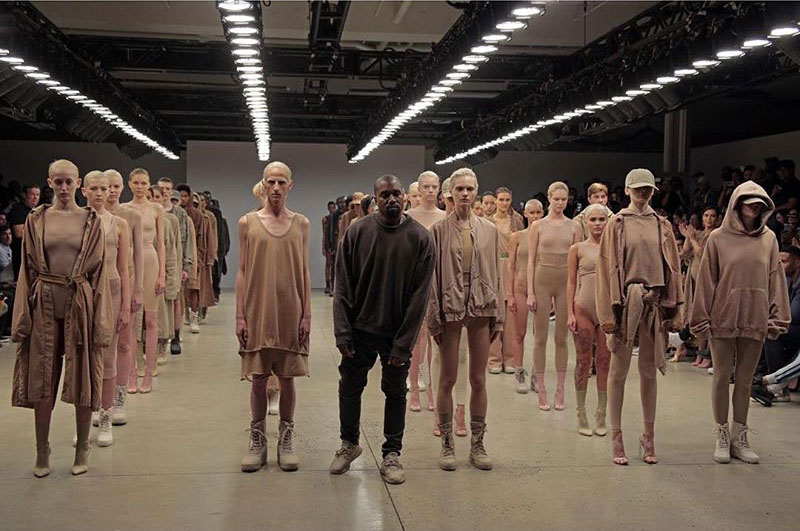 by Brandon Richard
There may not be a man making headlines in as many lanes as Kanye West right now. He has the sneaker community in the palms of his hands with each Yeezy Boost release; took over New York Fashion Week with his Yeezy Season 2 collection; stepped into politics by announcing a possible presidential bid in 2020; and has the world waiting for his next album, Swish. And as busy as he is, Kanye stopped for a quick chat with Vanity Fair after showing his latest collection in New York City last week. Among many topics, he discussed his current relationship with adidas and his hopes for the legacy of his Yeezy 350 Boost sneakers.
"Yeah, we do the shoes with adidas and this past season we just did apparel on our own out of Calabasas," said West, confirming reports that he's no longer making clothing with the sportswear brand. "We're in the middle of negotiations [with backers] is the best way I can put it."
Later, the interview moved on to the topic of sneakers, particularly West's own designs. He was asked if Yeezys will continue to be released in limited quantities moving forward.
"As we transition to eventually where I want to take the footwear, we'll still keep limited colors for people who are involved in that culture. Because there is a level of exclusivity and stuff that is important in the sneaker culture, to get the ones that no one else has."
Though showing empathy for sneaker enthusiasts, West has bigger plans for his creations. Long-term, he wants Yeezys to be the exemplary footwear of their time.
"But I'm sitting there and I'm looking at the 350s and I'm thinking about the Submariner Rolex or thinking about the Eames chair. It's like how do you take this thing to a place where it's just the classic shoe? I feel like the Air Force One or the shell toe speak to the ultimate version of what sneakers were 20 years ago. And I think there's something about the 350s, that feeling of what sneakers are today. And I just want to keep going in there and working on the shape and the last and the way the knit feels, the padding, the colors, to hopefully make that shoe where 20 years from now people say the 350 represented what shoes were in 2016. And we're doing the same thing for the 950s and the 750s."
Elaborating on his obsession with footwear design, West believes that even great Renaissance would have dabbled in sneakers.
"I think if Michelangelo was alive or Da Vinci was alive, there's no way that they wouldn't be working with shoes, as a part of what they work on. Definitely one of the things they'd work on would be shoes. I've gone three years without a phone. I don't go a day without shoes."
Read the full interview now at Vanity Fair.