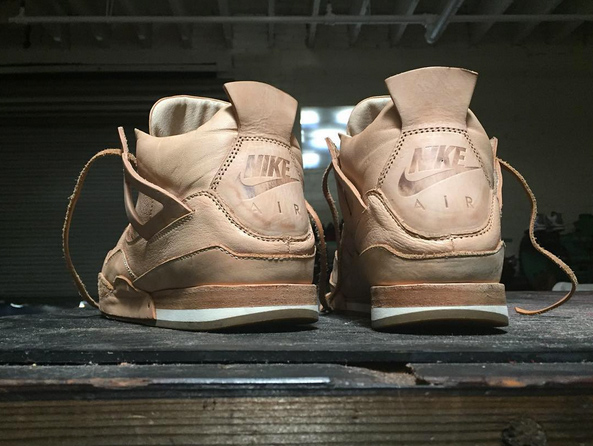 by Rajah Allarey
Unless you've been living under a rock or you're simply not into sneaker culture, then you should be familiar with the work of John Geiger and The Shoe Surgeon.
For their latest project, they once again did what Hender Scheme couldn't, they added Nike logos to a pair of Manual Industrails. And not just any logo, but the much coveted "Nike Air" that the sneaker community pays premium for on their Retros. In May of this year, Geiger and Surgeon added proper logos to Hender Scheme's Manual Industrial Product 08 - the New Balance 1300 - and the Manual Industrial Product 01 - the Nike Air Force 1. This time around, the duo heat stamped "Nike Air" to the back of the Manual Industrial Product 10 - the silhouette that pays homage to the Air Jordan IV.
Though done on pair that Geiger has worn over the course of the past year, its execution is clean and adds to the shoe's character. With Jordan Brand set to release its $400 Air Jordan 1 Pinnacle in "Vachetta Tan," it'll be interesting to see if it follows up with its own version of the Hender Scheme IVs. Because of Geiger and Surgeon, we at least have an idea of what that shoe might look like.