by Adrian Nuñez
I, like many people who read this site, have an addiction to sneakers. The feeling of unboxing a fresh pair of kicks is incomparable, second only to sex and hitting a homerun in baseball. The sneakers I usually wear are name brand: Nike, adidas, and the occasional pair of New Balance, ASICS, Vans or Reebok kicks.
When my editor posed me with the challenge of wearing K-Mart shoes for a week, I immediately agreed. I accepted it as just that, a challenge. Could I overcome wearing trash sneakers and still be considered fresh? I thought so.
So a few weeks ago, I took a trip to K-Mart. Traversing through the clusterfuck of clothing sections, I came upon the men's footwear aisle. Via FaceTime with my editor, we settled upon three pairs of sneakers: an all-white pair of lowtop Catapult trainers dubbed the "Challenge," a pair of Everlast Velcro strap walking sneakers called the "Marc II," and what I assume to be Catapult's knock off of the Air Jordan 3.
The sneakers rang up to an even $90, and it was on. I wore them for 7 days straight, to sort of coincide with fashion week. This is my story.
Day 1
8 AM: After pulling an all-nighter, I stood in the shower pondering what to wear for the day. I glanced at the stack of K-Mart boxes in my room and winced. The reality of wearing these trash shoes for a week settled in.
8:30 AM: I chose the all-white low tops (Challenge), and paired them with a striped APC tee, mustard Brooks Brothers trousers, and a white Chillin' Island hat. Upon lacing up the Challenge sneakers, I immediately scowled at how clunky they were. The girth of these swagless kicks reminded me of the original Ice Cream Board Flips, and not in a good way. Additionally, the synthetic leather was stiff and needed breaking in, resulting in discomfort when walking.
11 AM: I met up with a friend, who needed to go see Mr. Flawless for some jewelry. In the midst of catching up with Flawless, I noted I was wearing K-Mart shoes for the week. He hadn't noticed, but unknowingly flexed on me with not only his ostentatiously luxurious necklaces and priceless trinkets, but also the black adidas Yeezy 350 Boosts he wore on his feet.
12 PM: Walking through the streets of midtown Manhattan, I studied the way people were looking at me. Not a single gaze traveled l below my waist. The average person doesn't give a fuck about what shoes I wear.
12:15 PM: I stopped in the middle of Times Square for my daily outfit pic. Amongst the thousands of tourists occupying the Square, I felt at home in my off-brand sneakers.
1:30 PM: I caught the subway downtown to pick up a check from another site I write for. On the subway ride, a man in a Dashiki said, "You look very nice today. And look at those shoes!" I couldn't tell if he was a crazed junkie or just a friendly dude, but I took the compliment and went on my way.
2:30 PM: As former resident swag lord of the office where I went to pick up the check, I was expecting some minor backlash for rocking Catapult sneakers. I received none. Instead, my homies at the office thought I was trying to start a trend. I heard many "they're not that bad" comments coupled with "you pull them off well."
4:00 PM: I had expected the worst, and was handed the least. I finished my day by attending class. Although my school, Rutgers University, is heralded as the most culturally diverse university in America, it is certainly not the most stylish. I slipped out of class, went home and passed out without a single negative comment about the K-Mart sneakers I had on my feet.
My day 1 conclusion: If I wear K-Mart sneakers either A) no one notices or B) no one gives a fuck.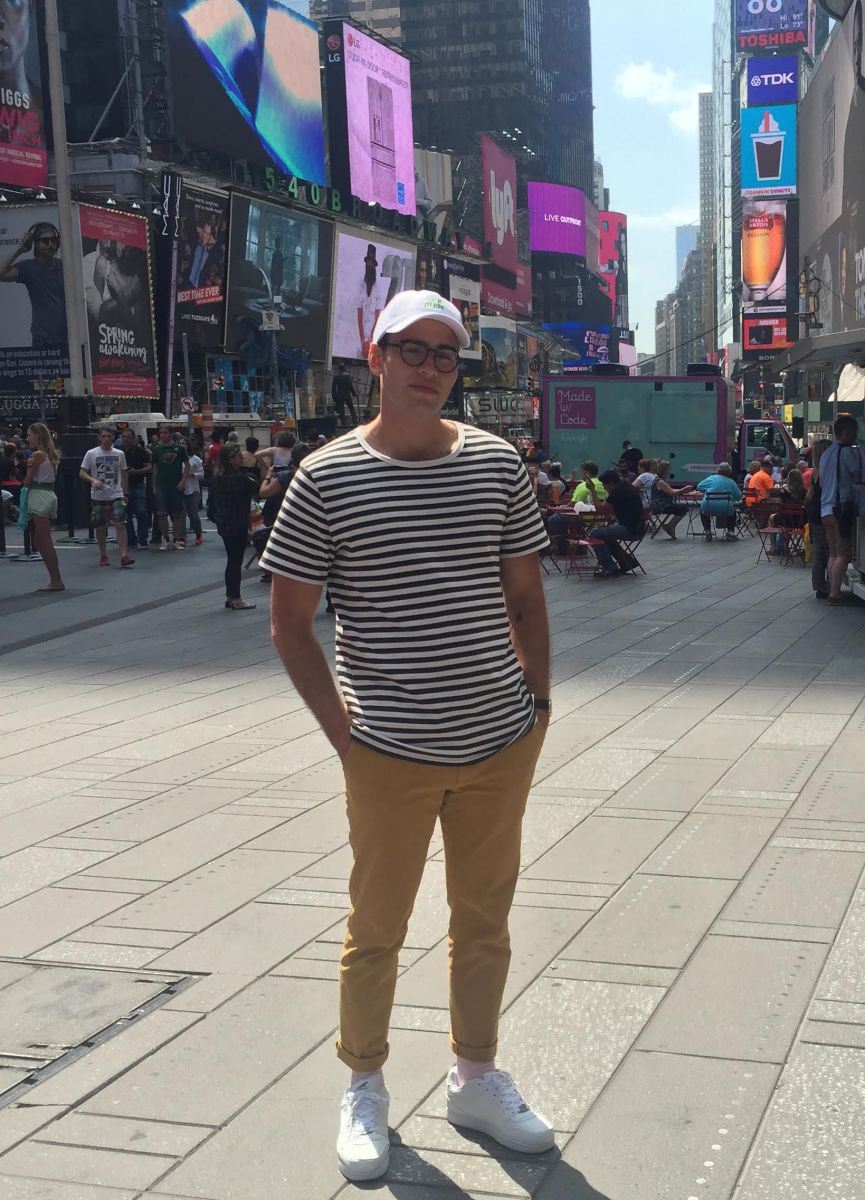 Day 2
10 AM: Thursdays are my busiest days at school. School is also the place where I give the least fucks about how I dress. It's about function over fashion, and the place I go all-out cozy boy. I threw on Nike Tech Fleece sweatpants, a long sleeve graphic t-shirt, Nike running hat, and broke out the Everlast Marc II's with the Velcro Strap.
10:30 AM: The last pair of Velcro Strap shoes I owned were some Pokemon Charizard sneakers that lit up when you took a step when I was a little kid. I begged my mom every single time we were in Kids R Us for those sneakers. It took a few months before she finally gave in and bought me them.
2:00 PM: I wish these sneakers lit up, but I can't deny the comfort level that these walking shoes hold. I can understand why old people wear these, because who actually has time to tie their shoes?
4:00 PM: I got a few odd-looking stares that screamed "WHAT ARE THOSE?!" But still no one verbally clowned me for rocking the shoes.
Day 3
I had been mostly avoiding New York Fashion Week events thus far. The semester just started and I always regret those early class cuts deeper in the semester. I've grown wiser through my college years, so I packed the party into Friday.
9:00 AM: I knew it was a day where I was going to be seen, and in the spirit of Fashion Week I went for my best menswear impression. I was digging the comfort of the Velcro Strapped sneakers, so I paired them with a Purple Label Ralph Lauren jacket and Henley, along with a pair of All Saints slim jeans and my favorite 40s & Shorties Twerking socks.
1:00 PM: I figured if I wore enough Ralph, no one would notice the lowly sneakers I had on. I was right, not a single person glanced at my feet as I walked to Complex HQ for a photo shoot.
1:15 PM: When I got to the Complex offices, my editor was thrilled at the sneakers. And so was I, because my outfit was lit. We made our way to the photo studio and the photographer thought the sneakers actually looked good. Although I was wearing them ironically, it appeared as if I wasn't wearing them ironically. My styling proved effective to a tee.
2:00 PM: Following a series of photos in the studio, we went outside for street style shots. I found the passerby's stares hilarious considering the fact that it was essentially a shoot for Velcro Strapped sneakers.
7:00 PM: I switched outfits and vied for a pair of white Acne jeans, solid colored t-shirt and an Alexander Wang jacket to go with the Everlast Marc II.
9:10 PM: A friend spotted me at a party at 76 Wooster in the shoes and snapped a film picture. He touted me as a "legend" for being brave enough to rock such horrid kicks.
11:00 PM: I lingered outside the venue with a few homies. A$AP Bari dapped us up, analyzed my fit head to toe and noticed the sneakers. His face lit up. He did his best Deion Sanders primetime dance as he approached me and hit me with the first, and only "WHAT ARE THOSEEEEEE?"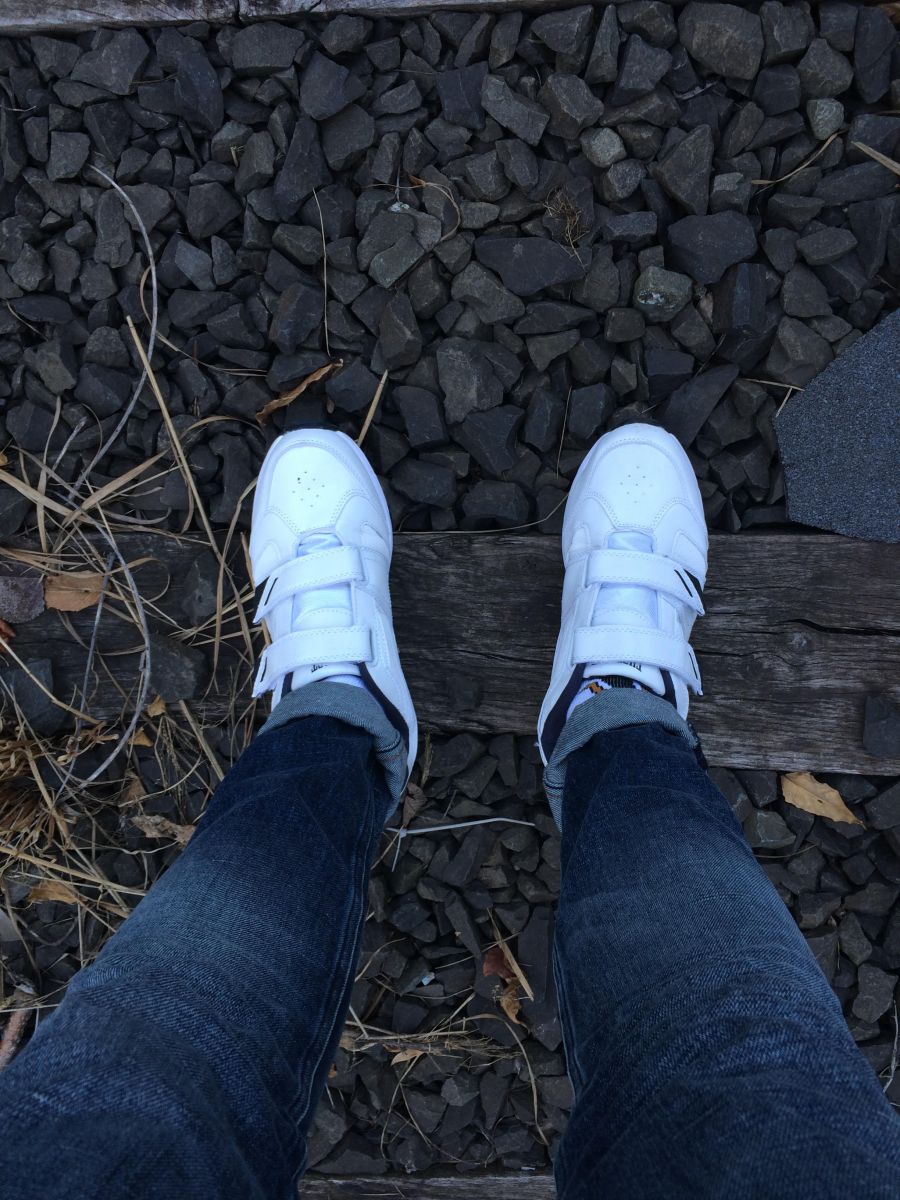 Day 4
10:00 AM: Since the weather forecast called for rain, I decided to do some shopping on Saturday at an outlet mall in Upstate NY. The Marc II's became my sneaker of choice. I really can't tell you why. I suppose the convenience of straps versus traditional laces proved to be a deciding factor. They had also broken in nicely at this point.
11:30 AM: I saw about 2 dads, and an elderly man also wearing Velcro Strap sneakers and thought "twins!"
5:00 PM: In between rain showers, I met up with my friend for a smoke session. All the usual smoke spots in my town had become suspicious, so we had to settle on railroad tracks located on the outskirts of town. The extent of where we go to get high knows no bounds. The sneakers held up pretty well against the rugged terrain of the tracks, and I imagined what a police chase on foot would be like in these sneakers.
Day 5
On Sundays, I rally up with a couple of friends and play touch football. It's a weekend tradition, especially during football season. We really get into it, and following a victorious effort I was left with extensive blisters on my feet and a tweaked shoulder.
I didn't wear the sneakers to play football as per my editor, because we didn't want to risk my injury. I got injured anyway, and my feet had never experienced such pain before. I had deep blistering on both heels, ankles, and big toes. This made wearing the sneakers impossible on this day.
Day 6
10:00 AM: I woke up in the morning with an unbearable pain in my shoulder. I had ignored Sunday football injuries in the past, resulting in a left pinky that will never be straight again. Taking no chances, I called up my best friend to take me to the Emergency Room.
10:10 AM: Forget everything I said about the Marc IIs being comfortable. The pain I felt from the blisters on my feet was excruciating. Each step I took felt like I was grinding my feet against slabs of sandpaper.
2:30 PM: I got to the hospital and was quickly diagnosed with a bad shoulder sprain. The Percocet I was prescribed alleviated the pain in my feet to a degree. But I could still feel a slight sting with every step, reminding me that playing football as a grown man is asinine.
Day 7
9:00 AM: I woke up overjoyed with relief knowing that today was the final day in this horrendous footwear marathon.
9:30 AM: I chose the Catapult Commanders, and paired them with an all black outfit.
10:00 AM: Although I previously mentioned that my school has no taste for fashion, they certainly have a taste for Air Jordan kicks. Walking to class, one dude pointed at my shoes in pure shock and laughed. He knew they were blatant knock offs.
1:00 PM: I rushed away to class, then headed to Complex HQ for the daily outfit pic.
2:30 PM: While getting coffee, a maintenance man complimented me on my shoes. "Those are hard. I've never seen those!" My editor and I laughed.
3:00 PM: On my way out, I noticed a pair of Complex geeks just staring at my shoes. Our eyes met, and I snarled "They're K-Mart shoes." I was over it at this point.
6:00 PM: I got home and thought of a way to end this week of wearing these terrible shoes.
10:00 PM: A light bulb went off and I called about five friends. Only one of them entertained my bullshit. I grabbed the knockoff Js, a bottle of liquor I found in my cabinet, and some matches.
11:45 PM: We drove to an undisclosed location, went deep into a wooded trail in New Jersey and incinerated the sneakers. As the synthetic leather combusted in flames, I felt an enormous weight lifted from my shoulders. I proceeded to turn up around the mini bonfire, snapped a few pictures, put it out and left. The bad spell was over.