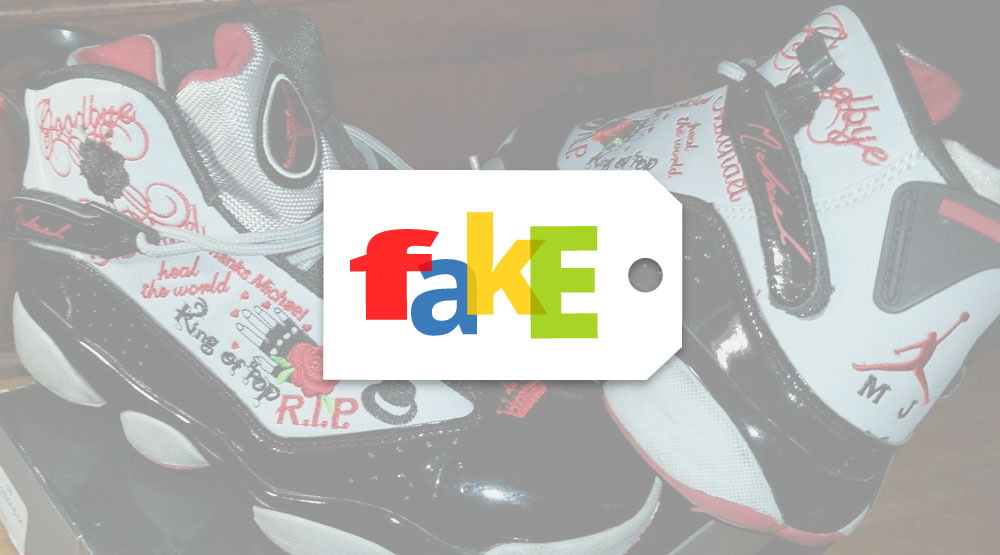 Fake sneakers are a well-known issue in the sneaker world, and it's getting worse as the knockoffs get better and better. And while it's always been the safest move to buy from an authorized retailer, thanks to the rise of bots, that's become even harder, forcing many to eBay. You can't ever be too careful, but here's a look at some bootleg sneakers that wouldn't fool anyone.
Air Jordan 7 "Clear"
Price: $400 Buy It Now
In honor of the shoe's 23rd anniversary, we've seen a LOT of new Air Jordan 7 colorways in 2015. None of them, however have featured clear panels.
---
Nike Foamposite Pro "Neon Tiger"
Price: $175 Buy It Now
If Riff Raff were ever to collaborate on a Foamposite, it very possibly might turn out like this.
---
Nike Air Force 1 "Michael Jackson"
Price: $50 Buy It Now
The King of Pop meets the King of Sneakers, and the result is an insult to both MJ and the AF1.
---
Nike Foamposite One "Galaxy"
Price: $25 Current Bid
The hang tag might fool someone. The shoe? Not so much.
---
Nike Air Force 1 "Obama"
Price: $50 Buy It Now
Move over Supreme. If the commander-in-chief ever were to collaborate with Nike, the level of hype would be unprecedented.
---
Jordan 6 Rings "RIP Michael Jackson"
Price: $125 Starting Bid
There's good news if you're in the market for fake Michael Jackson themed sneakers: you have more than one option.
---
Air Jordan "23Lab3 Fusion"
Price: $16 Starting Bid
The great thing about fake Fusions was that the real ones were so bad, fake manufacturers didn't hold back in their creations.
---
Air Jordan 4 "Fusion"
Price: $100 Buy It Now
There are some Jordan fans who don't like any 4s with the leather heel and straps. This is a great example of why.
---
Air Jordan 7 "Olympic"
Price: $85 Buy It Now
This is probably what the Olympic 7s should have looked like, considering it's always been strange that they featured silver rather than gold.