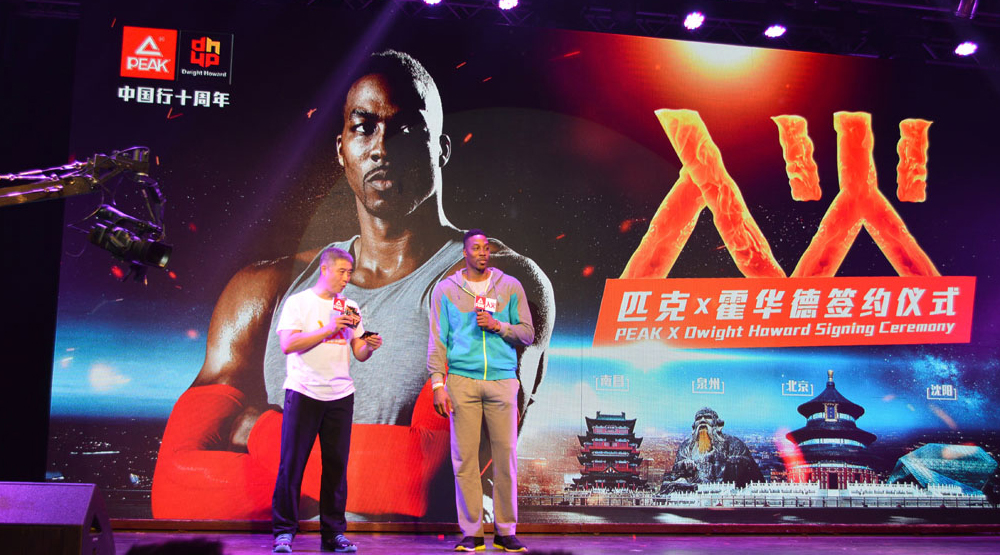 by Brendan Dunne
Dwight Howard is the latest U.S. basketball player to sign with a Chinese sportswear company, having recently inked a deal with Peak at the expiration of his adidas contract.
The move was rumored this summer and announced last week via Peak on Twitter, although the brand has since deleted the tweet that mentioned Howard joining its ranks. Confirming that Dwight Howard x Peak is indeed a thing was this weekend's launch event in China, where Howard showed up touting two possible versions of his first Peak shoe.
Fans can vote here on which model will become Dwight's first Peak sig. There's the Peak DH1 Edition 1, designed at the brand's HQ in Beijing, and the Peak DH1 Edition 2, designed by the brand's U.S. team. There's also a third option where users can leave a suggestion on what the shoe should look like.
Amusing elements from the launch include an obvious elephant print rip-off hoodie worn by Howard and the strange presence of the same logo used during his adidas days.