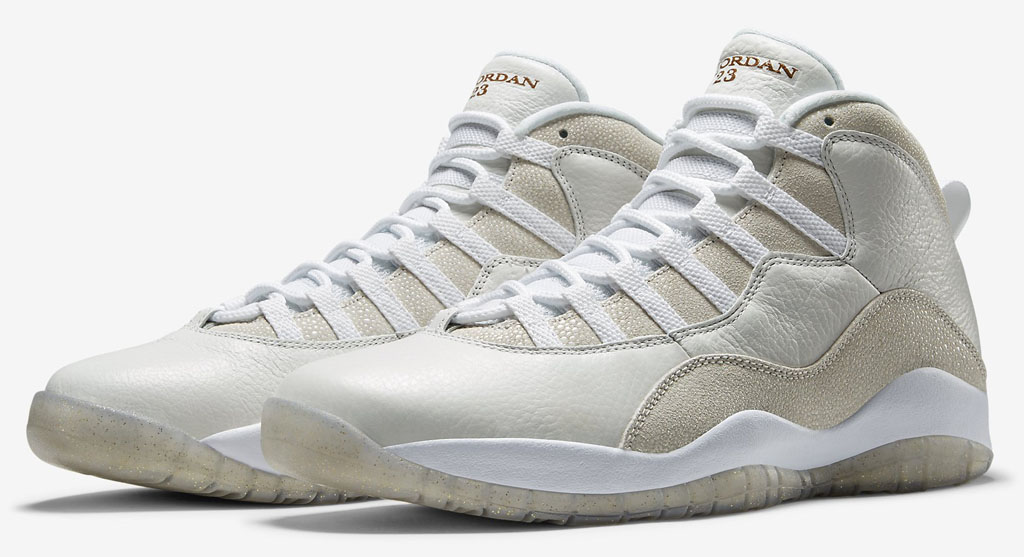 Contrary to reports of a delay earlier this week, Drake's "OVO" Air Jordan 10 will keep its sneaker release date of Saturday, Sep. 12.
The highly anticipated retro first dropped in limited quantities at an OVO pop-up shop in Los Angeles earlier this year, but is now ready for a wider launch. In fact, while pair totals are unknown, just about every noteworthy boutique will have an allotment.
To help make finding a pair easier for you, we've rounded up an ongoing list of shops confirmed to be carrying the "OVO" 10 and their release methods, which include in-store and online raffles and first come, first serve line-ups. Keep checking back for more retailers to be added, as this is not a full, comprehensive list. Reach out to your local boutique for additional details.
Air Jordan 10 Retro "OVO"
Release Date: 09/12/15
Color: Summit White/Metallic Gold-White
Style #: 819955-100
Price: $225
---
A Ma Maniere
969 Marietta Street NW
Atlanta, Georgia
(404) 975-3380
Method: TBA
Alumni
298 Utica Avenue
Brooklyn, NY 11213
(718) 953-4696
Method: In-Store Raffle (Beginning Sep. 11)
APB
1003 Gervais Street
Columbia, SC 29201
(803) 569-6613
Method: TBA
BAIT Diamond Bar
2753 S Diamond Bar Blvd
Diamond Bar, CA 91765
(909) 595-1712
Method: In-Store Raffle (Beginning Sep. 10)
BAIT Orange County
2812 E Chapman Ave
Orange, CA 92869
(714) 633-1833
Method: In-Store Raffle (Beginning Sep. 10)
BAIT - Seattle, WA
915 S Pike St.
Seattle, WA 98122
(206) 257-1178
Method: In-Store Raffle (Beginning Sep. 10)
Bodega
6 Clearway St.
Boston, MA 02115
(617) 421-1550
Method: In-Store Release
Bows and Arrows
2513 Telegraph Ave.
Berkeley, CA 94704
(510) 649-6683
Method: In-Store
Capsule
#108 - 29 Bellair St
Toronto, ON M5R2C8
(416) 926-1845
Method: Online Raffle
Creme
321 W 21st Street
Norfolk, VA 23517 (757) 961-1988
Method: In-Store Reservation
Dover Street Market
160 Lexington Ave
New York, NY 10016 (646) 837-7750
Method: In-Store Raffle
Exclucity
1326 Notre-Dame Ouest
Montréal QC H3C 1K7
(514) 846-8887
Method: Instagram/Snapchat Raffle
Extra Butter
125 Orchard Street
New York, NY 10002
(917) 965-2500
Method: Instagram Raffle
Flight 23
E317A WOODFIELD MALL
Schaumburg, IL 60173
(847) 240-5584
Method: In-Store Raffle (Beginning Sep. 7)
Flight 23
225 West 34th Street
New York, NY 10001
(646)473-1945
Method: In-Store Raffle (Beginning Sep. 7)
Flight 23
3663 Las Vegas Blvd South
Las Vegas, NV 89109
(702) 734-0295
Method: In-Store Raffle (Beginning Sep. 7)
Footaction
7501 W Cermak Road
North Riverside, IL 60546
(708)442-1727
Method: In-Store Raffle (Beginning Sep. 7)
Haven
145 Berkeley Street
Toronto, ON M5A 1S9
(604) 696-6896
Method: Online Raffle
KITH NYC
644 Broadway
New York, NY 10012
(646) 648-6285
Method: In-store Raffle
KITH Brooklyn
233 Flatbush Ave
Brooklyn, NY 11217
(347) 889-6114
Method: In-store Raffle
Livestock
239 Abbott St
Vancouver BC, V6B 2K7
(604) 685-1433
Method: Instagram Raffle
Major DC
1426 Wisconsin Ave. NW
Washington, DC 20007
(202) 625-6732
Method: In-Store Reservation (Beginning Sep. 9)
Nice Kicks
2815 Guadalupe St.
Austin, TX 78705
(512) 320-8100
Method: Online Raffle
NikeLab NYC
21 Mercer St.
New York, NY
Method: In-store Raffle
OVO Flagship Store
899 Dundas St. W
Toronto, ON M6J 1W1
Method: In-Store Raffle (Beginning Sep. 10)
Sneaker Politics
131 Arnould Blvd.
Lafayette, LA 70506
(337) 993-3709
Method: TBA
Social Status
1519 Central Ave.
Charlotte, NC 28205
(704) 632-9902
Method: In-Store Raffle (Beginning Sep. 10)
Sole Fly
8099 S. Dixie Hwy Ste 2
Miami, FL 33143
(305) 661-3423
Method: In-Store Raffle (Beginning Sep. 11)
Ubiq
1509 Walnut Street
Philadelphia, PA 19102
(215) 988-0194
Method: In-Store Raffle (Beginning Sep. 9)
Unknwn
19501 Biscayne Blvd
Aventura, FL 33180
(305) 937-2103
Method: In-Store Reservation (Beginning Sep. 10)
Wish ATL
447 Moreland Ave. NE
Atlanta, GA, 30307
(404) 880-0402
Method: TBA
Xhibition
2068 W.25th
Cleveland OH. 44113
(216) 298-4770
Method: In-Store Raffle (Beginning Sep. 10)