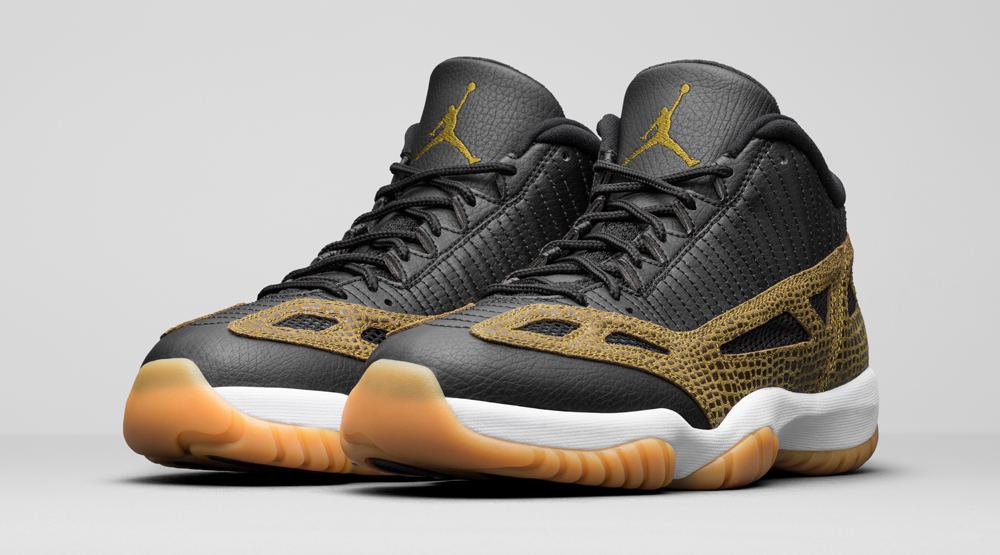 by Brendan Dunne
The Air Jordan 11 Low IE is one of the stranger sneakers in Jordan history, showing up back in 1996 looking almost nothing like the Air Jordan 11 proper. Remember that this was a time when Air Jordans weren't really doing low cut versions, and the couple of times they did (on Jordans 1 and 2) the result was much more straightforward.
To celebrate this weekend's release of the black/gum colorway shown, Nike got designer Tinker Hatfield to talk about the strange silhouette and how it came to be. Hatfield said he wanted to make the shoe more summer-ready, which meant he had to rid it of its iconic patent leather.
"I felt like [patent leather] was contrary to the summer feel," Hatfield said. "The shoe didn't need to feel so stiff and heavy. For the summer, I wanted something that was lighter and easier to wear."
Hatfield goes on to explain that the sneaker's use of mesh was to make it more breathable for the summer.
"I changed the pattern to put breathability in the right spots," Hatfield said. "Then, when you look at the different compositions, you want to fill in the gaps with something that could be decorative, like elephant print. I thought about trying textures and stitching. The mesh said something about summer, and the stitching we did really artfully."
While it's good to hear the tale of a shoe that's deserved more of an explanation for so long, it's disappointing that Hatfield didn't touch on the most contested element of the shoe: the "IE" in its name. Speculations on that one range from "International Exclusive" to "International Edition" to "Imprinted Elephant," but it looks like Nike might not even know which is the right answer. Anyone looking for more on that should check out this discussion from NT for some interesting theories.