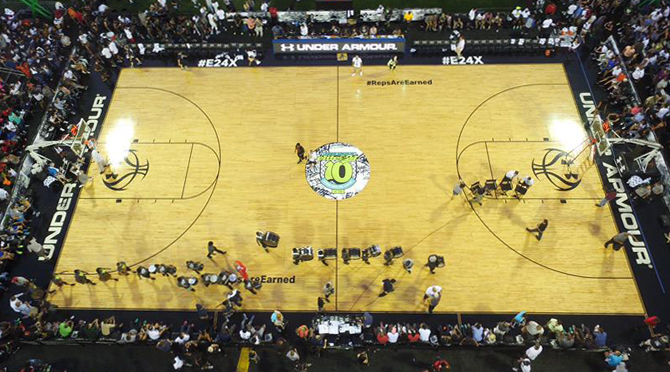 by Brendan Dunne
As the David to Nike's Goliath, Under Armour has to take advantage of every chance it has to sling a stone.
It did this weekend, slyly calling out Nike on Twitter. Both had games scheduled this weekend for elite high school basketball players: Under Armour's the Elite 24 that it's been held in August for years now and Nike's an EYBL event held in the Bahamas that was seen by many as an effort to lure players away from UA.
At 8:29 on Saturday, Aug. 22, the Nike EYB account tweeted about its game in the Bahamas, calling it #TheTrip.
Best in class. EYBL Elite go home with the W. #TheTrip pic.twitter.com/UP0mYi4wdu

— EliteYouthBasketball (@NikeEYB) August 23, 2015
Less than a half hour later, UA Association posted an image of its own weekend game, calling it "no trip."
This is no trip. It's an experience of a lifetime. #E24X #RepsAreEarned pic.twitter.com/DohLbU8Byv

— UAA (@UAassociation) August 23, 2015
While this shot is a rather subliminal one, Under Armour hasn't been afraid in the past of being more direct in calling out its competitors.
via USA Today HSS