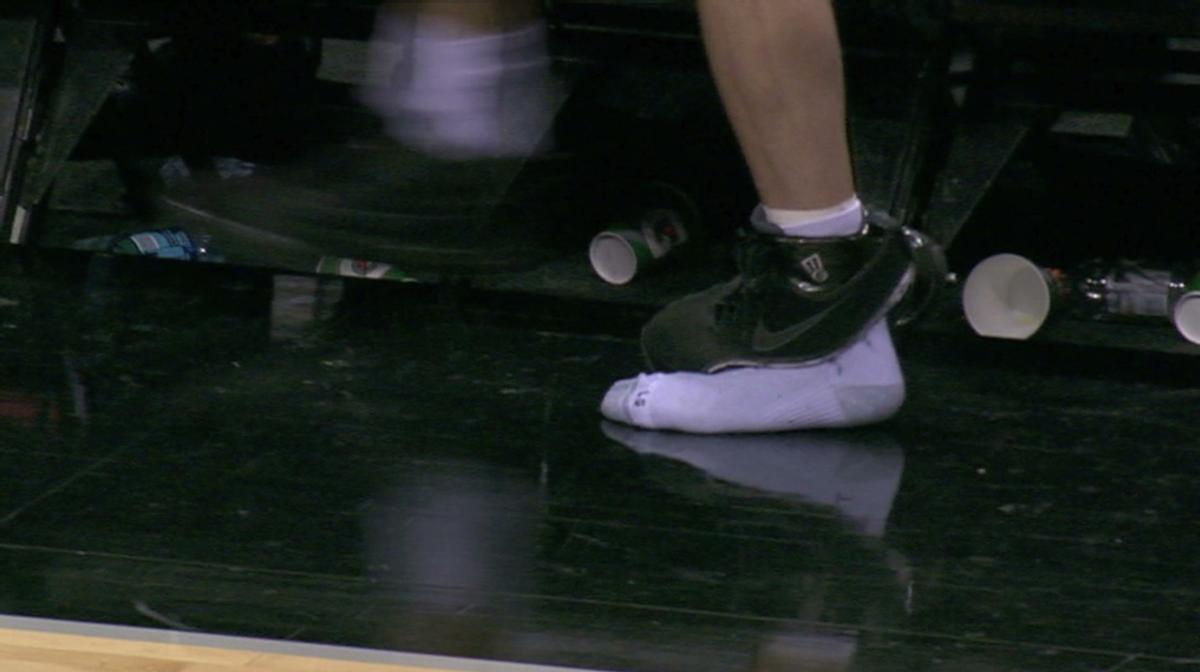 by Zac Dubasik
Fat Joe recently fell victim to an unfortunate, yet embarassing, sneaker mishap. But he's not the only person to ever suffer an embarassing sneaker moment. As you'll see below, it's happened to NBA players many times, live, and on national TV. In memory of Fat Joe's DMP 6s, take a look back at some of our favorite sneaker-related lowlights.
.Blake Griffin Rips His Hyperdunk Elite
Rank: 10
Prior to becoming signing with Jordan Brand, Blake Griffin was a leading face of the Nike Hyperdunk series. In his first game wearing the just-introduced Elite series Hyperdunk, the $200 sneaker ripped after being merely stepped on.
Dwyane Wade Throws Mike Bibby's Sneaker in the Crowd
Rank: 9
DWade and Mike Bibby were once teammates on the Heat, and at the time were teammates on Team Jordan, but for the 2012 Playoffs, they were on opposing squads. When Bibby lost a sneaker mid-game, Wade took the opportunity to one-up Bibby, as well as fellow Team Jordan member Melo, by tossing the Jordan M8 in the crowd.
Tony Wroten Loses the Sole of his Air Jordan 10
Rank: 8
A bit of controversy surrounded Tony Wroten losing the sole clean off his Air Jordan 10. Wroten was originally misquoted as saying MJ himself offered an apology for the mishap. In actuality, Wroten said he had only been joking around that MJ should apologize.
Greg Smith Gets 3-Second Violation for Tying his Shoe in the Paint
Rank: 7
Attempting to tie your sneaker at any position on court in a live-ball situation is a risky proposition. Best-case scenario, you're probably out of position. But on top of being physically dangerous, tying your shoe in the paint can also earn you a violation.
Manu Ginobili's Foot Goes Through his Sole
Rank: 6
Manu Ginobli has made a career out of his go-big-or-go-home style of play. His approach to blowing out a sneaker is apparently no exception to that mantra. In a 2014 game against the Pistons, his foot went the entire way through the side of his sneaker. Ginobli blamed the mishap on the pair being old and having sat in his garage for an extended period of time.
Shaq Introduces the Sneaker Phone
Rank: 5
Mr. Shaqtin A Fool himself, Shaquille O'Neal, introduced us to a giant sneaker phone during the 2005 NBA All-Star Game. The sneaker phone, which looked suspiciously like a Nokia mounted to the bottom of one of Shaq's kicks, was supposedly functional, with P. Diddy on the other end of the line.
Ron Artest Plays a Game in Panda Sneakers
Rank: 4
Ron Artest caused quite a stir when his Jeremy Scott-esque, detachable head panda sneakers hit the Internet last year. But that was nothing compared to when he actually wore them in a CBA game.
Tyson Chandler Swats Sneaker Out of Bounds
Rank: 3
Tyson Chandler is widely known for his defensive prowess. So, when Steph Curry attempted to pass Marreese Speights his sneaker back after losing it mid-game, it's no surprise that Chandler was there to swat it away.
JR Unties Shawn Marion's Shoe Lace
Rank: 2
J.R. Smith is no stranger to controversy, despite currently being credited with helping the Cleveland's mid-season turnaround. In early 2014, he engaged in a short-lived, shoe-untieing scheme, which eventually ended with fines levied by the league.
Marc Gasol Swings His Shoe at Derrick Favors
Rank: 1
When Marc Gasol lost a sneaker in a game against the Jazz, he attempted to make the most of the opportunity. While it officially resulted in a reach-in call, Gasol aggressively attempted to swat the ball from the hands of Derrick Favors with his own sneaker.