by Brendan Dunne
There is a disconnect built into the way that footwear design works. It's no secret that the people designing signature basketball sneakers or the next generation of runners aren't necessarily avid participants in the sports that they're creating product for. One exception to this rule can be seen at Reebok, where the burgeoning CrossFit footwear category has the rare advantage of designers who live and breathe it.
There is Tal Short, the senior product manager for CrossFit footwear, who has been involved in the sport for four years, and is married to a CrossFit coach and competitor. There is Matt O'Toole, Reebok's brand president who works out daily at the brand's on-campus CrossFit facility at the global headquarters in Canton, Mass. There are also about 1,000 more global Reebok employees who are engaged in CrossFit.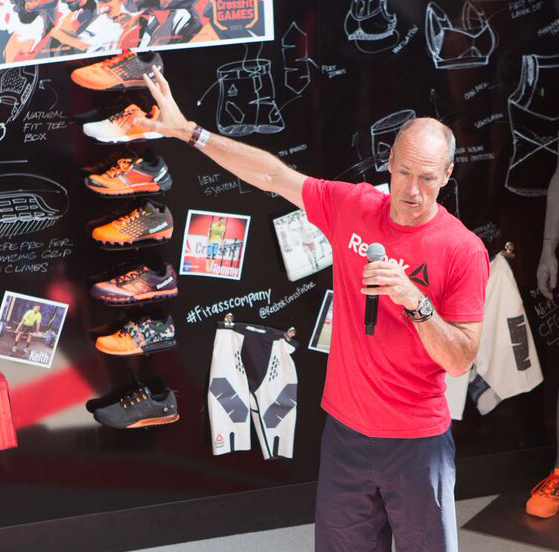 Employees of the brand seem to have been very much bitten by the CrossFit bug, earning some of the same symptoms often ascribed to devotees of the workout program, which has sometimes been described as cult-like. Nowhere is this more apparent than at the 2015 Reebok CrossFit games, the sport's marquee event.
Dave Castro, the director of the CrossFit Games, explained that the legitimate interest of Reebok employees in the sport earned the brand the partnership.
"This relationship works and has been so successful because [Reebok] came to us as CrossFitters," Castro said. "We'd spoken to other brands like adidas and Under Armour; those guys were not CrossFitters. That would have never worked for us."
At product presentations throughout the games, which took place this past weekend in Carson, Calif., almost every Reebok employee includes in their intro a mention of how long they've been doing CrossFit. They inhabit the press area inhaling giant portions of protein just like the jacked-up athletes alongside them.
Keith Stern, who works on research and analysis on Reebok's innovation team, is part of the team that puts together the latest in gear for CrossFitters. He said that his workouts give him an explicit advantage.
"I know the kind of questions I need to ask when I'm evaluating product," Stern said. "For instance I know that rope climbs are one of the most abusive things for footwear, so I know we need to address that. I think if you aren't doing those activities day in and day out, you might miss some of those key elements."
Reebok even moved its on-campus center of CrossFit design to an office right above its box (that's the colloquial term for a CrossFit gym) to ensure that its team was as close as possible to people actively engaging in the high intensity workouts.
O'Toole also stressed the importance of this first person approach to design.
"Everyone who is working on our CrossFit product is a CrossFitter," O'Toole said during a presentation at the CrossFit Games. "You have to understand the sport, you have to have done enough pull-ups or box jumps or climbed enough ropes to really understand the functionality of the gear. I think that's what's really made our collaboration with the CrossFit community so authentic."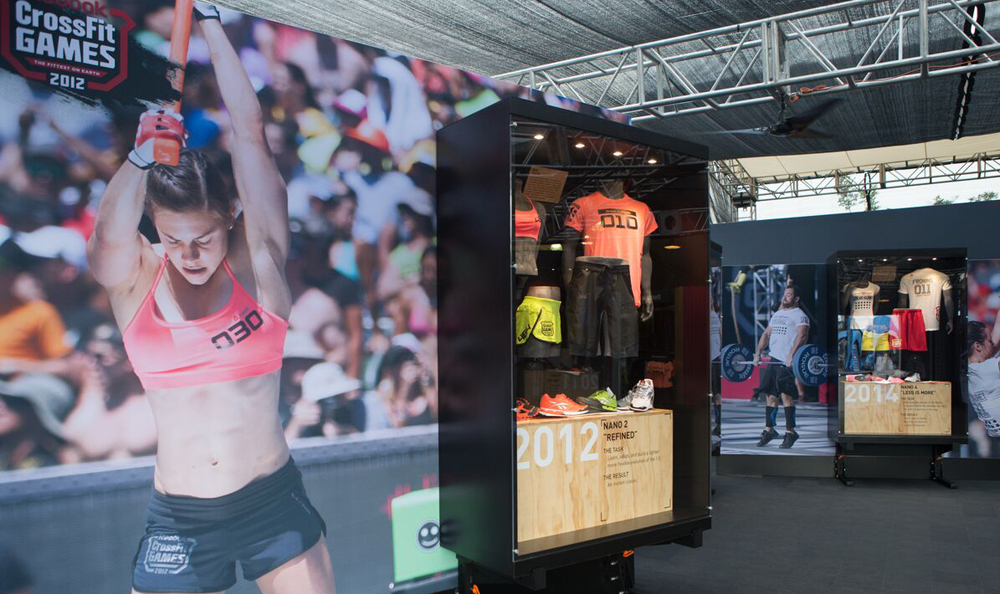 As the sponsor, Reebok's got all sorts of real estate at the CrossFit Games, and it's refreshing to see the brand be so dominant in a physical space despite its relative lack of dominance in the overall sneaker market. Along with the $7,000 in Reebok gear handed out to each participating athlete, there are loads of Reeboks on feet for attendees, a Reebok media space, and a retail build out.
There's some room for the brand's Reebok Classics lifestyle/retro line in the retail space at the Games, but it's clear, and encouraging, that that's not the focus. The first thing that welcomes visitors is a breakdown of the Reebok Nano line, its CrossFit-specific sneaker series that began in 2011 and is now in its fifth iteration.
There's a separate display for each model, complete with a labeling of the original Nano as "the OG," a term that might be a bit aggressive for a sneaker just four years old. The build out is the sort usually reserved for deeper archives, but it's a reminder that, no matter how young, Reebok does have some heritage and history in the category. The designers are proud of that heritage too – they're quick to mention how the Nano 2 from 2012 is still in production due to customer demand.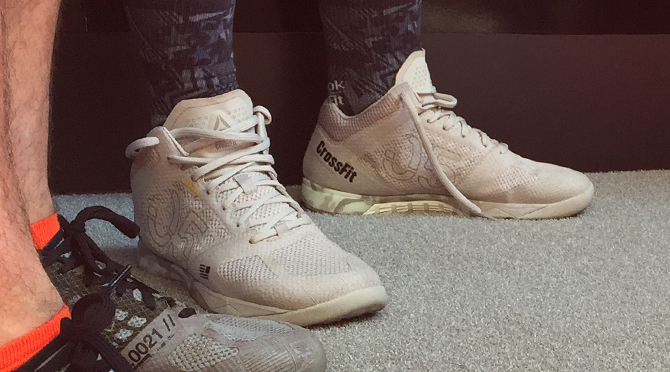 It's refreshing that these designers actually look like the wear the shoes that they make for their intended purpose. To some extent this feels like an extension of Reebok's general approach of steering away from star athlete endorsements. Instead, in recent years, the brand has focused more on the everyday athletes, and on less star-anchored activities like CrossFit and the Spartan Race.
This approach is reflected in the testing process for CrossFit footwear. Since these aren't signature sneakers, there isn't one athlete on a pedestal that they are built around. The designers test them, as do a large number of enthusiastic testers that have signed up to give their insights. Shoes are still tested by the sport's top athletes, but the process feels more democratic than what one might find elsewhere.
"I wear [size] 9s, so I'm testing the Nano 6 right now," Short said. "We're already looking at the Nano 7 as far as the design goes. We also send it out to 150 different people across the country from top athletes to everyday guys. We have them fill out surveys."
In some ways, Reebok's CrossFit sneakers feel like the most important thing the brand is doing right now. Sure the shoes cater to a market that's tiny in comparison to that for basketball footwear, but that's not the point. The point is that rather than chasing bigger brands in those realms, it's found its own identity with its CrossFit focus and the connected Nano sneakers. Now it just has to defend itself against the encroaching challengers in the space.