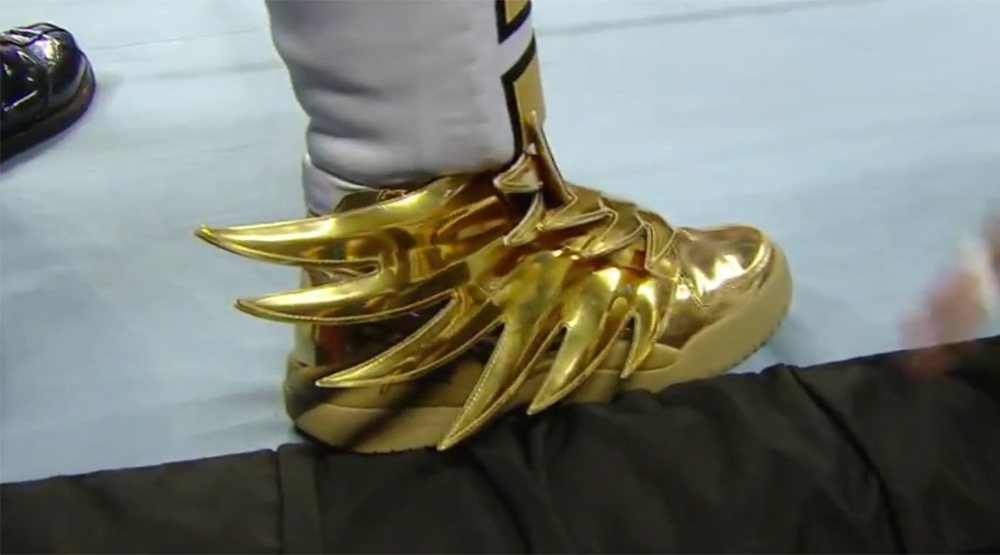 Last week, we imagined what WWE superstars would look like wearing hyped sneakers in a series of illustrations. The idea was to lace the wrestlers in kicks that reflect their characters. Absent from the lineup was Kofi Kingston, the company's resident sneakerhead, who always complements his eye-catching attire with matching footwear. Ahead of last night's SummerSlam event, he told us that he had something special planned for his fatal 4-way tag team championship match, and he delivered as promised.
With his group the New Day debuting new white and gold attire for the, Kingston went big, competing in the Jeremy Scott designed adidas JS Wings 3.0 in metallic gold. The cameras and announcers even had to acknowledge Kofi's wild sneakers mid-match. And he's one of the WWE's highest flyers, so the choice made sense in more ways than one.
In front of a loud Brooklyn crowd that was on their side, the New Day outlasted their 3 opponents to reclaim the WWE Tag Team Championship. And it was Kofi's sneaky tag that proved to be the difference. When you wear shoes like that, you gotta show out.