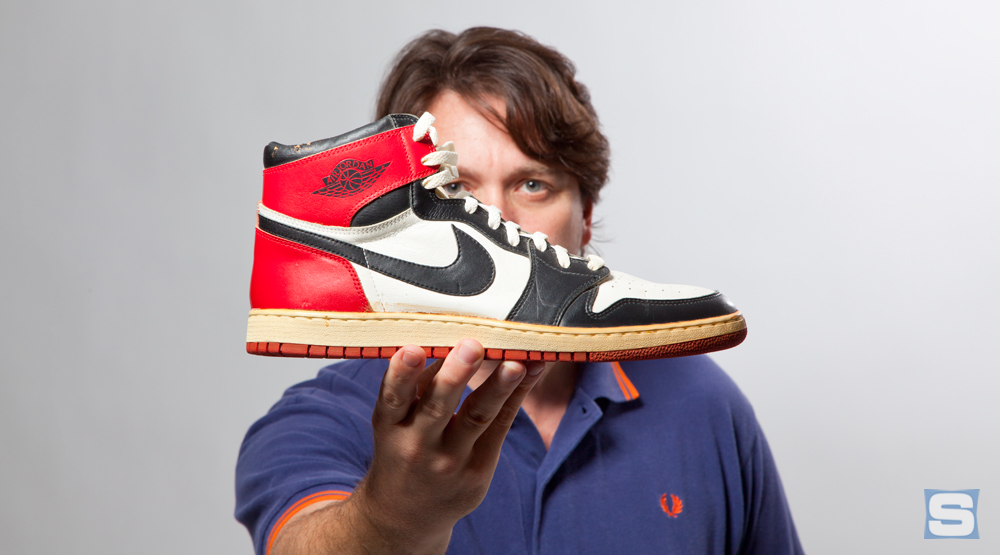 by Brendan Dunne
Images by Andy Hur
This year marks the 30th anniversary of Air Jordan, but the celebration of the milestone actually requires an asterisk. 1985 was when the Air Jordan line first debuted at stores, but Michael Jordan's actual wearing of the shoes and Nike's marketing campaign around the line started in the second half of 1984. Relics from that pre-retail era are massively more rare than the pairs that would end up on shelves, and consist of samples and player exclusives for Jordan himself. This is the story of one of those rarities, a one-off colorway made just for Jordan that's thankfully been preserved, and is seeing the light of day again now—over three decades later.
Believe it or not, the sneaker was almost tossed in the trash back in 1993. If It wasn't for the shoe's current owner Kris Arnold, the sample might've been lost forever. Arnold, a Chicago native and lifetime Bulls fan, was working as an account executive at ProServ, a sports management firm that included Michael Jordan as one of its clients. A storage closet filled with promotional gear for athletes on the ProServ roster was located by Arnold's office and he ended up in the right place at the right time.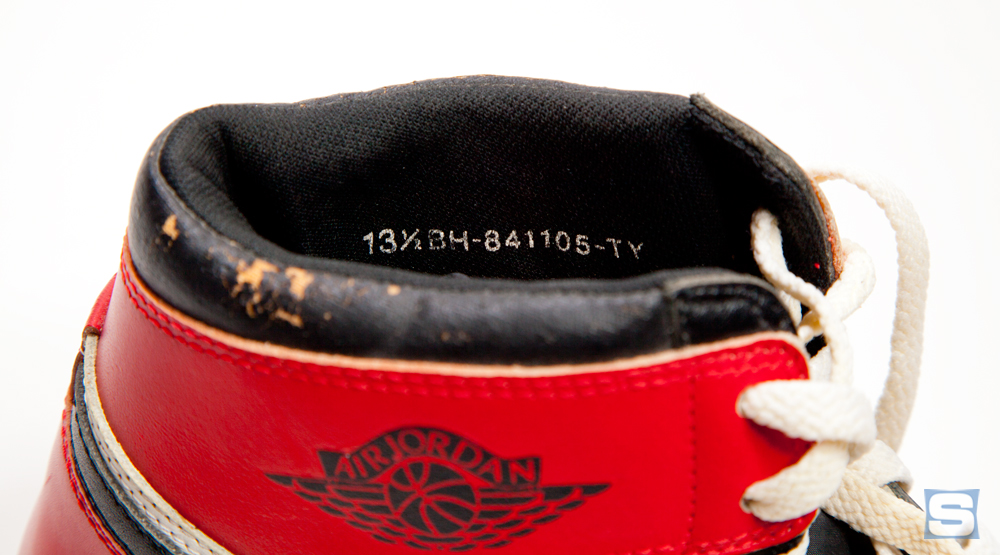 Michael Jordan had parted ways with ProServ the year prior, so gear leftover from his time with the agency was getting tossed. A windfall came as a woman was cleaning out the closet. As the woman got ready to throw two boxes of Air Jordans out, Arnold interrupted.
"I happened to be there in my office while it was happening and I said, 'No, I'll take those.'" he remembers. "They were going to just throw them in the trash. That's what they would've done hands down."
While Michael Jordan was the only athlete that Arnold benefited from on a sneaker level, he wasn't the only footwear endorser on the ProServ roster. The firm's founder Donald Dell was an accomplished tennis player, which meant it handled deals for tennis stars like Stan Smith and Arthur Ashe as well. Dell was instrumental in the adidas/Stan Smith and Le Coq Sportif/Arthur Ashe deals, as well as the Nike/Michael Jordan one.
Arnold was let down to find that he couldn't actually wear the sneakers that he'd saved from destruction — each box had just a single right shoe in it, and the 13.5 sizes were too big for him. He kept them anyway, with the shoes serving as fine additions to his office decor that was already Jordan-heavy. After all, the whole reason Arnold had come to work at ProServ was Michael Jordan. He said he never watched basketball before Jordan. Plus, he had lusted after the first Air Jordans when they debuted in '85.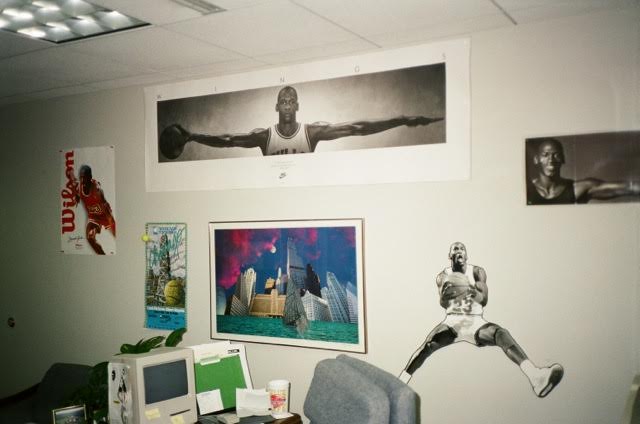 "I did want a pair, but I think they were like $65 bucks and that was just outside what I paid for shoes at the time," Arnold says. "But I had a pair of white Nikes that had the toe thing on the front like the Air Jordan, but nothing in the back and they were all white. I bought fabric paint, to paint them red and black. Not to pretend like I had them, but I just wanted to emulate them."
Ironically, that homemade colorway he gave his Nikes is the same unique one found on one of the shoes he saved from the ProServ trash that day. The sneaker's colorblocking is much like the Air Jordan 1 "Black Toe," a retail release, but is set apart by its black tongue. When Arnold examined his loot, he marveled at how the shoe managed to satisfy his childhood wishes for an Air Jordan.
"I remember looking at the black one and immediately thinking, 'This is what I always wanted in an Air Jordan, this black.'" he says. "And the leather was really nice looking, it was amazing quality. I was like, 'Why didn't they make this?'"
He realized early on that the shoe was special because of the sticker inside it, which indicated that it was some sort of production sample. Not to mention the 13.5 size matched Jordan's, meaning the shoe was probably made for him. The sneaker, along with the other white and red one Arnold rescued from the trash, remained at his ProServ desk. Eventually they made their way into storage in a basement somewhere, as memorabilia is wont to do. There they would remain for many years, until 2005, when Arnold dug back through his storage in an attempt to clear some stuff out.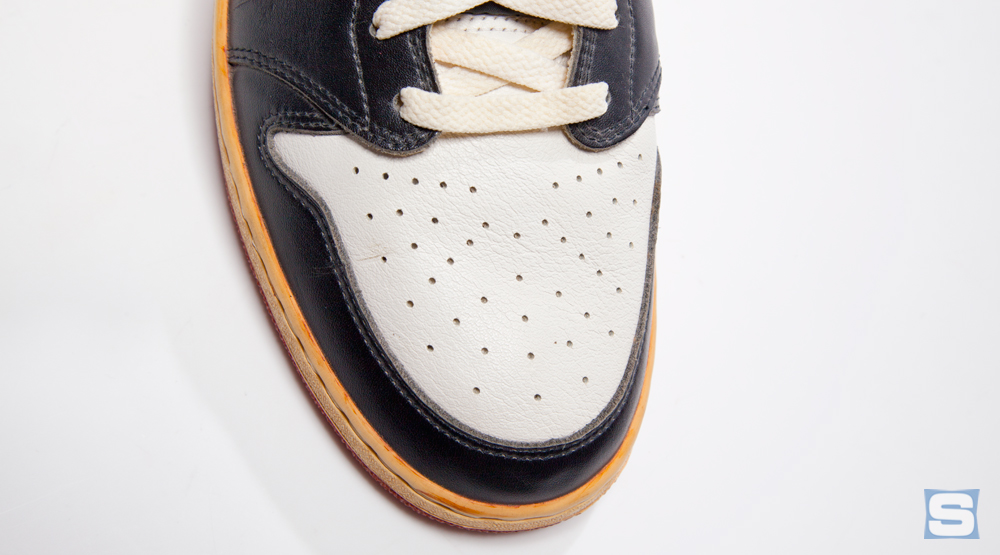 The shoes surfaced, miraculously preserved despite not having any sort of special treatment in storage. The usual cracking that plagues the collar of original Air Jordan 1s had for the most part been avoided. Of course, by 2005 a sub-culture around sneaker collecting had emerged, a reselling market had been established, and anyone with even a passing knowledge of Michael Jordan could have figured out that the sneakers would be worth something
Initially, Arnold wasn't even sure if he was going to sell the shoe. His first step was to try and get help from someone at Nike to validate what exactly the sneaker was — a prototype, production sample, etc. He had a contact at Nike from having appeared in a Jordan Brand commercial as an actor (Arnold has left the sports marketing world for acting), but they didn't seem interested. Arnold tucked the shoes away once more.
Years later, Arnold decided to pick up the investigation again. He recruited a friend who knew Air Jordans to help him out.
"'I got this prototype shoe.'" Arnold told his friend. "And he couldn't believe it. So I brought it into work one day and that's when I thought that this thing is valuable."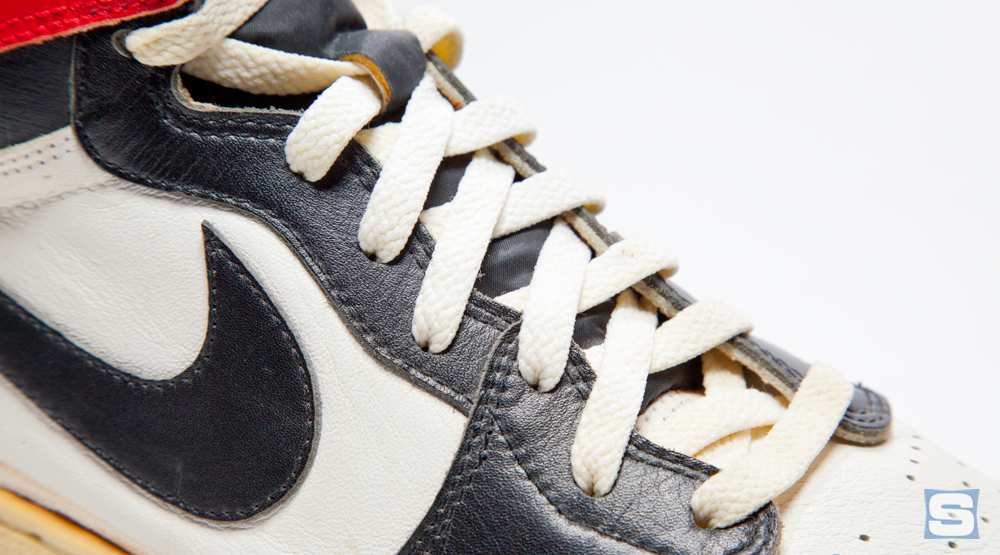 An old ProServ colleague who migrated to Nike put Arnold in touch with Todd Olbrantz, the acquisitions manager at the department of Nike archives. Olbrantz was interested in buying the shoe for Nike's vault, but didn't have the proper funds to give him what the shoe was really worth.
"They don't have a huge budget, according to [Olbrantz] in terms of buying this old stuff," he said. "But they also don't want to get in the habit of buying stuff back and people raising the prices when they sell stuff back. Only a few things are they willing to spend money on."
Arnold speculates that Nike would have given him as much as $10,000 for the shoe. Nike's Olbrantz even advised him that the best route would be to sell it to a collector, who could offer a price close to what the shoe was really worth.
Also of note is that Nike wasn't interested in buying the straight white/red shoe from 1985, and Arnold doesn't seem to be interested in selling it. The sneaker wouldn't fetch nearly as much as the black-toed shoe, despite still being an amazing piece of Jordan history.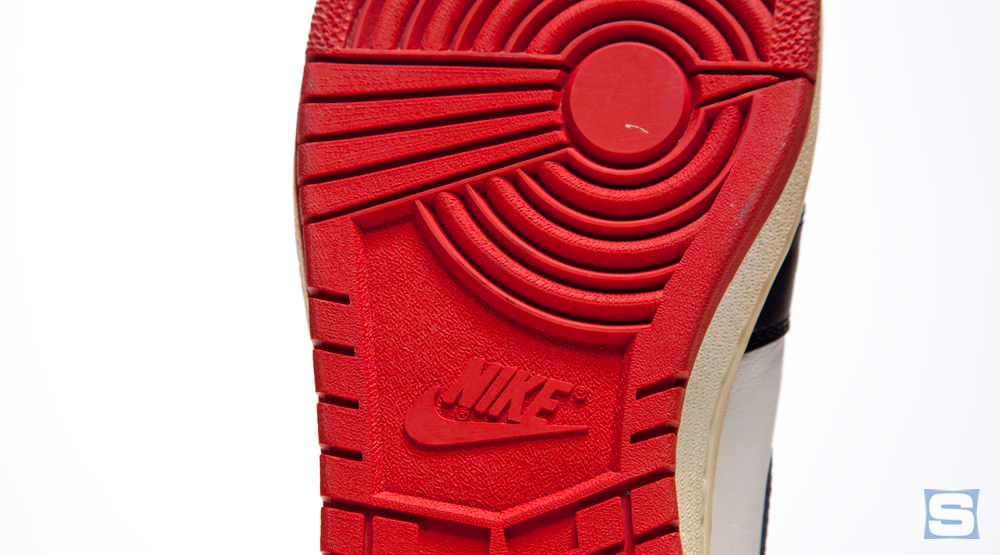 Arnold continued to dig, eventually getting in touch with the Air Jordan 1's designer and sneaker industry legend Peter Moore, who is no longer employed by Nike. Moore's memory alone wasn't a huge help in figuring out the origin of the mysterious shoe. Moore was able to confirm that the sneaker didn't release and, according to Arnold, he said it was one of his favorite versions of the Jordan 1 for its "business in the front and that flash of color in the back."
Somewhere in his figuring out just how much the sneaker could possibly fetch, Arnold decided that he was definitely going to sell it. "I don't feel like I need to own it, but if I'm going to sell this thing that I think is really special then I want to sell it for a high value," he said. "I don't wanna let it go for $20,000 or something like that."
He mentions his touting of the shoe at a recent Sneaker Con event and soaking in the reactions of collectors as satisfaction enough. It doesn't hurt though that recently a string of ballboys, fans, and others who had interactions with Jordan in his prime have come out of the woodwork with sneakers to sell. The "Flu Game" Jordan 12 remains the apex of these auctions, selling for a massive $104,765. Those shoes have something that Arnold's lacks though — a concrete connection to a specific moment in Jordan history.
Arnold acknowledges that but, in a manner reminiscent of Jordan himself, he's got a competitive spirit that he applies to everything he does. Even selling sneakers.
"I'm a competitive person you know?" he explains. "I want my shoe to be the highest price when I sell it. My shoe is one of the sexiest Jordan shoes I've ever seen. Like the Flu shoes are cool. I don't like them a lot, they're not one of my favorites."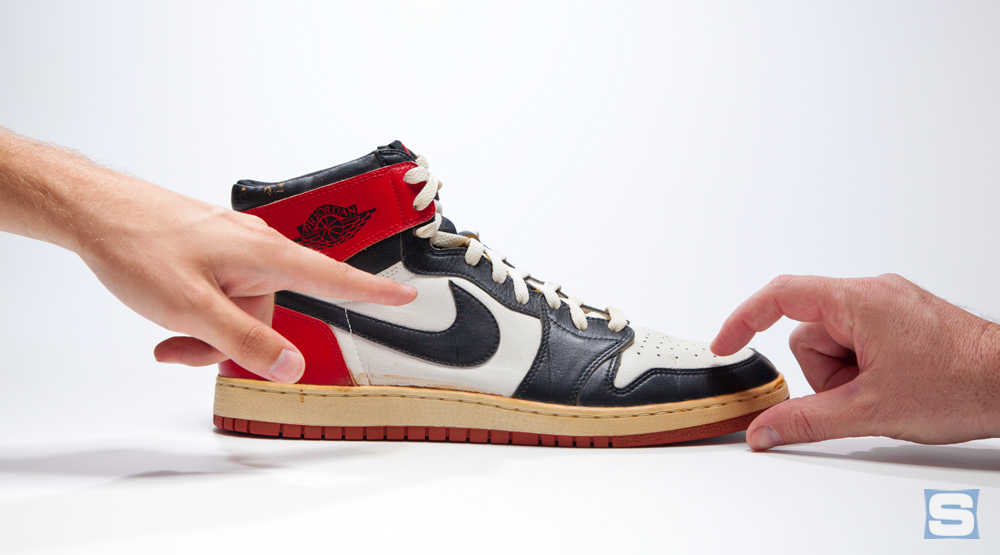 And still, while his sneaker doesn't have a Flu Game-like connection, there are details that set it apart from any Air Jordan 1 that ever released. There's the colorway, which is basically that of the Jordan 1 "Black Toe" but with a tongue that's black instead of white. The leather also seems to be a cut above what was used on retail versions — this is particularly evident on the toebox. The lace holes on Arnold's shoe are slightly different too, with the third from the top landing higher than those on the retail release.
Even the sole is subtly different: the Nike logo is tilted slightly and the indented area on the sole that houses it is a different shape than on subsequent retail releases. Arnold's Jordan 1 has a particularly sharp Swoosh too, and one that's made of a nicer leather than the retail ones. The Air Jordan "Wings" logo on the collar lacks depth, and almost looks like it was stamped on rather than really pressed in. The toebox on this pair isn't as tall and puffy, it's got a sleeker look that makes other pairs look downright bulbous by comparison.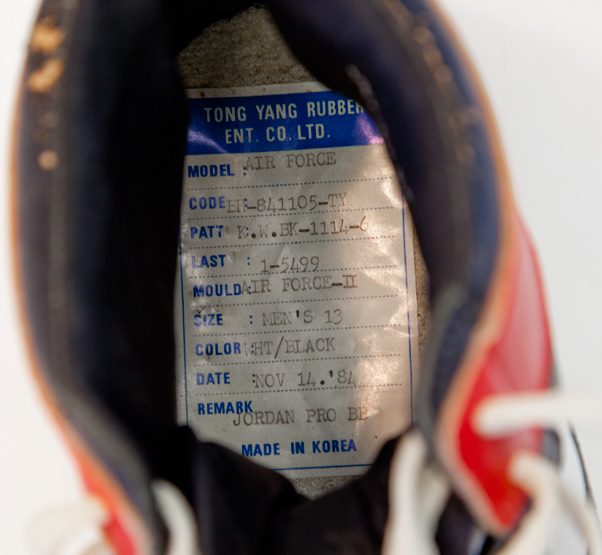 Then there's that sticker on the inside, the detail that indicated to Arnold early on that he had something special. The sticker comes from the factory in Korea, Tong Yang Rubber, where the sneaker was produced. It indicates a production date of Nov. 14, 1984, cementing the notion that this was one of the first Air Jordans ever created (the other shoe he has hails from '85). Remember that Jordan didn't even wear his shoe in the NBA till Nov. 17, 1984. He signed his Nike contract only a few weeks earlier, on Oct. 24, 1984. The size info printed on the collar confirms that the shoe was made for Jordan, coming in his size 13.5.
If one wanted to speculate, there is a possibility that the sneaker is the same one worn by Jordan in the infamous Jumpman photo, which served as the inspiration for the logo of the same name used by the Air Jordan line. That photo was determined to have been taken between August, 1984, and February, 1985. Looking closely at that photo, the tongues on Jordan's shoes appear to be black, just like the unique ones on Arnold's sneaker. The toebox also seems to have the same short shape. But, as so little imagery from that photoshoot exists today, it's difficult to confirm that this is the same shoe.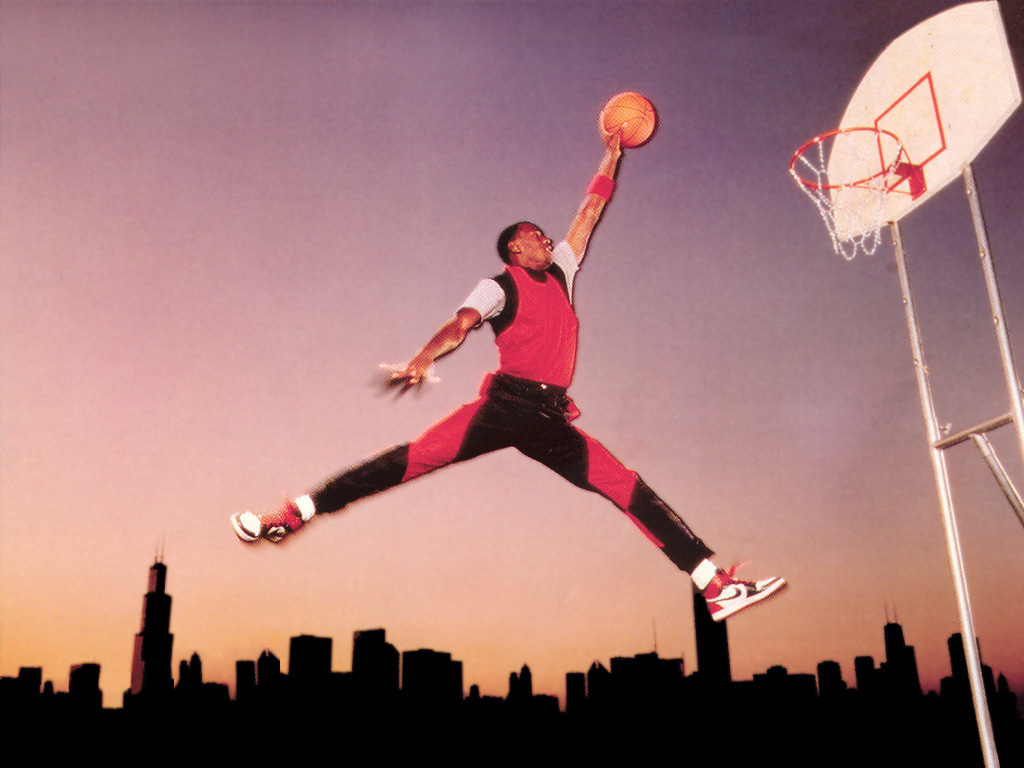 In addition to pondering endlessly about just how much the sneakers could fetch, Arnold's also been trying to figure out which platform is best for the sale. He talked to Sotheby's about the sneakers but sports footwear isn't really in their wheelhouse. SCP Auctions, a powerhouse in the sports memorabilia game, was interested but refused to protect Arnold's investment with a reserve price or high starting bid. He's most recently been in talks with eBay about partnering for the sale of the shoe, an enticing option given that its commission at ten to 15 percent is lower than that of traditional auction houses. Arnold is also entertaining getting it signed by Jordan himself to make it that much more special, something he figures he could make happen via his contacts in the sports marketing industry.
There's no doubt that the cult of Michael Jordan has grown enough to produce the sort of high-price auction Arnold is hoping for, but it's unclear if a single shoe like this can really top previous Jordan artifacts in price tag. Arnold's certainly caught the attention of MJ fanatics with the press surrounding his shoe, and it sounds like he's got enough suitors to making the sale a reality. Whatever the case, Arnold is ready.
"In terms of selling the shoe, I think I'd probably hold on to it for longer if it wasn't the 30th anniversary," Arnold says. "A lot of these shoes have sold and the price is getting up to a certain point."