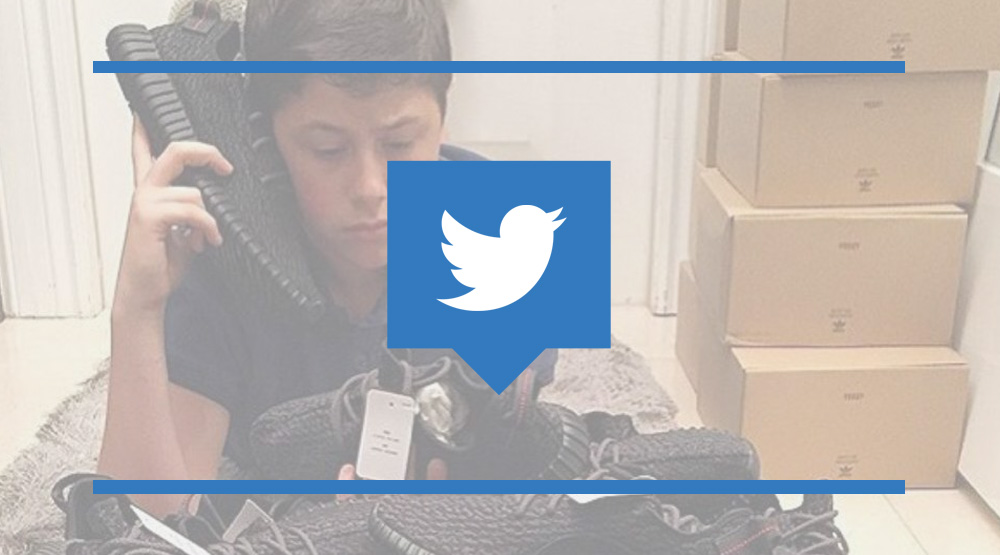 #AskSneakerheads: How was your experience shopping for the black adidas Yeezy 350 Boost today?

— SoleCollector.com (@SoleCollector) August 22, 2015
With adidas.com announcing a sellout a little more than an hour ago, the "Pirate Black" Yeezy 350 Boost release is just about in the books. Some smaller and European sites went live with the highly coveted sneaker last night, while major US retailers waited until the morning. Finish Line started things off at 8:00 a.m. EST and adidas closed the show at 11:30. The brand implemented a new random selection checkout system, which pulled shoppers from queue for a smooth checkout process. While most sneakerheads, successful or not, appreciated adidas' new system, others noticed that some people were able to buy more than one pair. So best case scenario, there's still improvements to make, but adidas seems to be on the right path.
Looking to gauge the overall reception of the release, we took to Twitter to #AskSneakerheads about their Yeezy Boost shopping experience. This was the response:
@SoleCollector Easiest process I've ever experienced! Loved the late release, random selection and quick checkout.

— Jordan Howenstine (@AirlessJordan) August 22, 2015
@SoleCollector horrible

— Loraine (@Bar13ie) August 22, 2015
@SoleCollector pic.twitter.com/x12nYAT1aZ

— Ajani (@Boothman23) August 22, 2015
@SoleCollector I let Yeezus take the wheel and this is what it got me in the morning. pic.twitter.com/juyaivV5Zs

— Avi Soles (@Abhowmicksoles) August 22, 2015
@SoleCollector hats off to @adidasoriginals they have this ish figured out.

— Brad Shilt (@sneakerhead75) August 22, 2015
@SoleCollector didn't get a pair but still liked it much better than anything Nike has done

— Grant (@Bigplaygk) August 22, 2015
@SoleCollector honestly though, I thought the system used at adidas EU/US was quite fair. Can't say the same about other sites/raffles.

— joel wong (@joelwuj) August 22, 2015
@SoleCollector unable to check out at adidas and Foot Locker. Pages crashed everytime I tried to refresh. #BetterLuckNextTime

— Quin (@QuinvdVleuten) August 22, 2015
@SoleCollector it was wonderful, I slept in, I didn't waste money and I didn't get an overhyped shoe. It's everything I wanted this saturday

— Dillon Waschenbach (@waschingmachine) August 22, 2015
@SoleCollector pic.twitter.com/hPd1p6DWih

— Ray Cole (@dat_pmf215) August 22, 2015
@SoleCollector pic.twitter.com/Bdk94DzRq7

— Connor (@connormc1713) August 22, 2015
@SoleCollector FOOTLOCKER, FINISHLINE, CHAMPS, ETC, LET ME DOWN. ADIDAS CAME THROUGH IN THE CLUTCH. COPPED W/O ISSUE FROM THEM!

— Nico Skywalker (@shreddynico) August 22, 2015
@SoleCollector we made it all the way thru check out. Clicked secure your checkout button. Site crashed #whatyeezyboost

— ProperApparel (@DressProper) August 22, 2015
@SoleCollector garbage. I was in line before they tweeted yet never got through. Yet others got multiple pairs. #OnToTheNext #Slightlysalty

— Zach Johnson (@zachtothejohnso) August 22, 2015
@SoleCollector TERRIBLE. i stayed up the entire night making sure to get them and in the end i lucked out

— •Moe el dzayri• (@MomoTheAlgerian) August 22, 2015
@SoleCollector man I'm done with these they look nice but Kanye should have made a lot more pairs and @adidasoriginals needs to stop bots fu

— s6u6kicks@yahoo.com (@salvadoruribe12) August 22, 2015
@SoleCollector incredible with the new http://t.co/gg3djB4nIp system

— Austin Crawford (@Crawfecy) August 22, 2015
@SoleCollector pic.twitter.com/3XtqJIJvkH

— Andreas (@Deslauriers31) August 22, 2015
@SoleCollector pic.twitter.com/CbYbYhqm0w

— Manny (@_MannyHerrera) August 22, 2015
RT@SoleCollector: #AskSneakerheads: How was your experience shopping for the black adidas Yeezy 350 Boost today? pic.twitter.com/COFc4uuqRx

— TheShoeGame.com (@TheShoeGame) August 22, 2015