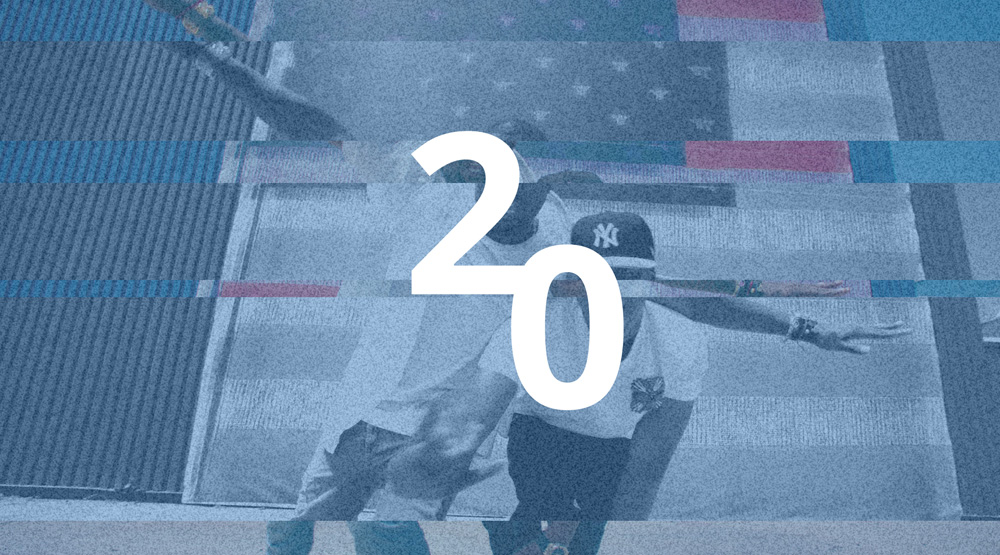 by Zac Dubasik & Brandon Richard
There was a time when MTV was the preferred medium to consume music videos. Throughout the '80s, '90s, and first half of the 2000s, it was basically the only way we watched. That was also the heyday of many of the sneakers we now eagerly anticipate retros of.
Ironically, showing off your sneakers has become more and more of a pastime in the social media era. And in the social media era, music videos on MTV have become virtually non-existent. These days, we most videos that do still get made are only ever seen on YouTube.
One thing has been consistent though – music videos offer a chance for artists to show off their best kicks. Today we're taking a look back at our favorite moments in music video history. That doesn't mean they are the best sneakers ever worn on video, on even that they're always legit, but these are the moments that made us stop truly stop and take notice of these two worlds coming together.
20. The Pack — "Vans"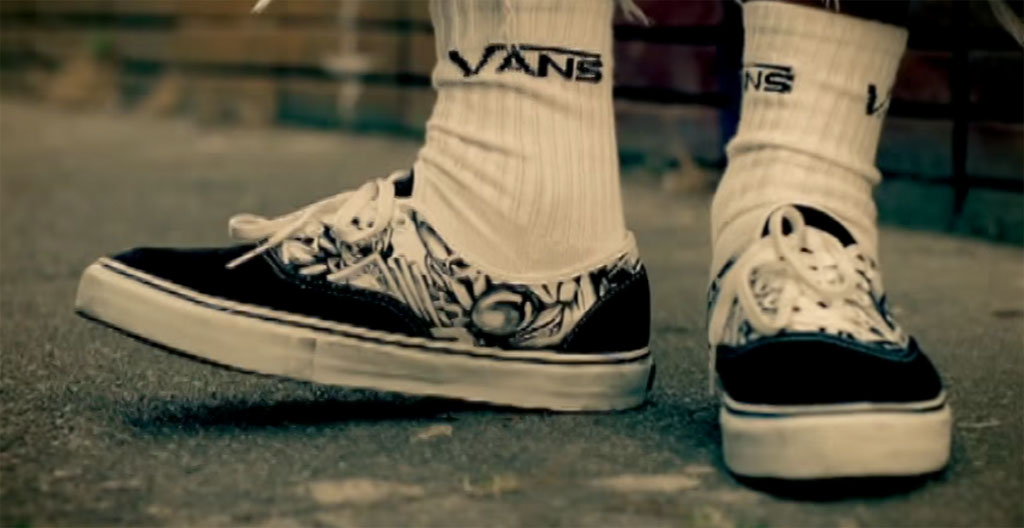 Shoes: Vans
Time: Whole Video
Year: 2006
Before Lil' B became The BasedGod and a headline maker during the NBA Playoffs, he was a member of The Pack, a Berkeley-based rap group who helped bring "skate rap" to the forefront. In 2006, the group dropped "Vans," a song that not only promoted the skate brand, but urged listeners to ditch Nike. In hindsight, it's remarkable that a hip hop act was co-signing $50-$60 non-Nike sneakers, and Vans kicks are still an urban fashion staple today.
---
19. Macklemore & Ryan Lewis — "Wings"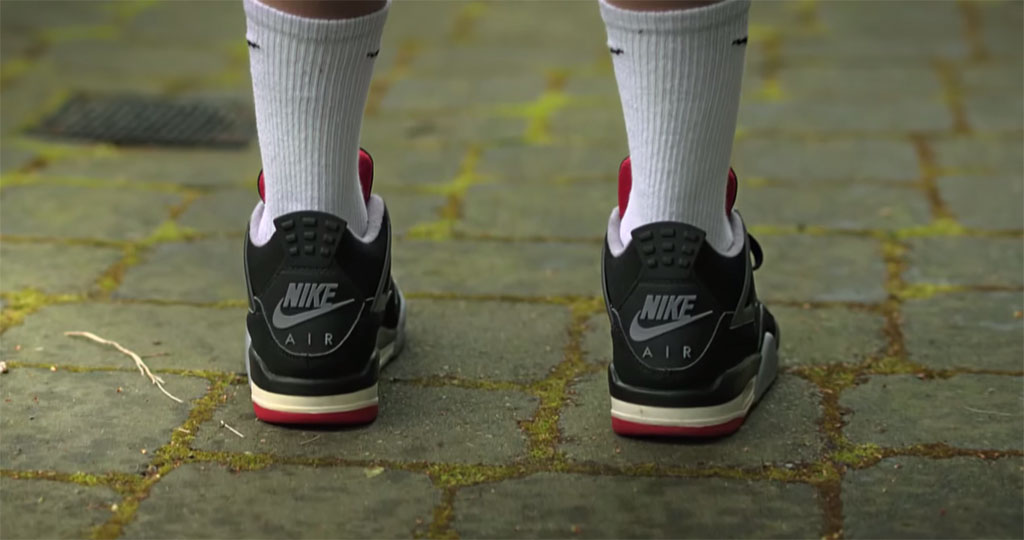 Shoes: Air Jordan 4 Retro "Bred," Air Jordan 5 Retro "Black Metallic," Nike Air Max 90 "Infrared"
Time: Whole Video
Year: 2011
Sneakerheads outside of Seattle were first introduced to Macklemore through his ode to Air Jordans, "Wings." Little did we know that we were watching a future Grammy winner that would have his own exclusive Air Jordans as an official part of the Jordan Brand family.
---
18. Wale — "Nike Boots"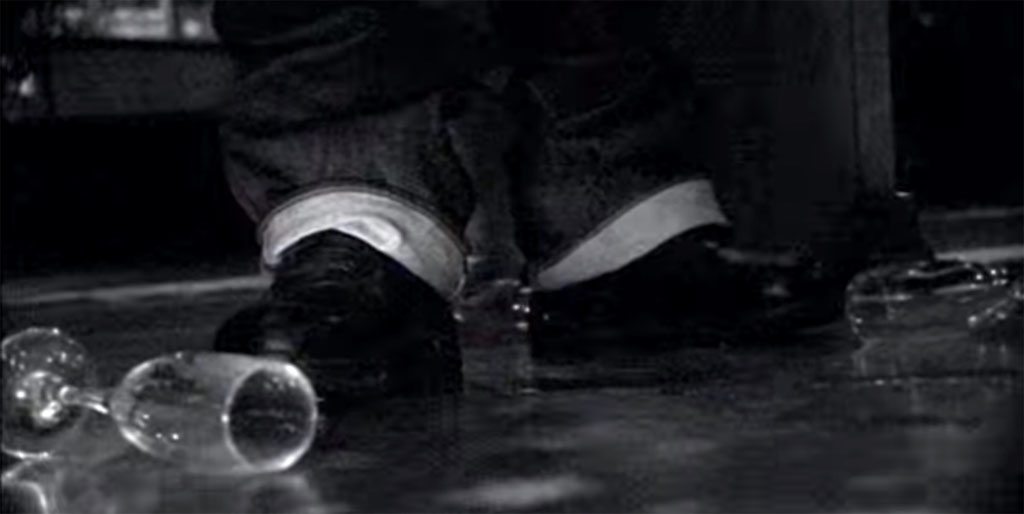 Shoes: Nike Boots
Time: Whole Video
Year: 2007
Wale has a ton of videos that could be considered for this list, but "Nike Boots" is his defining sneaker track. Those, along with Foamposites, are essential DMV footwear.
---
17. Fabolous featuring Tish Hyman — "You Made Me"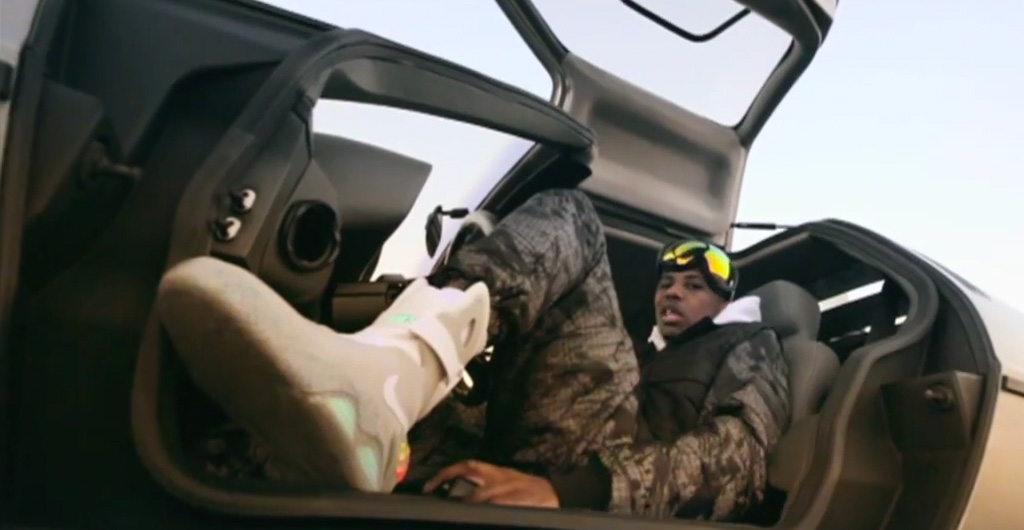 Shoe: Nike MAG
Time: 2:19
Year: 2014
This year not only marks the 30th anniversary of Back to the Future, it's also the year Marty McFly auto-laced the Nike Mag in the sequel. With that in mind, Fabolous hopped in the DeLorean wearing the 2011 version for this visual, which coincides with the video's time traveling concept.
---
16. 2 Chainz featuring Kanye West — "Birthday Song"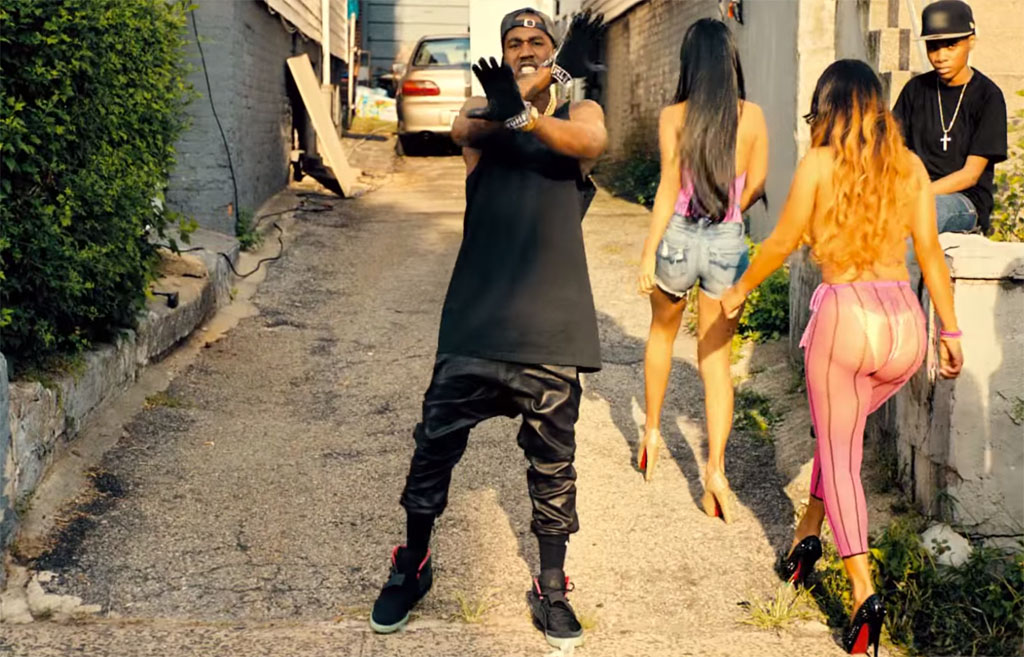 Shoe: Nike Air Yeezy 2 "Solar Red"
Time: 3:36
Year: 2012
At the peak of 2 Chainz Mania, he linked up with Kanye West for one of the most guilty pleasure songs of all-time. And while a pair of sneakers should have never been able to take viewers' eyes off of everything else going on in the video, his then 2-month-old "Solar" Air Yeezy 2s did just that.
---
15. Fat Joe featuring Lil' Wayne — "Make It Rain"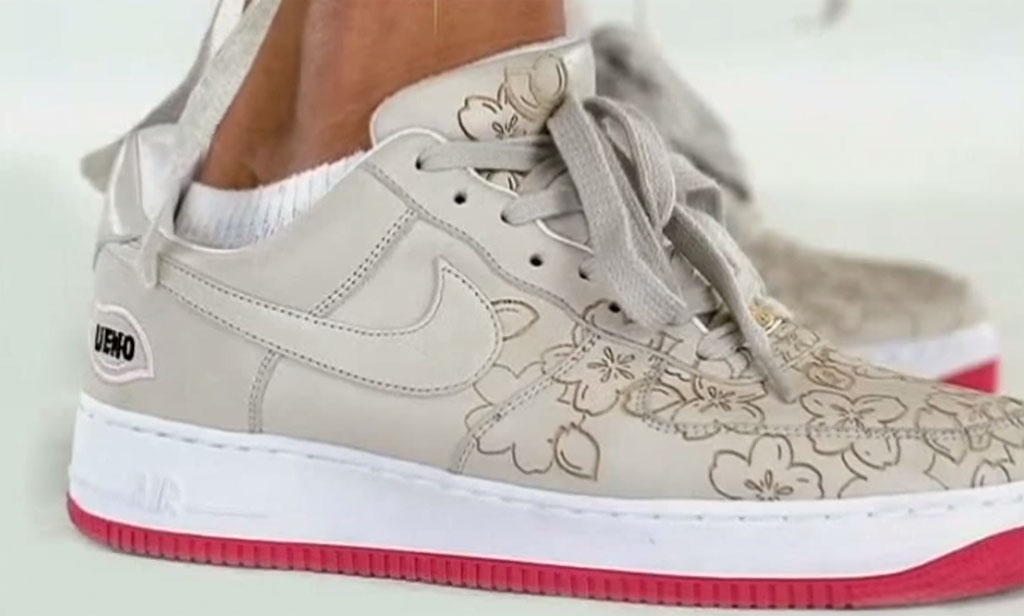 Shoes: Air Jordan 3 Retro "Fire Red," Air Jordan 6 Retro "DMP," Nike Air Force 1 Low "UENO"
Time: 1:42
Year: 2006
Fat Joe has quietly pieced together a great 20+ year solo career. His last Top 20 hit was 2006's "Make It Rain," a braggadocious anthem with vocals added by a then untouchable Lil' Wayne. And if you have a video centered around throwing stacks of money in the air, the kicks have to be up to par. Never caught slipping, Joe laced up the "Fire Red" Air Jordan 3 Retro, "DMP" Air Jordan 6 and "UENO" Air Force 1s and made sure we saw them all up close.
---
14. 'N Sync — "Bye Bye Bye"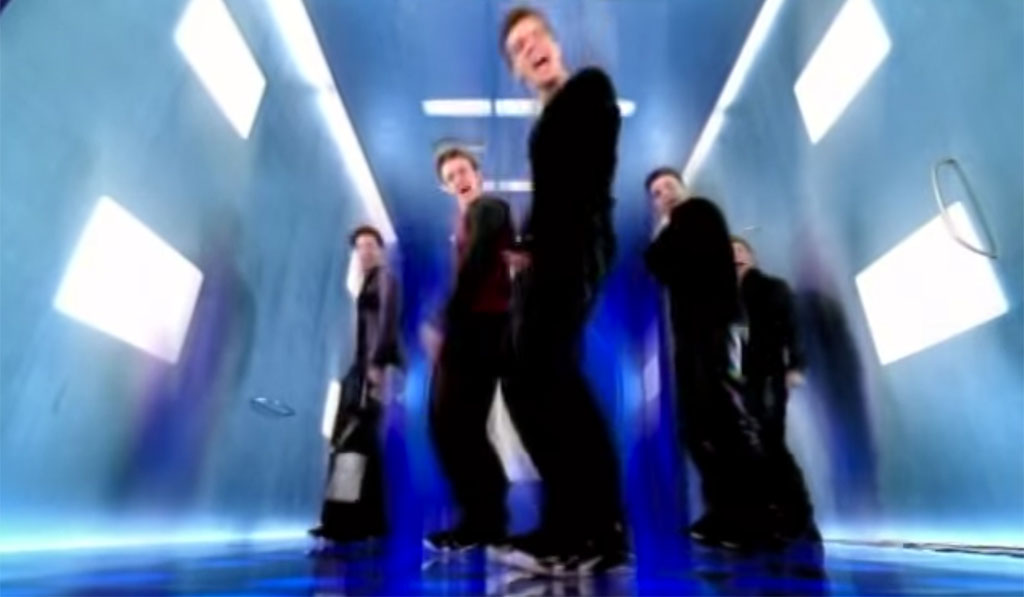 Shoe: Air Jordan 14 "Indiglo"
Time: 1:20
Year: 2000
In a feat that will probably never be topped, Justin Timberlake-led NSYNC sold 2.4 million copies of their 2000 album No Strings Attached in the first week. The lead single from that album was Bye, Bye, Bye, which was accompanied by a video that featured the group members as marionette puppets. When off the strings, the guys laid down their choreography in the yet-to-retro "Indiglo" Air Jordan 14.
---
13. Boogie Down Productions — "My Philosophy"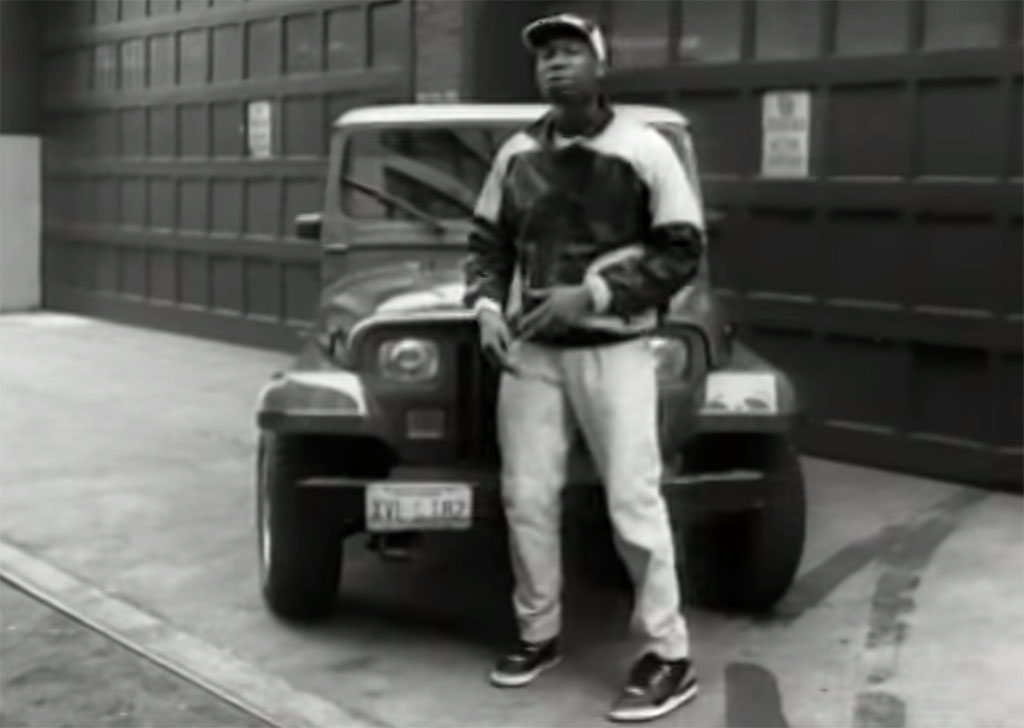 Shoe: Air Jordan 3 "Black Cement"
Time: 0:37
Year: 1988
Proving that rappers can get fly without dumbing down their content, KRS-One meticulously attacked the Stanley Turrentine sample in the OG "Black Cement" Air Jordan 3. The self-proclaimed Teacha dissected mainstream hip hop trends in a record that still holds true.
---
12. Riff Raff - Tip Toe Wing in MY JAWWDiNZ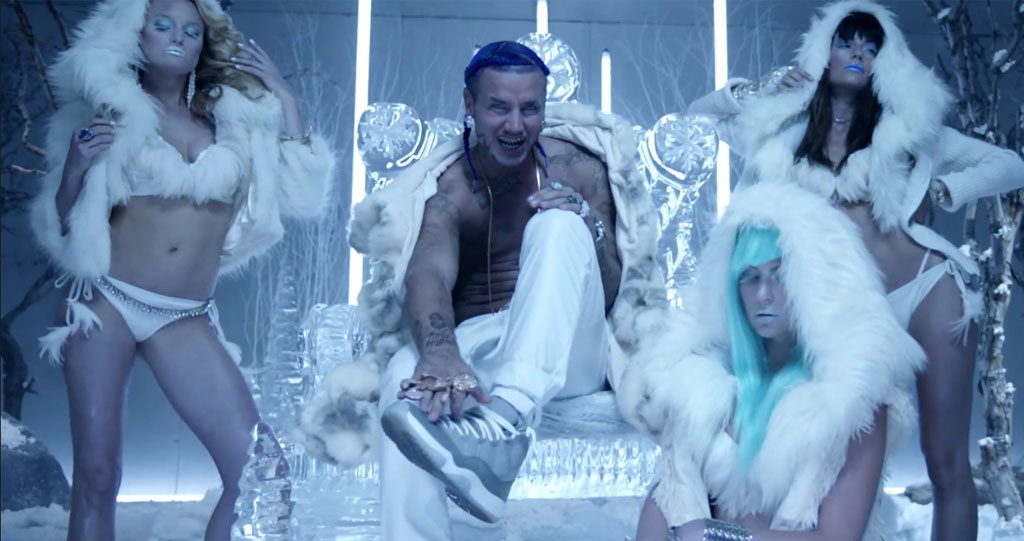 Shoes: Air Jordan 5 Retro "Grape," Air Jordan 5 Retro "Oreo," Air Jordan 8 Retro "Bugs Bunny," Air Jordan 11 Retro "Cool Grey," Air Jordan 12 Retro "Gamma Blue," Air Jordan Future "Volt"
Time: Whole Video
Year: 2014
Riff Raff released his debut studio album Neon Icon in 2014, five years after stealing our hearts on MTV's From G's to Gents. His lone single to crack the Billboard 200 was the Vine-aided "Tip Toe Wing In My Jawwdinz," which actually had little to do with sneakers. The video, however, had everything to do with them, including Riff Raff as the Ice King in a fresh pair of "Cool Grey" 11s.
---
11. Mike WiLL Made-It featuring Miley Cyrus, Wiz Khalifa & Juicy J — "23"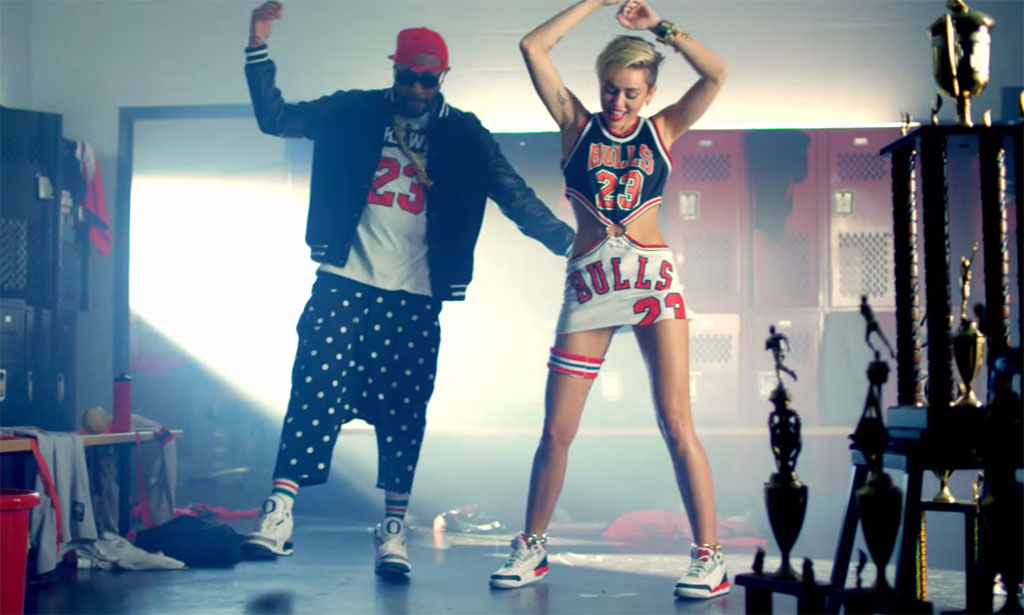 Shoes: Air Jordan 1 Retro "Chicago," Air Jordan 3 Retro "Fire Red," Air Jordan 3 Retro "Oregon," Air Jordan 5 Retro "Wolf Grey," Air Jordan 5 Retro "Grape," Air Jordan 5 Retro "Fire Red," Air Jordan 7 Retro "Olympic," Air Jordan 9 Retro "Doernbecher," Air Jordan 9 Retro "Motorboat Jones," Air Jordan 11 Retro "Concord," Air Jordan 11 Retro "Bred"
Time: Whole Video
Year: 2013
Miley Cyrus' poserism peaked when she teamed up with producer Mike Will Made It to lead the Air Jordan-themed track "23." Cyrus, who never wears Air Jordans, "sings" about going to the club, high off purp with her Js on. Even the authenticity of the Jordans in the video is suspect. It's pretty embarrassing, and memorable for all the wrong reasons, but memorable nonetheless.
---
10. Kanye West featuring Rihanna & Kid Cudi — "All of the Lights"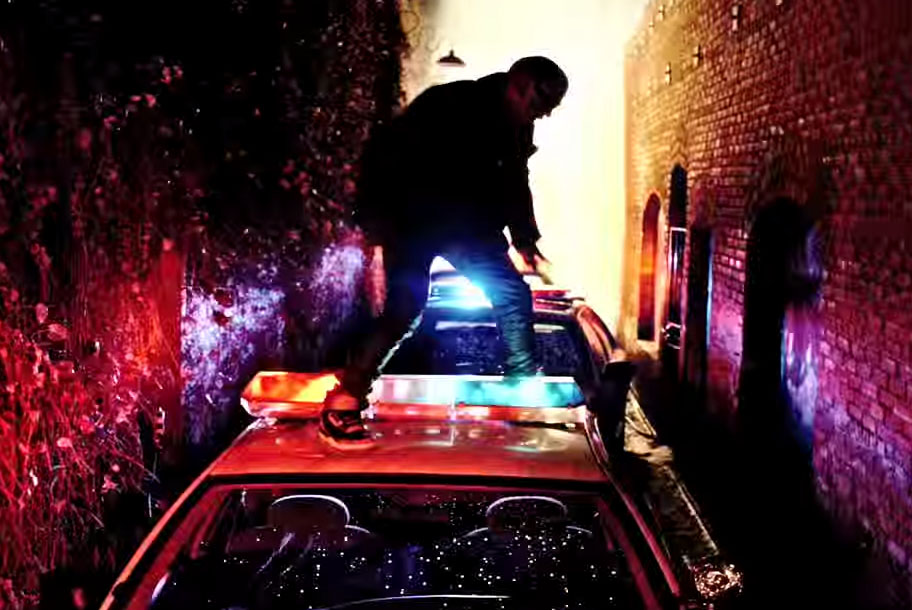 Shoe: Air Jordan 3 Retro CDP
Time: 2:30
Year: 2010
If you had to avoid watching Kanye West's All of the Lights video, following its warning that it could potentially trigger epileptic seizures, you missed Ye dancing on the top of a cop car in a pair of 2008 Air Jordan 3s.
---
9. Terror Squad featuring Fat Joe & Remy Ma — "Lean Back"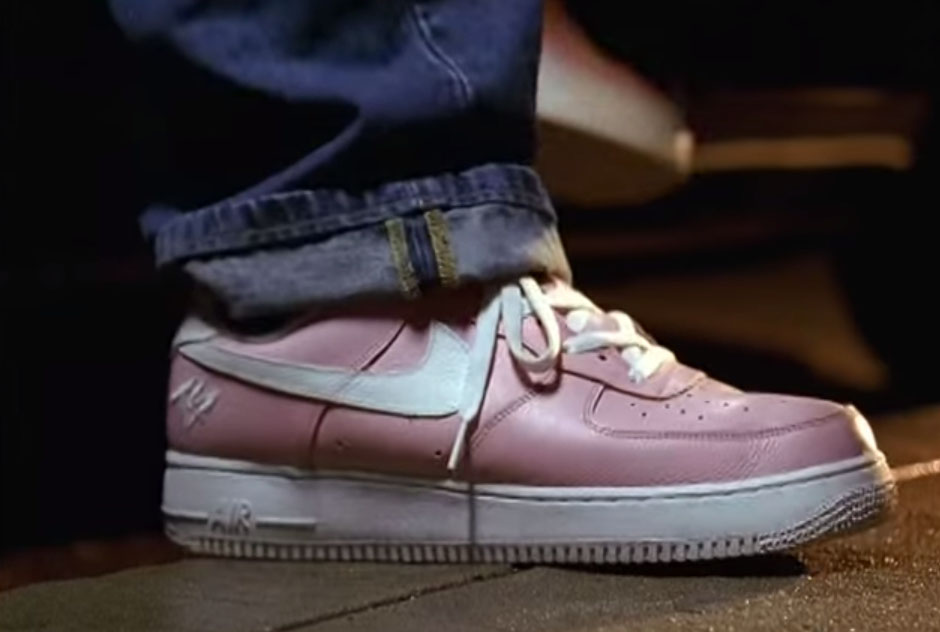 Shoe: Nike Air Force 1 Low "Terror Squad"
Time: 0:15
Year: 2004
The only thing more gangster than leaning back, rather than dancing, is doing it in a pink PE edition of Air Force 1s, like Fat Joe did in his 2004 hit, Lean Back.
---
8. 112 — "Peaches & Cream"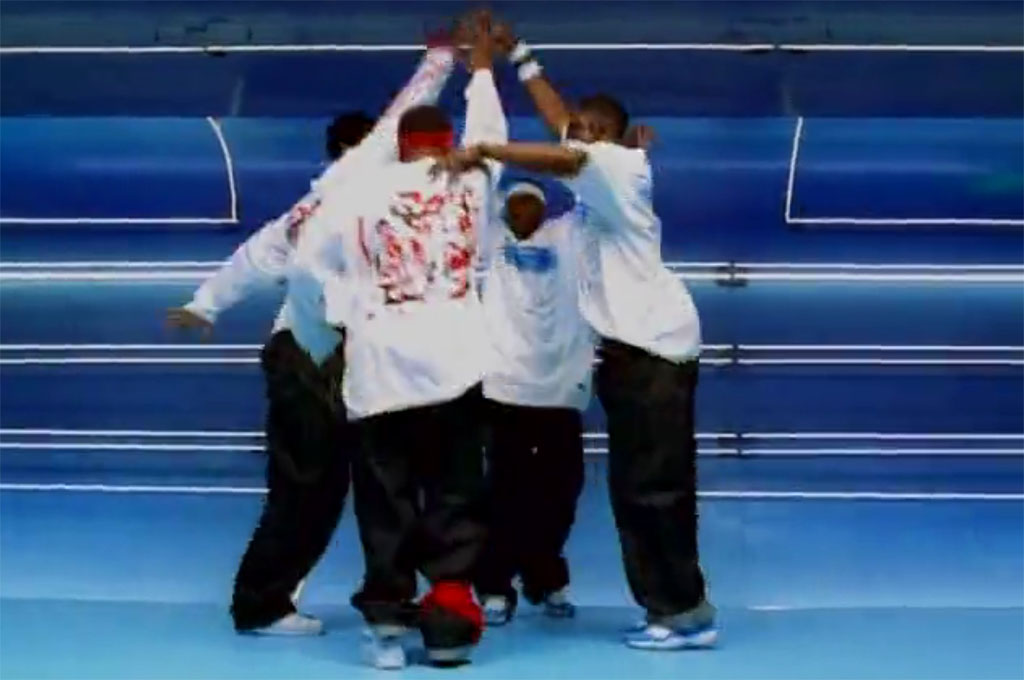 Shoe: Air Jordan 11 Retro Low "Columbia"
Time: Whole Video
Year: 2001
No one would be mad at you for forgetting which 2001 party anthem was by Jagged Edge, and which was by 112. But just to help you keep things straight, Peaches and Cream was by 112, and featured Columbia 11 Lows.
---
7. Jagged Edge featuring Nelly — "Where the Party At"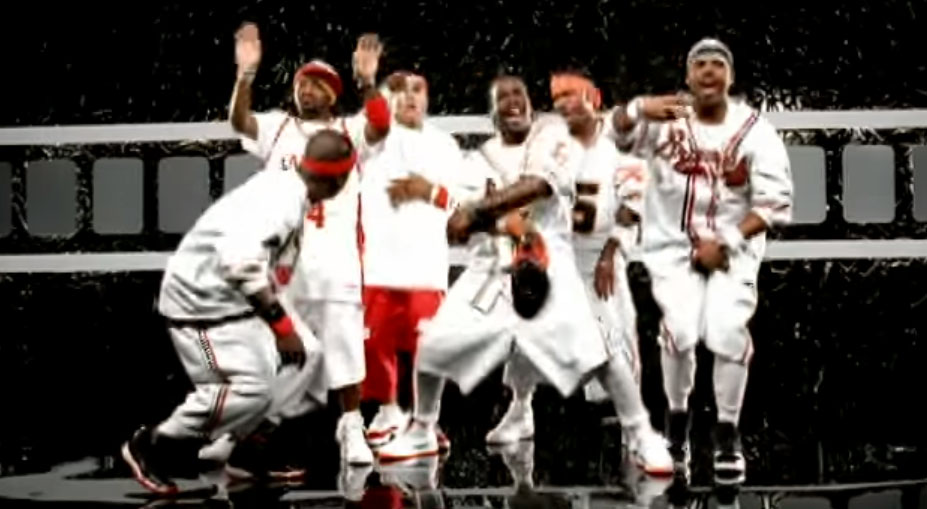 Shoes: Air Jordan 11 Retro "Bred," Air Jordan 11 Retro Low White/Red," Air Jordan 16
Time: 3:34
Year: 2001
Wherever the party was in 2001, if it was worth attending, there was a good chance it included sneakers like the Bred 11s, White/Red 11 Lows and Jordan 16s, as each of those pairs dropped that year. That was certainly the case at this Jagged Edge and Nelly-attended party in this video.
---
6. Biz Markie — "Just a Friend"
Shoe: Air Jordan 4 "Cement"
Time: 0:01
Year: 1989
Back before anyone ever envisioned a Jumpman on the heel of their Air Jordan 4s, Biz Markie dropped his one and only top 10 hit: Just A Friend. It featured a member of his crew in an original pair of White/Cement 4s, long before retros were even on the radar.
---
5. Nicki Minaj — "Anaconda"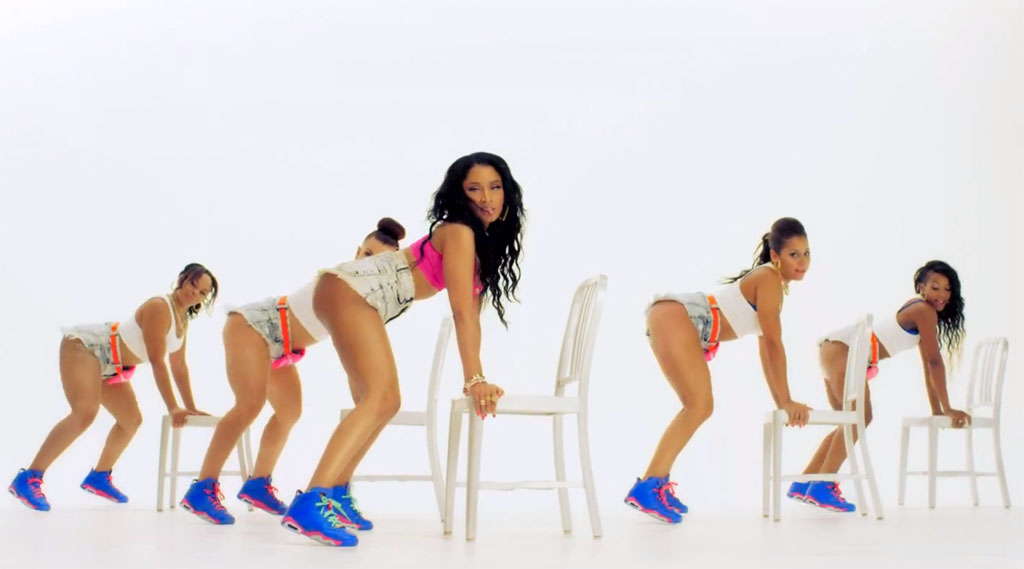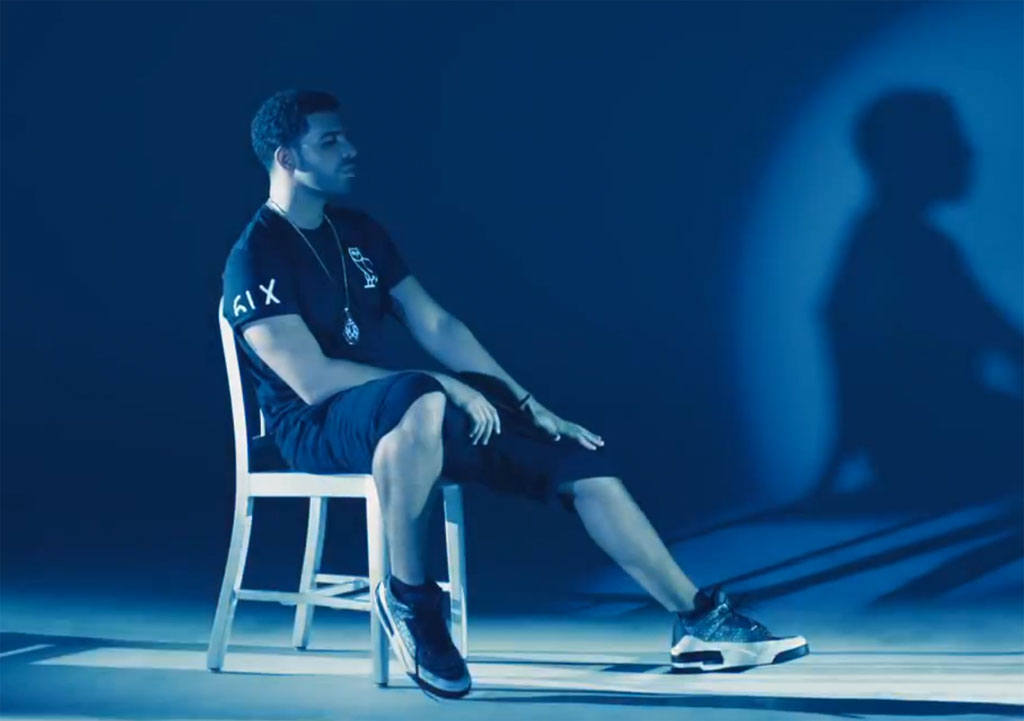 Shoes: Air Jordan 6 Retro GS "Game Royal," Air Jordan 3 Sample
Time: 1:17; 3:24
Year: 2014
It's not very often that an Air Jordan as exclusive as the pair Drake had on in this video plays second fiddle to a Grade School exclusive colorway. But to be fair, it was probably more about what Nicki was doing in her pair, rather than colorway itself, that made this video so memorable.
---
4. Jay Z & Kanye West — "Otis"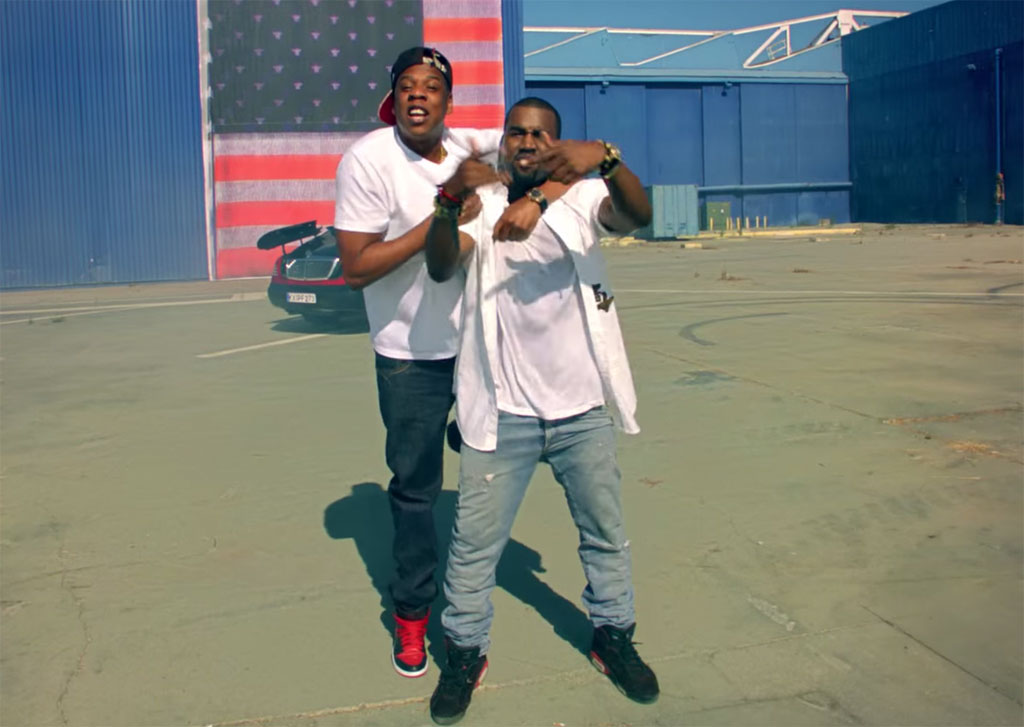 Shoes: Air Jordan 1 Retro "Bred," Air Jordan 6 Retro "Varsity Red"
Time: Whole Video
Year: 2011
Original colorways of Air Jordans typically don't require any additional hype to fuel their anticipation. But ever since Jay and Ye wore Bred 1s and Varsity Red 6s, respectively, in this 2011 video from their collaborative Watch The Throne album, those two sneakers have been more popular than ever.
---
3. Nelly featuring Kyjuan, Ali & Murphy Lee — "Air Force Ones"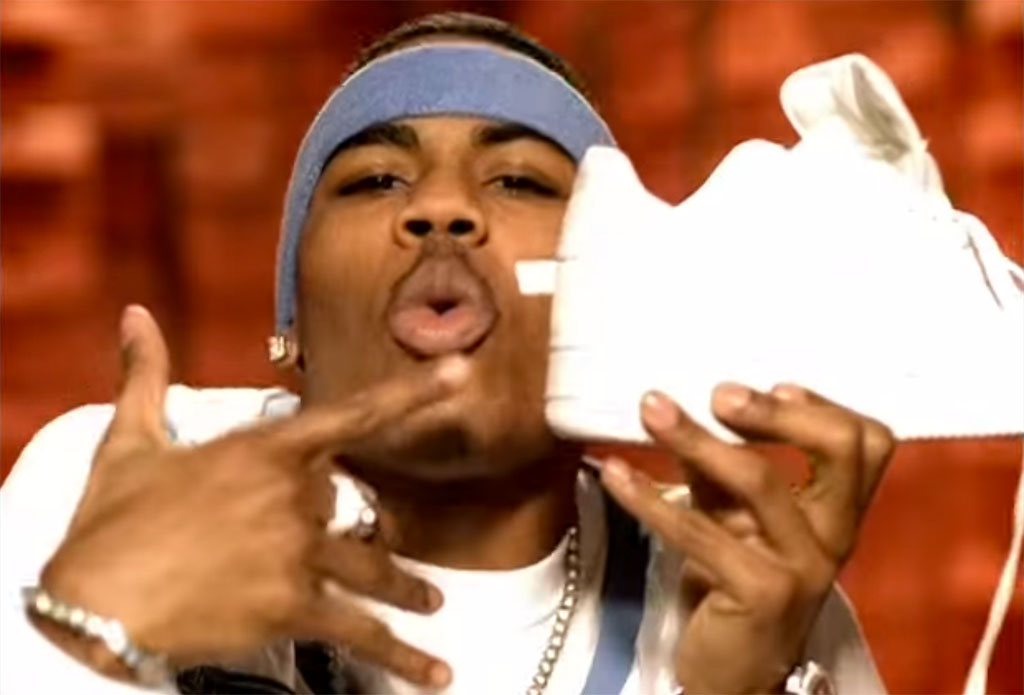 Shoe: Nike Air Force 1
Time: Whole Video
Year: 2002
Back before rappers were making videos for sneakerheads, about being sneakerheads, Nelly dropped a single to the masses proclaiming his love for one of Nike's most iconic models, the Air Force 1. We can't co-sign the authenticity of every pair in this video – in fact, we have our suspicions – but there's no doubt that it helped create a surge in popularity for model that was already in the midst of a strong comeback.
---
2. Run DMC & Aerosmith — "Walk This Way"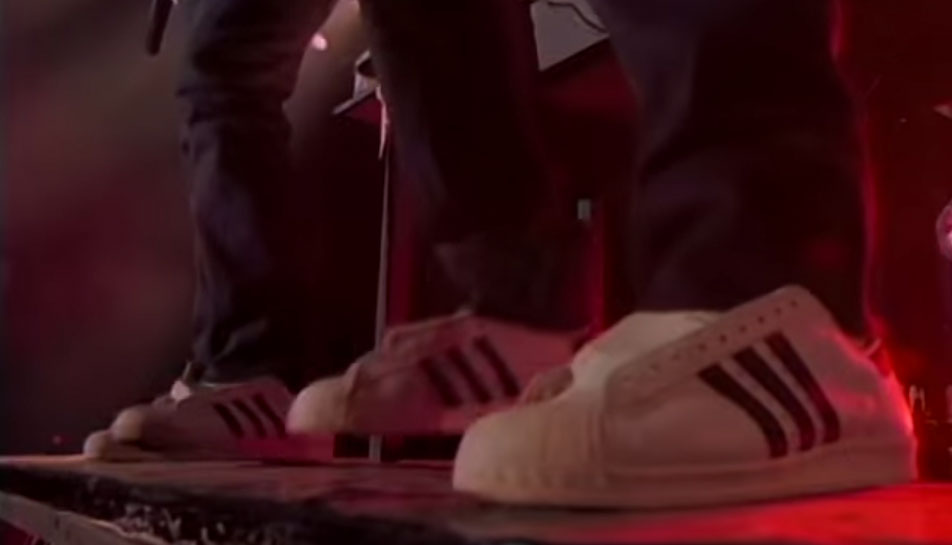 Shoe: adidas Superstar
Time: 2:32
Year: 1986
It shouldn't come as a surprise that Run DMC would make this list with a Shell Toe appearance, but you may been expecting a My Adidas video. Except there isn't one. While there are videos of live performances of My Adidas, it was their crossover hit Walk This Way – a collaboration with Aerosmith – that gave this adidas classic the most shine.
---
1. Michael Jackson — "Jam"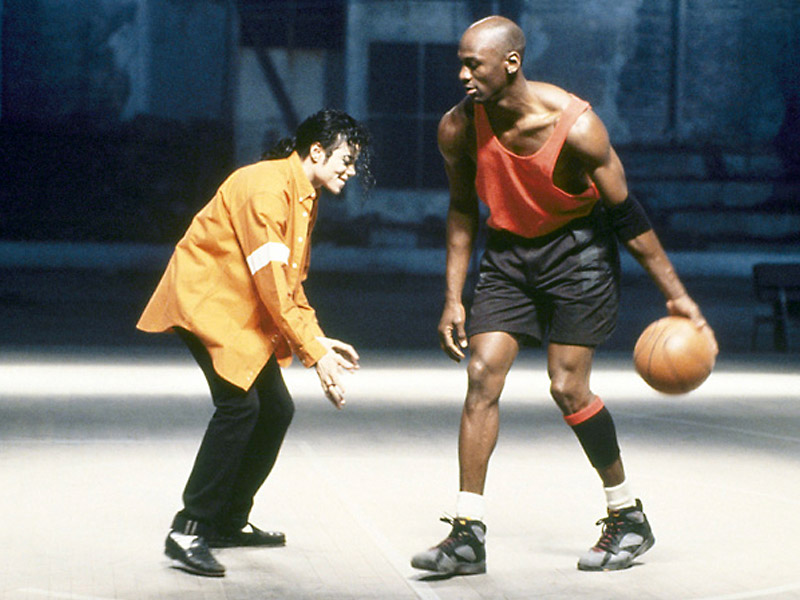 Shoe: Air Jordan 7 "Bordeaux"
Time: 3:10
Year: 1991
MJ vs MJ. The biggest athlete and entertainer of their era met on screen for the first time in this video – a track off Jackson's 1991 album Dangerous. It may not have been as Michael Jackson's biggest hit, but it was the only to feature Michael Jordan wearing a pair of Bordeaux 7s, which coincidentally will be back in stores this weekend.