by Gerald Flores
It started with a letter.
In 2012, a 16-year-old Matthew Walzer penned a note to Nike CEO Mark Parker on his iPhone. Walzer's letter wasn't to complain about why it's so hard to get Air Jordan retros on Saturday morning or rising sneaker costs. The teenager just wanted to let the Nike exec know about a problem that he and thousands of others like him face everyday: the inability to tie his shoes due to Cerebral Palsy.
"Writing this letter three years ago, I never even expected a single shoe," Walzer recalled. "I was honestly expecting a customer service response saying 'Thank you for your inquiry, but at the time the shoes you want aren't available.' But, you still got to take a shot."
His shot in the dark worked. The #NikeLetter went viral and ended up getting in front of the Nike CEO, who then tasked Tobie Hatfield—a Swoosh designer who's already had some experience making shoes for the disabled and people with Cerebral Palsy—to make sneakers for Walzer.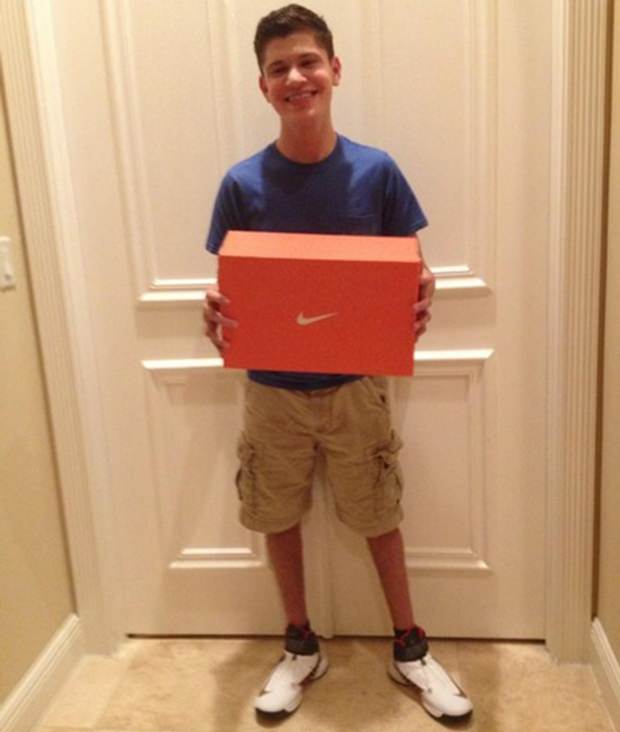 "The biggest goal that he told me when he was 16-years old was, 'I want to be able to go to college and not have my parents there to help me put on my shoes,'" Hatfield said. "That struck a huge chord with me and I said, 'Matthew, that's what we're going to do.'"
And three years after their first encounter, an innovation that Hatfield designed for Walzer's condition is going to be made available for everybody. Enter Flyease—a wrap-around zipper system that helps people without full use of their hands slide into their shoes instead of tying them. The first laceless product with Flyease will drop on July 16 on a modified Nike Zoom Soldier 8. Two U.S. basketball teams participating in this summer's Special Olympics will also be sent the shoes.
"It makes me feel especially proud that I was the catalyst for a shoe that anyone, whether you have a disability or not, can put on," Walzer said. "When I first saw the shoe, I literally broke down into tears. It was a culmination of everything."
Here, Walzer and Hatfield break down their three year journey, the impossibility of making the perfect shoe, and how they got LeBron James involved in the project.
Take me back to the beginning of this relationship. How'd you guys first get connected with each other?
Tobie Hatfield: I was over at the London Olympics in 2012 with our CEO Mark Parker. He was talking to our vice president of communications and there was this letter that was addressed to Mark that had gone viral. It was from Matthew saying 'Hey, I love your shoes, but because I have cerebral palsy and I can't tie them.' That struck a chord with Mark because he knew I had already worked with amputee athletes and I had already worked on some easy-entry, easy-access shoes for Jeff Johnson, who was our employee number one who had a stroke and didn't use his right side for a little while. Actually, I had already worked with someone who had cerebral palsy in the state of Oregon. There was already tentative work in this area happening. Mark was very aware of it and he said, 'Tobie, let's see if we can help Matthew out.'
Matthew Walzer: The first time I spoke to Tobie, I got the impression that the man is an absolute genius. From my initial letter, I couldn't tie my shoes. So he said, why don't we try a rear entry? He sent me a prototype of the LeBrons and the Hyperdunk. It was a lot of refining the entry system and giving myself enough clearance to put on the shoe.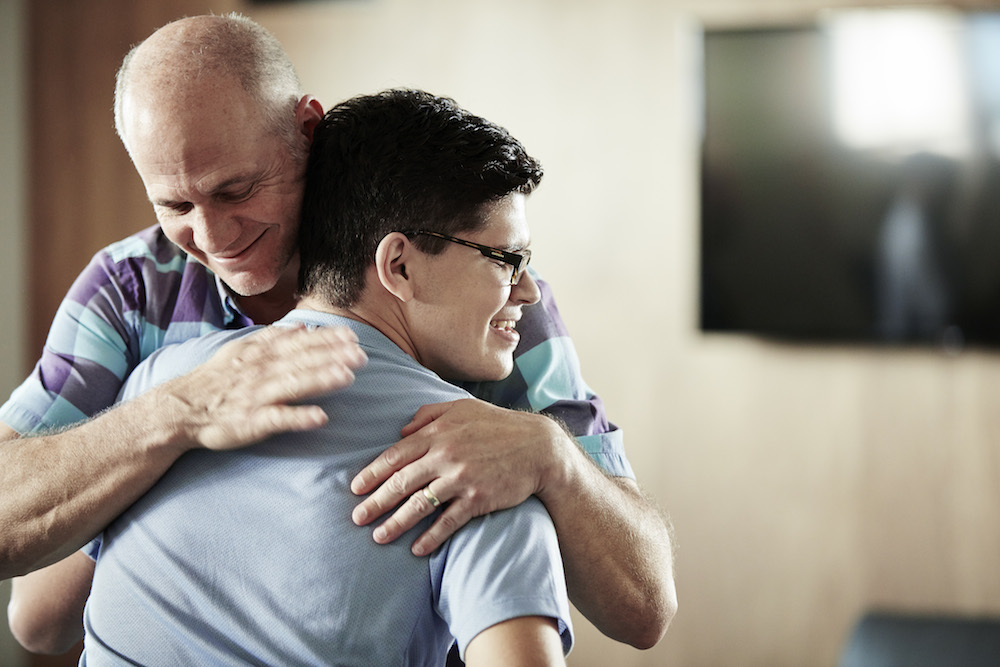 Tobie, what were some things you learned from working with Matthew?
TH: Most of us have full dexterity in our hands and we take that for granted. There's certain things that I just had to learn about what works for Matthew and what doesn't work. That's why the iterations went back and forth so many times. Sometimes you fix one thing and then that creates another problem. It was a big challenge, but not as big of a challenge of what Matthew is going through with cerebral palsy. We were definitely up for the task and we were going to give it our best. And it's going to be accessible to a lot of other people now.
So with Flyease, how is this different from the first two designs of Matthew's shoe?
TH: We've always worked on this rear entry type of fit. We knew that that was something we were going to put into it from the get-go. We just didn't know the fine tuning of it and also how can we secure it without laces in a basketball silhouette. He wanted to have it in a basketball shoe because it gave him more ankle support and because he pronates so much. So we just basically ended up getting to this wrap-around zipper system for people that can zip up with just one hand.
All the while that's what we wanted to do: have a shoe that he can get into from the backside and at the same time have a wraparound that secured the front of his foot. He could do that all with one hand because he has dexterity and articulation in one hand, but the other hand doesn't. It's something that he can do one-handed and it's something that no one has to help him with.
What were your design sessions like?
TH: We work a little bit more unusually than my previous athletes. We did all of this through Skype. I'm used to being there, but it actually worked pretty well. He's in Miami. I'm in Beaverton at the world headquarters. The very first time he put the shoes on was in front of the screen, his mom and dad were there and it was pretty exciting. I would say, 'It looks like it's working, but tell me the things that aren't working.' He was great. He wasn't shy. He wasn't worried about saying things that would offend us and that's how we like it when we work with any athlete.
MW: Our Skype sessions were so in depth. Every time I got a new prototype, we would pretty much Skype right afterward. He always wanted to see me walk in the shoes and if the changes they made were an improvement over the last prototype. We would Skype for a good 45 minutes to an hour, going over everything. They wanted the good feedback, the bad feedback, and everything else in between.
"It was a big challenge, but not as big of a challenge of what Matthew is going through with cerebral palsy."
Tobie, how'd it feel personally to finally resolve this problem for him?
TH: I immediately felt relief for him. I knew that school was starting for him pretty soon and I was a little bit concerned about what if he went to school and it just wasn't good enough? When I finally got this email from him thanking me and saying 'I wouldn't be in school if I didn't have these shoes.' I was like, 'Shoot. How could that be?' Part of me said, 'Tobie, You're not in that situation.' That really meant a lot to him. These things do matter. I just felt so much relief for him. But without him, we wouldn't be able to get all the way here.
This technology is going to be available for everyone now, but just in basketball shoes. Do you see it being used in other shoes?
TH: Affirmative. We've already start working with the run group. Mark Parker told me, 'The high-top basketball shoe is going to work great for Matthew, but it can also work for people who have a hard time getting into their running shoes. So, we started looking at doing a low-top or running version.
What was the biggest design challenge to making Flyease happen?
TH: Trying to figure out the length of cord to use. When you pull the strap closer, the zipper cord, on one end it has two cords that are attached to it that actually run from the heel then up and over. That cord is what cinches your foot down instead of laces. Getting that cord the right length. It's not perfect yet.
How do you perfect that?
TH: No shoe that we've ever made, in my opinion, is perfect. Because then you kind of rest on your laurels. We always want to make improvements. So the Zoom Soldier 9 Flyease that they're working on now will continue to be improved. The running shoe will have improvements. I told the team that we've got to get in the game. Any coach won't know anything about the athlete if he just sits him on the bench. You've got to get him in the game to see what they can do. It's the same thing about new technology. You've got to design and tweak until the cows come home. We essentially have to stop and say even if it's 80 percent there, that's enough to get us in the game and we can make improvements as we get feedback.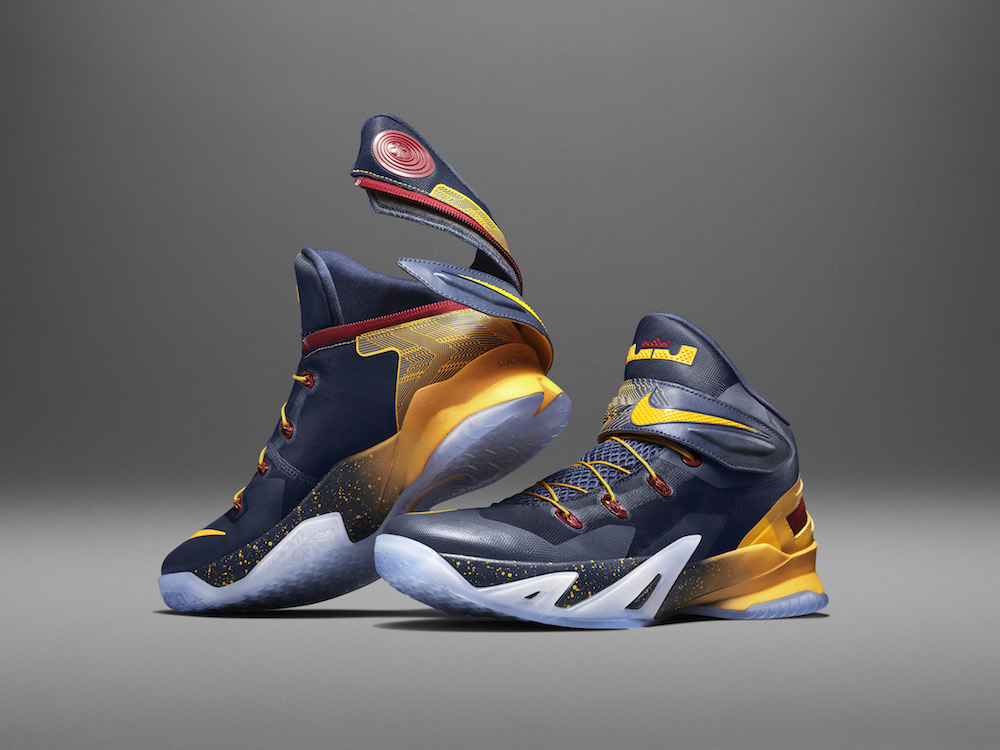 The Zoom Soldier was chosen as the silhouette because it's Matthew's favorite athlete. What was LeBron's involvement in this process?
TH: Soon as we knew the LeBron Soldier was the silhouette we were going to use, our sports marketing team immediately started talking to LeBron about that. He's known about it pretty early. Like you said, LeBron is Matthew's favorite athlete. It just works both ways and having Matthew know that LeBron has been involved with it and had the chance to meet LeBron is a great thing.
Matthew, what was it like meeting LeBron for the first time?
MW: I met LeBron in Los Angeles when I was shown the product and it was an unbelievable moment. I had no idea it was going to happen. They just told me, 'Hey someone wants to meet you.' And there's LeBron in front of me. To see him in person is insane. He was so gracious. He's sitting there complimenting me when I should be there complimenting him. It was just unbelievable.