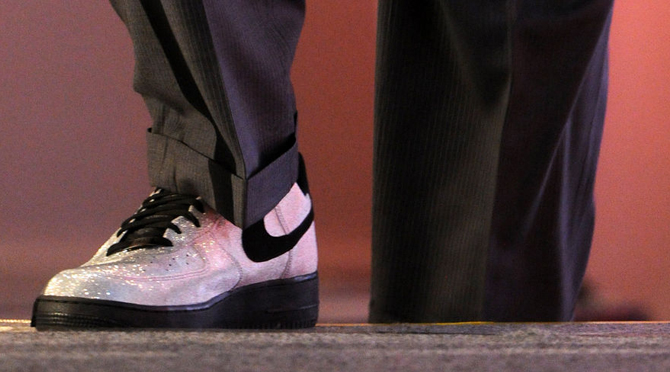 by Brendan Dunne
Not everyone was impressed by Dan Mullen's adidas Yeezy Boosts that he wore to SEC Media Days.
One of his more recent detractors is Arkansas head coach Bret Bielema, who tried to best Mullen today by wearing the sparkling Nike Air Force 1 shown above. Arkansas is a Nike-sponsored school.
AL.com reports that Bielema backed up his brand loyalty with a rallying cry for a sneaker war.
"Hell, let's start a little Nike-Adidas war," Bielema said.
Apparently nobody told him that the war has been going on far a while now and that Nike is far and away the victor.
Thanks MJ and #Nike for these great pair of Air Force 1 special Bling/Bling addition for #SEC media days #WoooPig pic.twitter.com/l9UvV04gpQ

— Bret Bielema (@BretBielema) July 15, 2015