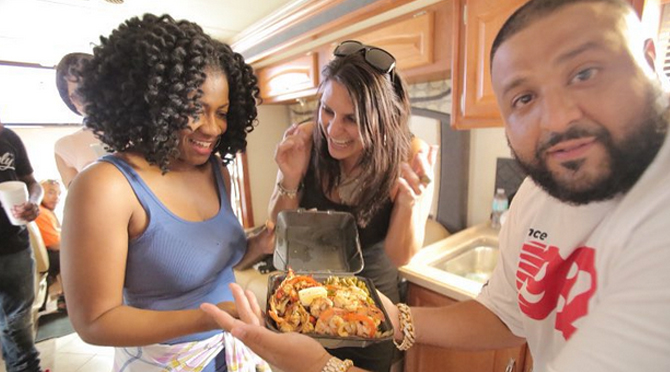 by Brendan Dunne
What does DJ Khaled do with all those free Air Jordans he gets? Use them as a promotional tool to get people to eat at his restaurant, of course.
Being the brilliant businessman that he is, Khaled posted a promotion on Instagram yesterday that enticed customers to come by his spot, Finga Lickin in Miami, with the promise of free Jordans. All they had to do was be the first person to order lobster with seafood rice, red velvet cake, and a "mystery drink," take a photo with one of the staff members, and slap the aggressively long hashtag #fingalickingmiamigardens on there.
The pair promised in the picture, the Air Jordan 11 "Gift of Flight" almost looks fake thanks to the sharp blues, but that might just be a case of someone cranking up the levels in Photoshop to make the shoes look better. Did we mention that the winner also gets a free pair of DJ Khaled headphones?
As should be expected whenever the opportunity arises to eat Khaled's delicious food and get free Jordans for doing it, someone hopped on this pretty quickly. Stare in envy at the winners below.