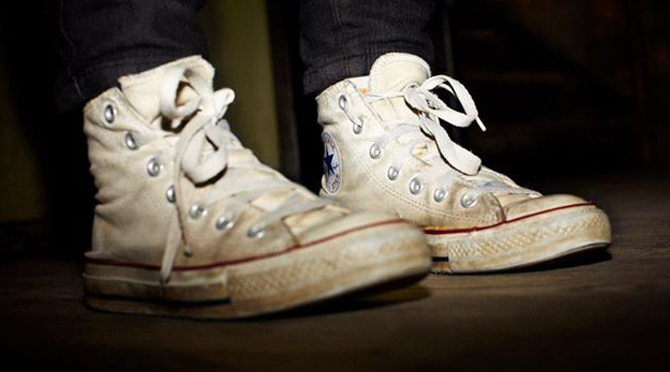 by Brendan Dunne
It's safe to say that some sneakerheads will be retiring their Converse Chuck Taylors what with the Converse Chuck Taylor 2 being right around the corner.
For anyone who has a beat up pair of the classics and doesn't know what to do with them, Shiekh Shoes has the answer. The retailer is partnering with Converse for the Converse Recycle Program, which turns old shoes into material to build playgrounds with.
Customers can bring a pair of Converse to any one of the Shiekh Shoes locations listed below to donate them. Those who do will receive a $10 coupon towards a new pair of the shoes, and some of the old Chucks will be photographed to document the process. The stores will be accepting all sizes, and most footwear enthusiasts have a beat up pair of these lurking somewhere in their closet anyway, so now is as good a time as any to clean house.
Participating Shiekh Shoes locations:
Compton Plaza – 1900 N Long Beach Blvd. #102-3, Compton

Westfield Culver City – 6000 Sepulveda Blvd. #1701, Culver City

Lakewood Center – 500 Lakewood Center Mall #021, Lakewood

Hollywood – 65 42 Hollywood Blvd., Los Angeles

South Bay Pavillon – 20700 Avalon Blvd. Set 399, Carson

Pico Blvd. - 5025 W. Pico Blvd., Los Angeles

DTLA – 745 S. Broadway, Los Angeles

Glendale Galleria – 2148 Glendale Galleria #0HU11, Glendale

Horton Plaza – 324 Horton Plaza #217, San Diego