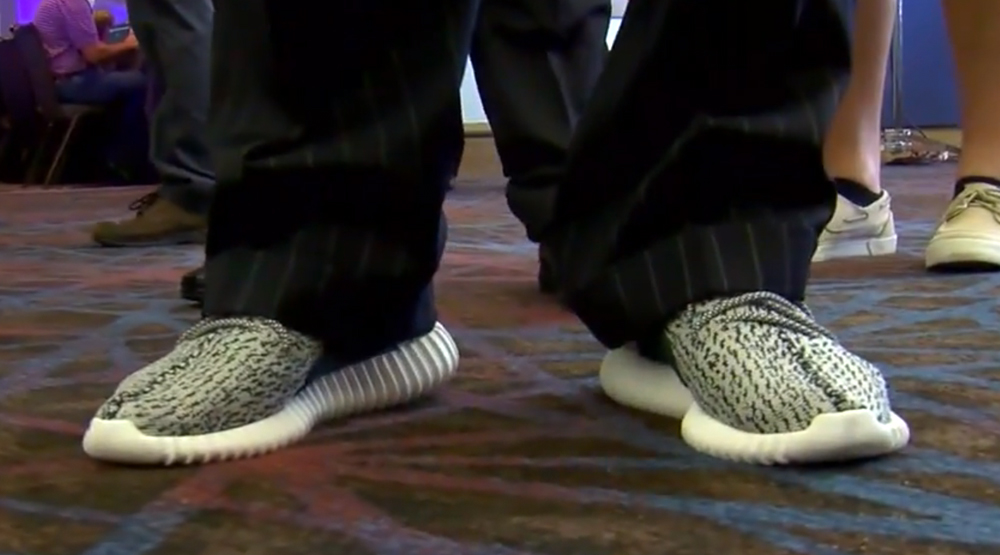 by Brendan Dunne
Plenty of interesting sneaker wears take place in the NCAA, but it's not too often that impressive pairs are spotted on-feet for coaches.
Dan Mullen, head coach of the Mississippi State Bulldogs football program, broke the mold today though, bragging about and then bringing out the adidas Yeezy 350 Boost for an appearance on ESPN during some SEC media days coverage.
Got my Yeezy shoes just in time for #SECMD15 @kanyewest @adidas pic.twitter.com/hqfn7dHzQA

— Dan Mullen™ (@CoachDanMullen) July 14, 2015
While Mullen was very proud of his pair, he's clearly not the most informed guy out there on the shoes. In the clip below, he actually calls them "adeezys." Mullen assured viewers that he got his pair from adidas, and not from Kanye West himself (Mississippi State is an adidas school).
Mullen's wear might have gotten a thumbs up from the sneakerhead crowd, but one reporter was not having it. Pat Forde, a columnist for Yahoo Sports, took him to task on Twitter with the following:
Dan Mullen at podium now. Wearing some adidas kicks that are ugly beyond description.

— Pat Forde (@YahooForde) July 14, 2015
According to reports from the SEC media days, Mullen said that he tries "to be swagged up" and that he likes to "wear cool shoes." As we all know, those are the two most important qualifications to become a sneakerhead in 2015, so Mullen is pretty much there. He also said that he'd like to wear the sneakers during a game, but only if the weather is nice since he doesn't want to get them muddy. Mullen's wear already has at least one of his players feeling envious – Mississippi State quarterback Dak Prescott said, "Those are swag. I'm jealous for one," of Mullen's sneakers.
Dan Mullen on adidas shoes: "I try to be swagged up. I have a little sock game going to. I like to wear cool shoes"

— Brett McMurphy (@McMurphyESPN) July 14, 2015