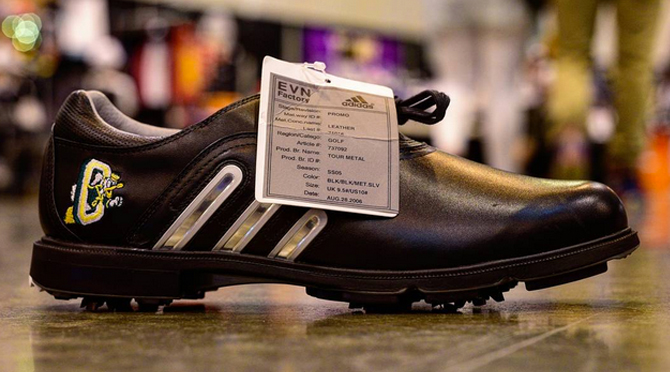 by Brendan Dunne
Yes, that's an actual adidas Oregon Ducks sneaker.
The University of Oregon is of course forever linked with Nike, having served as ground zero for the sportswear giant and having reaped the benefits of Phil Knight's generosity for years now. So how could an embroidered image of the school's mascot dashing through an Oregon "O" possibly have ended up on an adidas sneaker?
The brand certainly has never had rights to produce such a shoe using the school's logo. The model, from the collection of Lewis Ansara, is a golf shoe called the adidas Tour Metal that was produced in August of 2006, per the attached tag. It's marked as a promotional item, so it's not as if adidas ever had designs on selling it, but it's still strange that they'd go through with actually making the shoe for a school so deeply linked with the Swoosh.
Consider this adidas' most direct sneaker link to the University of Oregon since 1982's adidas Oregon model, which was designed in part by Bill Dellinger, a former runner on the Oregon Ducks track team and the successor to Nike co-founder Bill Bowerman as the school's head track coach