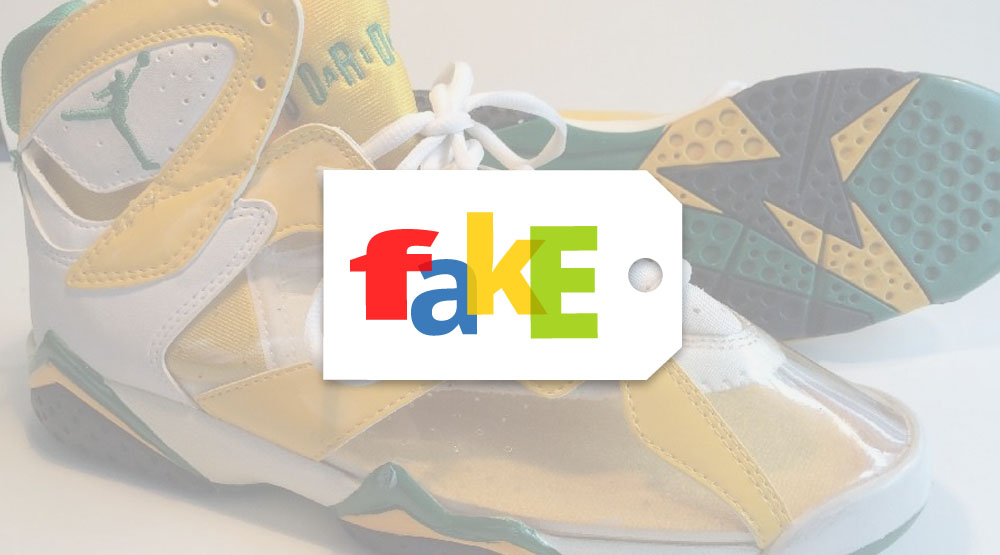 We all know fake sneakers are a major problem in the sneaker world, and it's gotten worse as of late, with the knockoffs getting better and better. While it's always been the safest move to buy new releases from an authorized retailer, it's become even more important as it gets harder to tell the real from the fake. Unfortunately, it's also gotten harder and harder to cop real pairs, as things like bots have made it borderline impossible to score legit pairs online.
Today though, we are taking a look at some fake Air Jordans that you won't have any trouble discerning from real pairs. If you can't tell these from real deal, then bots are the least of your problems. But that doesn't mean they aren't funny to see.
Air Jordan 7
Price: $200 Buy It Now
Rank: 10
There are A LOT of colorways of Air Jordan 7 coming out this year, so mistaking this for an upcoming sample wouldn't be unreasonable. Then again, the auction claims this variant is from 2006.
---
Air Jordan 9 Fusion
Price: $45 Buy It Now
Rank: 9
There seems to be an unwritten rule among fake makers: "When in doubt, add elephant print." That wasn't enough here, though. A touch of Air Jordan XX3 stitching finished this one off.
---
Air Jordan 8 "Clear"
Price: $90 Buy It Now
Rank: 8
If it weren't for clear panels, this colorway could have been mistaken for an Orlando Magic player exclusive. However, as we all know, real Air Jordans wouldn't use any clear panels (except for the AJ2010).
---
Air Jordan "9Lab11"
Price: $250 Buy It Now
Rank: 7
As fakes go, this probably isn't the worst model we've ever seen. But, a shoe can't get much more fake than this one, with every element from the colorway to the model itself being off.
---
Air Jordan 5 "Ducks"
Price: $185 By It Now
Rank: 6
There's a long running debate on whether or not custom sneakers are fake. Regardless of your position, we can all agree that this pair can make the claim of being both custom, fake, and ugly too.
---
Air Jordan 7 "Clear"
Price: $40 Buy It Now
Rank: 5
Ray Allen's Seattle Supersonics PEs are among the most coveted of collectors. This isn't one one of them.
---
Dub Zero x 6 Rings x AJF
Price: $53 Buy It Now
Rank: 4
Your first thought when you see Fusion-based monstrosity might be: "No one would ever wear that. " That's an easy assumption to make based on the ridiculousness of this hybrid model combined with the atrocious colorway. Yet upon closer inspection, this pair has been so well-loved that the outsole is worn through.
---
Air Jordan 10 "Laser"
Price: $121 Buy It Now
Rank: 3
This fake pair of Air Jordan 10s features a seamless upper with a "lasered" portrait on the side. Of whom? Smart money would be on Michael Jordan, however this looks more like Montell Jordan.
---
Air Jordan 5 "Clear"
Price: $60 Buy It Now
Rank: 2
At first sight, this may look like a Houston-inspired edition of the Air Jordan 5 with its Rockets colorway, candy paint, and wood grain. But, it's actually just another clear Air Jordan with wooden shoe trees.
---
Air Jordan 10 "Money"
Price: $100 starting bid
Rank: 1
Nothing says "classy" like dollar signs on your sneakers. If you're thinking Jordan Brand would never do that to an Air Jordan, stop right there. They'e already done it, on the "Pure Money" Air Jordan 3s and 4s. On the bright side, it was hidden with tonal stitching behind the shoes' heel tabs. But on the other hand, the graphics on those didn't look like they were drawn on by a high school art student.