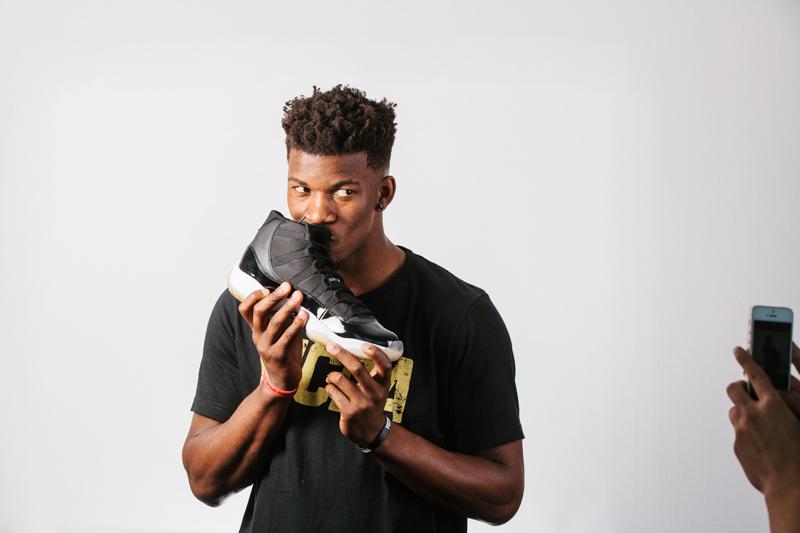 by Brandon Richard
Last month, Chicago Bulls shooting guard Jimmy Butler made headlines when it was revealed that he left more money on the table from adidas to join the Jordan Brand. According to Butler's agent, Happy Walters, he took a 75 percent paycut to ditch the 3-Stripes for the Jumpman. But why would any athlete give up that kind of money just to change sneakers? Butler gave his reason for the move in a recent sitdown with GQ Magazine.
Is it true that you took significantly less money to be on Team Jordan? What led to that decision?

I've always been a fan of Mike and his game. What he did for the game of basketball as a whole, and what he did off the court for it too, whether it was with Hanes or his shoe brand. But I've always been a fan of the tennis shoe. So when I got an opportunity to switch from Adidas to Jordan, I just thought it was the right choice, because I've never had problems with my feet. I'm not bashing Adidas at all, but I got turf toe one year and rolled my ankles a few times. That's never happened, whenever I was at Marquette with Jordan or before that, with Nike. So I thought maybe I should go back to that shoe. And then Jordan picked me up.
In recent years, adidas has had to deal with a growing (and unfair) perception that its performance footwear makes athletes more susceptible to injury. This veiled shot by Butler toward his old partners won't help diminish the stigma any.
Butler was also asked whether any of his adidas-wearing teammates, like Derrick Rose, tried to convince him to stay with the brand.
No. No. You can't convince me, once my mind's made up. They already knew. I was probably telling them halfway through the season, whenever it is, "When this year's over, y'all can count on not seeing me in Adidas. I'm gonna be straight Jordan-ed out." Now I'm never wanting to leave Brand Jordan.
It's pretty clear that Butler was unhappy wearing adidas sneakers during his short time with the brand. So much that he doesn't deny taking that massive paycut to play in the shoes he grew up wearing. Read the full GQ interview for Butler's thoughts on those famous Team Jordan shipments and a possible signature shoe.