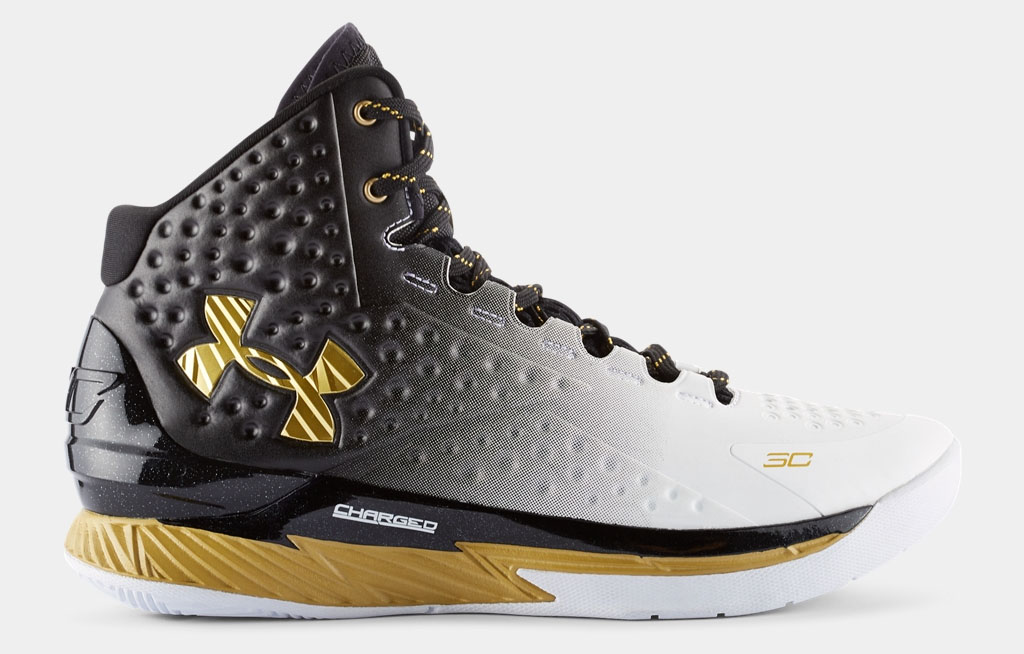 by Brandon Richard
Celebrating Stephen Curry as the NBA's best, Under Armour released the highly anticipated "MVP" Curry One this morning.
Sadderday morning letdowns are now the usual, but Under Armour has never had this kind of buzz for a single basketball sneaker release. As expected, there were some hiccups on underarmour.com, making checkout extremely difficult for some customers. Purchasing at Foot Locker, Eastbay and Finishline also proved to be quite a mission.
As always, Twitter had plenty to say on the matter. Some people were pleased to get through, while others swore off Under Armour forever. Because it's way easier to cop Nikes and Jordans online. But people did react, and that's great news for Under Armour and Curry.
Here's 20 takes on the "MVP" Under Armour Curry One release from Twitter:
@RealCMulshine Billion dollars in rev and theses fools have a worse website than obamacare

— Mark Frazier (@MarkTFrazier) June 13, 2015
Look what Curry is doing for UA that Kd was afraid to do.

— ? (@Omethius_Slime) June 13, 2015
@UAbasketball there's no way it's sold out, I started trying to add it to cart at 6:58 and it's been loading since....

— Jenny L.Y Chung (@JLYChung) June 13, 2015
@JLYChung you're welcome. Getting Currys is almost like getting Jordan retros now. Good luck finding a pair!

— Chris B (@calbearz24) June 13, 2015
calls the Eastwood mall.. "Yes we have the curry mvps" drives out there. " no we don't have those."

— KyKy Meens (@ItzMeens) June 13, 2015
Don't get me wrong the MVP Currys are mice but the hype don't belong with them

— TheFreshPrincee (@Snkerheadd) June 13, 2015
Everyone on the TL trying to cop Currys now pic.twitter.com/tB00UVx0B1

— #TopSZN (@Jmanforeverr) June 13, 2015
it still is dope that there is a buzz on UA and the Curry 1 tho, thats pretty dope for the brand!

— Heskicks (@Heskicks) June 13, 2015
Under Armour Currys selling like J's

— Mr. $ In The Bank (@Air_Scumbag) June 13, 2015
Under Armor sneakers are whack to me wouldn't ball in currys if I got em for FREE

— Anything Is Possible (@AlexnderBlaine) June 13, 2015
Never would've thought there'd be so much hype for a pair of Curry 1s (cause it's an MVP shoe??) Resale value looks pretty good tho!

— CJ Viray (@cjviray) June 13, 2015
Well Under Armour sucks. Wasted over an hour trying to get the Currys and they get taken out of my cart when I could finally check out.

— Yoshi (@Air_Asian) June 13, 2015
Curry One is officially sold out.

— Finish Line (@FinishLine) June 13, 2015
@FinishLine Close to impossible to get... I hope there's a restock in the future.

— TONY (@MrTonyMui) June 13, 2015
Steph Curry 1's outselling the Kyrie 1's. Even though it's UA.

— Lil Geno (@Hey_Bishop) June 13, 2015
Curry 1s sold out much faster. Just saying. https://t.co/sGMQKcrSOf

— Frequency Vibrations (@Mr_Chris_Chen) June 13, 2015
More than 2 hours trying to buy the new @StephenCurry30 shoes & @UnderArmour web went maintenance & suddenly shoes SOLD OUT So #Frustrated

— Aldo Chavez (@aldo_chavez) June 13, 2015
Thanks for the early anxiety attack .@UnderArmour, since I got through and email confirmed, sorry for what I said when I was mad. #CurryOne

— Mike (@ThoughtsByMike) June 13, 2015
Been waiting all day to cop the #CurryOne "MVP" but resellers get them instead and resell them at stupid prices @StephenCurry30 @UnderArmour

— Simon Tran (@SimonTran17) June 13, 2015
Never thought I would see under armour shoes going for $350+... So much for getting stephs MVP shoes.

— C2K16 (@TheRealCsquard) June 13, 2015