by Larry Gallagher
While most people look to June 21 as the official start to summer, some of us know better. We know the true start of summer is when blockbuster movie season kicks off and we head out to our local theater and take in all of the sights and sounds of this year's biggest films.
As someone who absolutely loves sneakers about as much as he does going to the movies, I find special joy seeing when some of the biggest films of the summer pay tribute to sneakers in one way or another. From Marty McFly's Nike MAGs in Back to the Future II to Michael Jordan himself in Space Jam, there have been countless moments in cinema that gave a shout to sneaker culture.
Most people consider Steven Spielberg's Jaws back in 1975 to be the first true "summer blockbuster," so I took a look back over the past 40 years of summer movies to see if the biggest hits from each year made the cut when it came to showing sneakers some love.
1970s
The end of the '70s saw the summer blockbuster become part of American culture as moviegoers showed up in droves to experience new stories and worlds unfold right in front of their eyes. There were incredibly huge moments in cinema that would leave indelible marks on future generations with blockbusters like Jaws, The Omen, Star Wars and The Amityville Horror taking the top spots summer after summer, but it was 1978's Grease that first showed sneakers some love in the form of the Converse Chuck Taylor All-Stars which could be seen all throughout the film on John Travolta's Danny Zuko and his squad of T-Birds. Much like the film itself, the Chuck Taylors have remained a staple in American culture and a true classic till this day.
Honorable Mention: While 1979's Meatballs was a huge summer hit, it didn't exactly hit the scale of blockbuster. But that shouldn't stop it from being a film sneakerheads should definitely love due to the nonstop cameos by adidas sportswear. From runners and logo tees to an absolutely phenomenal all red three striped tracksuit rocked by the one and only Bill Murray, Meatballs is a must watch for retro appeal alone, not to mention it being a damn funny movie.
1980s
The '70s may have been when summer blockbusters were born, but the '80s were when they really came into their own. Those 10 summers gave us films that we still talk about today and were one of the most creative times in all of filmmaking. If you are in your 30s and can think of a beloved childhood film, there's a good chance it was one of the many movies released during one of these summers. And if you're a sneakerhead, some of these films featured absolute classics in the world of footwear.
There are honestly too many to mention, but here are just some of the awesome sneaker references in the major summer blockbusters of the '80s:
- In 1982's E.T. as Elliot (Henry Thomas) stole a kiss from his science class sweetheart, he did it rocking a pair of the Nike Diablo runners.
- In 1984's Ghostbusters, the fearless foursome of Peter, Ray, Egon and Winston definitely stole the show but when it came to style, no one could touch Louis Tully (Rick Moranis) and his absolutely fire combo of a velvet tracksuit and adidas runners
- Back to the Future (1985) Not only did Marty Mcfly give us the Air MAGs just a few years later in the sequel (not a summer release), but in the original film Marty proudly rocked a pair of the Nike Bruins, while Doc Brown created a time machine out of a Delorean as he stood proud in a pair of Nike Vandals.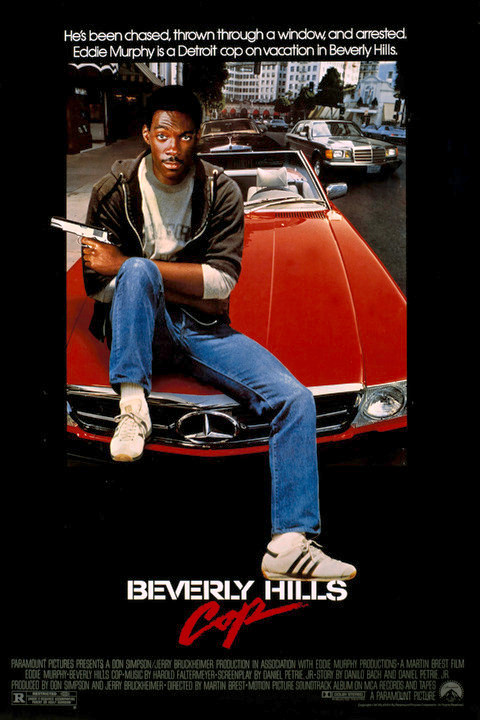 - Though slightly not as big as 1984's Beverly Hills Cop (also not a summer release), the 1987 blockbuster sequel saw Eddie Murphy return as not only the beloved, wisecracking Axel Foley, but also as a sneakerhead and style icon. He advertised the hell out of the adidas Country on the poster for the original film. Though he wore a more muted white pair of adidas in the sequel, his combo of those with jeans and a Detriot Lions letterman's jacket is still the epitome of cool almost 30 years later.
- The Reebok Alien Stomper didn't see a retail release until the year after, but 1986's Aliens flaunted the sneakers on the feet of the movie's main character Ellen Ripley (Sigourney Weaver). Known for its futuristic look, the sneaker was made specifically for the movie and didn't have an athletic purpose at all.
- Last, but certainly not least, comes courtesy of 1989's Batman, which saw the first serious attempt at bringing the Dark Knight to life on the big screen. Not only did Batman wow moviegoers and critics alike, but also sneakerheads who were amazed to find out that Tinker Hatfield himself created a special all-black pair of the Nike Air Trainer 3 (originally called the Air Trainer SC) that could be worn by Michael Keaton underneath his Batsuit. Till this day, this is still one of the coolest moments for sneakers in film.