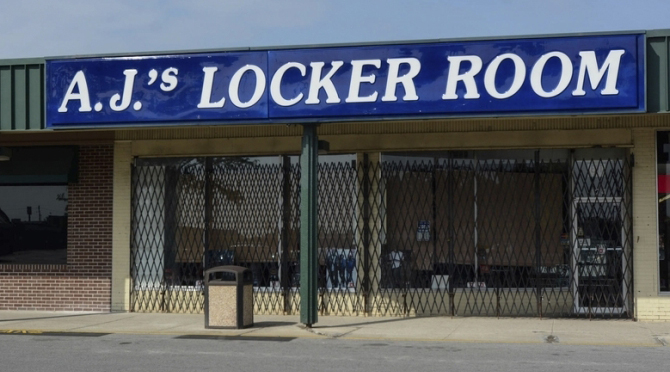 by Brendan Dunne
A family was captured at gunpoint and held hostage during the robbery of a mom-and-pop sneaker store in Indiana last week.
The mother of the family arrived at her home with her husband and daughter at around 6:30 pm on Wednesday, June 3. Waiting for her was a man with a gun, who rounded up the whole family, bounding them with duct tape, placing hoods over their heads, and putting their cell phones in a sink full of water to make sure nobody could call for help.
The family was split up – the mother and son were taken to the family business, A.J.'s Locker Room, in Fort Wayne, Ind. At the sneaker store, they were ordered to help unload merchandise, according to police. The father and daughter were taken elsewhere.
Alarms were set off at two separate times during the robbery, with the second one seemingly scaring the robbers off.
The father and daughter were let go by their captors, the former suffering cuts to his right eye and left knee, which he says stemmed from being pistol-whipped and pushed from a car by his captors.
Police are looking into surveillance footage from A.J.'s Locker Room and nearby businesses for help on solving the crime.
More details on this strange sneaker crime at the Journal Gazette.