by Gerald Flores
It's been over a month since civil unrest in Baltimore over the death of 25-year-old Freddie Gray led to looting and damage of over 30 businesses. An estimated $9 million in total damages resulted from the riots, and 15 buildings were incinerated in the violence, according to Reuters.
But, if there has been a sliver of hope that can be gleaned from the unfortunate situation—it's come from the local sneaker community.
DTLR, a locally-based sneaker store chain, had six stores looted and gutted during the Baltimore riots—all of which are now back up and running thanks to the help of people in the local neighborhood.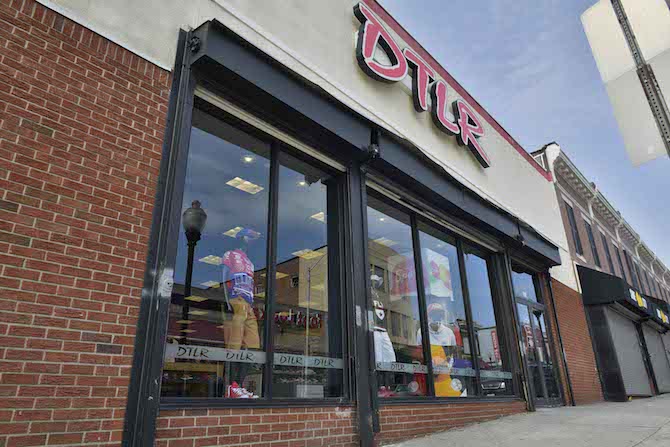 "The next day after the looting, some members of the community showed up with shovels and garbage bags to help clean up, which got our stores back quicker," said Jeff Bowden, DTLR's director of marketing. "The community showed up in droves and it helped speed up the process."
For the most part, DTLR's damaged Baltimore locations were back up and running within two weeks. But, not all was salvageable. One of its locations was completely burned down, and there's still no word on whether or not it will be rebuilt any time soon.
"That's a long time deal. It probably won't be rebuilt in 2015," Bowden said. "It's just something we need to work with the city on and see if it makes sense business-wise for us to rebuild or if we should move it to a different location. It'll be a long term project." He added that insurance companies cover the damage, but there's no making up for time lost being closed or how much hourly-paid employees lose by not being able to work. Overall financial losses as a result of the riots are estimated to be in the millions, which includes property damage, loss of goods, and loss of productivity.
Shoe City, another sneaker store chain in the Baltimore area, was also set back a couple million dollars as a result of the riots. Four of its locations were hit, but are all were up and running after a few days.
The company's president Greg Greenberg said that sneaker brands were very active in offering help the day after the riot.
"Vendors all reached out to us the next day and sent over whatever inventory they had. Nike and Jordan were certainly very helpful. Converse and adidas all reached out," Greenberg said. "They even put together programs for the employees to give them free shoes."
However, not all stores were able to recover as quickly as DTLR and Shoe City. Sportsmart, a sneaker boutique that was completely looted during the riot, was just able to re-open its doors at the beginning of this month. Soon after the devastation happened, a GoFundMe page popped up asking for donations to help employees and others impacted by the riots. Sportsmart couldn't be contacted for comment.
DTLR's Bowden says that, if anything, the riots only motivated the store to work on more programs for the community.
"This won't deter us. It won't stop us," Bowden said. "It'll just strengthen our resolve to serve the community not only with product, but with outreach projects."