The drawing for the Air Jordan 7 Retro 'White' is now open for 30 minutes. Enter here: http://t.co/XXVMsIunE9 pic.twitter.com/w6fVaemFaf

— Nike Chicago (@NikeChicago) June 18, 2015
by Brandon Richard
Today, Nike Chicago became the first location to put Nike's new online raffle system to use. At approximately 7:00 p.m. EST, the @NikeChicago Twitter feed announced drawings for the "Cigar & Champagne" Air Jordan 7s and "What The" Nike KD 7. Users were directed to a landing page through a link with a 30-minute window to enter.
For the most part, things went smoothly. Hopefuls were quickly sent an e-mail either confirming or denying reservation for Saturday's big releases. A few expressed disappointment about their unsuccessful entries, but there will always be more losers than winners in any raffle.
However, there's another part of the raffle fallout causing legitimate concern — several people from out of state were able to confirm reservations.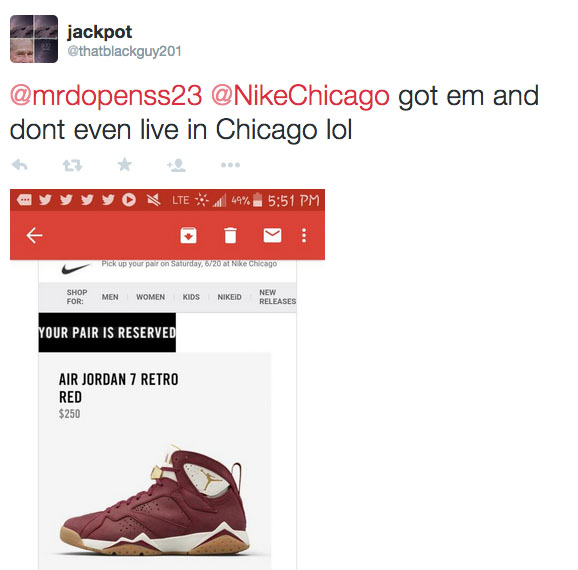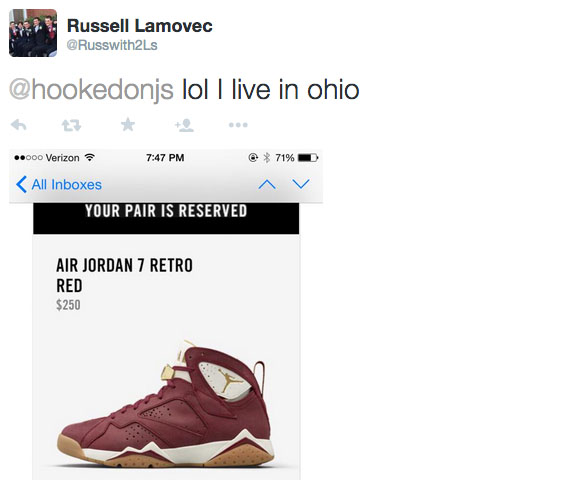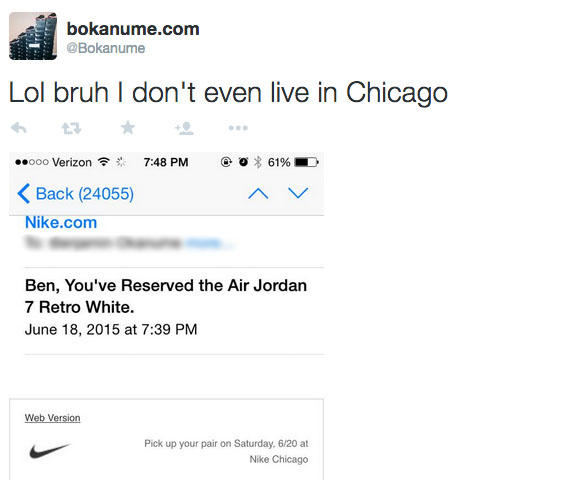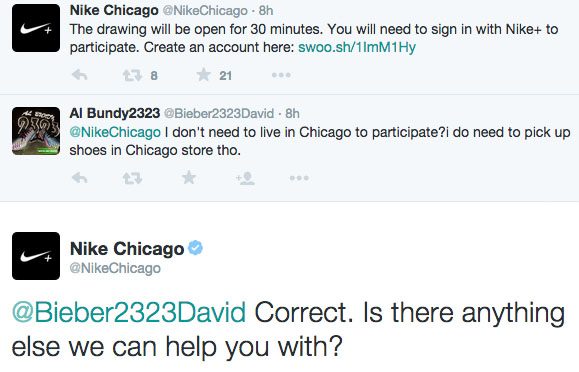 While there may be winners out there willing to make a road trip, the reality is that almost none of them will. That will leave unclaimed pairs for another customer to purchase, but what about in-state residents losing out on a reservation opportunity because of trolls? As of now, being in-state isn't a requirement, and maybe it won't become big enough of a problem for Nike to address, but there are some disappointed Chicagoans on Twitter today.
@Nikestore @NikeChicago y'all gonna be sending a lot of your shoes back to Memphis next week. Thanks for picking out of towners!

— Hookedonjs (@hookedonjs) June 19, 2015
@NikeChicago ur raffle system is already a jig. People who don't even live near Chicago are winning pairs. How u gonna stop that?

— BigKev (@kevoauso) June 19, 2015
@NikeChicago @nikestore I hope you guys at least take notes on some of the bullshit with out of state fuck heads winning and not buying.

— Jason DiDavide (@frijol708) June 19, 2015