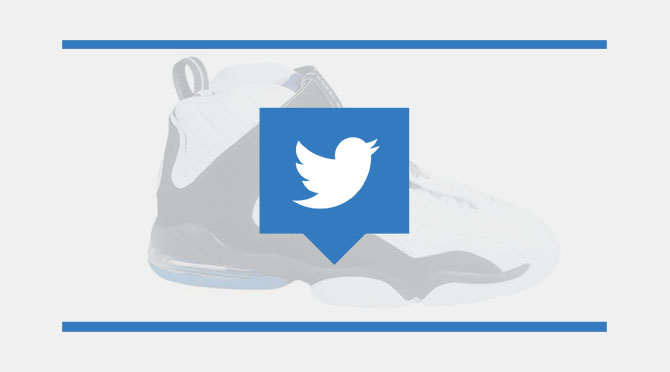 #AskSneakerheads: What classic sneaker do you want to see get a retro release?

— SoleCollector.com (@SoleCollector) June 28, 2015
There's no shortage of retro releases in today's sneaker world. So many models from the past have been brought back that it's hard to even keep track at times. But that doesn't mean there isn't still a demand for more. Whether it's a forgotten model, or a recent release that was simply missed out on, sneakerheads have a long wish list when it comes to retros. In our latest #AskSneakerheads, we asked our followers which sneaker they want to see get a retro release. Here are some of the best responses.
@SoleCollector BOTH OF EM' pic.twitter.com/24T6JGTj40

— BROKE BOY™ (@ADIDASandLEAN) June 28, 2015
@SoleCollector Nike Air Ndestrukt. Never gonna happen though. pic.twitter.com/dXW7BUxaT9

— Ryan Cuddy (@DrCuddy) June 28, 2015
@SoleCollector Sacramento 10s pic.twitter.com/wYUlZ7gfd3

— tusick (@TuSjCk) June 28, 2015
@SoleCollector #AirMaxTotalBus pic.twitter.com/iRs6OFfKpR

— Lord_Business (@Chilltown36) June 28, 2015
Something for the ladies. Air Swoopes RT @SoleCollector: #AskSneakerheads: What classic sneaker do you want to see get a retro release?

— Nigel Uno (@DoucheByTrade) June 28, 2015
@SoleCollector #adidasmercury pic.twitter.com/4d5cTNcuS1

— bza (@BrianMedina95) June 28, 2015
@SoleCollector white/Columbia 14 pic.twitter.com/izmJavSD6t

— Big Money Matt (@HunnMatty) June 28, 2015
@SoleCollector Shattered Backboards so I can relive striking out all over again lol

— ----- Kev © ----- (@MrMetKevC) June 28, 2015
@SoleCollector How about some Troops? pic.twitter.com/xG0NPnaUhm

— KWAPT (@KWAPT) June 28, 2015
@SoleCollector Red Octobers

— Leandro (@Asvp_Leandro) June 28, 2015
"#AskSneakerheads: What classic sneaker do you want to see get a retro release?" Air Penny IVs please @SoleCollector pic.twitter.com/Q457SO7W4L

— Shuang (@Mister_Lee) June 28, 2015
@SoleCollector Any iteration of the NIKE Tailwind 4 pic.twitter.com/nkgyD81Hxv

— LilFeetBigHeat (@LilFtBigHeat) June 29, 2015
@SoleCollector is this classic enough? Zoom Flight Turbines. Especially the white/orange cw pic.twitter.com/GnyTXR2god

— Clark Kent (@The_Shoeperman) June 29, 2015
@SoleCollector Bred and Royal 1's general release like the 90's. I want everyone who wants a pair to be able to get them.

— Greg (@GregLongman13) June 29, 2015
@SoleCollector 2005. The best pic.twitter.com/rt3I7czZ1Z

— Kyle Bundy (@BundzOfSteel) June 28, 2015
@SoleCollector Air Adjust Force pic.twitter.com/EvRcMHHTSO

— dubldown (@dubldownkicks) June 28, 2015
@SoleCollector the Air Zoom Flight Jet pic.twitter.com/Rz9612uMRq

— Nat (@thaCrimsonMamba) June 28, 2015