by Angel Diaz
Sneaker game fucked up. NBA sneaker game fucked up. Where did it all go wrong?
During the '90s, the Playoffs used to be special to sneakerheads. Certain teams would ditch the white colorways worn throughout the regular season for murdered-out black kicks in the postseason. Classic sneakers were being made in real time, and some were made just for the Playoffs. These days, sneaker companies release thousands of colorways, and players follow suit by wearing a different colorway every day of the week. Russ Bengtson pointed this out over at Complex last Friday.
Michigan's Fab Five started the look that eventually seeped into the NBA becoming somewhat of a tradition in the '90s. I miss the days when teams, i.e. my New York Knicks, shaved their heads and wore black socks with black sneakers. It was a form of camaraderie that's lacking in today's game. Michael Jordan's Bulls also rocked black sneakers during their playoff runs. In fact, they started the playoff tradition, err, trend back in '89 as a show of—you guessed it—camaraderie.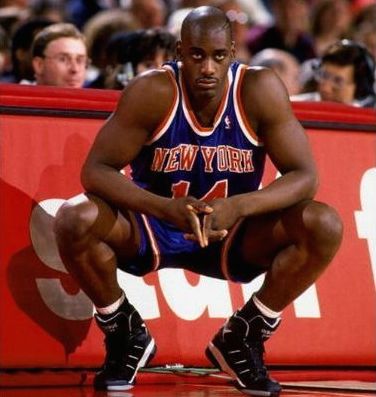 The Celtics always wore black sneakers, but not as a tradition. Red Auerbach made his players wear black kicks because they hid scuff marks and didn't have to be replaced as often as white sneakers. Even that "tradition" is no more thanks to sneaker companies discovering the visible spectrum in recent years.
Bald heads, black socks, and black sneakers looked menacing. Especially when teams as physical (and violent) as those '90s Knicks did it. Seeing a bald Charles Oakley and a bald Anthony Mason (RIP) square up on a fool was the best part of being a Knick fan in those days. We struck true fear in most team's hearts. The best examples of wearing black sneakers during the playoffs are brawls between the Knicks and their opponents. That's so '90s Knicks.
Remember when Knick point guard Derek Harper took on the entire Bulls team in '94?
How about when PJ Brown flipped Charlie Ward?
Or when Jeff Van Gundy hung off Alonzo Mourning's leg? (Miami had black sneakers on too.)
Not sure when it all went to hell. Probably when we stopped being serious contenders from 2001 on, or when the Charlotte Hornets decided to go with headbands instead of wearing black sneakers. Showing solidarity when you're a guaranteed first round exit is futile I guess. Can we start a petition to bring this back next year, New York? We're going to be a 50-win playoff team (fave this tweet) next year. And can we get blue paint in the lane while we're at it? I just want to make things right again. I'm like the Phil Jackson of Knicks fans.
Angel Diaz is a staff writer at Complex. You can follow him on Twitter at @adiaz456