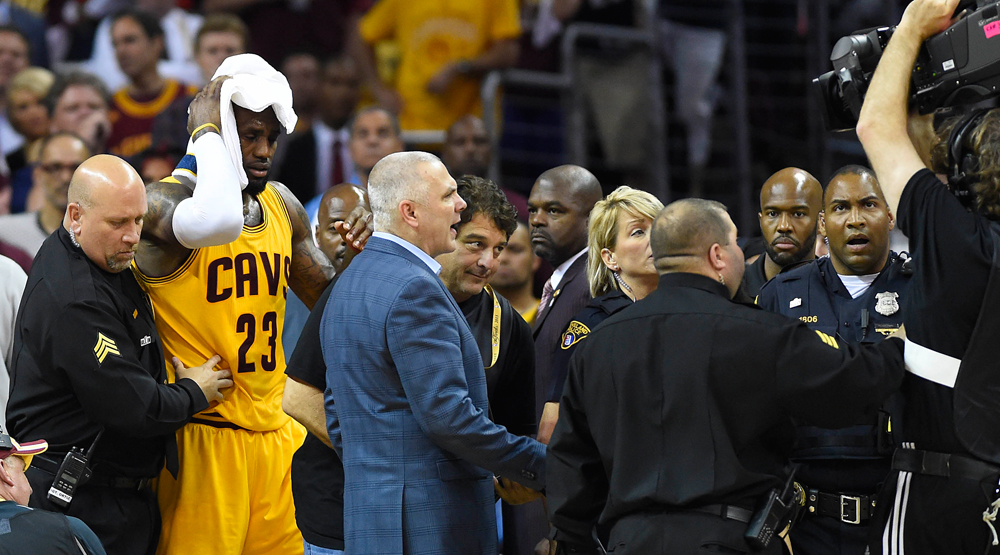 by Brendan Dunne
During Game 4 of the 2015 NBA Finals last night, LeBron James ended up with a nasty cut on his head after colliding with a cameraman on the sidelines.
After the collision, one man on the sidelines was particularly incensed, calling the cameraman laying there a "fucking asshole" and telling him, "It is your fault."
The man also apparently decided that it wasn't just the cameraman's fault.
The guy who told the cameraman "It's your fault" after LeBron fell into him before is now walking around the arena individually blaming fans

— Ed Isaacson (@nbadraftblog) June 12, 2015
According to the Washington Post that man is Lynn Merritt, LeBron's brand manager at Nike. This isn't the first time that Merrit's been overzealous about protecting LeBron from the media either.
Apparently back in 2009, Merritt demanded that videographers present at the LeBron James Skills Academy delete footage they had of LeBron getting dunked on by Xavier's Jordan Crawford. One of those videographers chimed in on Twitter last night after seeing Merritt cursing out the cameraman.
At least I'm not the only cameraman to feel Lynn Merritt's wrath. He didn't swear at me, though so he must've liked me. #NBAFinals2015

— Ryan Miller (@RyanMiller_) June 12, 2015
via Washington Post