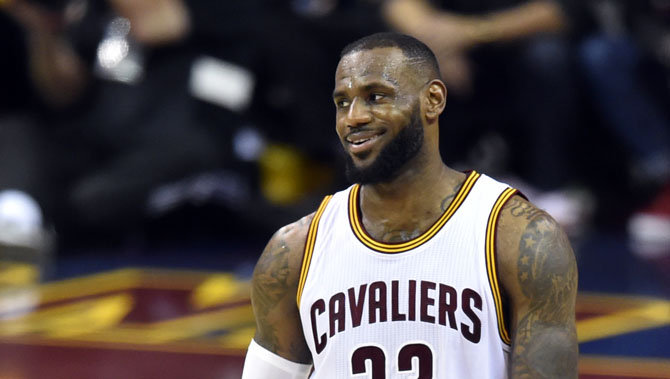 by Brandon Richard
From the onset of last season, it was clear that LeBron James didn't feel comfortable playing in the Nike LeBron 11. "I could wear them, but they don't feel as great as I want them to feel," James told ESPN. "So we're redefining them, and I feel like this next round is going to be perfect."
However, Nike and James were never able to find that perfect round. He often reverted to the LeBron 10, before settling in the Zoom Soldier 7 by season's end. In 77 regular season games and 20 in the postseason, James played in the LeBron 11 just 35 times, switching out of the model mid-game during 9 of those contests.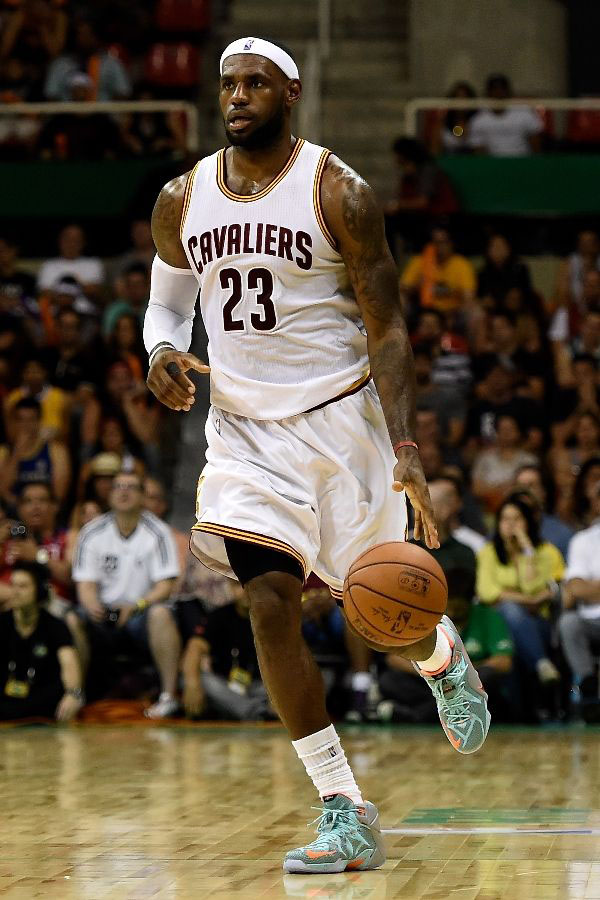 James' unwillingness to wear his $200 signature shoe was a hot topic of discussion on sneaker websites and other media outlets like Esquire and the Wall Street Journal. In response, Nike issued a statement, saying, "The LeBron 11 is one of the most innovative Nike basketball shoes to date, and we look forward to LeBron stepping back on the court in his latest signature shoe soon."
Of course, James never really stepped back on the court in the 11 and finished the season in his cheaper team model. Business didn't take a hit, but the legacy of the shoe did. What will be most remembered about the LeBron 11 is that James didn't care much for the shoe as a performer.
Whatever issues James had with the 11 were worked out when the design team rolled out the LeBron 12. Back in his signature model, James went on to wear the 12 or 12 Elite in almost every regular season and playoff game in his return season to Cleveland. Below is a look at what James wore in every game of the 2014-2015 NBA season, starting with his first game back at the Q.
October 30, 2014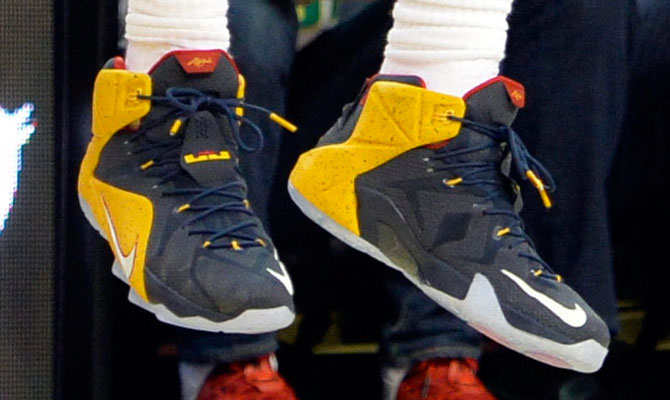 Opponent: New York Knicks
Colorway: Blue/Yellow-Red & Blue/Red-Yellow PEs
Stats: 17 Points, 5 Rebounds, 4 Assists
---
October 31, 2014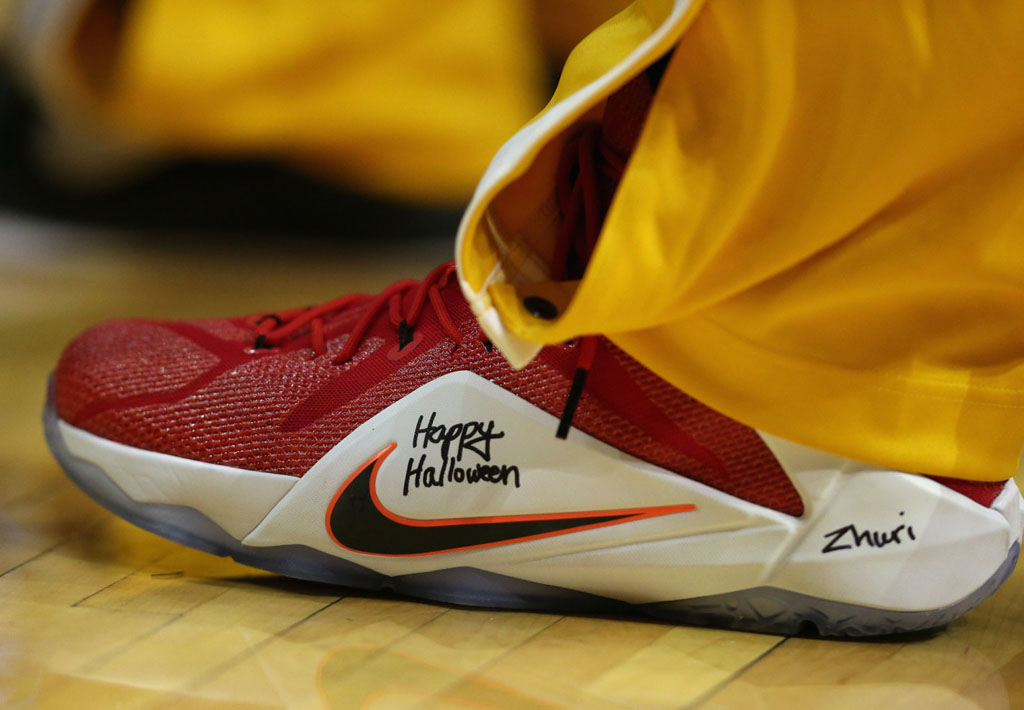 Opponent: Chicago Bulls
Colorway: 'Heart of a Lion'
Stats: 36 Points, 8 Rebounds, 5 Assists
---
November 4, 2014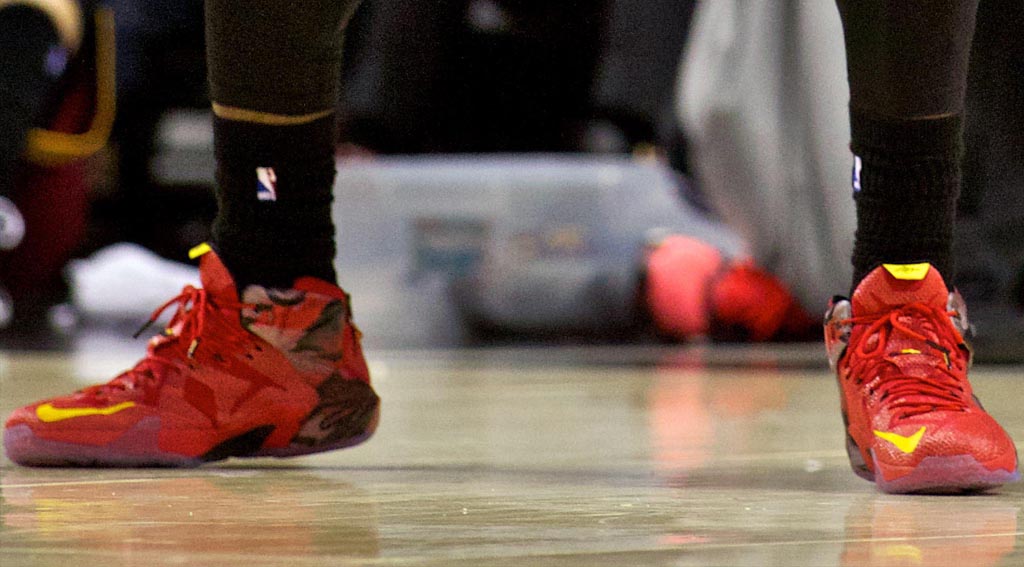 Opponent: Portland Trail Blazers
Colorway: Red/Black-Yellow PE
Stats: 11 Points, 7 Rebounds, 7 Assists
---
November 5, 2014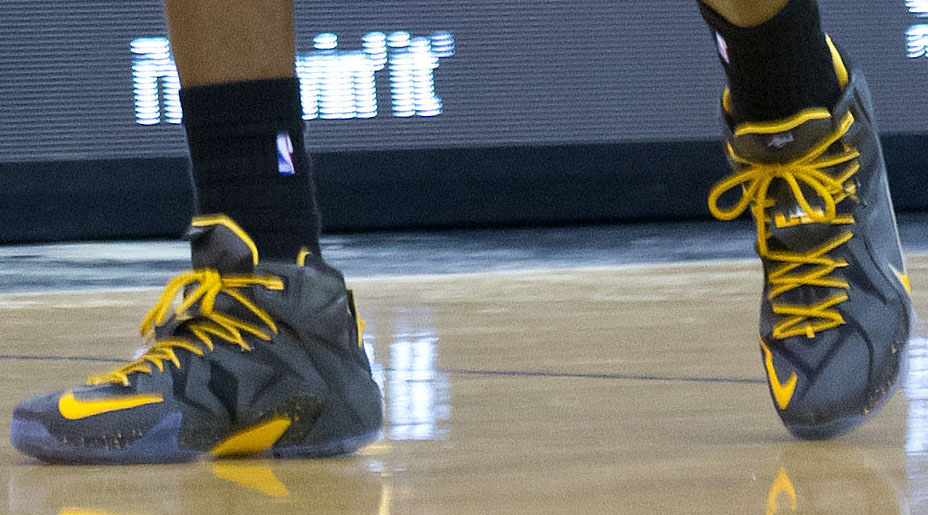 Opponent: Utah Jazz
Colorway: Black/Yellow PE
Stats: 31 Points, 3 Rebounds, 4 Assists
---
November 7, 2014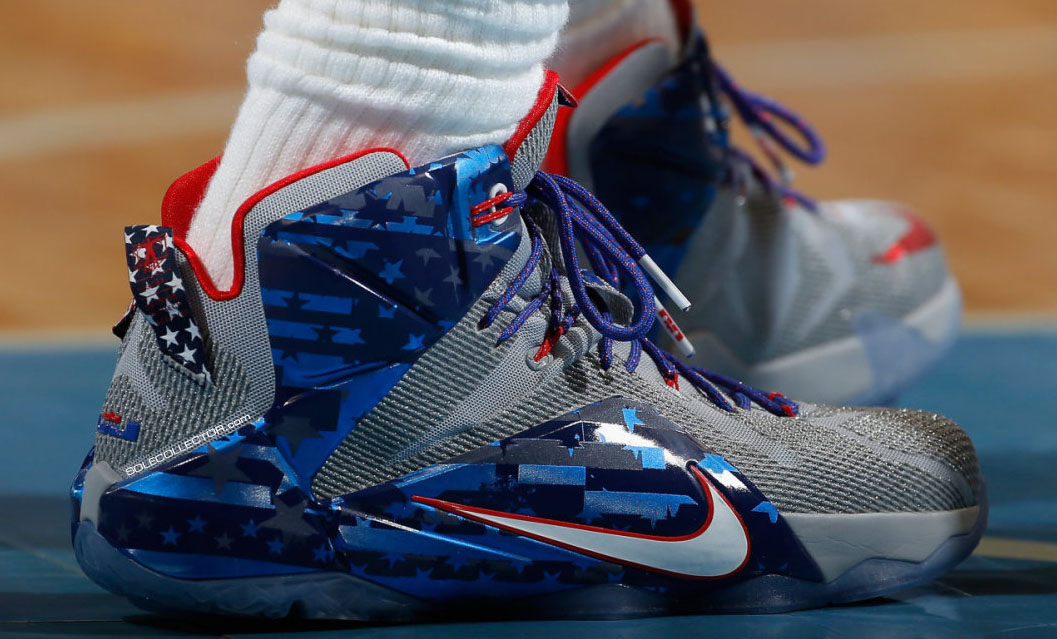 Opponent: Denver Nuggets
Colorway: 'Veteran's Day' PE
Stats: 22 Points, 7 Rebounds, 11 Assists
---
November 10, 2014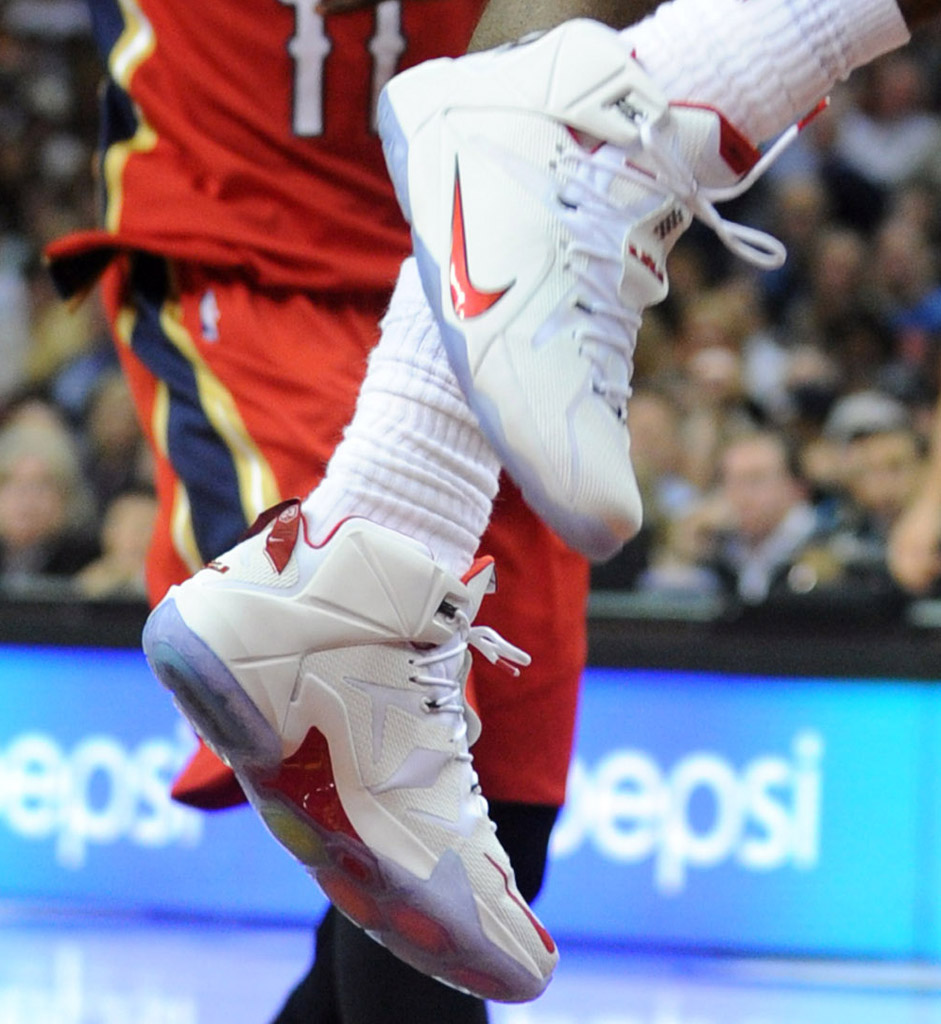 Opponent: New Orleans Pelicans
Colorway: White/Red PE
Stats: 32 Points, 11 Rebounds, 9 Assists
---
November 14, 2014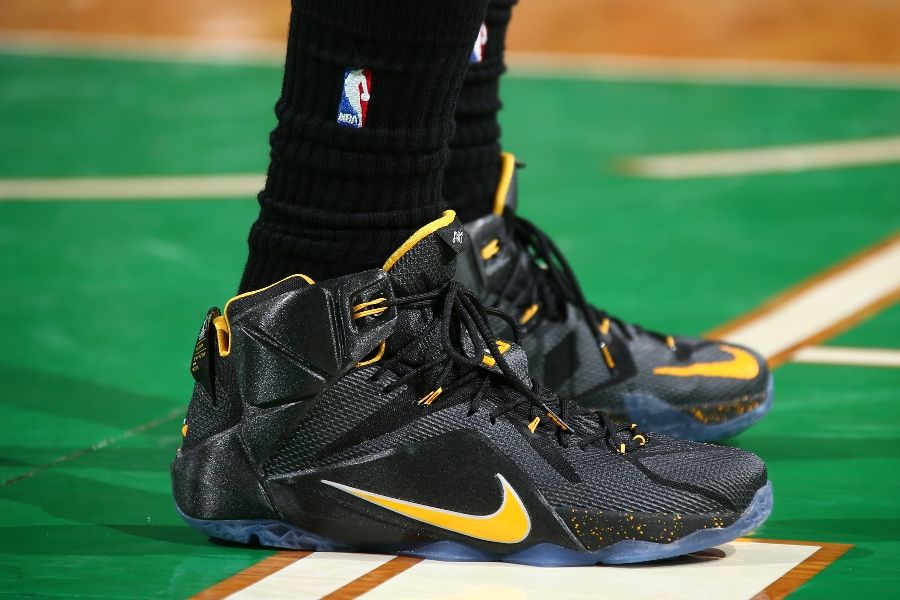 Opponent: Boston Celtics
Colorway: Black/Yellow PE
Stats: 41 Points, 4 Rebounds, 7 Assists
---
November 15, 2014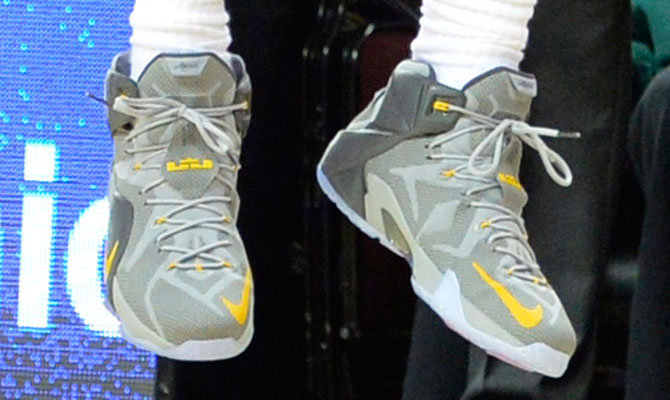 Opponent: Atlanta Hawks
Colorway: Grey/Yellow PE
Stats: 32 Points, 6 Rebounds, 7 Assists
---
November 17, 2014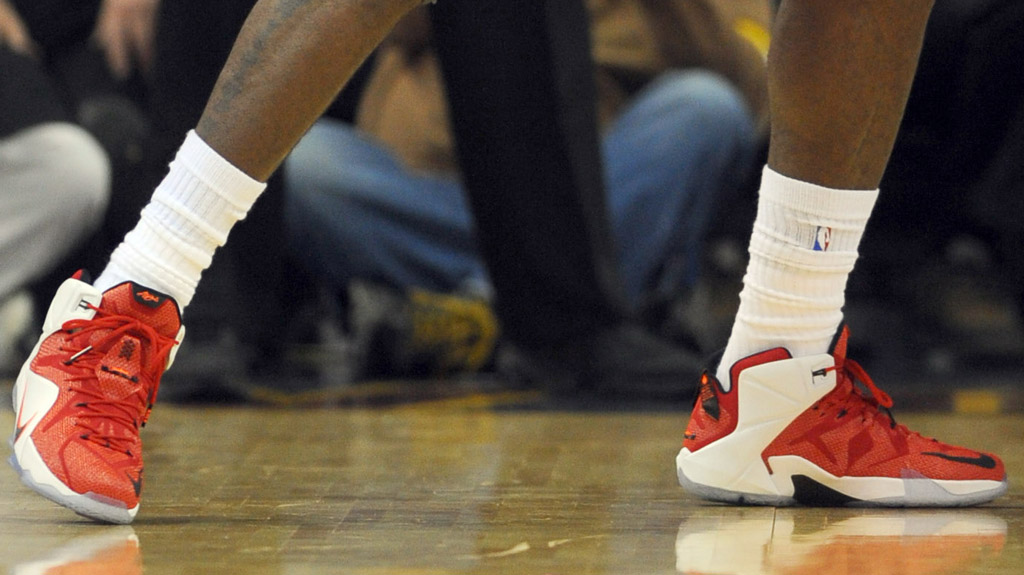 Opponent: Denver Nuggets
Colorway: 'Heart of a Lion'
Stats: 22 Points, 9 Rebounds, 5 Assists
---
November 19, 2014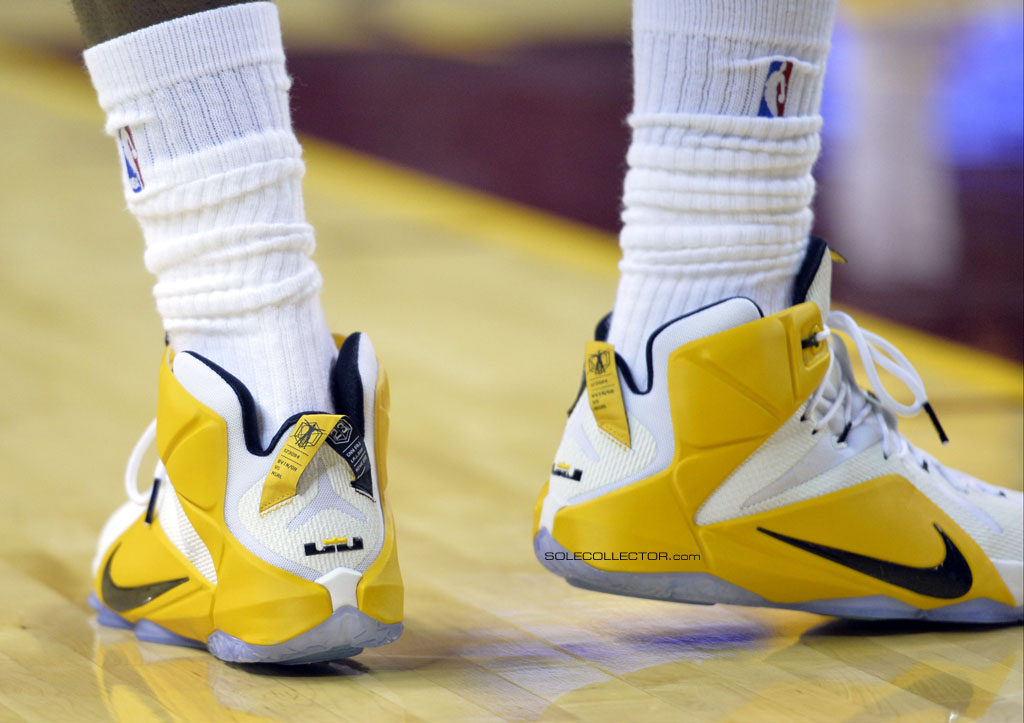 Opponent: San Antonio Spurs
Colorway: White/Yellow-Blue PE
Stats: 15 Points, 6 Rebounds, 9 Assists
---
November 21, 2014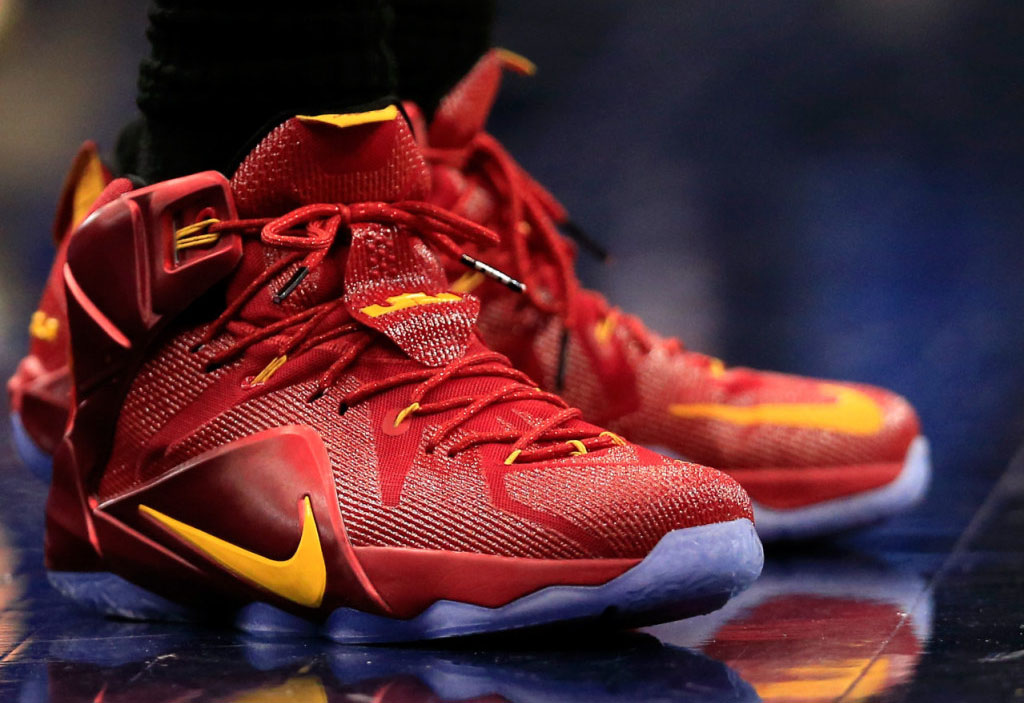 Opponent: Washington Wizards
Colorway: Red/Yellow PE
Stats: 22 Points, 4 Rebounds, 4 Assists
---
November 22, 2014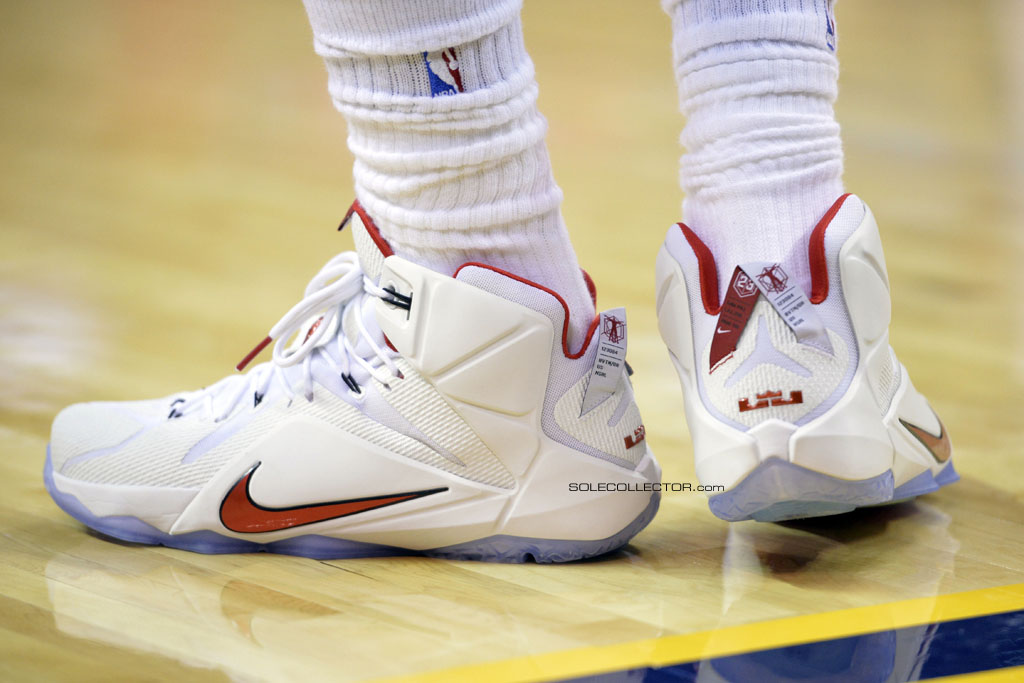 Opponent: Toronto Raptors
Colorway: Red/Yellow PE
Stats: 15 Points, 1 Rebounds, 10 Assists
---
November 24, 2014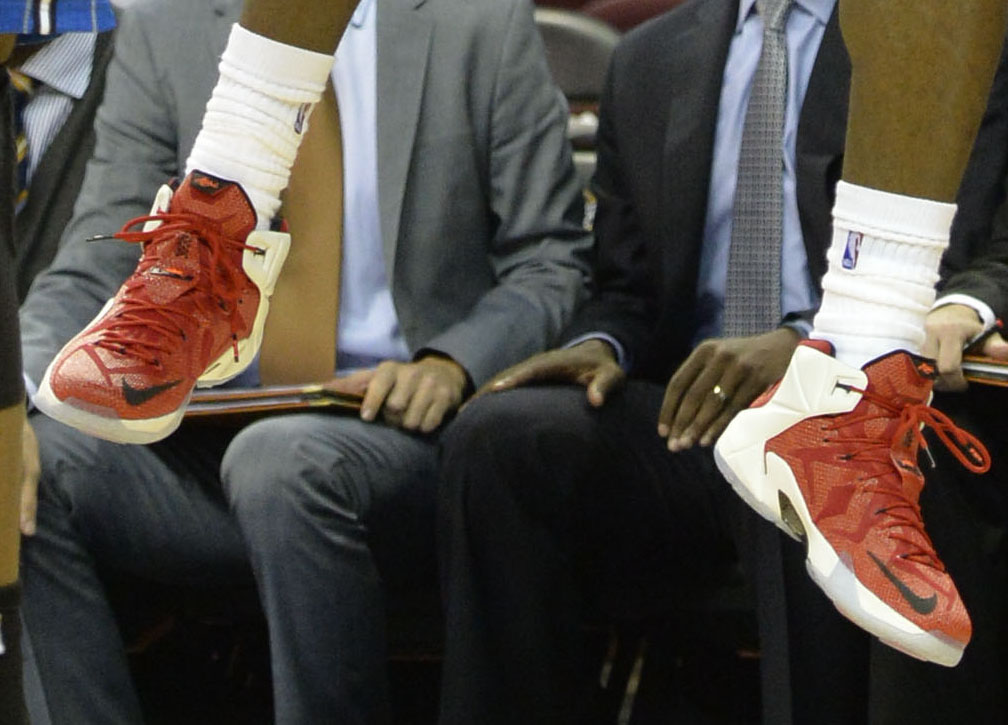 Opponent: Orlando Magic
Colorway: 'Heart of a Lion'
Stats: 29 Points, 4 Rebounds, 11 Assists
---
November 26, 2014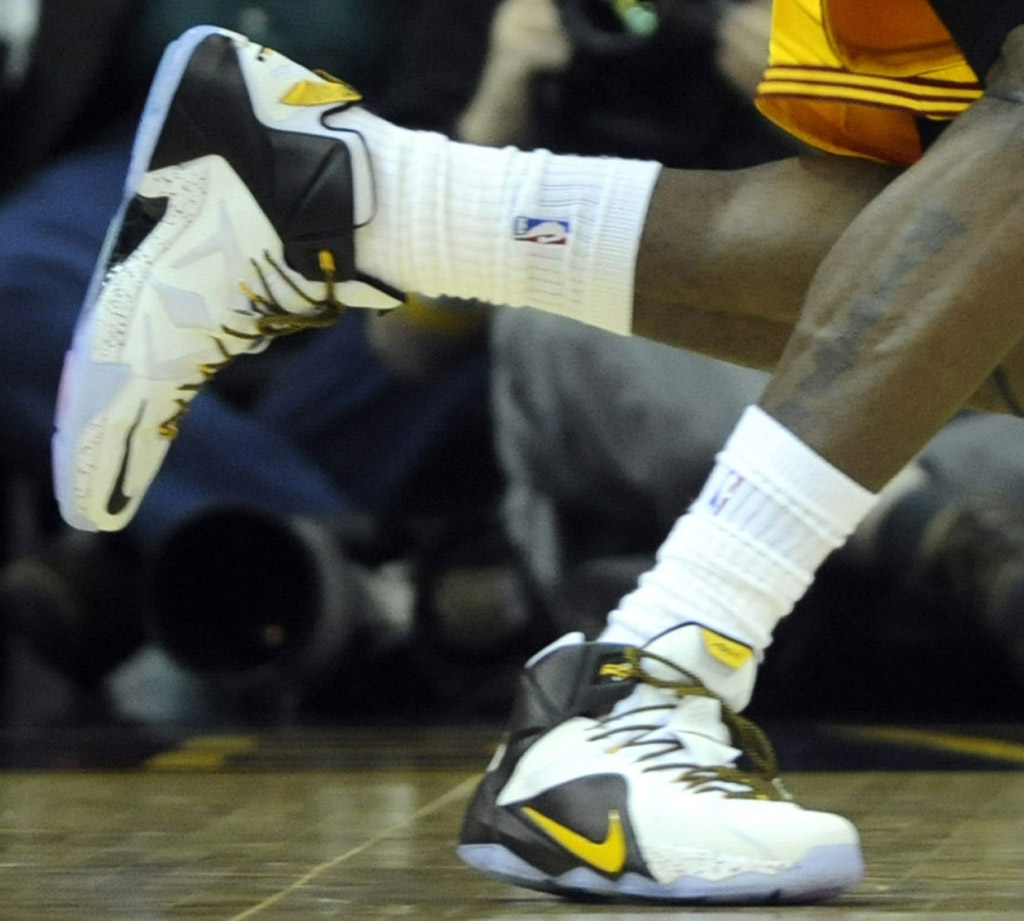 Opponent: Washington Wizards
Colorway: White/Black-Yellow PE
Stats: 29 Points, 10 Rebounds, 8 Assists
---
November 29, 2014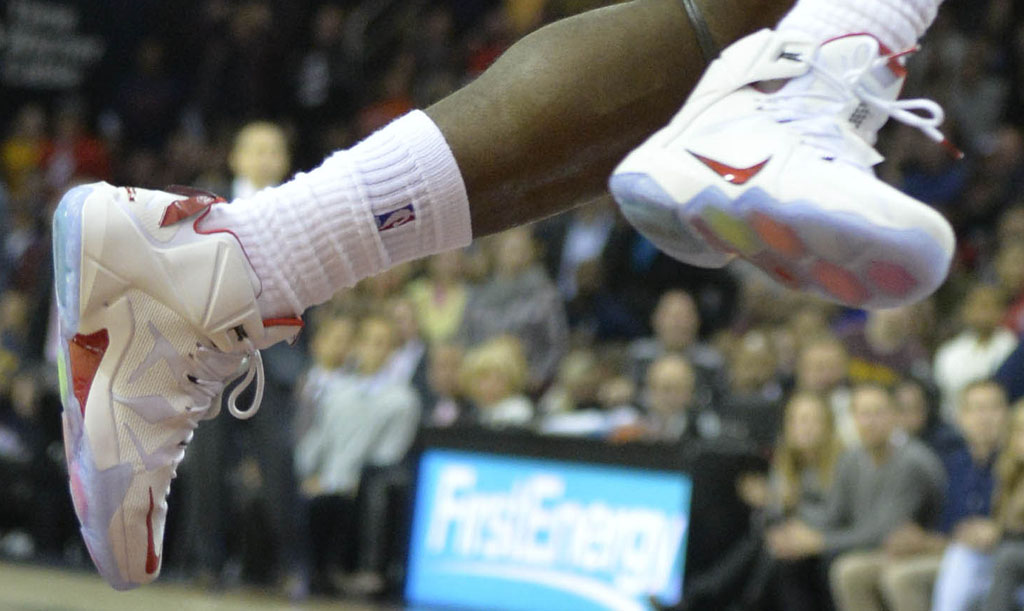 Opponent: Indiana Pacers
Colorway: White/Black-Yellow PE
Stats: 19 Points, 2 Rebounds, 7 Assists
---
December 2, 2014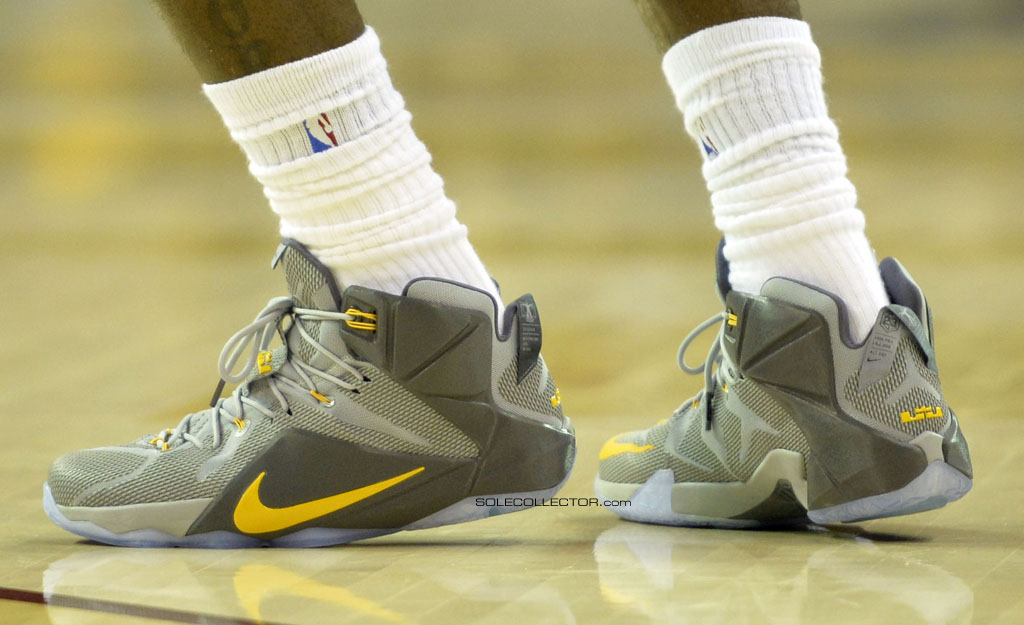 Opponent: Milwaukee Bucks
Colorway: Grey/Yellow PE
Stats: 26 Points, 5 Rebounds, 10 Assists
---
December 4, 2014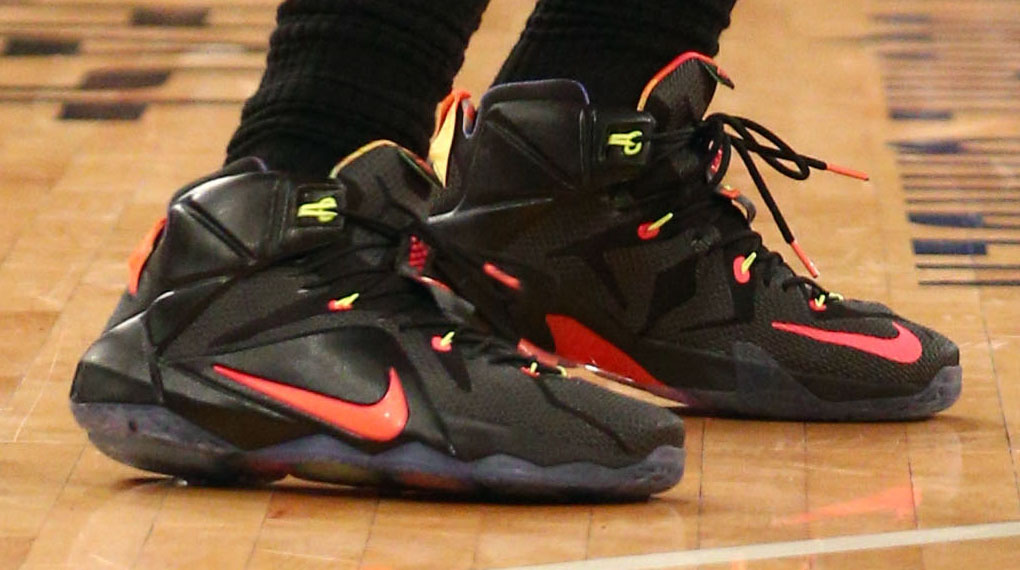 Opponent: New York Knicks
Colorway: 'Data' PE
Stats: 19 Points, 5 Rebounds, 12 Assists
---
December 5, 2014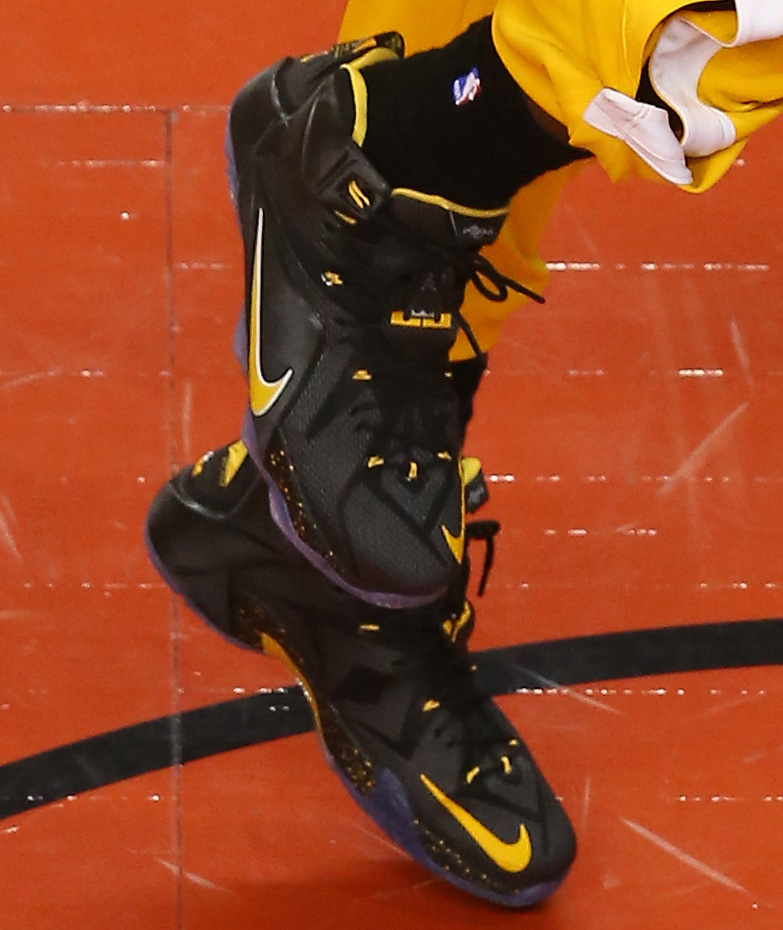 Opponent: Toronto Raptors
Colorway: Black/Yellow PE
Stats: 24 Points, 7 Rebounds, 13 Assists
---
December 8, 2014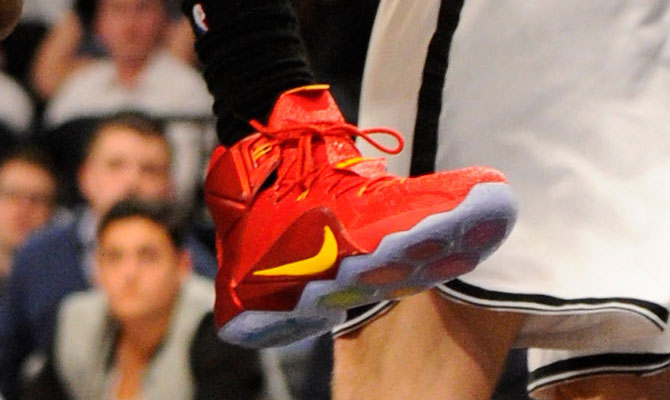 Opponent: Brooklyn Nets
Colorway: Red/Yellow PE
Stats: 18 Points, 4 Rebounds, 7 Assists
---
December 9, 2014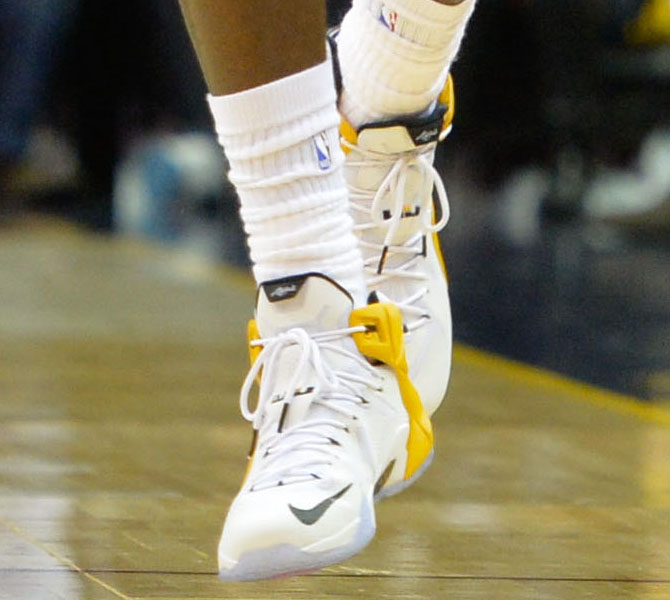 Opponent: Toronto Raptors
Colorway: White/Yellow-Blue PE
Stats: 35 Points, 2 Rebounds, 4 Assists
---
December 12, 2014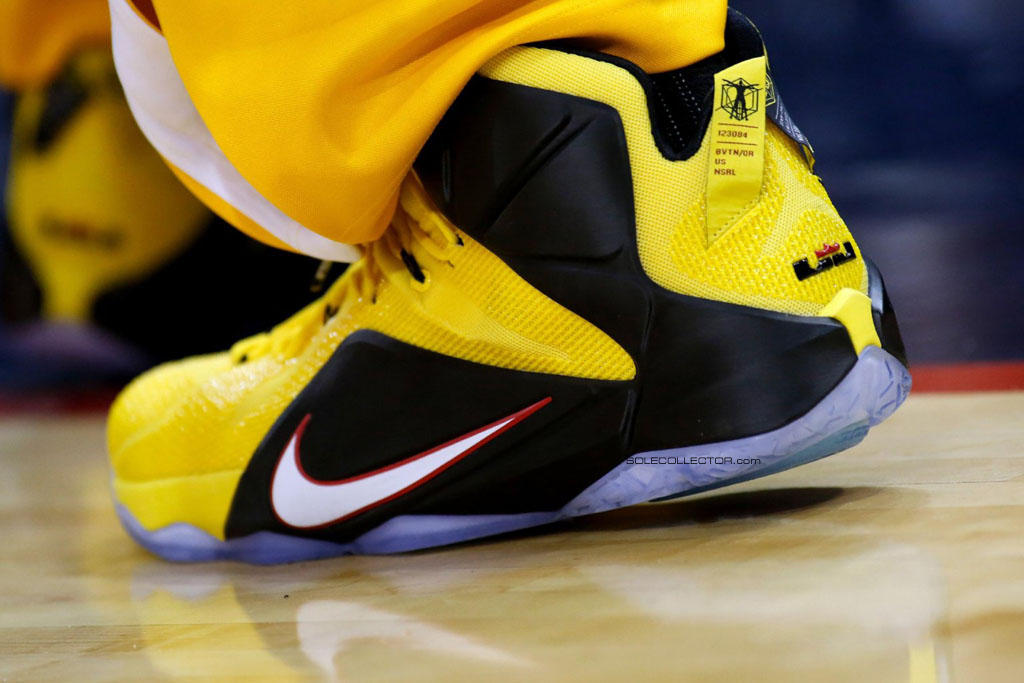 Opponent: New Orleans Pelicans
Colorway: 'Taxi' PE
Stats: 41 Points, 5 Rebounds, 5 Assists
---
December 15, 2014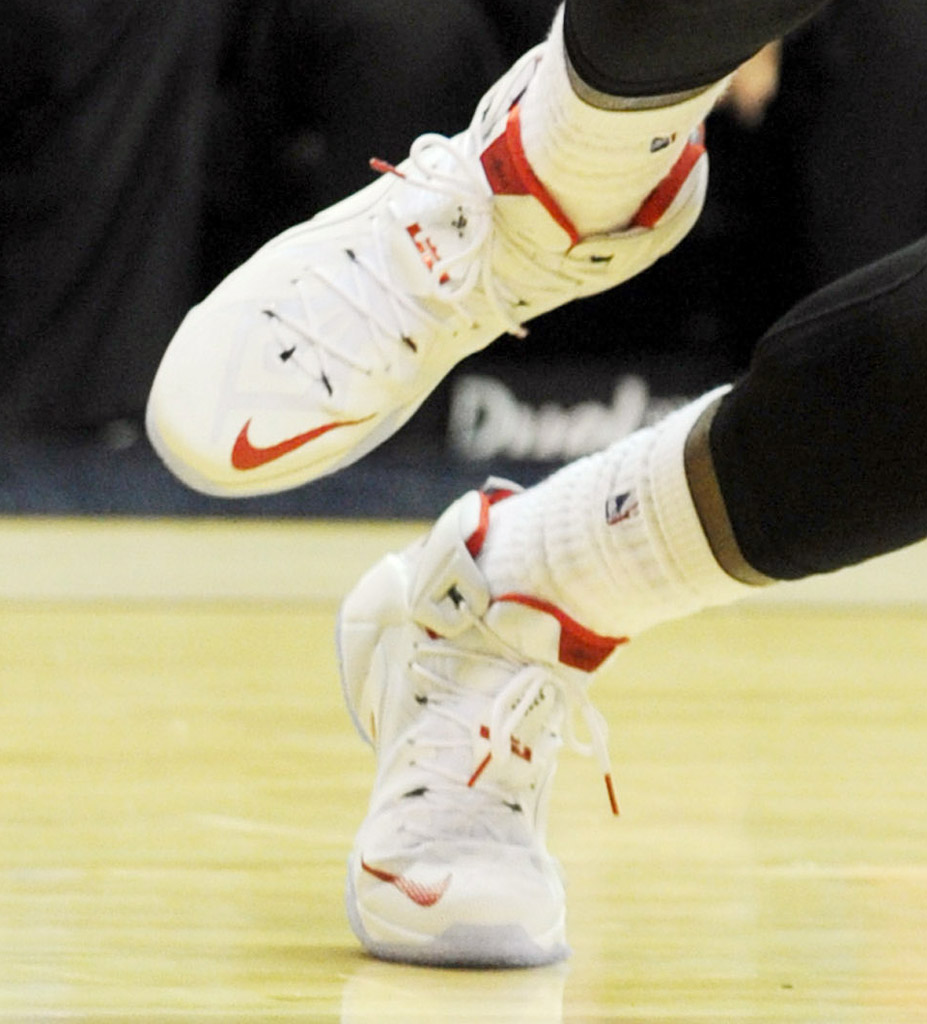 Opponent: Charlotte Hornets
Colorway: White/Red PE
Stats: 27 Points, 7 Rebounds, 14 Assists
---
December 17, 2014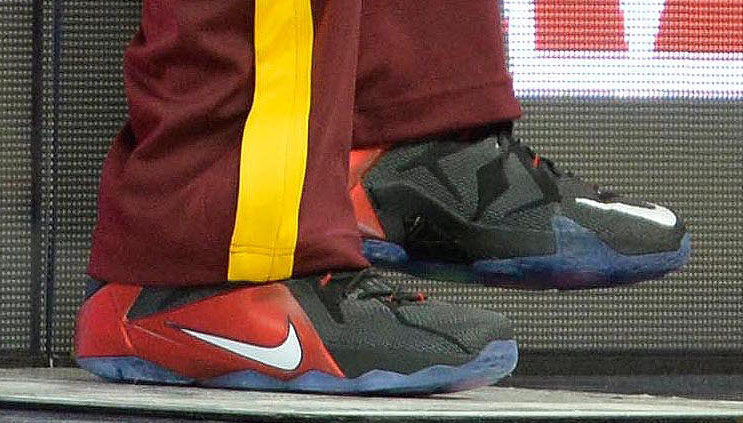 Opponent: Atlanta Hawks
Colorway: Black/Red PE
Stats: 21 Points, 3 Rebounds, 2 Assists
---
December 19, 2014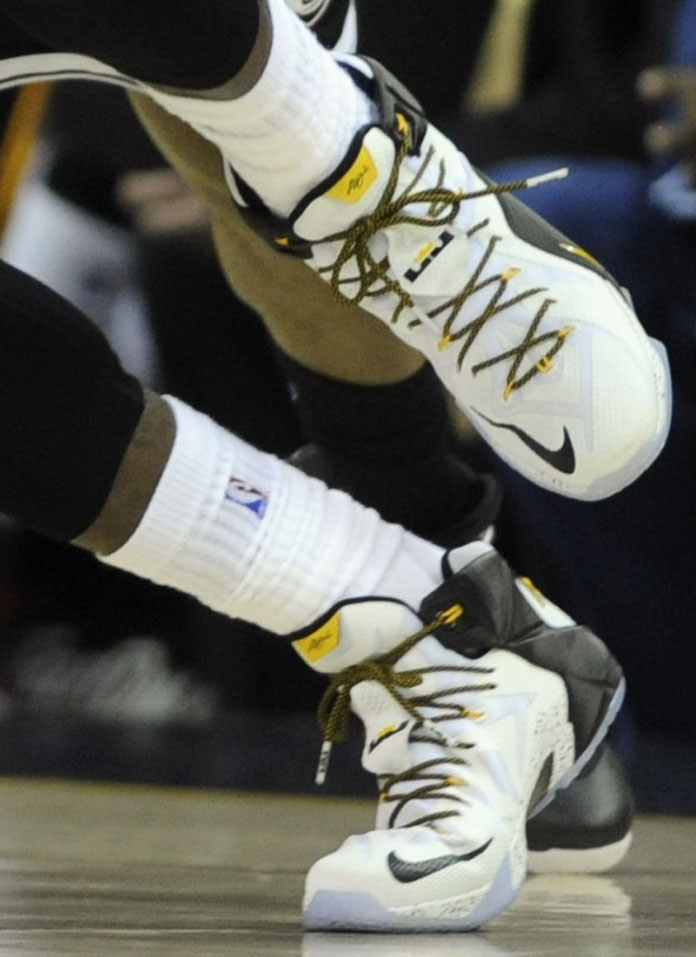 Opponent: Brooklyn Nets
Colorway: White/Black-Yellow PE
Stats: 22 Points, 4 Rebounds, 9 Assists
---
December 21, 2014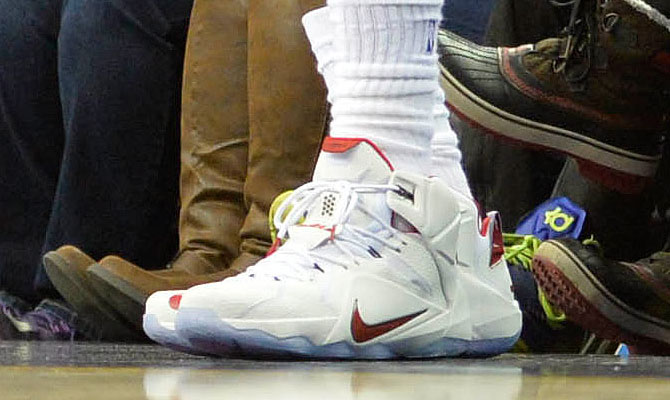 Opponent: Memphis Grizzlies
Colorway: White/Red PE
Stats: 25 Points, 1 Rebounds, 11 Assists
---
December 23, 2014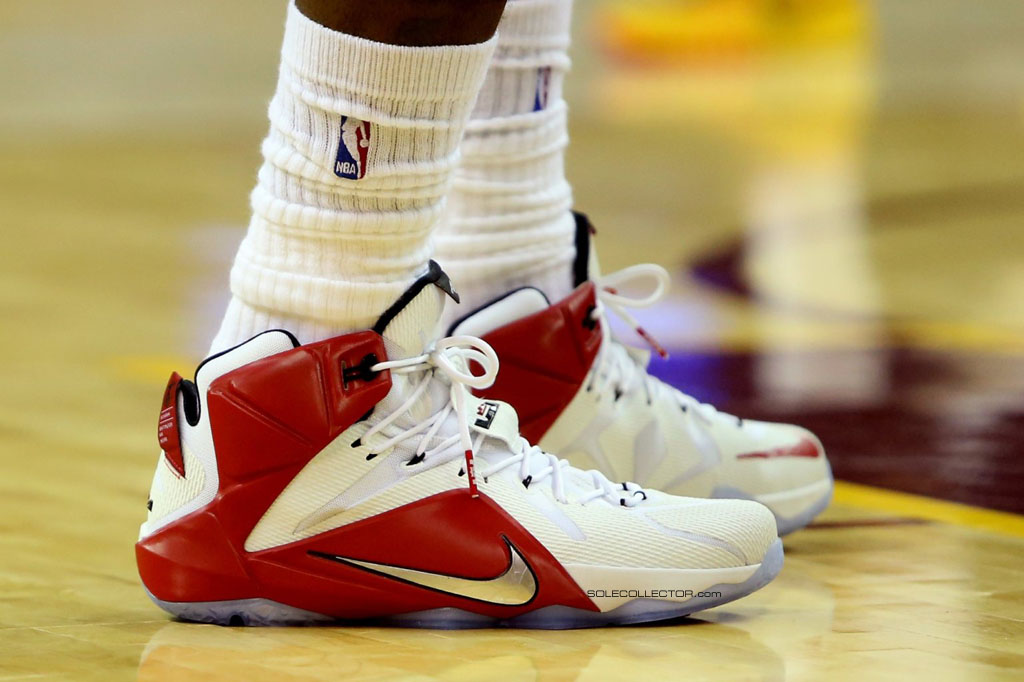 Opponent: Minnesota Timberwolves
Colorway: White/Red-Silver PE
Stats: 24 Points, 4 Rebounds, 3 Assists
---
December 25, 2014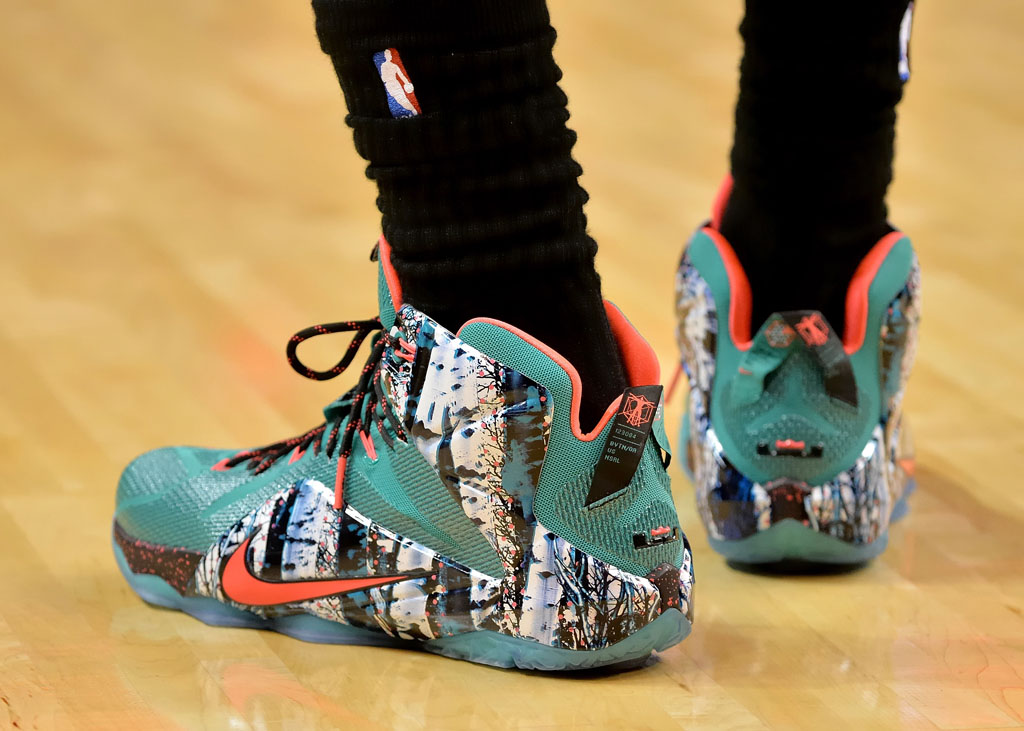 Opponent: Miami Heat
Colorway: 'Christmas'
Stats: 30 Points, 4 Rebounds, 8 Assists
---
December 26, 2014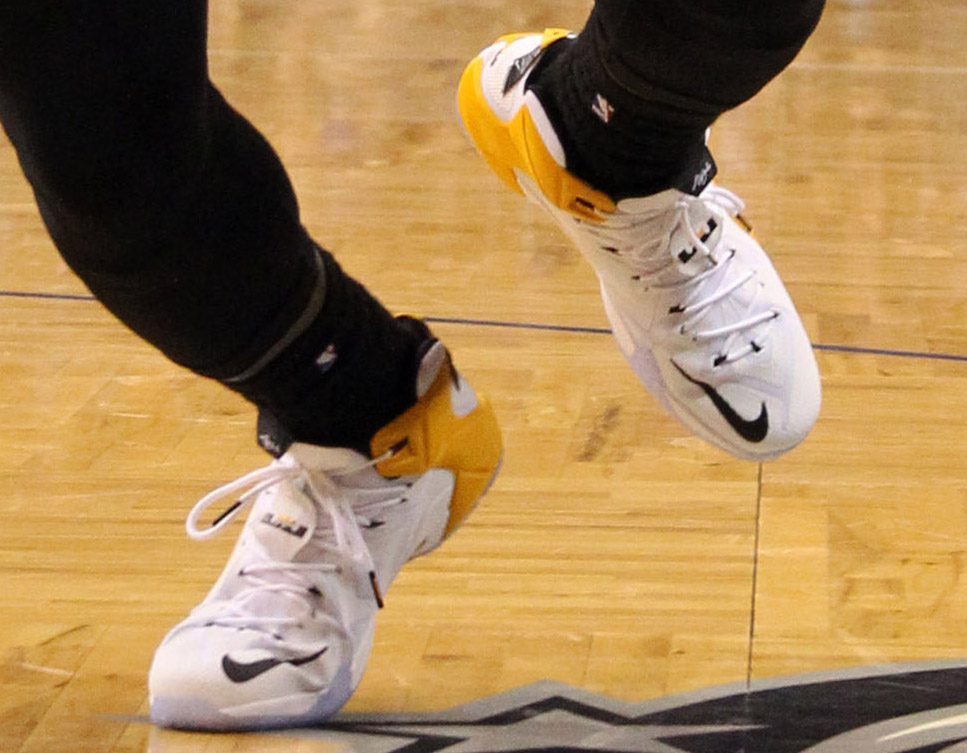 Opponent: Orlando Magic
Colorway: White/Yellow-Black PE
Stats: 29 Points, 5 Rebounds, 8 Assists
---
December 28, 2014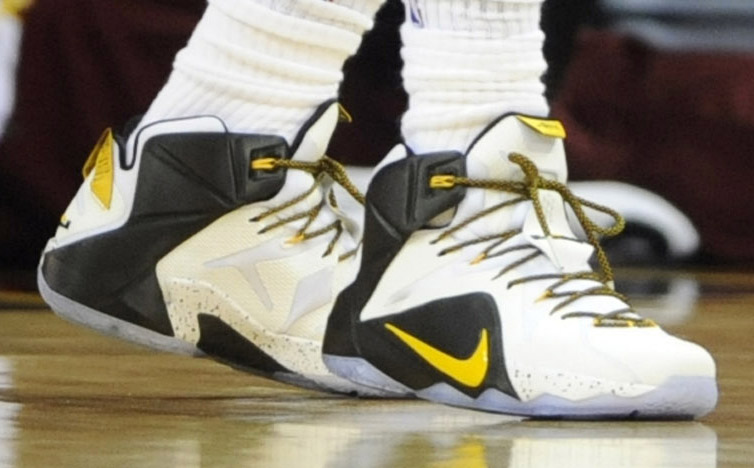 Opponent: Detroit Pistons
Colorway: White/Black-Yellow PE
Stats: 17 Points, 10 Rebounds, 7 Assists
---
January 13, 2015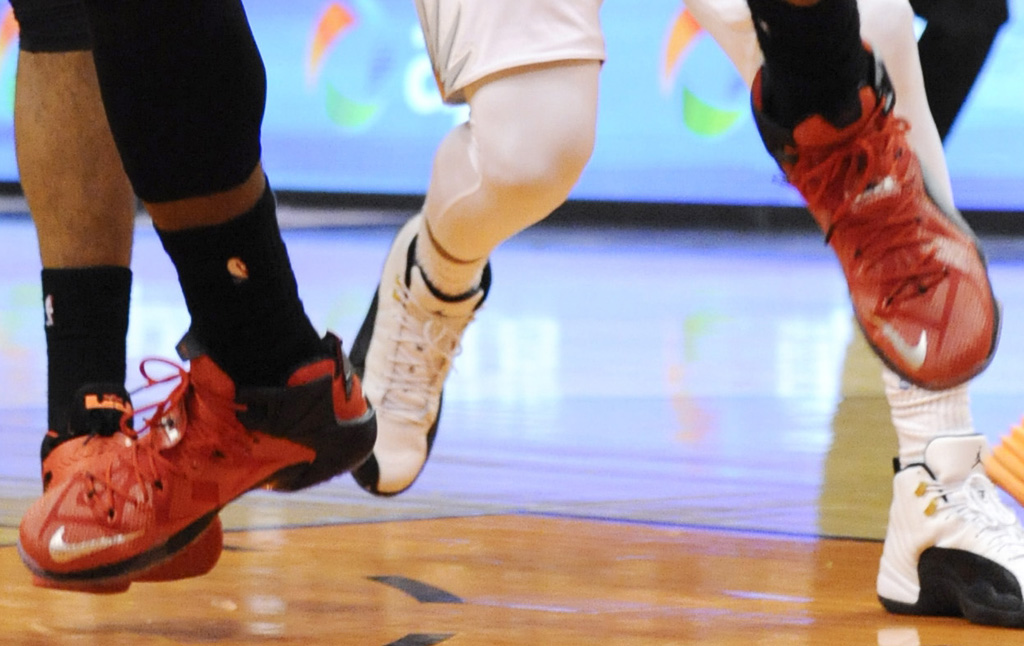 Opponent: Phoenix Suns
Colorway: Red/Black PE
Stats: 33 Points, 7 Rebounds, 5 Assists
---
January 15, 2015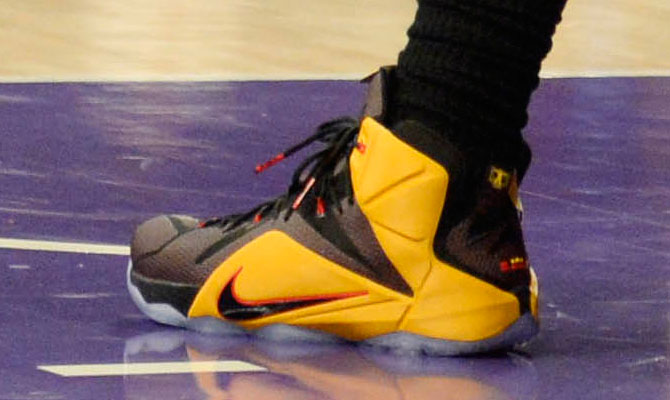 Opponent: Los Angeles Lakers
Colorway: Black/Yellow-Red PE
Stats: 36 Points, 5 Rebounds, 5 Assists
---
January 16, 2015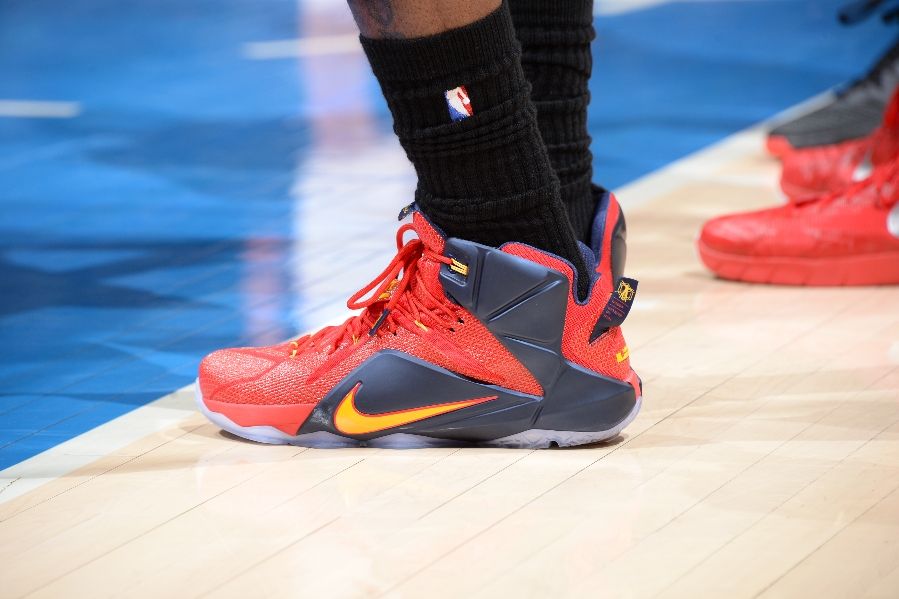 Opponent: Los Angeles Clippers
Colorway: Red/Blue-Yellow PE
Stats: 32 Points, 11 Rebounds, 7 Assists
---
January 19, 2015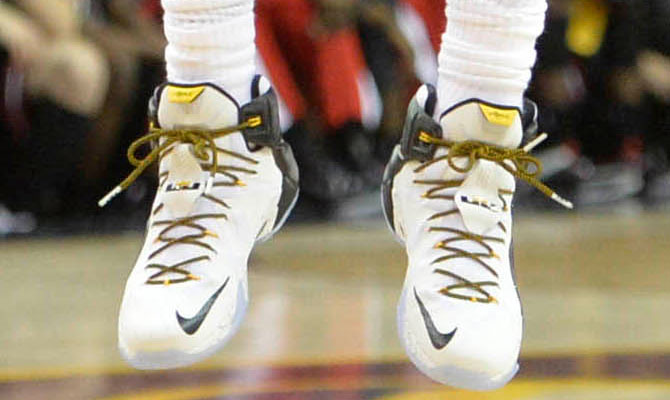 Opponent: Chicago Bulls
Colorway: White/Black-Yellow PE
Stats: 26 Points, 5 Rebounds, 4 Assists
---
January 21, 2015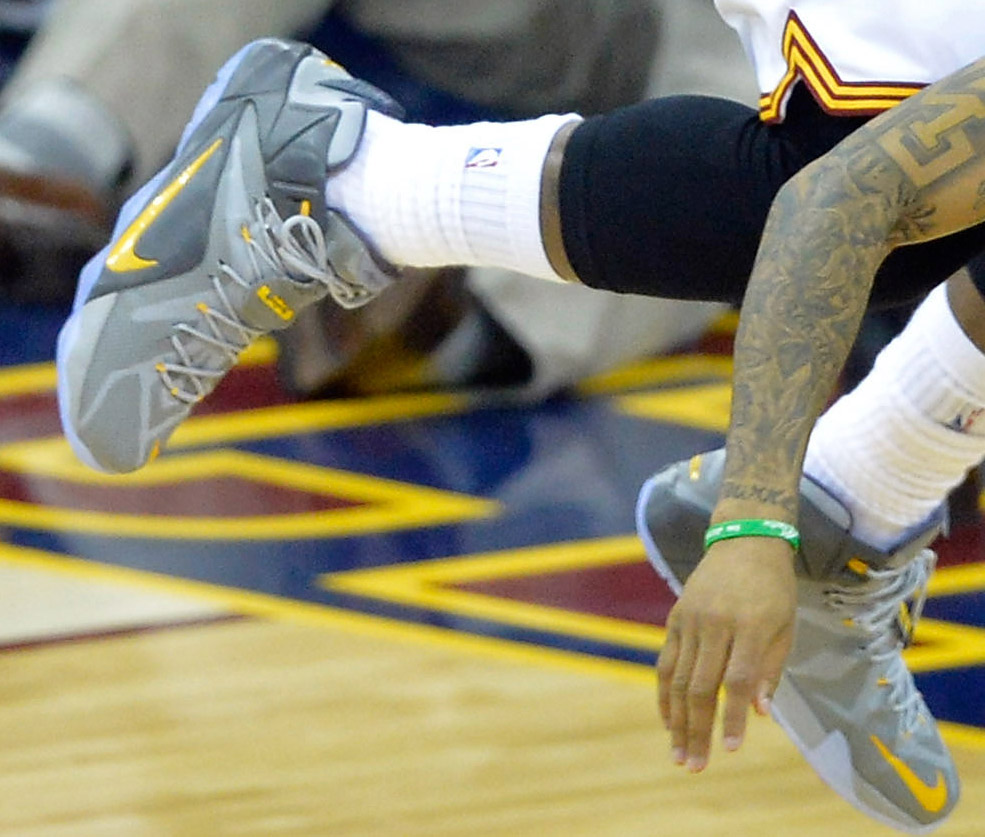 Opponent: Utah Jazz
Colorway: Grey/Yellow PE
Stats: 26 Points, 7 Rebounds, 9 Assists
---
January 23, 2015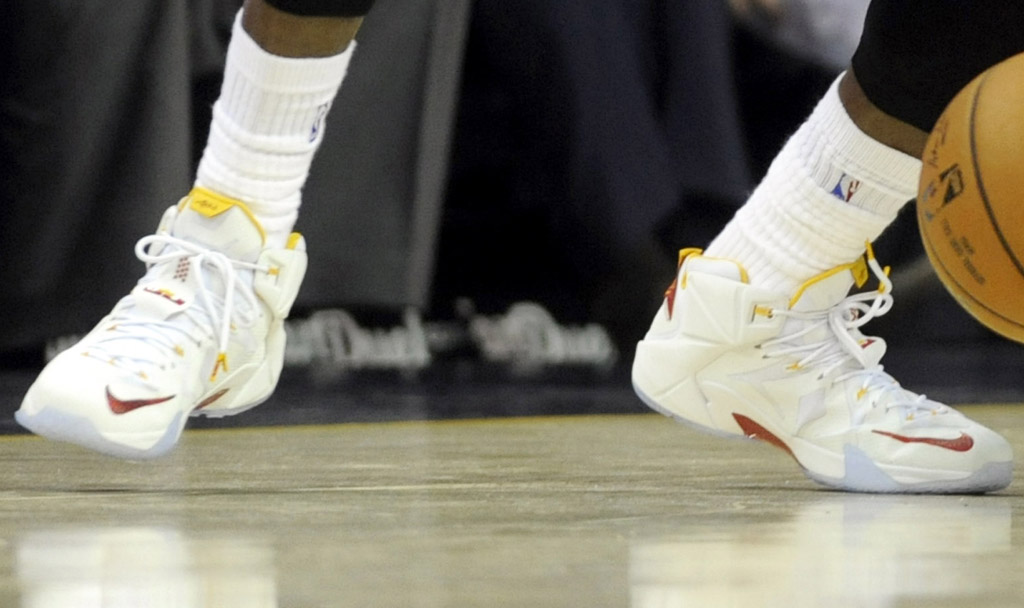 Opponent: Charlotte Hornets
Colorway: White/Yellow-Red PE
Stats: 25 Points, 6 Rebounds, 9 Assists
---
January 25, 2015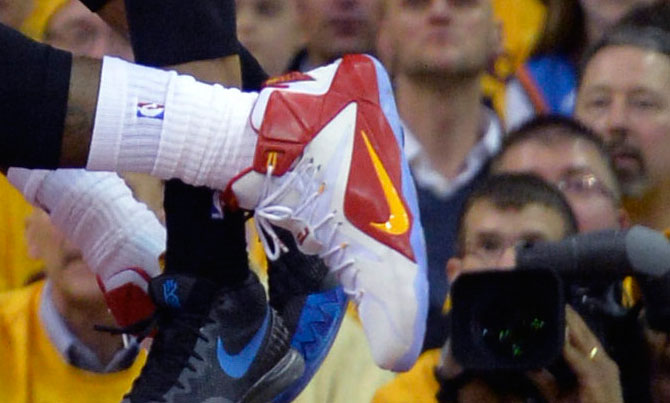 Opponent: Oklahoma City Thunder
Colorway: White/Red-Yellow PE
Stats: 34 Points, 7 Rebounds, 6 Assists
---
February 2, 2015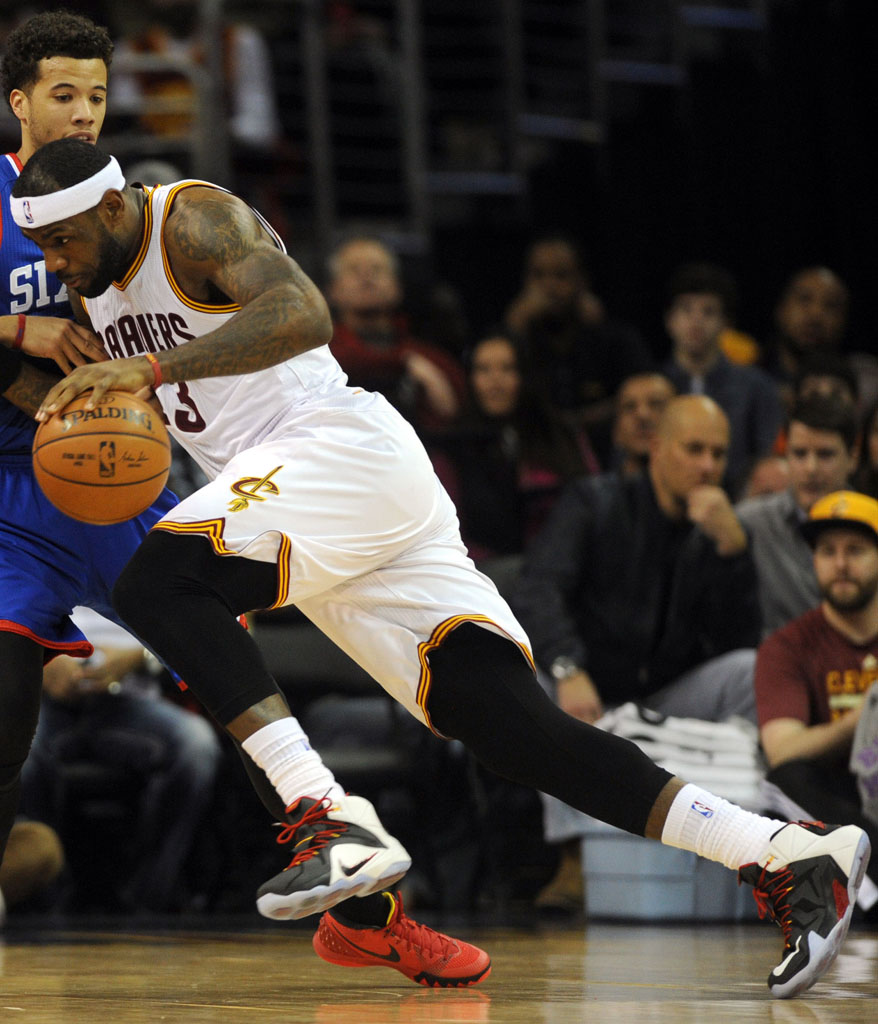 Opponent: Philadelphia 76ers
Colorway: Black/White
Stats: 18 Points, 3 Rebounds, 11 Assists
---
February 5, 2015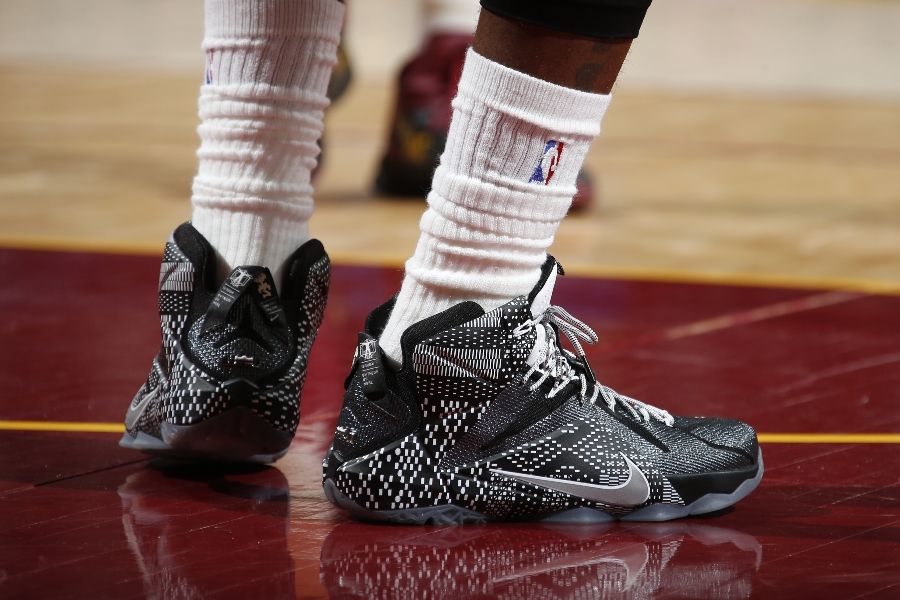 Opponent: Los Angeles Clippers
Colorway: "BHM"
Stats: 23 Points, 3 Rebounds, 9 Assists
---
February 6, 2015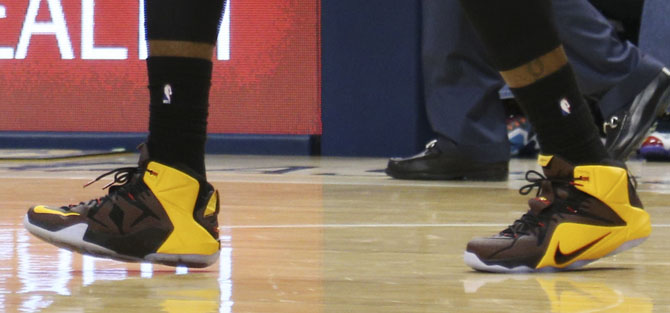 Opponent: Indiana Pacers
Colorway: Black/Yellow - Red PE
Stats: 25 Points, 6 Rebounds, 5 Assists
---
February 8, 2015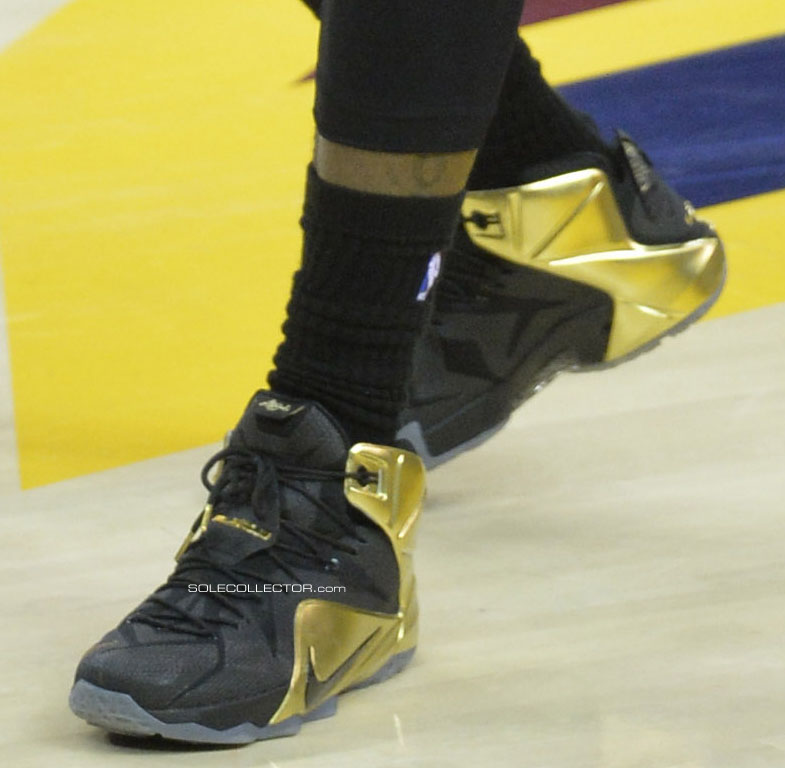 Opponent: Los Angeles Lakers
Colorway: "Grammy"
Stats: 22 Points, 10 Rebounds, 8 Assists
---
February 11, 2015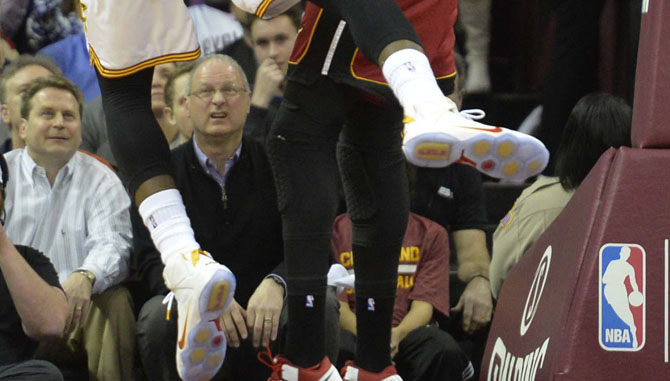 Opponent: Miami Heat
Colorway: White/Red
Stats: 18 Points, 9 Rebounds, 7 Assists
---
Feb. 12, 2015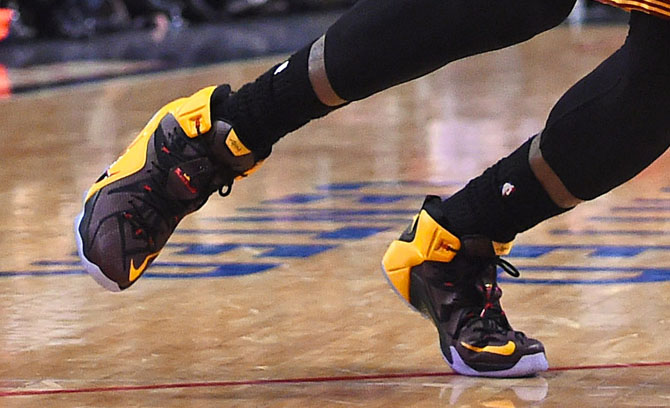 Opponent: Chicago Bulls
Colorway: Black/Yellow - Red PE
Stats: 31 Points, 5 Rebounds, 4 Assists
---
February 15, 2015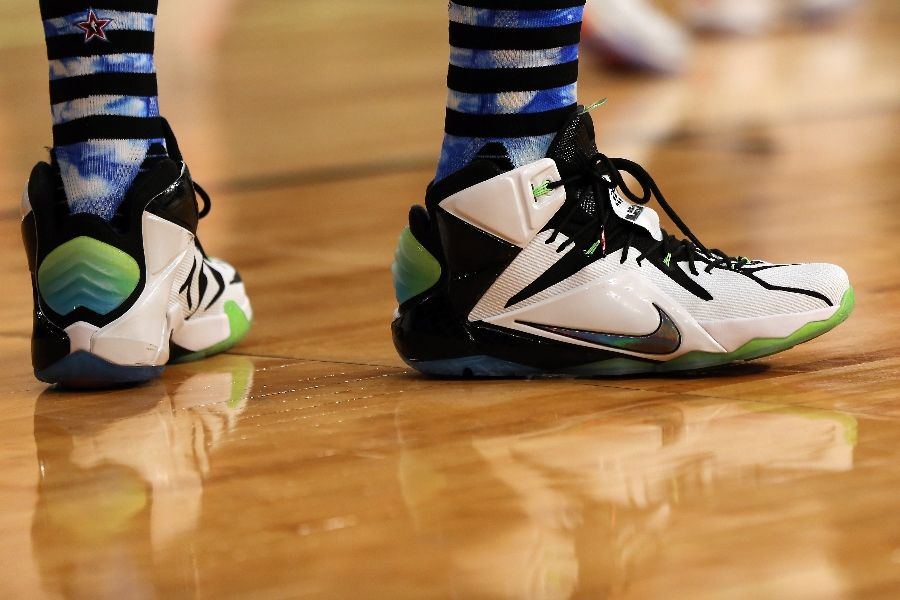 Opponent: Western Conference
Colorway: "All Star"
Stats: 30 Points, 5 Rebounds, 7 Assists
---
February 20, 2015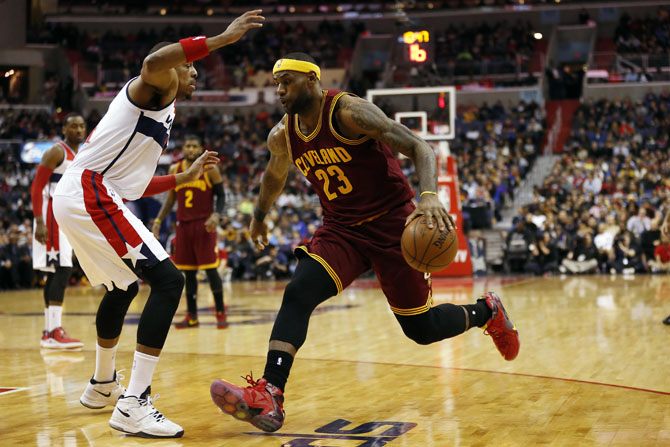 Opponent: Washington Wizards
Colorway: Red/Red PE
Stats: 28 Points, 5 Rebounds, 6 Assists
---
February 22, 2015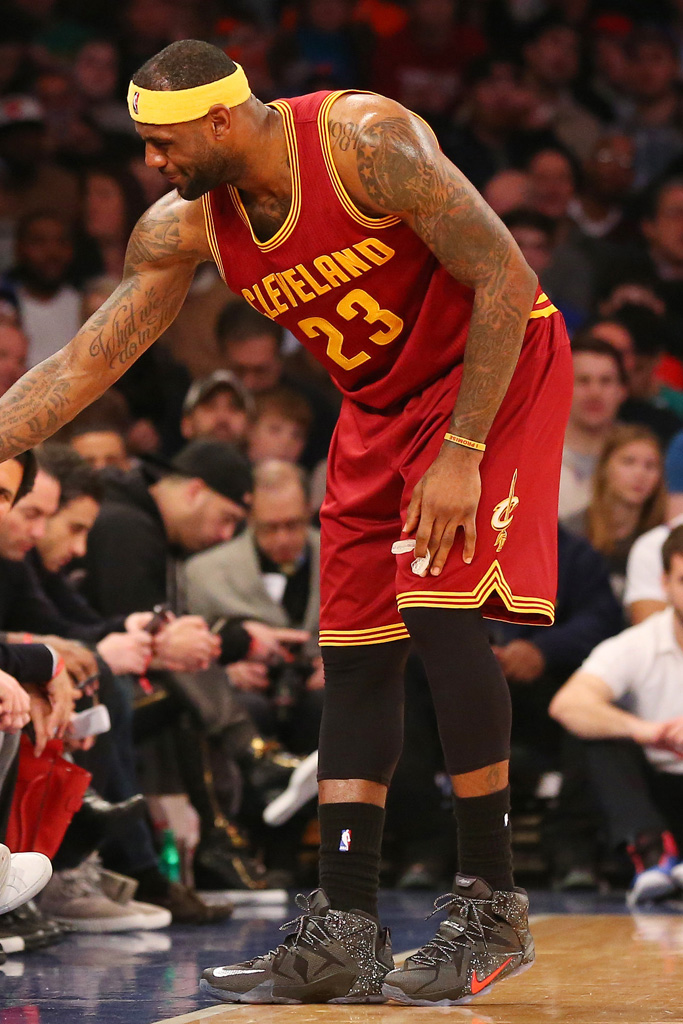 Opponent: New York Knicks
Colorway: Black/Red
Stats: 18 Points, 7 Rebounds, 7 Assists
---
February 24, 2015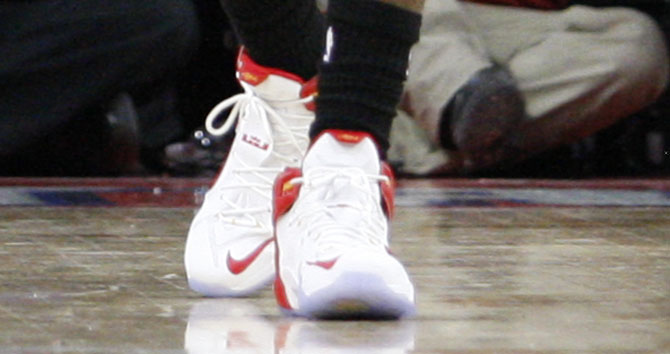 Opponent: Detroit Pistons
Colorway: White/Red - Yellow PE
Stats: 19 Points, 7 Rebounds, 11 Assists
---
February 26, 2015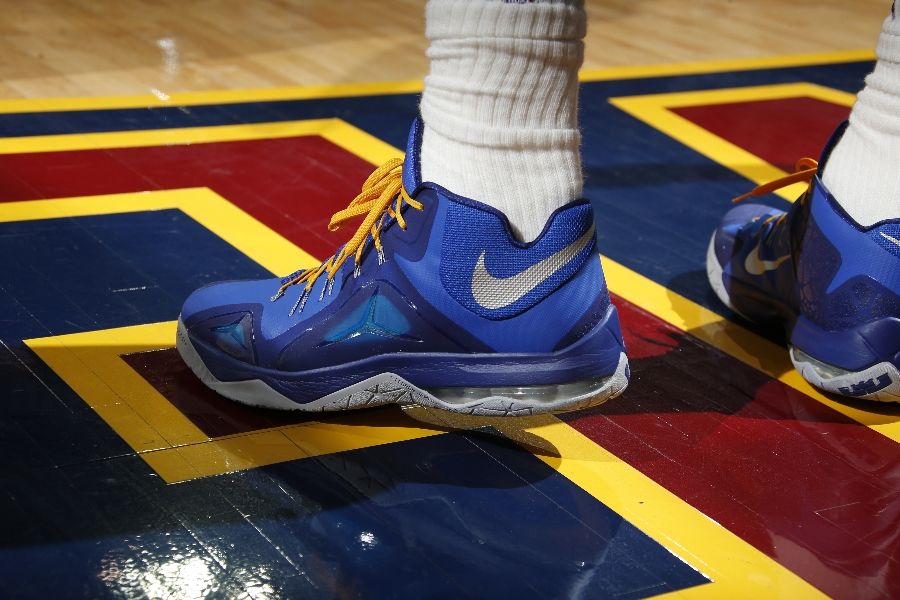 Opponent: Golden State Warriors
Colorway: Blue/Yellow (Nike LeBron Ambassaror 7)
Stats: 42 Points, 11 Rebounds, 5 Assists
---
March 1, 2015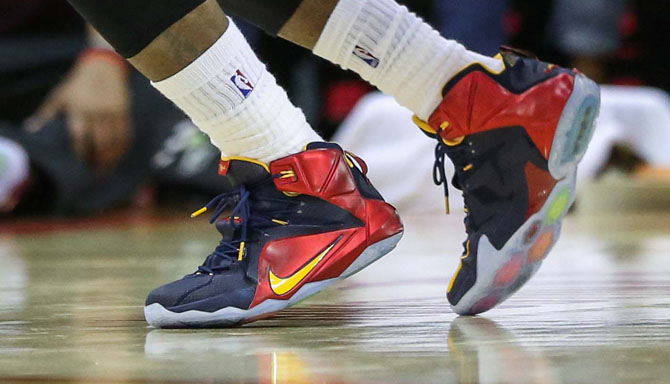 Opponent: Houston Rockets
Colorway: Navy/Red PE
Stats: 37 Points, 8 Rebounds, 4 Assists
---
March 3, 2015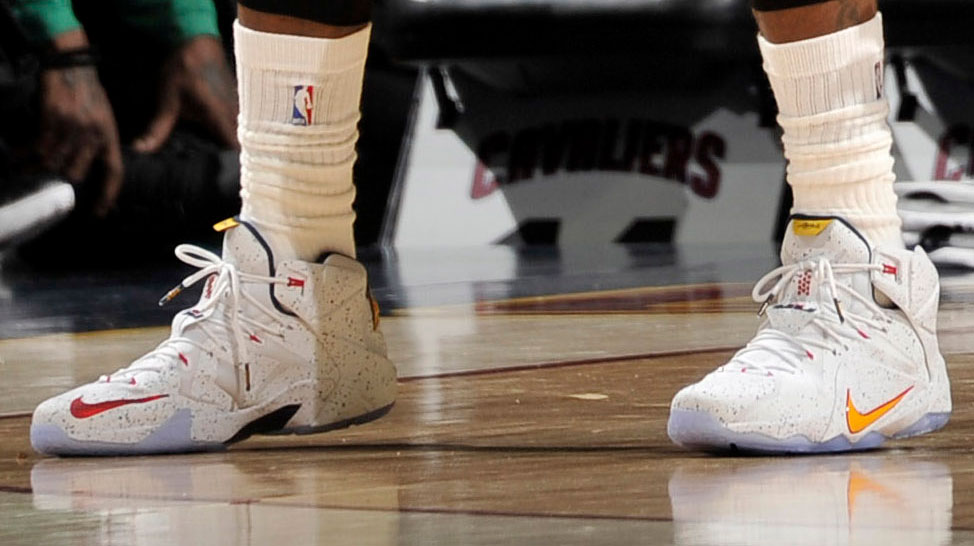 Opponent: Boston Celtics
Colorway: White/Yellow - Red PE
Stats: 27 Points, 3 Rebounds, 5 Assists
---
March 4, 2015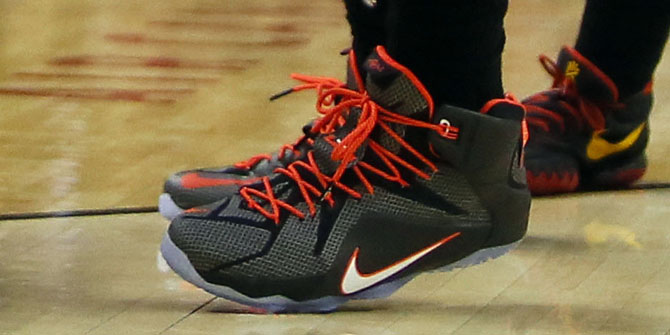 Opponent: Toronto Raptors
Colorway: Black/Red PE
Stats: 29 Points, 6 Rebounds, 14 Assists
---
March 6, 2015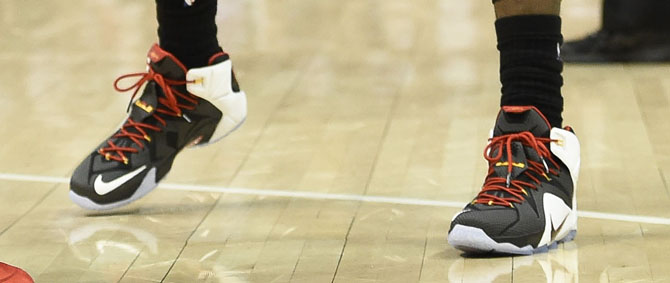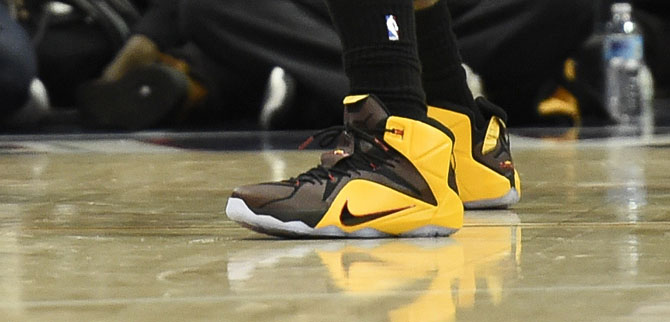 Opponent: Atlanta Hawks
Colorway: Black/White & Black/Yellow - Red PEs
Stats: 18 Points, 6 Rebounds, 8 Assists
---
March 7, 2015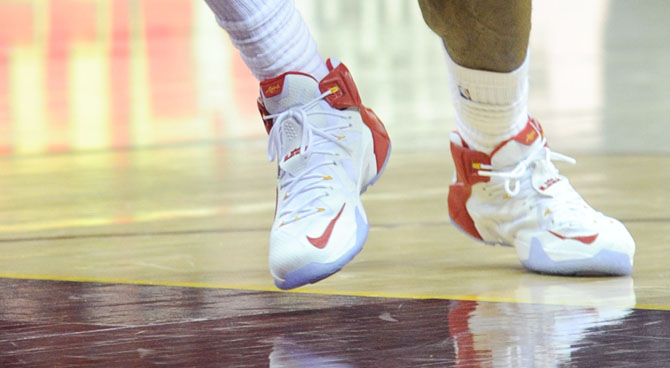 Opponent: Phoenix Suns
Colorway: White/Red - Yellow PE
Stats: 17 Points, 6 Rebounds, 8 Assists
---
March 10, 2015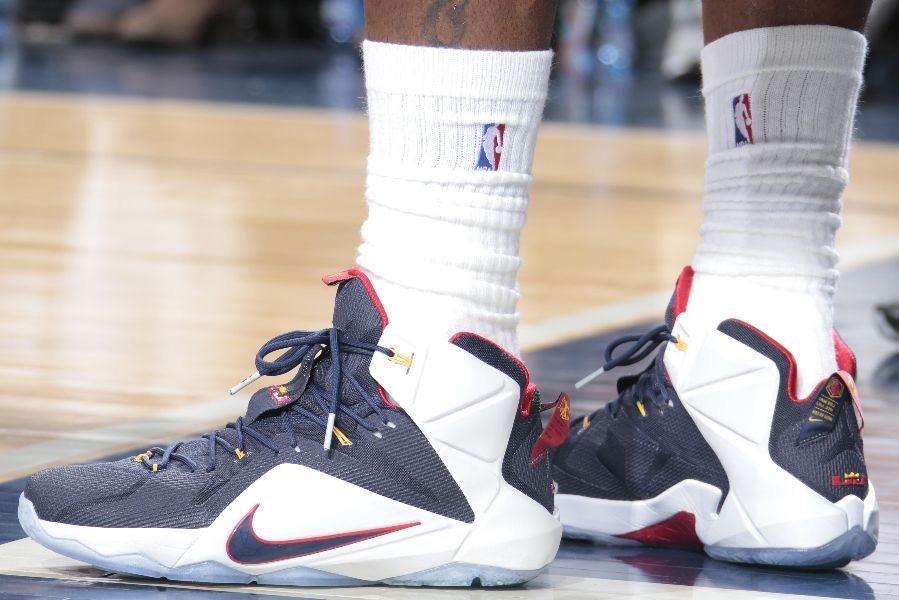 Opponent: Dallas Mavericks
Colorway: White/Navy PE
Stats: 27 Points, 7 Rebounds, 8 Assists
---
March 12, 2015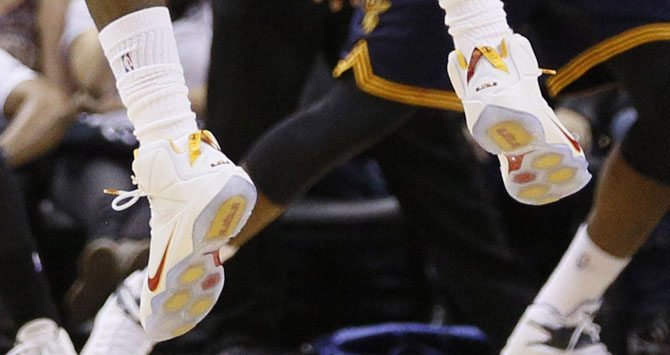 Opponent: San Antonio Spurs
Colorway: White/Red - Yellow PE
Stats: 31 Points, 5 Rebounds, 7 Assists
---
March 15, 2015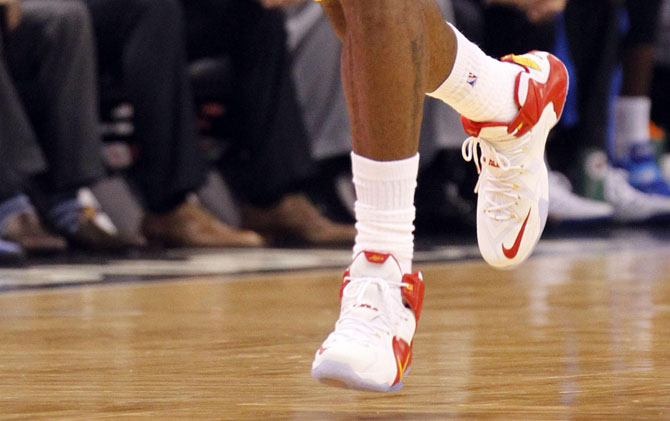 Opponent: Orlando Magic
Colorway: White/Red PE
Stats: 21 Points, 8 Rebounds, 13 Assists
---
March 16, 2015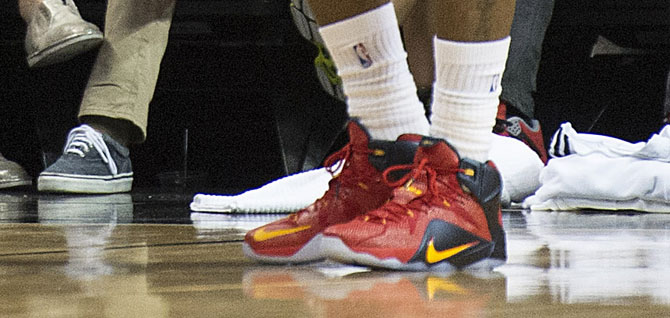 Opponent: Miami Heat
Colorway: Red/Blue - Yellow PE
Stats: 26 Points, 2 Rebounds, 4 Assists
---
March 18, 2015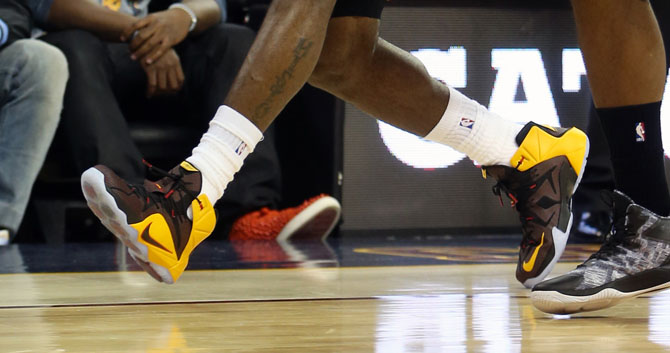 Opponent: Brooklyn Nets
Colorway: Black/Yellow - Red
Stats: 16 Points, 3 Rebounds, 7 Assists
---
March 20, 2015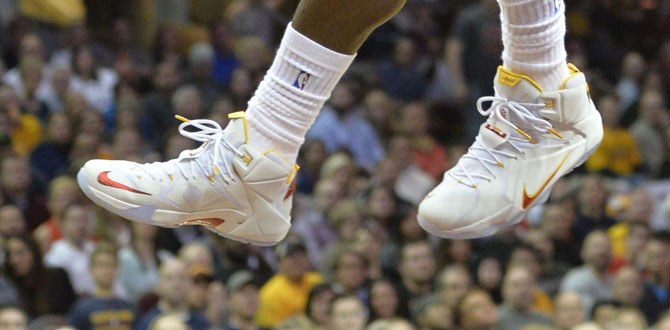 Opponent: Indiana Pacers
Colorway: White/Red - Yellow PE
Stats: 29 Points, 7 Rebounds, 5 Assists
---
March 22, 2015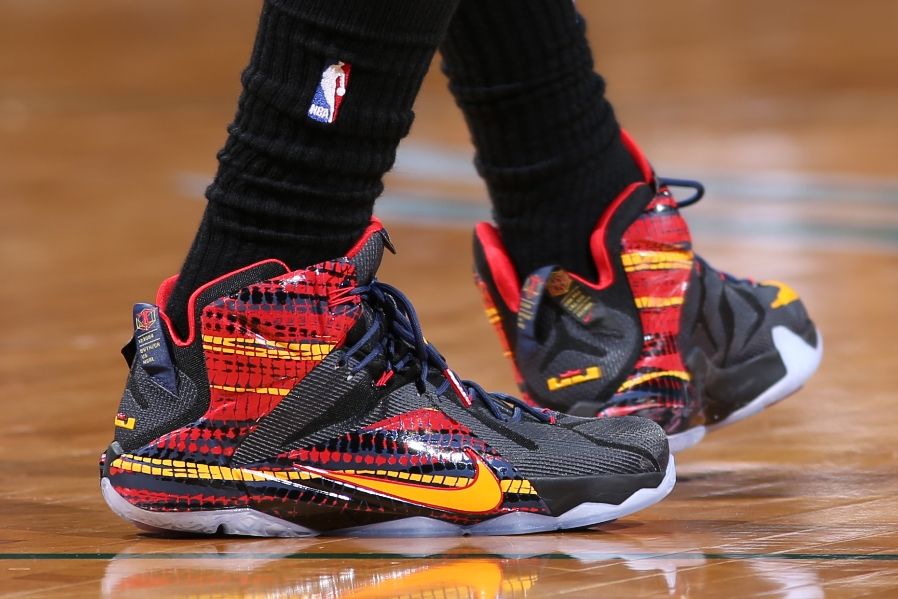 Opponent: Milwaukee Bucks
Colorway: Black/Red "23 Chromosomes PE"
Stats: 28 Points, 10 Rebounds, 6 Assists
---
March 25, 2015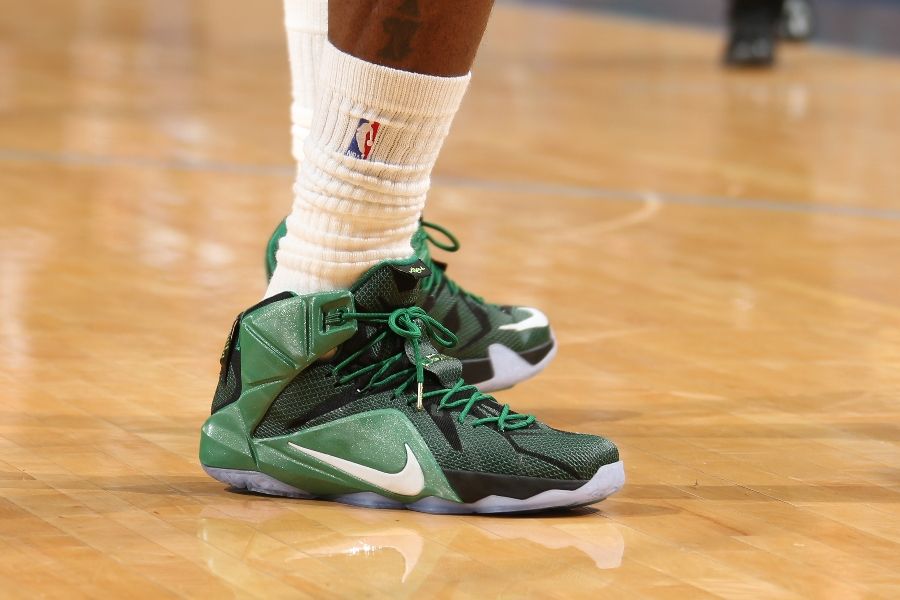 Opponent: Memphis Grizzlies
Colorway: "Green Week PE"
Stats: 20 Points, 8 Rebounds, 5 Assists
---
March 27, 2015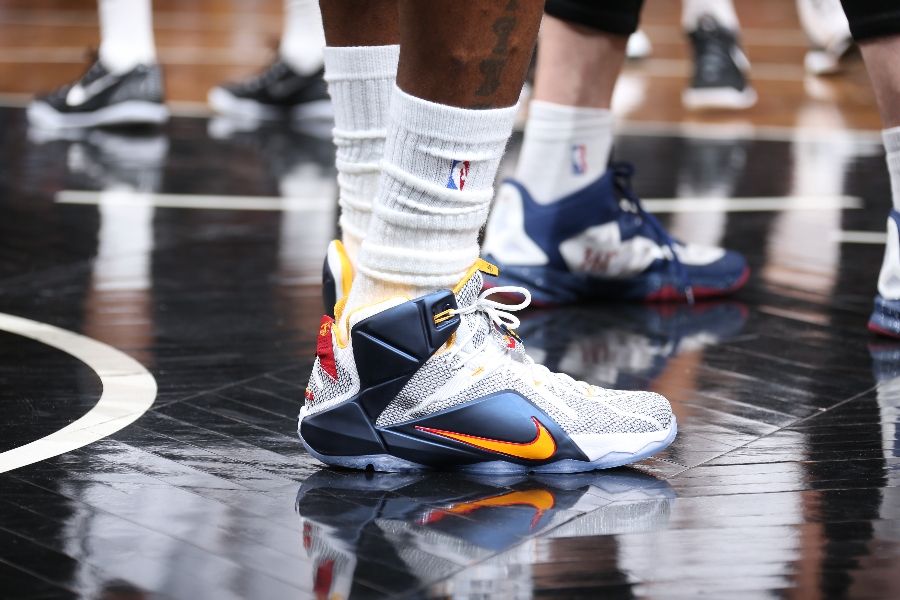 Opponent: Brooklyn Nets
Colorway: White/Navy - Yellow PE
Stats: 24 Points, 5 Rebounds, 9 Assists
---
March 29, 2015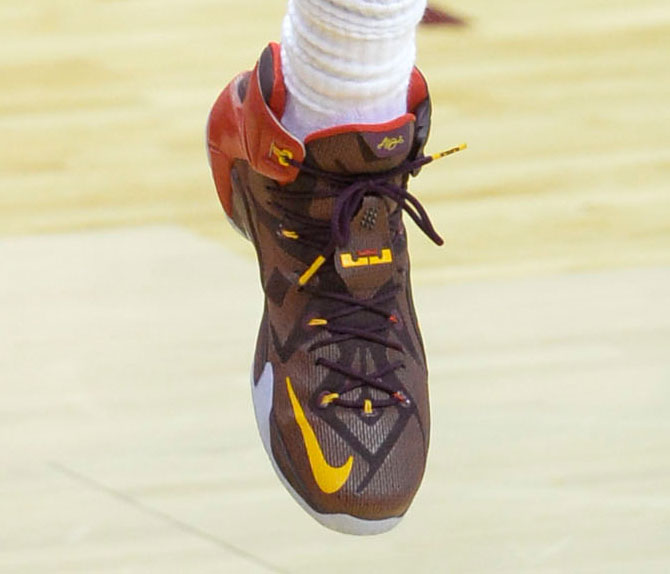 Opponent: Philadelphia 76ers
Colorway: "Double Helix PE"
Stats: 20 Points, 11 Rebounds, 6 Assists
---
April 2, 2015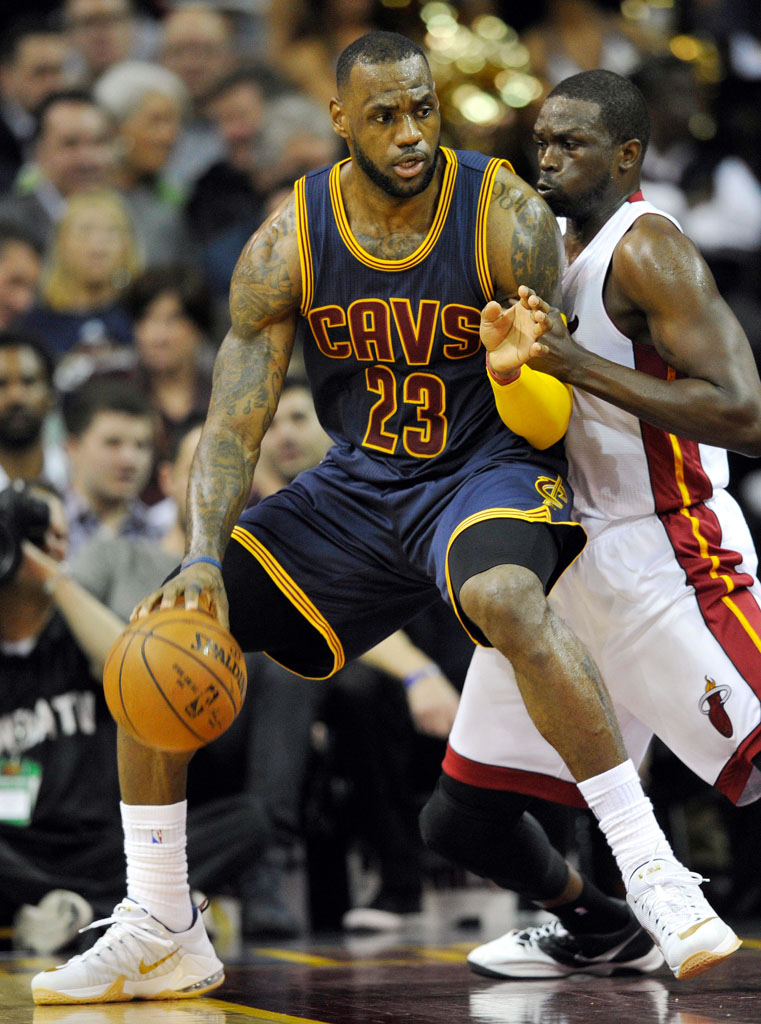 Opponent: Miami Heat
Colorway: "USA" (LeBron 12 Low)
Stats: 23 Points, 8 Rebounds, 7 Assists
---
April 5, 2015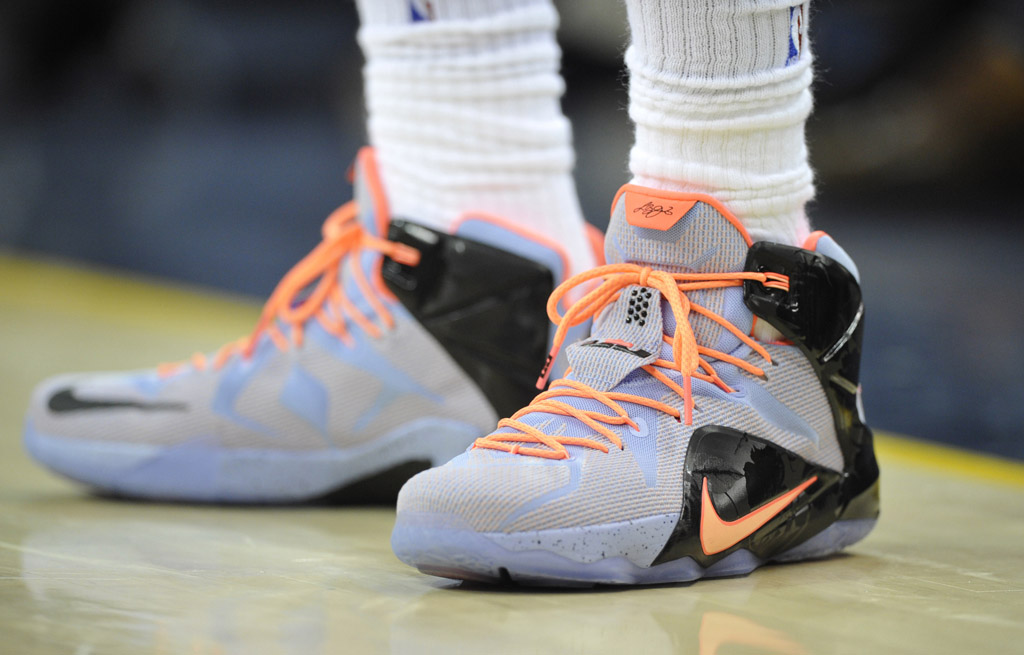 Opponent: Chicago Bulls
Colorway: "Easter"
Stats: 20 Points, 10 Rebounds, 12 Assists
---
April 8, 2015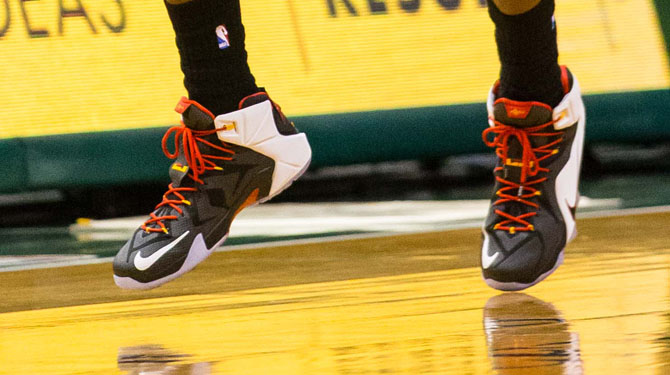 Opponent: Milwaukee Bucks
Colorway: Black/White - Red
Stats: 21 Points, 9 Rebounds, 8 Assists
---
April 10, 2015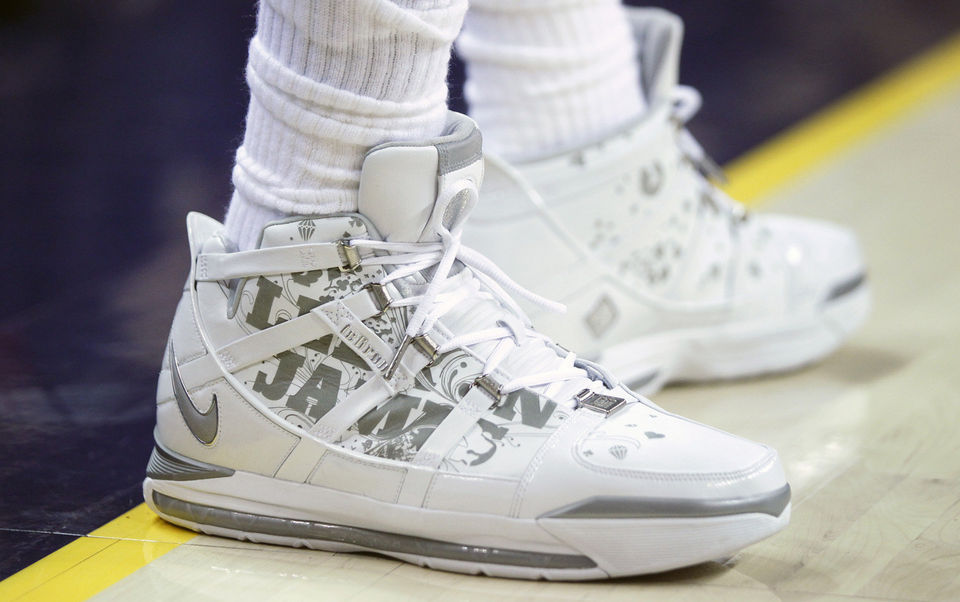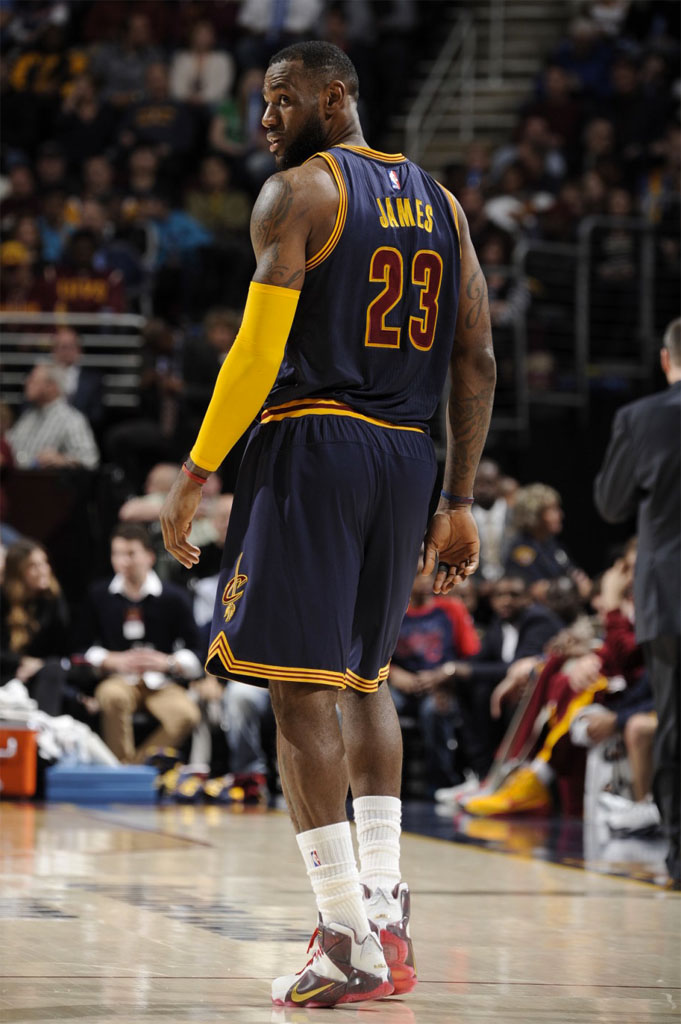 Opponent: Boston Celtics
Colorway: "All Star PE" (Zoom LeBron 3) & White/Red PE
Stats: 14 Points, 3 Rebounds, 7 Assists
---
April 13, 2015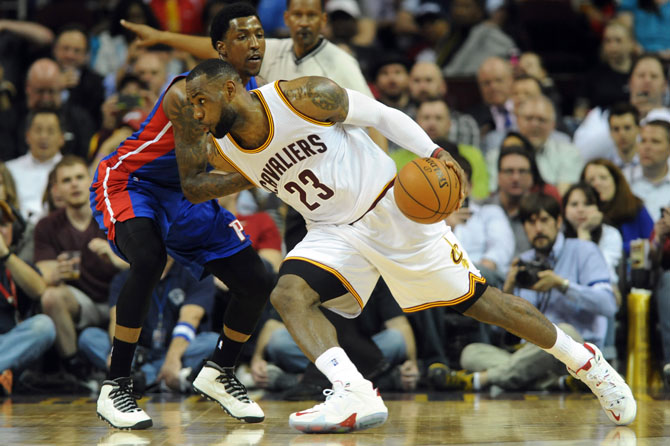 Opponent: Detroit Pistons
Colorway: White/Red - Yellow PE
Stats: 21 Points, 10 Rebounds, 11 Assists
---
April 19, 2015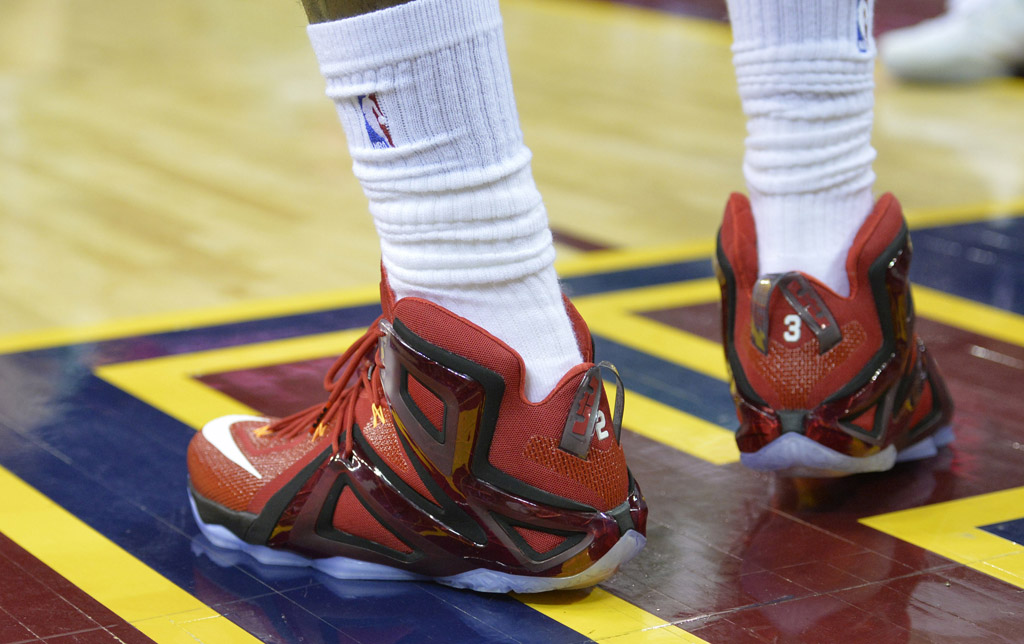 Opponent: Boston Celtics
Colorway: "Team" Elite
Stats: 20 Points, 6 Rebounds, 7 Assists
---
April 21, 2015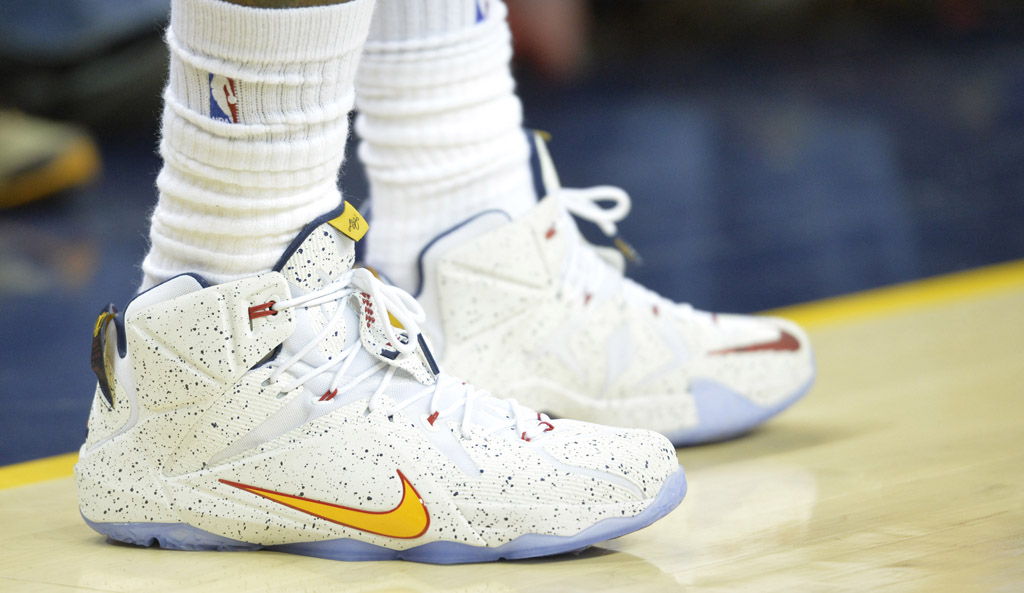 Opponent: Boston Celtics
Colorway: Navy/White-Yellow Elite PE
Stats: 30 Points, 9 Rebounds, 7 Assists
---
April 23, 2015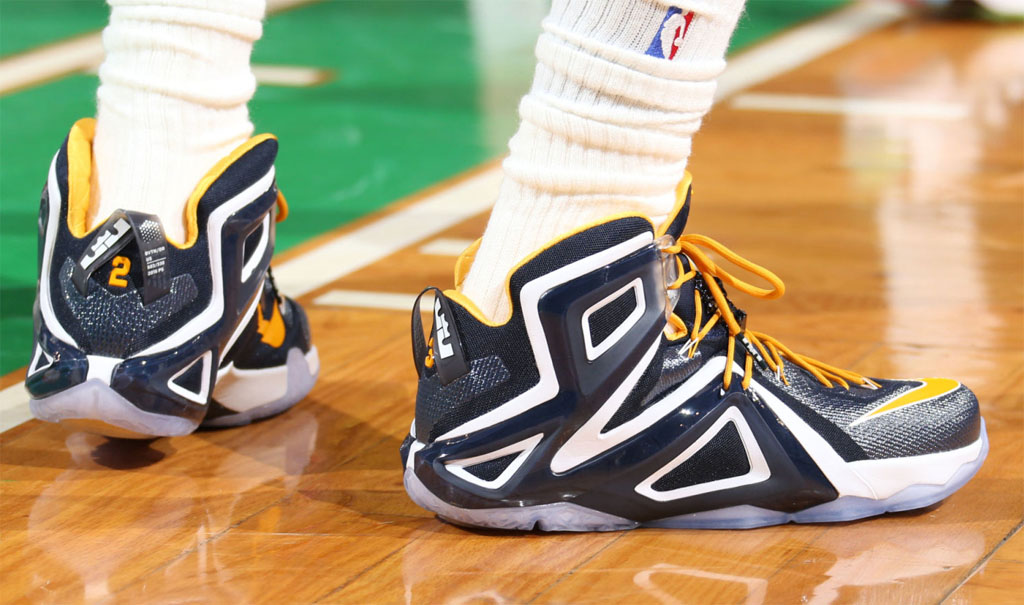 Opponent: Boston Celtics
Colorway: Navy/White-Yellow Elite PE
Stats: 31 Points, 11 Rebounds, 4 Assists
---
April 26, 2015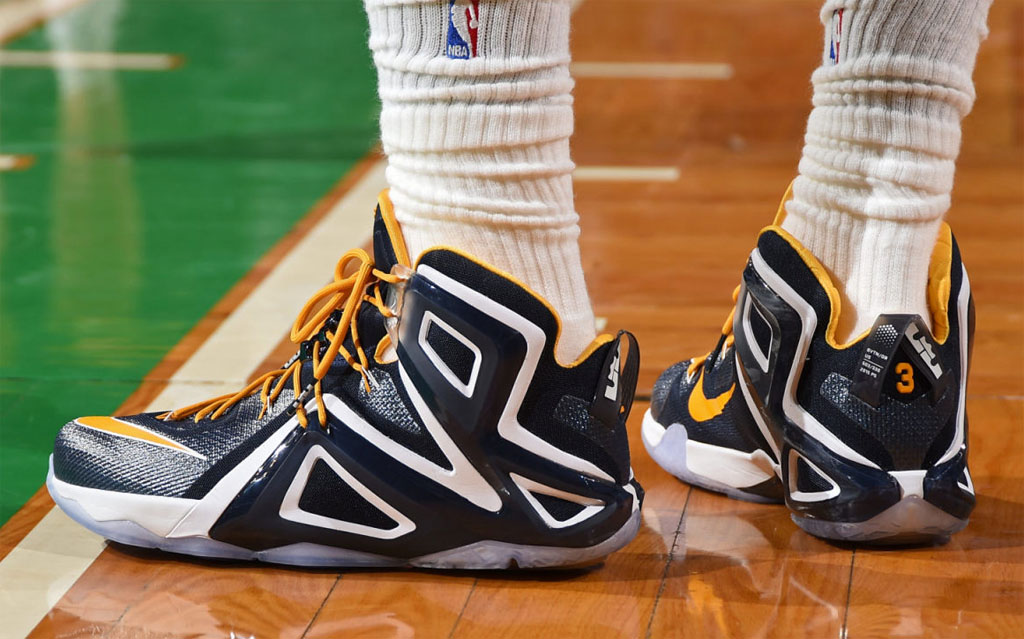 Opponent: Boston Celtics
Colorway: Navy/White-Yellow Elite PE
Stats: 27 Points, 10 Rebounds, 8 Assists
---
May 4, 2015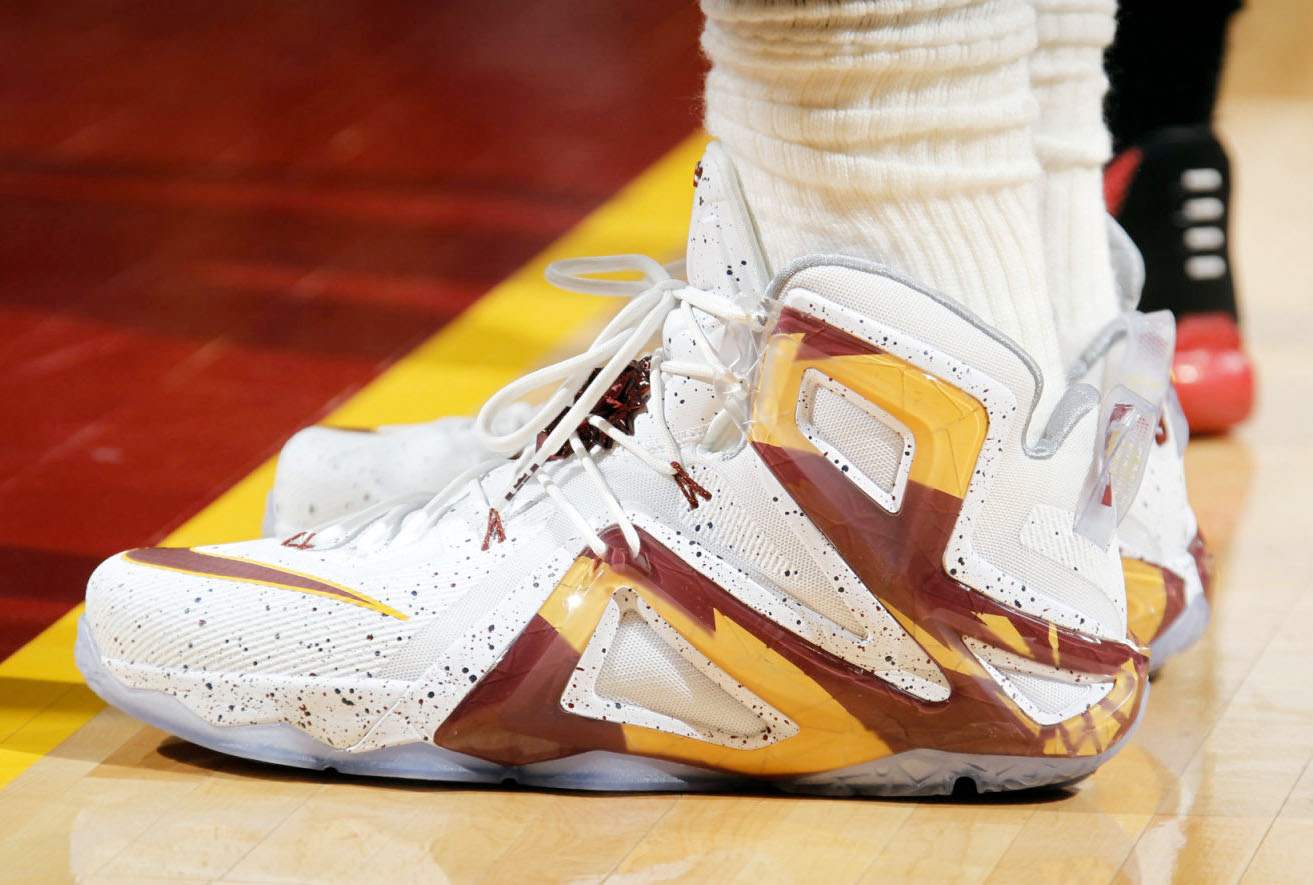 Opponent: Chicago Bulls
Colorway: "Cavs" Elite PE
Stats: 19 Points, 15 Rebounds, 9 Assists
---
May 6, 2015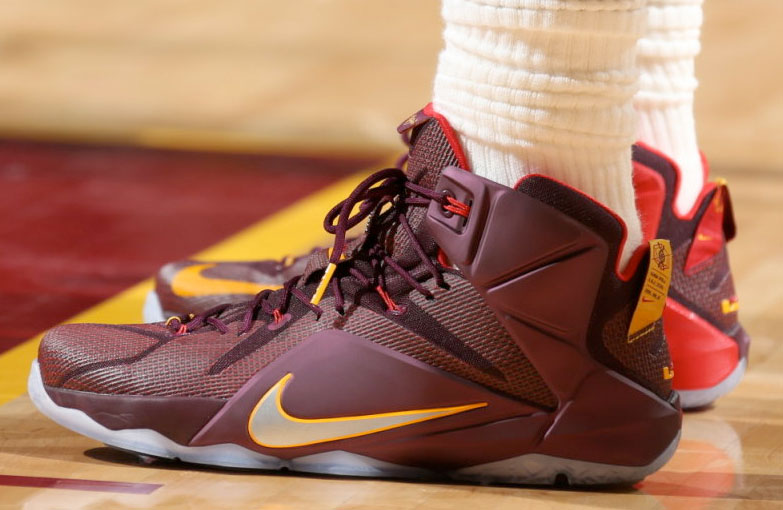 Opponent: Chicago Bulls
Colorway: "Double Helix" PE
Stats: 33 Points, 8 Rebounds, 5 Assists
---
May 8, 2015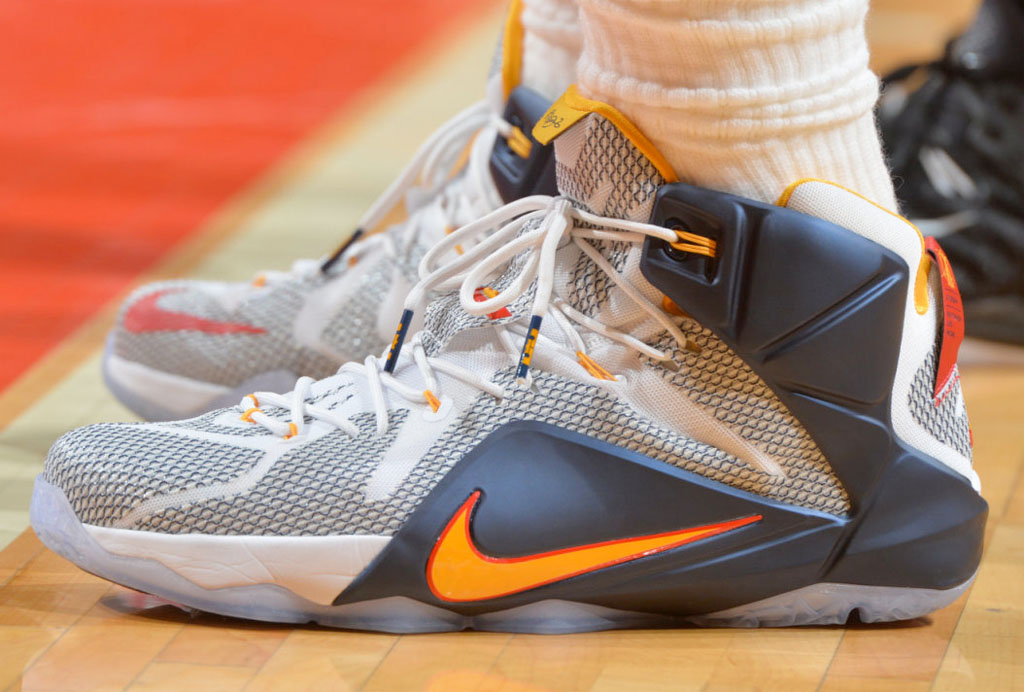 Opponent: Chicago Bulls
Colorway: White/Navy-Yellow-Red PE
Stats: 27 Points, 8 Rebounds, 14 Assists
---
May 10, 2015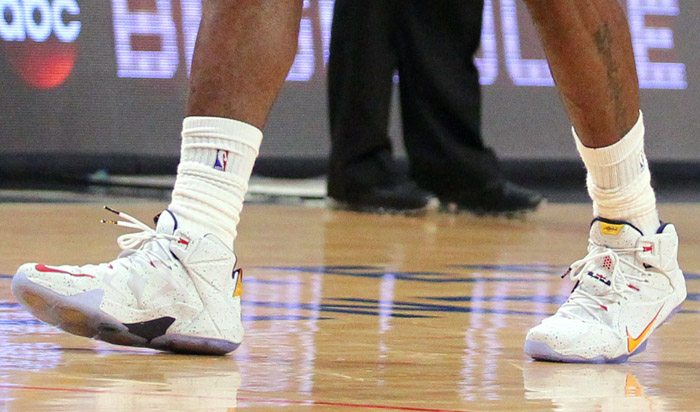 Opponent: Chicago Bulls
Colorway: White/Yellow/Red-Navy PE
Stats: 25 Points, 14 Rebounds, 8 Assists
---
May 12, 2015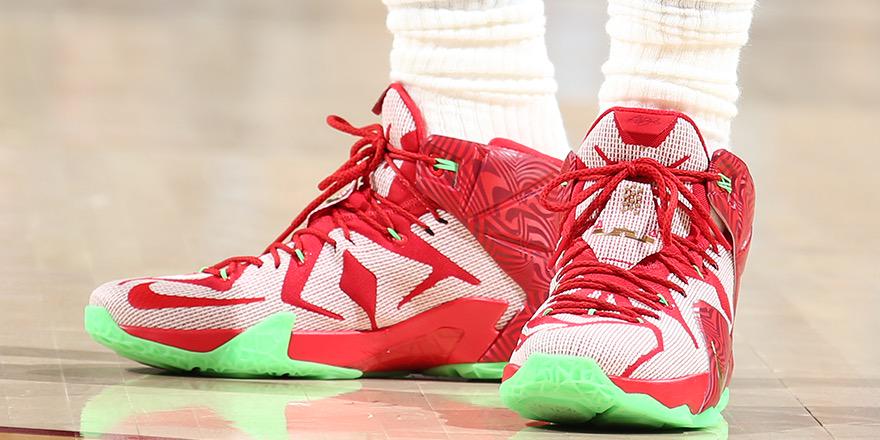 Opponent: Chicago Bulls
Colorway: "LeBron's Mix"
Stats: 38 Points, 12 Rebounds, 6 Assists
---
May 14, 2015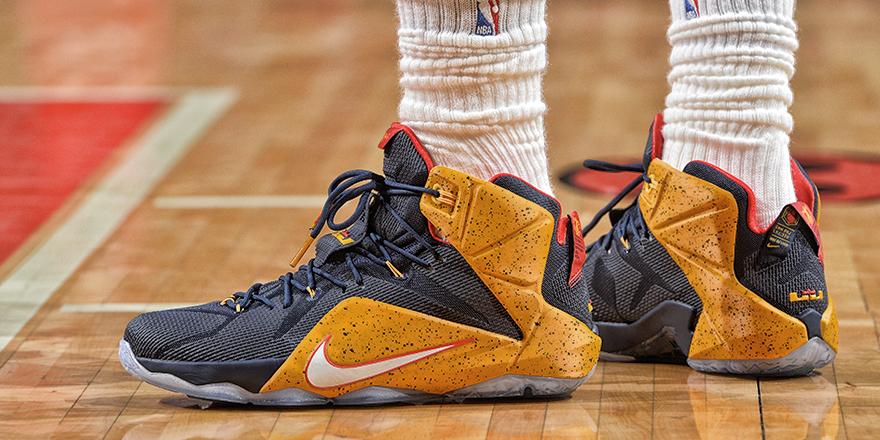 Opponent: Chicago Bulls
Colorway: Navy/Yellow-Red PE
Stats: 15 Points, 9 Rebounds, 11 Assists
---
May 20, 2015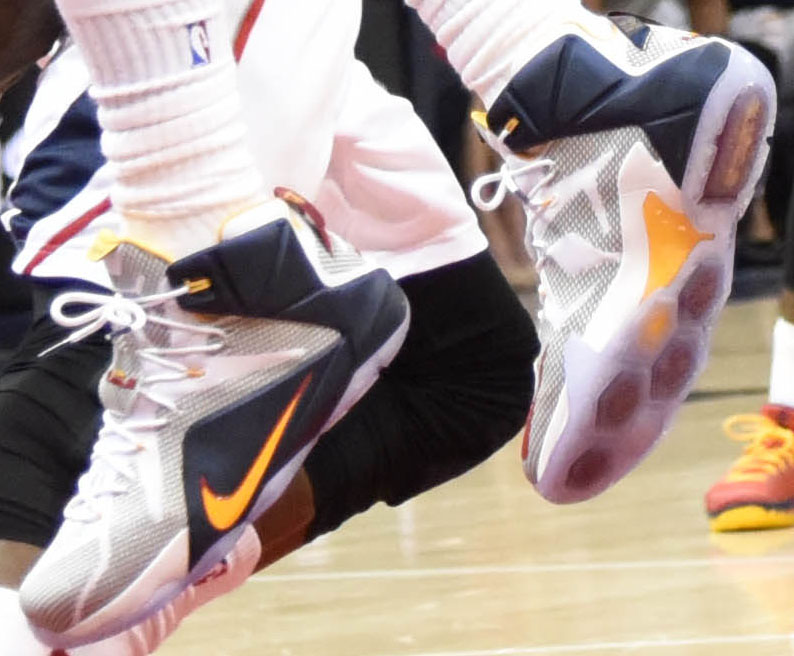 Opponent: Atlanta Hawks
Colorway: White/Navy-Yellow Red PE
Stats: 31 Points, 8 Rebounds, 6 Assists
---
May 22, 2015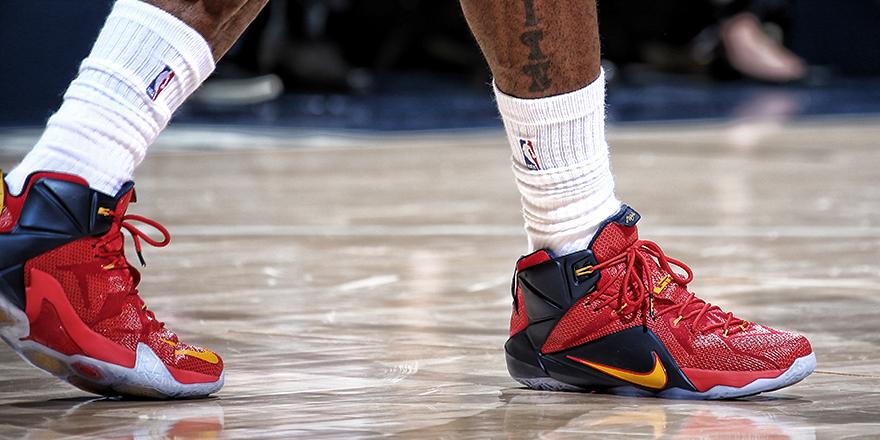 Opponent: Atlanta Hawks
Colorway: Red/Navy-Yellow PE
Stats: 30 Points, 9 Rebounds, 11 Assists
---
May 24, 2015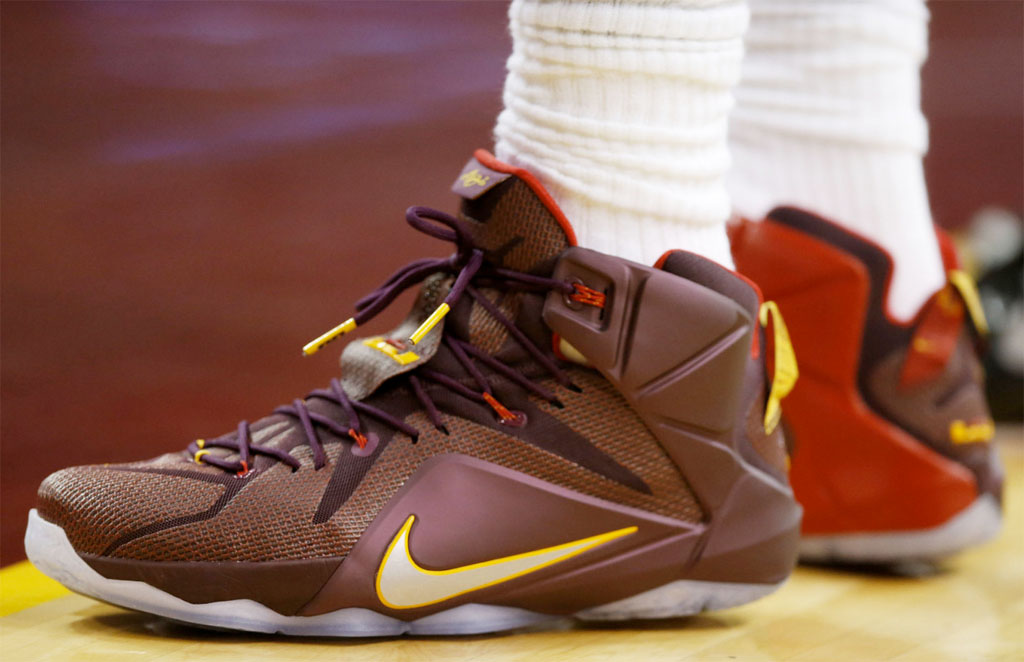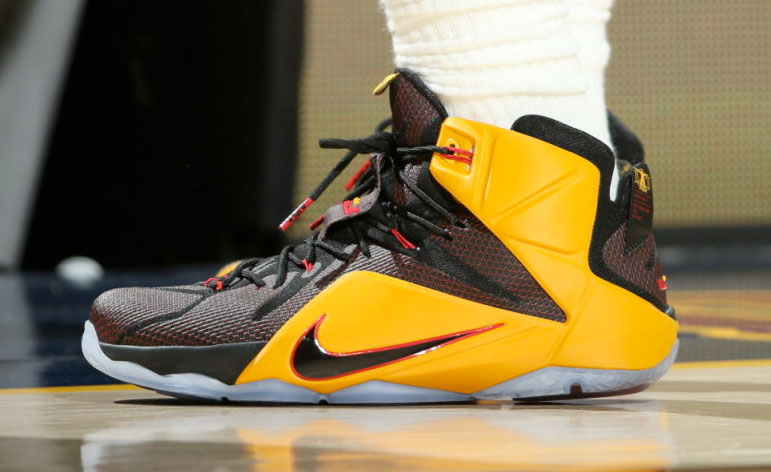 Opponent: Atlanta Hawks
Colorway: "Double Helix" & Black/Yellow-Red PE
Stats: 37 Points, 18 Rebounds, 13 Assists
---
May 26, 2015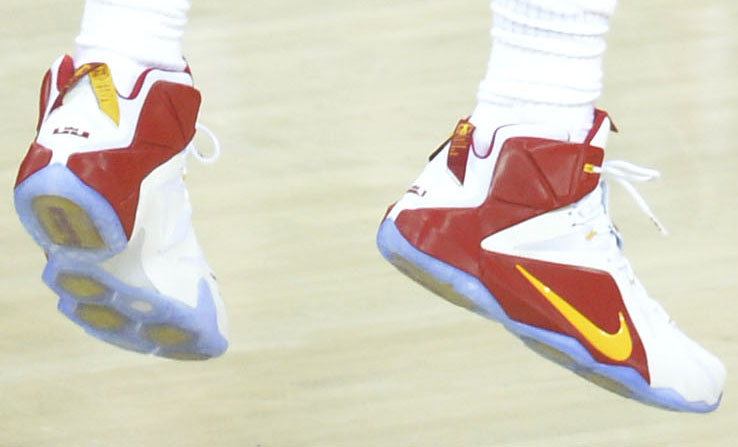 Opponent: Atlanta Hawks
Colorway: White/Red-Yellow PE
Stats: 23 Points, 9 Rebounds, 7 Assists
---
June 4, 2015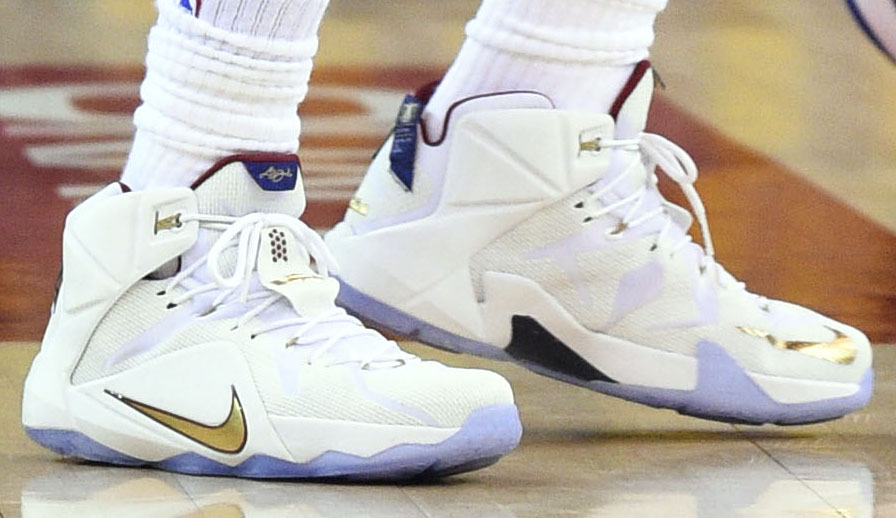 Opponent: Golden State Warriors
Colorway: White/Gold-Navy-Wine PE
Stats: 44 Points, 8 Rebounds, 5 Assists
---
June 7, 2015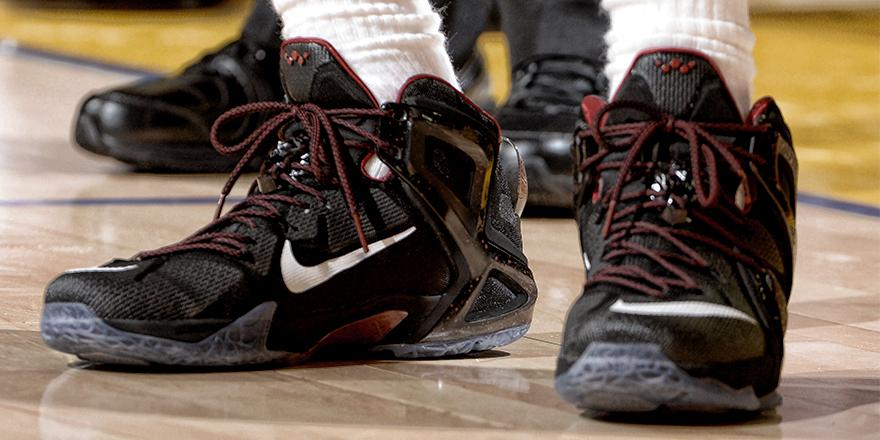 Opponent: Golden State Warriors
Colorway: Black/Red-White Elite PE
Stats: 39 Points, 16 Rebounds, 11 Assists
---
June 9, 2015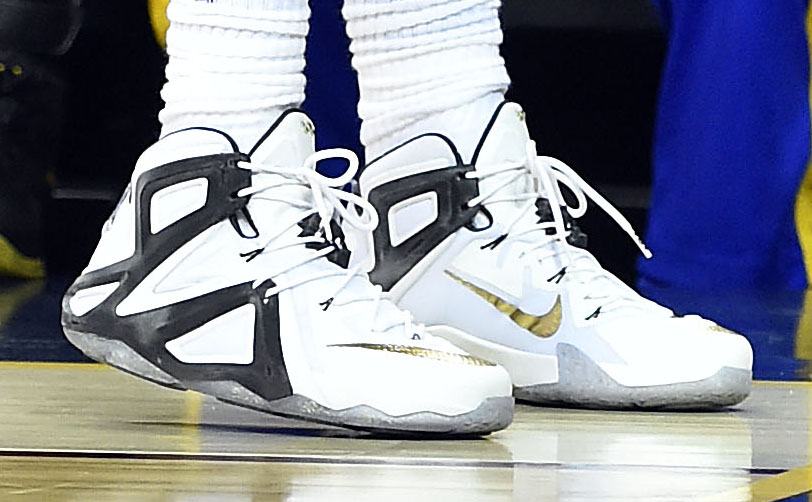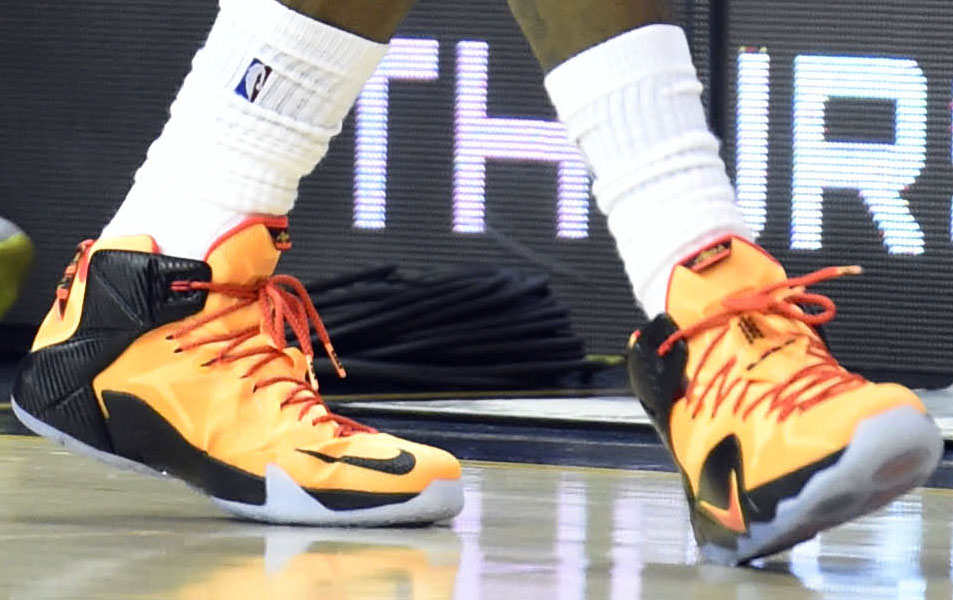 Opponent: Golden State Warriors
Colorway: White/Black-Gold Elite PE & "Witness"
Stats: 40 Points, 12 Rebounds, 8 Assists
---
June 11, 2015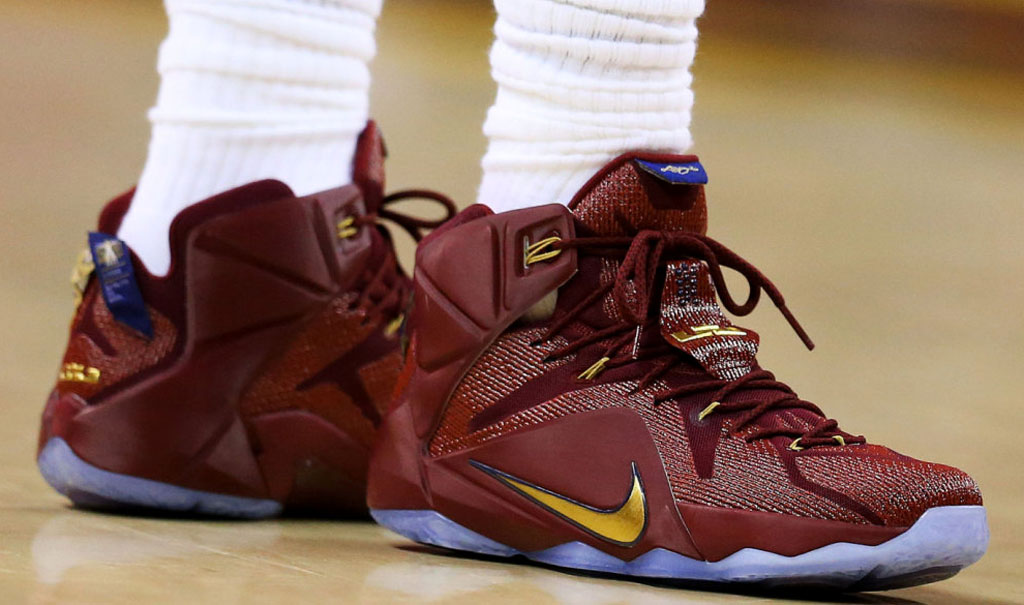 Opponent: Golden State Warriors
Colorway: Wine/Gold-Navy PE
Stats: 20 Points, 12 Rebounds, 8 Assists
---
June 14, 2015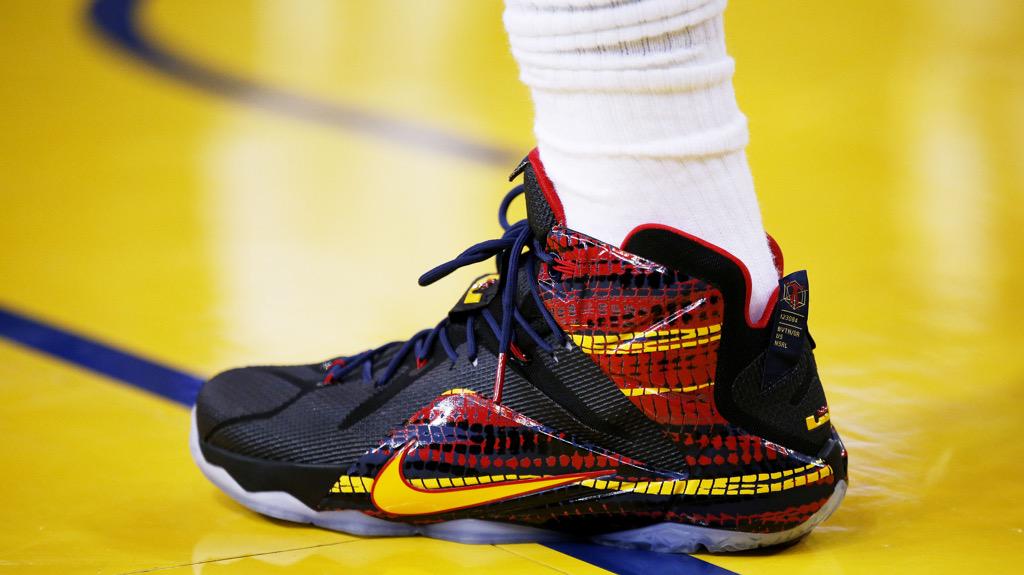 Opponent: Golden State Warriors
Colorway: Black/Red-Yellow Navy PE
Stats: 40 Points, 14 Rebounds, 11 Assists
---
June 16, 2015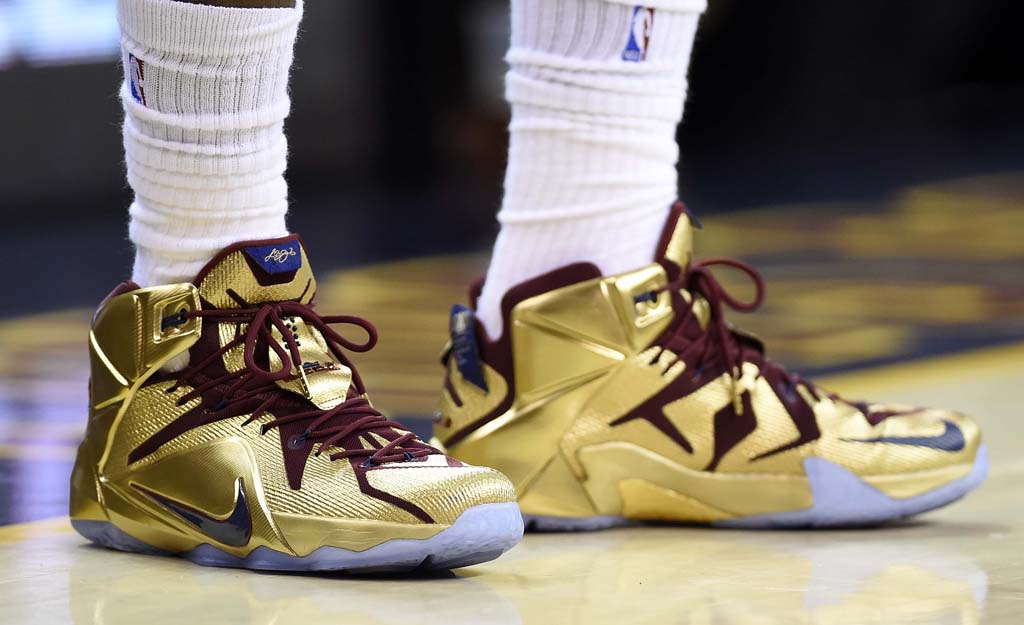 Opponent: Golden State Warriors
Colorway: Gold/Wine-Navy Finals PE
Stats: 32 Points, 18 Rebounds, 9 Assists