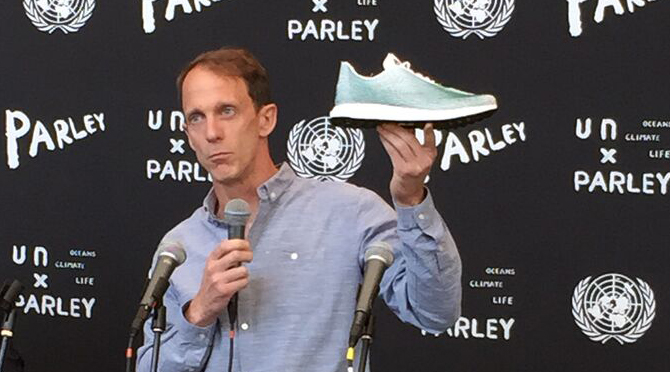 by Brendan Dunne
"We can bring manufacturing back to Detroit, that's where we want to be in 2017," said Eric Liedtke, head of global brand at adidas, speaking from the United Nations headquarters in NYC yesterday.
Liedtke was at the UN to speak on the forthcoming collaboration between the sportswear brand and Parley for the Oceans, which focuses on using recycled ocean waste in sneaker production. Liedtke also took some time to lay out the brand's future production plans, which incldue a focus on "Speed Factories," that will ultimately land in the U.S.
"We're going to open up in Germany, just by the [adidas headquarters], our first automated footwear factory in the first quarter of 2016," Liedtke said. "It's going to be small, it's a pilot. Ultimately, if we get this thing right, we can put it in Detroit."
These automated footwear factories will produce newer performance sneakers. These new designs feature technologies like Boost and Primeknit, which adidas has already figured out how to automate the production of. Liedtke said that the last piece of the puzzle is figuring out how to automate the process of putting the shoes together. For that, adidas is working with the Bavarian government and automobile manufacturers in Germany to leverage the power of robotic arms often used in car production.
Liedtke is aware that this planned manufacturing revolution is an ambitious one.
"We're going to take some risks. If we're going to fail, we're going to fail fast. Then we're going to get up and try something new," Liedtke said. "We're not fucking around."